Los Angeles, CA: Mount Pinos to Cerro Noroeste
Bag four peaks all over 8,000 feet along this 13.8-mile out-and-back with two short off-trail summit scrambles.
Heading out the door? Read this article on the new Outside+ app available now on iOS devices for members! Download the app.
Head north then west on Trail 21WO3. In the 2.1 miles, the trail caps off on Mount Pinos (8,810 ft.) where northerly views unfold to the San Emigdo Mountains. From here, hike 3.4 miles to Waypoint 3 then leave the main trail for a 0.2-mile scramble northwest to Sawmill Mountain (8,816 ft.). Pick up the trail again by swinging southwest 0.3 miles. Head to Waypoint 6 and swing off-trail again (heading west then south to avoid big steeps) to Grouse Mountain (8,572 ft.). The payoff includes views dropping 3,000 feet to San Emigoio Mesa.From the top of Grouse, descend northwest 0.6 miles back to Trail 21WO3 then continue west to Cerro Noroeste Road. Walk the shoulder for a half-mile to knock off the fourth peak of the day, Cerro Noroeste (8,286 ft.). After resting, backtrack 6.6 miles to the trailhead, skipping the off-trail detours to Grouse and Sawmill Mountains.–Mapped by Travis Lind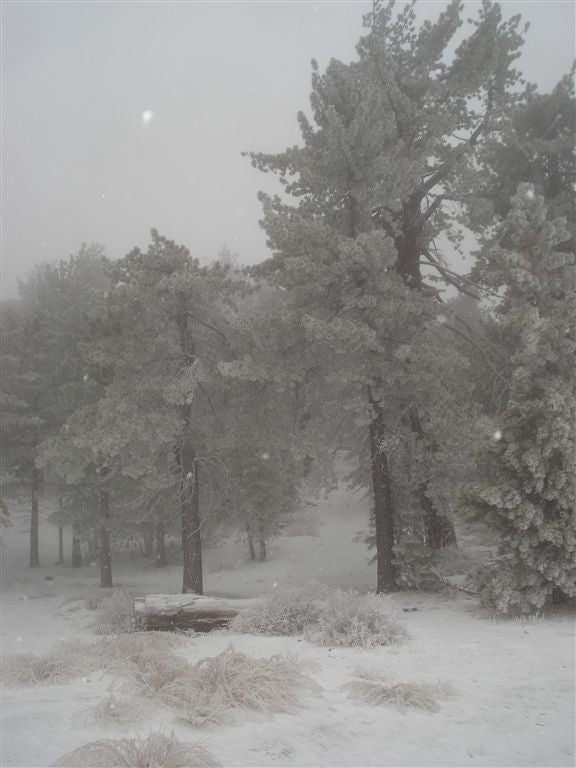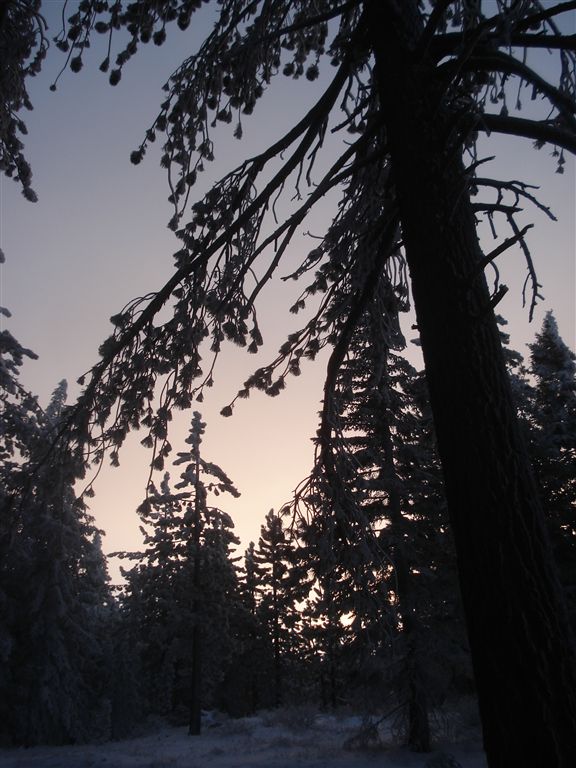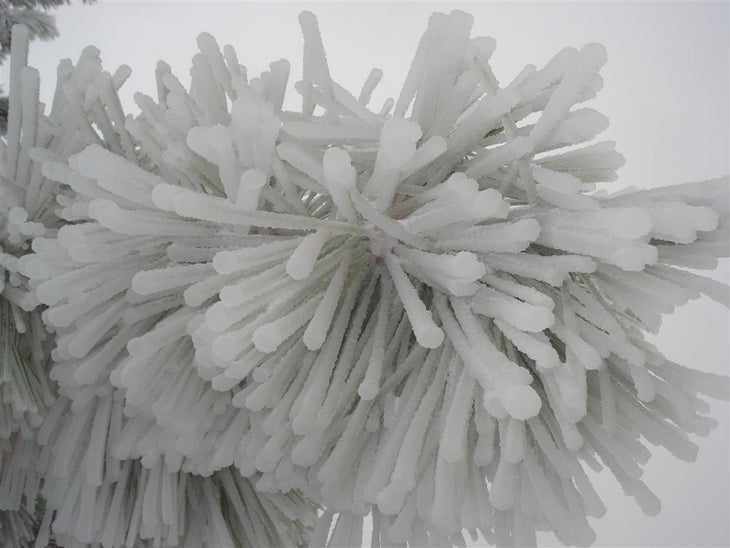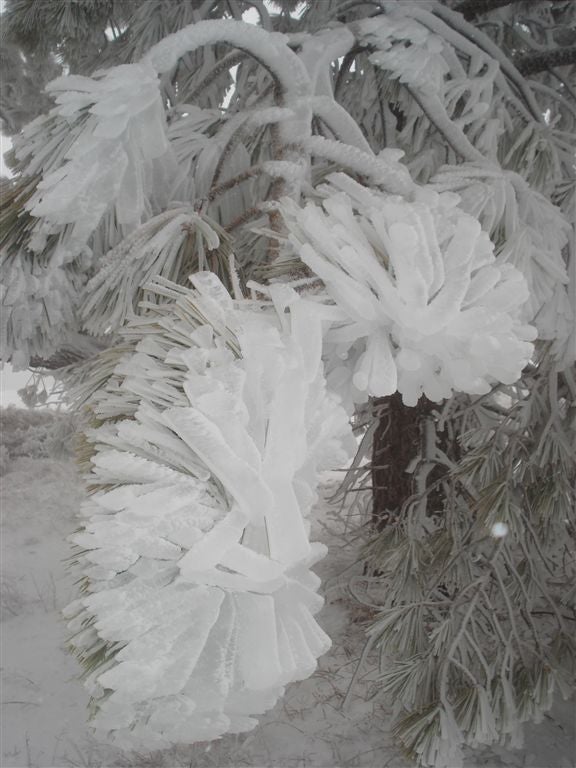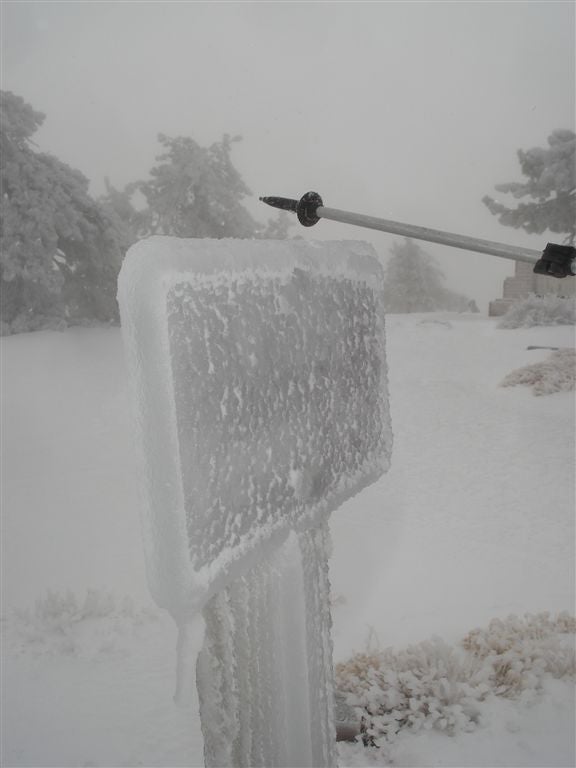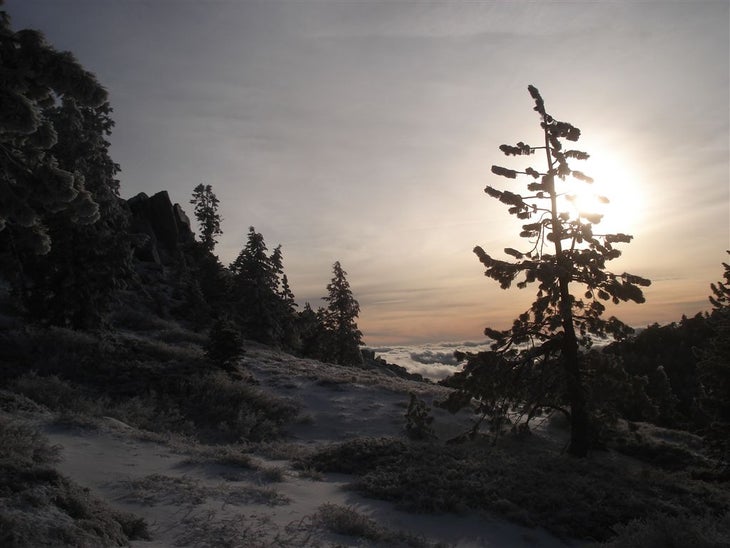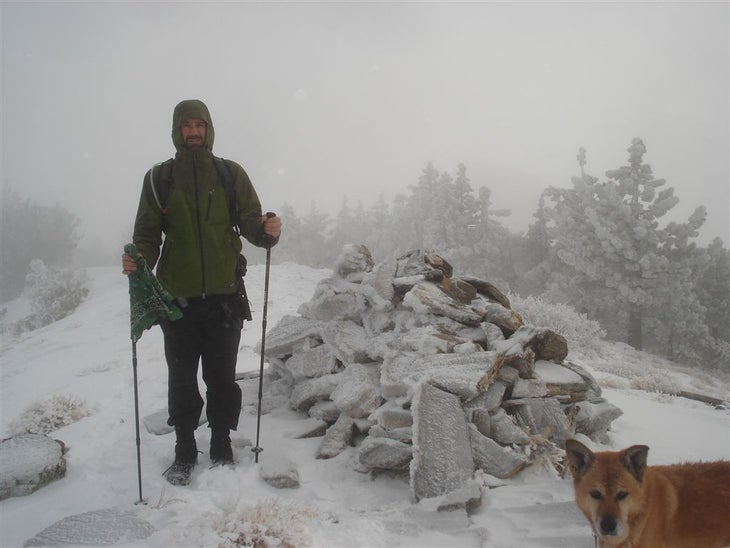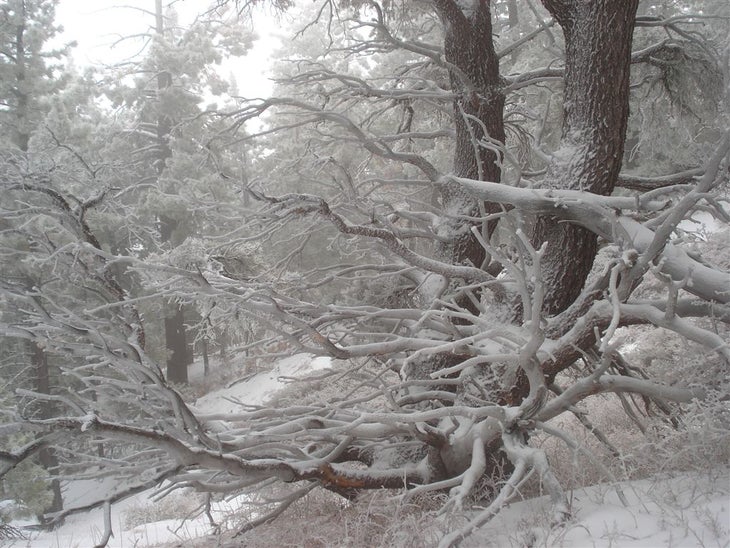 Trail Facts
Waypoints
Snowy Scene
Location: 34.8130875, -119.1270142
Sunrise
Location: 34.8156357, -119.1315994
Snowy Tree
Location: 34.8130875, -119.1386185
Snowy Trees
Location: 34.8120003, -119.1393127
Trail Sign
Location: 34.812088, -119.1411285
Winter Scene
Location: 34.8123474, -119.1425095
Snowy Trees
Location: 34.8114815, -119.1587906
Hiker
Location: 34.8138738, -119.1687441
Trail Views
Location: 34.8320173, -119.2038918
WPT001
Location: 34.812851, -119.1270218
Go northeast on Trail 21WO3 towards Mount Pinos, the day's first 8,000-foot summit. The ridgeline gains 400 feet in the first 2 miles. Pass a radio tower on your right just before the summit.
WPT002
Location: 34.811985, -119.1481171
Mount Pinos: Whip out the camera for striking views of the San Emigdo Mountains to the north, and the Traverse Range to the west. Continue northwest on Trail 21WO3.
WPT003
Location: 34.8134003, -119.1644592
Off-trail scramble: To summit Sawmill Mountain (8,816 ft.), leave the trail and head northwest for 0.2 miles under pines and up a boulder field.
Or, skip this off-trail detour and hike west to Waypoint 5.
WPT004
Location: 34.8136271, -119.1678858
Sawmill Mountain (8,816 ft.): Northerly views stretch to Pine Mountain Club in the valley far below. To reconnect with trail 21WO3, descend southwest back through pine stands for 0.3 miles to Waypoint 5.
WPT005
Location: 34.8133659, -119.171463
Off-trail route rejoins Trail 21WO3. Swing west to Grouse Mountain.
WPT006
Location: 34.8159332, -119.1799393
To summit Grouse Mountain, leave Trail 21WO3 and head west scrambling 0.2 miles uphill before turning south and continuing 600 feet to summit.
WPT007
Location: 34.8148117, -119.1830215
Grouse Mountain (8,572 ft.): Grab mid-day snack, enjoy views of San Emigoio Mesa 3,000 feet below, then bushwhack northwest for 0.6 miles to meet Trail 21WO3 again.
WPT008
Location: 34.8204002, -119.1830521
Rejoin Trail 21WO3, and turn left. The trail slips between Grouse Mountain and Cerro Noroeste, dropping 900 feet then gaining 600 feet.
WPT009
Location: 34.8285255, -119.2019348
Turn right onto Cerro Noroeste Road and road walk 0.6 miles to the fourth peak.
WPT010
Location: 34.8309975, -119.2033539
Cerro Noroeste (8,286 ft.): Soak in the views, and return to trailhead via Trail 21WO3, skipping the off-trail sections.