The 5 Best Sections on the Pacific Crest Trail, According to a Dirtbag Who Has Done it All
What are the best hikes on the PCT that you can do in a weekend? We asked triple crowner and Backpacker thru-hiking columnist Liz "Snorkel Thomas.
Photo: NatChittamai / iStock
Heading out the door? Read this article on the new Outside+ app available now on iOS devices for members! Download the app.
Thru-hiking the Pacific Crest Trail takes months, but you can see some of its highlights in just a long weekend. Between a big dayhike and a three-day weekend, these five hikes will let you sample one of America's most famous long trails without needing to give your boss two weeks' notice. I've hiked the PCT end-to-end twice—once as a thru-hike and once as a section hike. It's hard to choose favorites on a trail of this caliber, but these sights are ones even fast-moving thru-hikers can't forget. These five hikes will give you a taste of the PCT, from the desert to the alpine.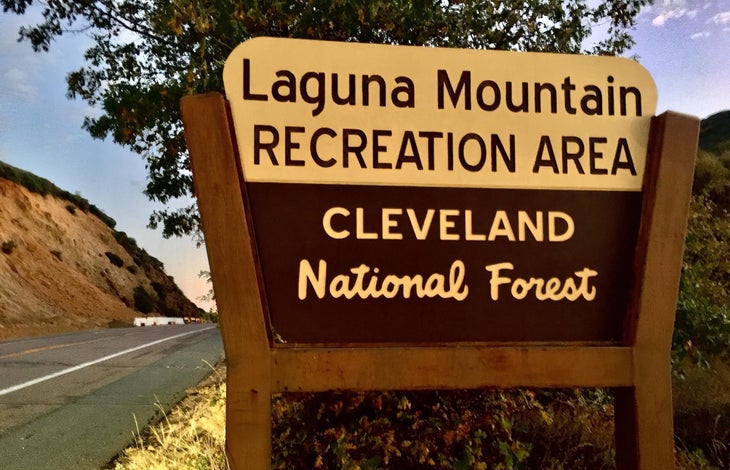 Laguna Mountain Recreation Area and Sunrise Trail, California
Miles: 17.8 miles (point to point)
Elevation change: 2,450 ft ascent, 3,263 ft decent
Days: 1-2 days
PCT Mile Marker: 42.1 to 59.5
 Laguna Mountain Recreation Area in San Diego County is a sky island that's a far cry from what you may think of the Southern California "desert." At nearly 6,000 feet, it's got pine trees and visitors may even walk through snow–a big surprise to many thru-hikers. Start at the Desert View Picnic area, looking out into the Anza-Borrego desert 5,000 feet below. The side trail to the monument at Flathead Flats offers the best view in the first 100 miles of the PCT and is a northbound hiker's first view of snow-covered San Jacinto mountain (10,834 feet), which thru-hikers have the chance to climb after another week of hiking north. The PCT follows a ridge above Oriflamme Canyon, a stargazer's destination due to the lack of light pollution. Camping and water through this section is limited, so plan accordingly. Sunrise Highway is nearby, making it easy to shuttle hikers to-and-from endpoints. End the trip with apple pie in the nearby mountain community of Julian, one of the cutest trail towns on any thru-hike.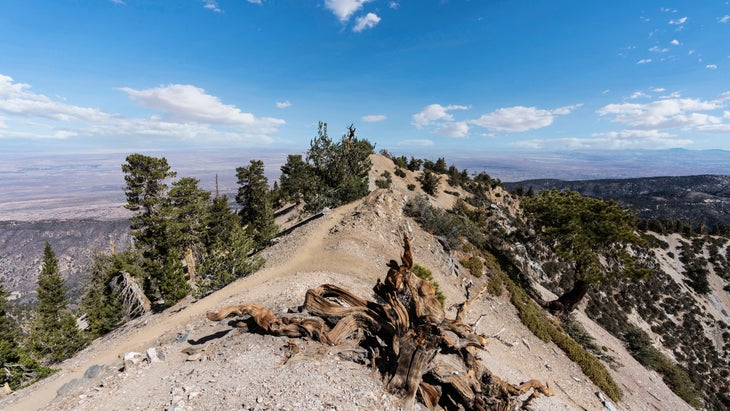 Mt. Baden-Powell to Islip Saddle, California
Miles: 10.2 miles (point to point)
Elevation gain: 4,709 ft ascent, 3,768 ft descent (not counting the side trail to Mount Islip)
Days: 1-2 days
PCT mile markers: 374 to 386.1
 This is one of the finest ridge walks on the PCT that's close to a major population center. The Greater Los Angeles area is just below, but through clever trail routing, you may feel like you're in the southern Sierra. If you're willing to take some short side trails, you can climb five peaks in a long day or a weekend. Start with the classic 4-mile climb up Mt. Baden-Powell through shaded forest. The climb is unrelenting but generally well-graded with many switchbacks. Near the summit is the more than 1,500 year old twisted Wally Waldron limber pine, reminiscent of the ancient Bristlecone pines further north. A short side trail leads to the summit.
After the 2,500 foot climb, continue on the lip of a steep ridge, hopping from Mount Burnham to Throop Peak to Mount Hawkins. If you're still looking for more miles (and peaks) after that, take the side trail an extra mile to Mount Islip before finishing at the Little Jimmy campground. Note that snow can linger into June on this section, especially on the initial climb to Baden Powell. I recommend waiting until it has melted out, as it can get extremely icy and treacherous.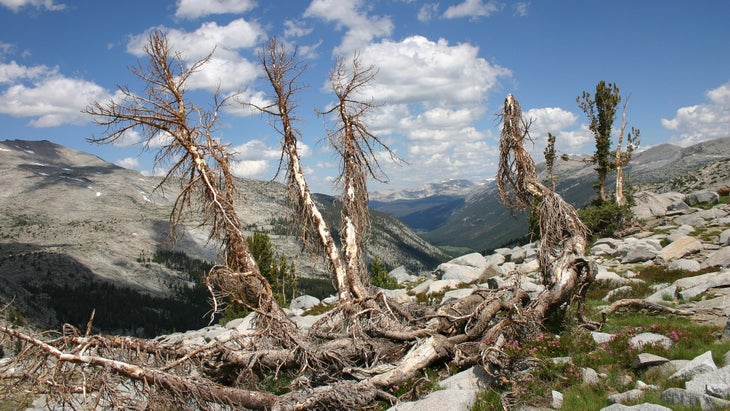 Lyell Fork to Donahue Pass, California
Miles: 23.9 miles (out-and-back) 
Elevation change: 3,634 ft ascent, 3,645 ft descent
Days: 1-3
PCT Mile Markers: 942.7 to 930.8 (one-way–note that this hike takes the PCT southbound)
You can't go wrong with any section of the PCT in the Sierra. But getting to it isn't easy: Throughout most of the Sierra, you'll have to take a side trail just to reach the PCT, which is remote and stays high on the crest. The hike in Yosemite National Park in Lyell Creek Canyon is one of the few where you can take the PCT (and John Muir Trail) the whole way. Better yet, it takes you to the top of a PCT Sierra pass, a notable checkpoint for thru-hikers. For this hike, you'll start southbound for an out-and-back that is scenic in both directions. I've hiked this section at least ten times and it offers some of the best views for the effort of any section of the PCT.
Start at Tuolumne Meadows Lodge and follow the scenic Lyell Fork over a series of bridges on kid-friendly forested trail. You'll find yourself in the open Lyell Canyon Meadow on trail that stays relatively flat, with opportunities for swimming or fishing in the creek. There are many options for beautiful campsites as long as you're 4 miles in, though watch for meadow restoration signs and follow Yosemite wilderness regulations (permits required). Eight miles in, the climb gets serious on steady switchbacks. The last crossing of Lyell Fork a mile before Donahue Pass is one of my favorite places, as you look across the tarn into the glaciers of Mt. McClure and Mt. Lyell (the highest point in Yosemite National Park at 13,114 feet). When you reach the pass, retrace your steps. Everything looks different in the other direction.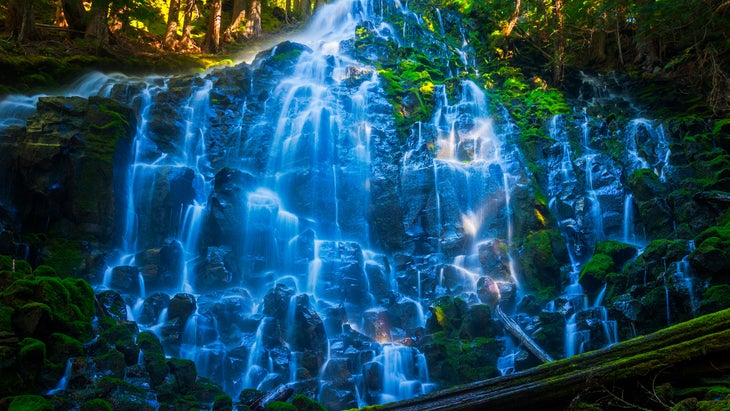 Timberline Trail to Ramona Falls, Oregon
Miles: 13.2 miles (point to point)
Elevation gain: 2,154 ft ascent, 5,576 ft descent
Days: 1
PCT mile markers: 2098 to 2109.4
Some of the best sections of the PCT in Oregon require dayhiking permits or walking through forest recently burned over by wildfires. That's why I like this hike to a waterfall tumbling off the slopes of Mt. Hood. It feels grand without as much hassle as the well-known classic central Oregon PCT hikes. It starts at the Civilian Conservation Corps-built landmark Timberline Lodge (worth popping your head in). From the trailhead, you'll immediately have views of the glaciers of Mt. Hood. One of my favorite parts of this hike is navigating the rivers that come off the mountain. Little Zig Zag Canyon and the Zig Zag River and the Sandy River each have viewpoints to look up at the mountain and its waterfalls, and appreciate the force of the waterways that carved topography. Depending on snowmelt and the time of year, the crossings can be difficult. Eventually, you'll reach a signed junction for Ramona Falls, 0.4 miles off trail; a good chunk of thru-hikers go there because these falls are just that good. Retrace your steps and continue 1.4 miles north on the PCT to the junction with the Ramona Falls trailhead, and follow the Sandy River for 0.75 miles back to the Ramona Falls trailhead parking lot and your getaway car.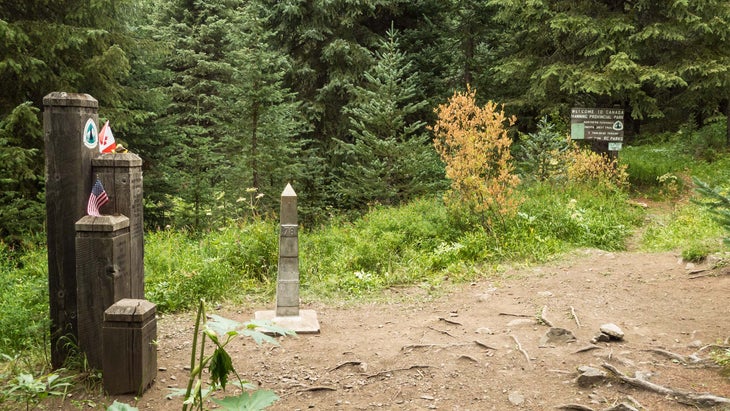 Hart's Pass to Canada Border, Washington
Miles: 59.6 miles (out-and-back) 
Elevation change: 7,097 ft ascent, 9,030 ft descent
Days: 3-5 days
PCT mile markers: 2625.7 to 2655.2
The last 30 miles of the PCT are some of the best hiking anywhere on the trail and are a grand way to finish a monthslong journey. Luckily, you don't have to be a thru-hiker to experience the incredible finish: For fit hikers willing to extend a holiday weekend, this backpacking trip is one for the ages. This hike has incredible views of the North Cascades, great wildflowers, and some of the biggest huckleberries I've seen anywhere. This section also shares a path with the Pacific Northwest Trail, which leaves the PCT to head towards the Pacific Ocean. While the border itself doesn't have an epic viewpoint, the humble clearing in the woods with a distinctive cut in the forest along the border still feels monumental, even if you haven't hiked for months to get there. Snow lingers on this section well into July, especially from Rock Pass to Woody Pass, so check conditions, hike later in the season, and bring the right equipment and skills.