The Oregon Coast Trail is the Quirkiest Thru-Hike Out There
The OCT might not have the wilderness solitude of other long trails. But lean into its unique charm and you'll find a thru-hike experience unlike any other.
Heading out the door? Read this article on the new Outside+ app available now on iOS devices for members! Download the app.
Hiking isn't just a hobby—it's a lifestyle. Maggie Slepian tackles the hiking life—and all of the joys, problems, arguments, and weird quirks that go along with it—in her column.
I walked through a tidy residential neighborhood for a solid mile before pulling out my phone to check the GPS. As I tried to get my bearings, a man standing in front of his neatly manicured lawn glanced at me in surprise. In my dirty hiking clothes and tent-pole-festooned pack, I must have looked out of place.
I was on the northern section of the Oregon Coast Trail (OCT), and, it turned out, this neighborhood was indeed officially on the route. After climbing a short, steep sidewalk, I came to a trailhead leading to a forest path that ended up being my favorite part of this section. 
Every few hours had brought something different on the OCT so far, and this day was no exception. The entire trail had felt like a backpacking scavenger hunt as I linked together trailheads hidden up residential cul-de-sacs. I was never sure what I would find next, but I was certainly never bored. 
The Oregon Coast Trail is around 380 miles long from beginning to end. The length varies depending on reroutes, closures, and whether you hitch around an extended highway portion. I have no idea how many miles I've section-hiked on this trail, but I know I've done most of the northern half. The miles so far required a bus around 16 miles of highway, a ferry across an impassable waterway, backtracking during high tide, coastal towns, beach walking, and incredible cliffs above crashing waves and sea stacks off the coast of Oregon.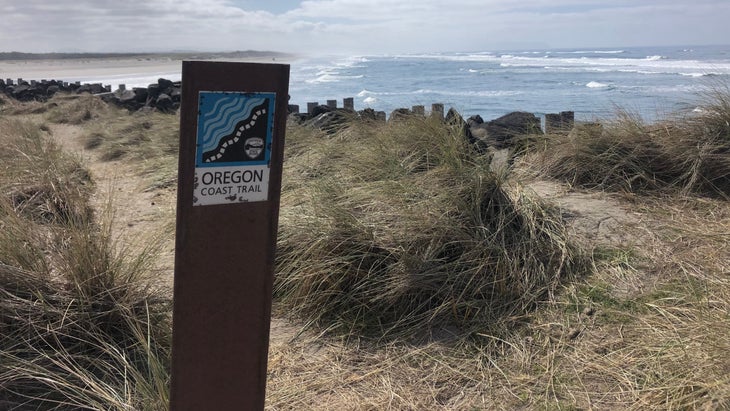 The Oregon Coast Trail
The Oregon Coast Trail is a unique blend of wild terrain and civilization. The OCT takes hikers from 15 miles of beach walking straight up 1,000 feet of switchbacks overlooking the glittering Pacific Ocean. From there, you might drop to the highway before meandering through neighborhoods at the edge of the beach. An hour later you're walking into a town center to grab a slice of pizza before an evening of beach walking. It might not be a physically demanding or particularly remote trail, but it also sure isn't a straightforward dirt path under the trees.
I have been piecing this trail together since last November, and have vague plans to finish it at some point this year. It's easily accessible and passable in all seasons, which makes it perfect for my unpredictable schedule. This flexibility is wonderful, and, for me, the oddities of the trail aren't a detriment—they add to the appeal. 
Backpackers are well accustomed to seamless, signed trails. While there is rarely a trail without some closure or road-walking section, the majority of trails we add to our bucket list don't necessarily involve following GPS tracks through neighborhoods and along the shoulder of a highway.
I recently heard someone refer to the Oregon Coast Trail as a "Tier-II Trail." To them, the OCT is a lesser trail because it lacks the funding to buy land (which would decrease segmentation), and it doesn't have the infrastructure or resources to clear blowdowns and keep up with maintenance. I don't think that's fair.
The bigger-name trails might have more funding, robust trail work, and a more streamlined experience with plenty of trail markers. That's not what you're walking into on a trail like the OCT, but to me, this more loosely-defined trail experience gives me more freedom during the hike. A blurb on the Oregon Coast Trail website actually suggests taking public transportation around that long highway section, and the sheer amount of reroutes and trail closures have made my hiking companions and I get creative. We might stay on the beach during a town segment, or take an alternate loop down the side of a small peak. There are no purists on the OCT, no one arguing about reroutes and traditions, and it feels less rigid than what I've become accustomed to on the bigger-name long trails. 
The deeper I dive into different types of trails, the more it opens my eyes to lesser-known routes that change my expectations of what a classic backpacking experience should look like. This past year of impromptu trips has shown me the value in finding everything this type of trail has to offer, and the different ways hikers can adapt to them. 
What started as a last-minute, off-season excursion has opened up a world of backpacking possibilities that come with their own unique challenges and experiences. These unconventional trails might not have the majesty and lore of the John Muir Trail, Colorado Trail, or Pacific Crest Trail, but it's these wacky, surprising trips that I've come to truly appreciate. Sidewalks or no sidewalks.