The 5 Best Hikes on the Appalachian Trail, as Chosen By a Thru-Hiker
An end-to-end trek of the AT takes a lot of time—but anyone with a free weekend or a few vacation days can experience the highlights. We asked longtime thru-hiker Liz "Snorkel" Thomas to pick her favorites hikes on the Appalachian Trail.
Photo: Cavan Images via Getty
Heading out the door? Read this article on the new Outside+ app available now on iOS devices for members! Download the app.
Whether you have a long weekend or just a long day, you can get your Appalachian Trail fix without quitting your job. The AT is replete with dayhikes and short backpacking trips that can give you a taste of the Appalachian Mountains, all within a manageable distance. I've thru-hiked the AT twice, and found these miles to be the most memorable highlights from its more than 2,000 miles. You don't need to tote a big backpack to experience any of them, but all five will give you a taste of the different regional flavors of the AT that make the trail such a special experience. From Georgia to Maine, these are my picks for the best hikes on the Appalachian Trail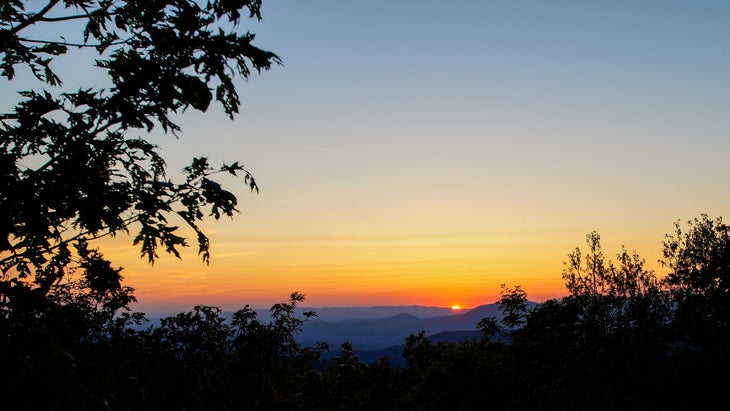 Springer Mountain to Neel's Gap, Georgia
Miles: 32.3 miles total (point to point; add 1 mile out and back to tag the Springer Mountain marker)
Elevation change: 7,688 ft ascent, 7,943 ft descent
Days: 2-4 days
AT Mile Markers: 0 to 31.3
 It doesn't get any more iconic than the southern terminus of the Appalachian Trail. Those first 33 miles are a rite of passage for northbound thru-hikers, who either start to find their trail legs or learn after a few hard days that this trail was more than they can chew. You can experience one of the best hikes on the Appalachian Trail over a long weekend. Start at Springer Mountain Trailhead and hike south for 1 mile to touch the iconic southern terminus marker and maybe even spend the night at Springer Mountain shelter. If you're in for a 3-day weekend, head back north on the AT to the trailhead. 5.4 miles in, take the 0.1 mile detour to Long Creek Falls and camp 8 miles in at Hawk Mountain Shelter, an iconic first shelter for many AT thru-hikers. (Don't want to take it that slowly? Fifteen miles in, you'll find Gooch Mountain shelter.) There are a handful of official camping options before you reach Blood Mountain, the highest point on the Georgia section of the AT and a popular dayhiking destination that features a beautiful stone Civilian Conservation Corps building. This whole section has a lot of elevation gain, even by AT standards: Blood Mountain is considered a thru-hiker testing ground. Note that the Chattahoochee National Forest requires bear cans for your last 3 miles into Neels Gap, –and you should be bear aware no matter where you stay on this hike.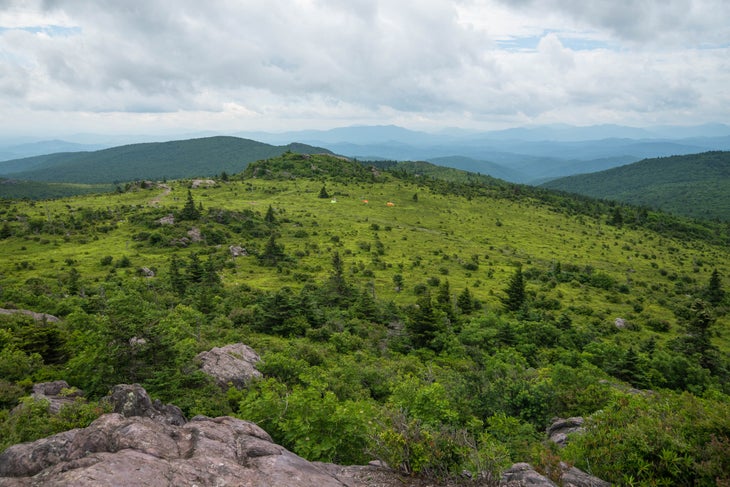 Grayson Highlands to Mt. Rogers, Virginia
Miles: 8.8 (point to point; 7 miles on the AT, plus a 1 mile round trip to Mt. Rogers's Summit and a 0.8 mile spur trail to Grayson Highlands Backpacker parking)
Elevation change: 1,851 ft ascent, 1,750 ft descent
Days: 1-2 (camp at Thomas Knob Shelter)
AT Mile markers: 494.9 to 501.9
 Climb rocky hilltop meadows covered in blooming azaleas with views of the high country of southern Virginia. You'll walk through the Lewis Fork wilderness to the high point of the AT in Virginia, just before Thomas Knob Shelter. One of my favorite things about this area is that it has fir forest reminiscent of what thru-hikers see much farther north on AT in New England. Pro tip: Take the optional ½ mile side trail to climb to Mt. Rogers, the highest point in Virginia. The summit is forested, but there are views on the way to the top. 
Continue north on the AT with views of green grassy hillsides and the chance to see miniature wild ponies; the open meadows of Wilburn Ridge make these miles among the most memorable of the entire 2,200-mile thru-hike. The AT soon passes Fatman Squeeze, a tight squeeze between a cliff and a boulder (there's also an alternate around it). You'll end at the Grayson Highlands State park, where the ponies are abundant. The backpacker's parking lot is a little farther northeast along the AT, but that just means you'll have more chances to see more horses.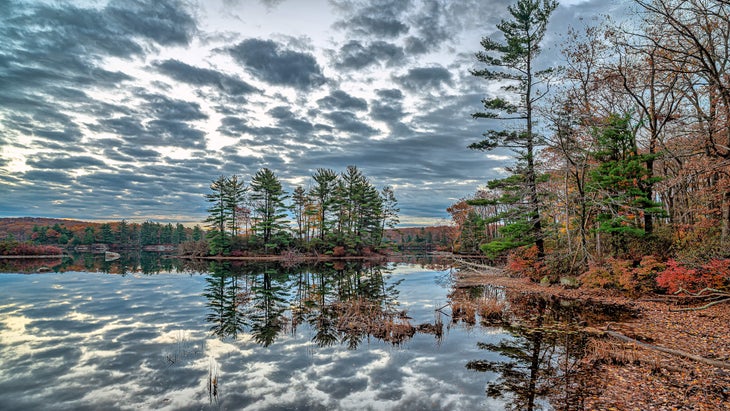 Harriman State Park to Bear Mountain Recreation Area, New York
Miles: 18.3 miles (point to point)
Elevation change: 4,042 ft ascent, 4,442 ft descent
Days: 1-3 days
AT Mile Markers: 1387.8 to 1406.1

This hike is just 40 miles from New York City, yet it gives you a taste of two sides of the AT: the challenging wildlands of Harriman State Park and the relatively urban park of Bear Mountain. The Elk Pen Trailhead starts with open views across a meadow towards the hills of Harriman State Park. Picnic at Island Pond for a great view of the surrounding hills and forest. Head back to the AT, and you'll reach the highlight: the Lemon Squeezer. This narrow natural tunnel between giant boulders requires some hand-over-hand climbing and literal squeezing between rocks. There's a detour route around it, but if you (and your pack) can make it, the Lemon Squeezer is an iconic spot that AT thru-hikers remember years later, not to mention a great spot for a photo. Stay the night at Fingerboard Shelter or the William Brien Memorial shelter, both historic stone shelters built by the Civilian Conservation Corps. Another highlight is the summit of Black Mountain, which offers the best view of the New York City skyline from the AT. Climb Perkins Memorial Tower on Bear Mountain for another view and continue to the Trailside Zoo and Museum, which features native species like porcupines, box turtles, and more. It's a unique and unforgettable ending for a backpacking trip.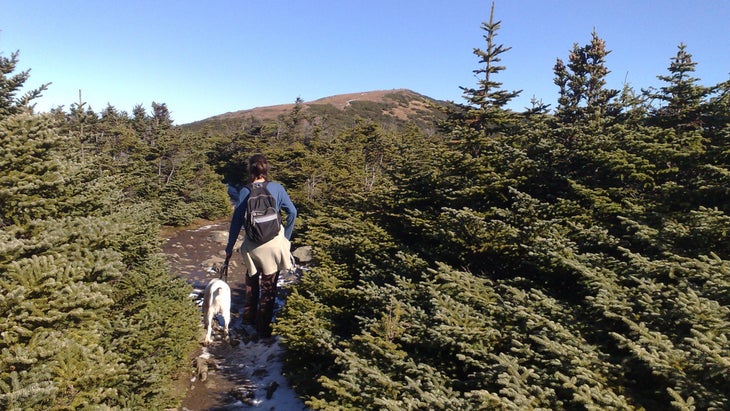 Mt. Moosilauke, New Hampshire
Miles: 7.3 (out and back)
Elevation change: 3,301 ft ascent and descent
Days: 1
AT Mile Markers: 1800.9 to 1804.6 (one-way)

You can't go wrong with an epic dayhike or weekend on the AT's New Hampshire section. At 4,800 feet, Mt. Moosilauke is one of 48 4000-footer mountains in the state and is the first time northbound thru-hikers will climb to this height since Mt Rogers in Virginia. Moosilauke is also one of the White Mountain summits that is closer to a road, making it one of New Hampshire's more dayhiker-friendly AT peaks. I've climbed Moousilauke in all seasons and its open view at the summit, miniature fir forest at the top, population of moose, and steep climb make it memorable. The last half mile to the summit is rocky, but that makes the summit even more rewarding.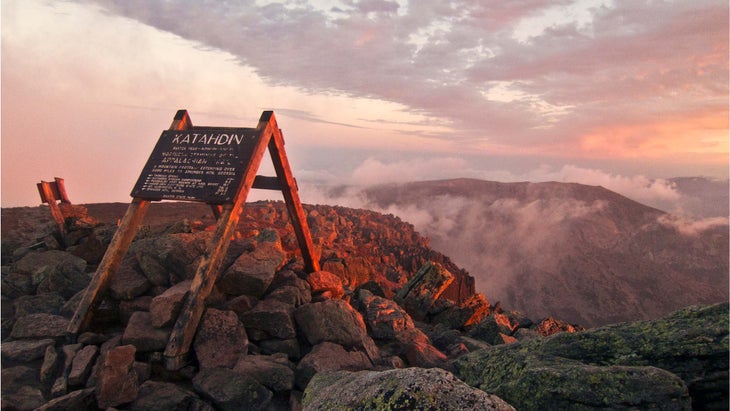 Mt. Katahdin, Maine
Mileage: 15.1 (one way), minimum additional 5.5 miles to get back to the nearest road
Elevation change: 5,320 ft ascent, 640 foot descent
Days: 1-2 days
AT Mile Markers: 2183.3 to 2198.4
No list of the best hikes on the Appalachian Trail would be complete without this one. Arguably the most iconic ending of any Triple Crown Trail, the northern terminus of the Appalachian Trail at Katahdin is unforgettable—and not just for thru-hikers. The highest point in Maine at 5,247 feet, it has steep drops to the north and no mountains that obstruct the view for as far as you can see. Start at Abol Bridge at the edge of the 100 Mile Wilderness. Cross into the southern border of Baxter State Park. In good weather, you'll have a stunning and somewhat intimidating view of Katahdin nearly 4,500 feet above you. You'll walk along waterways, with a potential swimming hole near Pine Point and the Nesowadnehunk Stream and several side trails leading to waterfalls. Another side trail leads to Daicey Pond, a place for a swim and to look out at Mt Katahdin once again. \
Pass the Birches and Katahdin Stream Campground spur trails, especially if you're spending the night before the climb. From here, start climbing and a mile later, pass Katahdin Stream Falls on the Hunt Trail. This is your last chance for a privy before the trail gets narrow, steep, and rocky. Then, you'll climb for 2 miles until you reach treeline and negotiate hand-over-hand rocky scrambles, with the occasional rebar ladder to help. Things mellow out at the Gateway for the last 2 miles, amid views of the Maine Woods and the AT as far back as Whitecap Mountain, 100 miles away. You've got to be on top of your camping and parking permits for this hike: Make a reservation for a parking spot in Baxter State Park up to 2 weeks before your hike (or as early as April 1 if you're a resident) and camping reservations 4 months out. And remember: Always check with rangers before you head for the summit, as the mountain is sometimes closed during lightning storms or whiteout conditions.