Thru-Hiking the Appalachian Trail: Everything You Need to Know
The Appalachian Trail is the adventure of a lifetime. Make it yours with our ultimate guide to the country's most famous footpath and the prep, gear, and knowledge you'll need to go the distance.
Heading out the door? Read this article on the new Outside+ app available now on iOS devices for members! Download the app.
The Appalachian National Scenic Trail, generally known as the Appalachian Trail or simply the AT, is a marked hiking trail in the eastern United States extending between Springer Mountain in Georgia and Mount Katahdin in Maine. It is approximately 2,184 miles long and is famous for the thru-hikers who attempt to travel its full distance in a single season. An unofficial extension, known as the International Appalachian Trail, continues north into Canada and ends in Newfoundland and Labrador.
Maintaining a massive path like that is a team effort: 30 different trail clubs chip in to build and repair trail, under the management of the National Park Service and the nonprofit Appalachian Trail Conservancy. While some sections of the path traverse towns and cross roads, the majority of the AT is in the wilderness. Below, you'll find answers to some of the most common questions about the Appalachian Trail, such as:
How can I prepare for the Appalachian Trail
How long is the Appalachian Trail, and how long will it take me to hike it?
How much does it cost to hike the Appalachian Trail?
What gear should I pack for the Appalachian Trail?
How much should my pack weigh for the Appalachian Trail?
Can I hike the Appalachian Trail with my dog?
What states does the Appalachian Trail go through?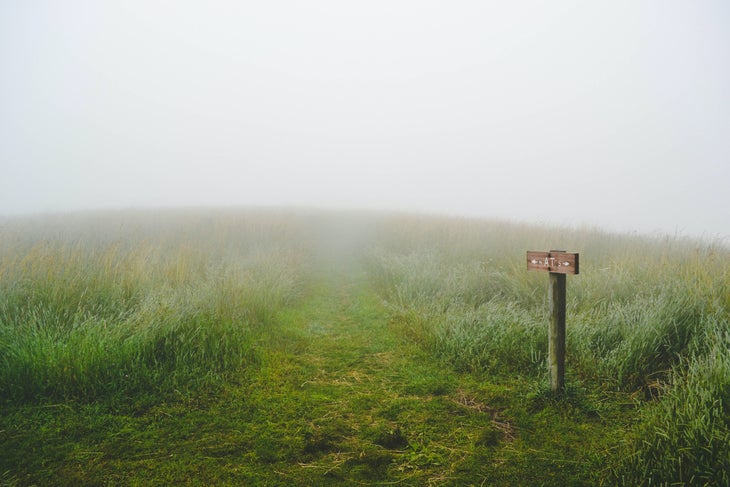 The trail passes through 14 states, including all 13 of the original colonies. On a trip up the AT, you will hike through Georgia, North Carolina, Tennessee, Virginia, West Virginia, Maryland, Pennsylvania, New Jersey, New York, Connecticut, Massachusetts, Vermont, New Hampshire, and Maine. More than a quarter of the path lies in Virginia, making it the state with the longest segment of the Appalachian Trail. The three states with the shortest segments are West Virginia (4 miles), Maryland (41 miles), and Connecticut (51 miles).
What to Expect on an AT Thru-Hike
The Appalachian Trail is not a full wilderness hike, so popping into town is mostly easy and convenient.
Because the AT generally lies only a few miles from civilization, most thru-hikers regularly resupply in towns along the way. The only exception is the Hundred-Mile Wilderness in Maine where you will have to carry enough food for 8 days or more.
You'll sleep in shelters most of the time. There are more than 260 shelters along the Appalachian Trail, but bring a tent or hammock just in case shelters get crowded or there are loud neighbors you'd rather not spend the night with.
Many people are tempted to hike without maps because the trails are very well marked. Don't do it: In the case of an emergency, a map and a compass will get you out of a jam.
To avoid bears, keep your food in bear cans and bear boxes (available near shelters) to prevent them from smelling and stealing your food. Black bears are usually shy and seldom aggressive towards humans. If you do encounter a black bear, speak loudly but calmly to it while backing away. If it does attack you, fight back.
Rattlesnakes and copperheads also call the trail home, and are most common from Georgia through Massachusetts. If you encounter a venomous snake, don't agitate it: Walk away or slowly let it pass.
You can get a cell signal nearly everywhere on the trail, even on the 100-mile wilderness section in Maine. (But as always, don't rely on your phone as your only navigation device.)
Because the trail tends to get over-crowded, reducing human impact on the environment is encouraged. Try using stoves instead of building campfires, sleeping in shelters rather than tents, and avoiding the trail during the most popular months.
When should you start thru-hiking the AT?
This answer depends on which direction you hike in. Generally, the best time of year to hike the AT is mid-March to early April if you start in Georgia and go northbound—which is what most people do.
Start Date for Northbounders:
If you're going northbound, the optimal start date is mid-March to early April. The biggest issue with starting at this time is having to share what you thought would be a peaceful wilderness experience with hoards of people who also begin their thru-hike during this time. Expect crowded trails and a "party" atmosphere in the campsites.
To avoid crowds, start between April 15 and the first week of May. The disadvantage with this timeline is that you'll be a few weeks behind schedule. The terminus at Mount Katahdin closes on October 15, so you'll have to walk a bit faster. Your goal should be to reach the terminus before early October.
You also have the option of beginning in February, but this is only recommended for experienced hikers due to severely snowy weather.
Start Date for Southbounders:
If you decide to go southbound, start in late May to mid-June when the weather has warmed up, but you'll still have enough time to complete the trail before winter begins. Keep in mind that you'll be tackling some of the trail's most difficult terrain off the bat, so this isn't a good option for novices.
Going Northbound vs. Southbound on the Appalachian Trail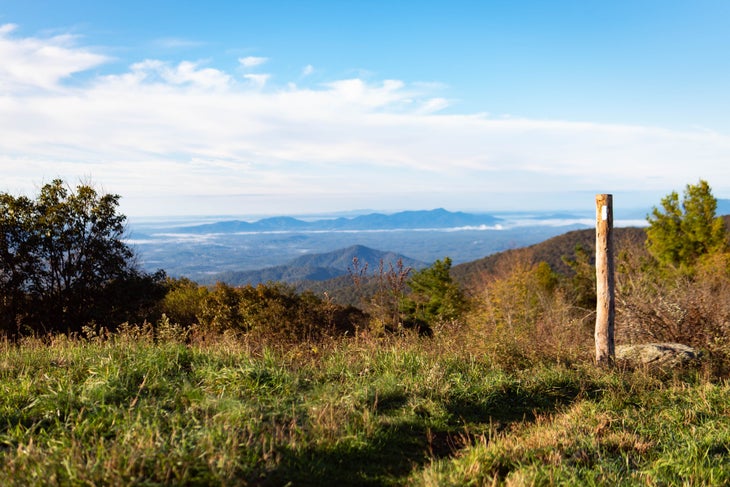 Not many people go southbound—with good reason. Beginning a 6-month hike climbing rocky mountains in cold weather is a tough proposition for anyone who isn't already an experienced long-distance hiker. With that said, there are pros and cons to consider for both directions.
Pros and Cons of Hiking Northbound on the AT
| Pros | Cons |
| --- | --- |
| You start off hiking relatively easy terrain and work your way up. | The trail and campsites are crowded |
| It's great for social butterflies because there are more people on the northbound trail. | You have to stick to your pace because Mount Katahdin closes in early October. |
| The weather is more favorable | |
Pros and Cons of Hiking Southbound on the AT
| Pros | Cons |
| --- | --- |
| Starting out on difficult terrain and finishing on easy paths means you tackle the hard part while you're still fresh. | Starting out climbing snowy mountains and then hiking 100 miles without resupply points is not everyone's ideal plan. And because the first leg of your hike has few supply points, you'll be carrying a very heavy bag through difficult terrain. |
| You don't have to rush to get to the terminus, because parks in the South will still be open when you reach them in November and December. | You'll be hiking through snow in the trail's northern reaches, and possibly in the south as well. |
Flip-Flop Hikes and Section-Hiking the Appalachian Trail
In recent years, an increasing number of hikers have opted to tackle the Appalachian Trail as a flip-flop: They hike one half of the trail, then travel the other half in the opposite direction, or travel to the other end and hike back to the midpoint. For hikers who may not have the time to dedicate to doing the trail in a single chunk, section-hiking the AT over the course of several years is an attractive option as well.
What Are the Best Sections of the Appalachian Trail?
Unlike other long trails, the 2,175-mile AT is a true mountain path for virtually its entire distance. That makes it both more satisfying–and more difficult–than many hikers expect. Here's what you'll encounter on the AT's four major sections on a northbound hike. —Michael Lanza
Southern Appalachians 456 miles, about 40 days
There's no break at the beginning: Georgia's 75 miles are second only to New Hampshire in terms of vertical gain, and North Carolina's Nantahala and Stekoah Mountains get mighty steep. Plan on hiking fewer than 10 miles per day as your legs adjust. Expect to cover up to 15 miles in the Smokies, and even more through Tennessee's balds.
Virginia and West Virginia 554 miles, about 40 days
This is where you'll hit your stride. The path here is relatively easy, with modest elevation changes and good tread. Plus, you'll have your trail legs under you after the first month; many thru-hikers crank out 20-mile days here. Stores are frequently accessible (often every few days), so you can keep your load light and really fly.
Mid-Atlantic states 430 miles, about 32 days
Smaller hills here allow 15 to 20 miles a day–except in the rockiest parts of Pennsylvania, where your mileage may be sliced in half. Don't kill yourself on the rocks–there's still a lot of trail ahead.
New England 734 miles, about 57 days
Fallen behind? Make up ground on the first part of the home stretch–through Connecticut, Massachusetts, and southern Vermont–which is easy compared to what comes after. In the White Mountains, the AT gets rockier and steeper; even strong hikers might cover only 10 miles a day. In Maine, you can expect fickle autumn weather. If you're in shape and on schedule for the final kick to Katahdin, take rest days during the worst storms.
How to Prepare for Thru-Hiking the Appalachian Trail
Do I Need a Permit to Hike the AT?
You don't need a permit to hike, but they are required when going through the Great Smoky Mountains National Park in North Carolina and Tennessee, in Shenandoah National Park in Virginia, and in Maine's Baxter State Park. The best way to obtain these permits is to do so when you arrive at the park, as some permits expire after 30 days. The Great Smoky Mountains Park permit costs $20, but the other permits are free.
Do I need to register my thru-hike?
While registration is not required, it's strongly encouraged. Registering for the AT connects you with other prospective AT hikers so everyone can coordinate start dates and itinerary and avoid overcrowding on the trail and in the shelters.
Packing the Absolute Necessities
In addition to the basic gear listed on our Appalachian Trail Packing List, AT thru-hikers should also remember to bring the following:
A guidebook or map (Even though everything is well-signed, the A.T. Guidebook is popular with most thru-hikers hikers because it includes information on town amenities, elevation, and water sources.)
Blaze orange hat or vest (Don't get mistaken for game during hunting season. Orange clothing is also a requirement when going through the northern ⅔ of Pennsylvania.)
Flashlight or headlamp
Sunscreen (The AT is known for being a "green tunnel" with ample tree coverage, but if you begin your hike in early spring, you'll walk under naked limbs in Georgia and North Carolina, exposing your skin to the sun's harsh rays.)
Quick-dry shoes and clothing (It rains a lot. A rain jacket is not enough; pack rain pants too.)
Warm clothing (A down or synthetic puffy is a must. As always, never wear cotton in the backcountry.)
Water filter or chemical purifier
Garbage bag (to carry out trash)
Mylar blanket (It's super lightweight, keeps you extra warm, and can double as an emergency signaling mirror.)
Body glide, Vaseline, or some other ointment to prevent chafing.
Where do I find water on the AT?
Water sources are abundant on the Appalachian Trail. You can find water near almost every shelter, and streams are common along most of the trail. Downside: The trail is crowded. To avoid contracting giardia, treat the water with a water purification filter or a chemical purifier.
How much food should I pack?
A thru-hiker typically eats 4,500-plus calories a day, but this will vary from person to person with size and metabolish. A good rule of thumb is to eat 2,000 more calories per day than you would normally eat. If you're not a fan of counting calories, then the best tip is to eat as much as you can and eat often.
How much should a thru-hiker's backpack weigh?
A lightweight backpack helps you travel longer, faster, and more comfortably, so aim to carry no more than 20% of your body weight (including food and water). To put things into perspective, consider these three categories of base weight (the weight of your backpack not including food and water, because how much consumables you carry will vary in each section).
Ultralight: 10 pounds or less
Lightweight: 20 pounds or less
Traditional: 30 pounds or less
Designating a Support Person at Home
Let your support person know where you will be on the trail and when you will be in that location. Give them a call at certain checkpoints so they know where you are in case of an emergency. Your support person can also be the one to call when you need a resupply box sent to a specific location on the trail.
Training for the Appalachian Trail
Don't let anyone tell you to "just hike yourself into shape." While it's true that you'll inevitably gain trail fitness, that only applies if you don't quit. A recent study of AT thru-hikers confirmed that people who start with a better fitness level (measured by VO2 max), lower body-fat percentage, and lower weight overall are more likely to be successful. So increase your odds of finishing, decrease your risk of injury, and enjoy that first month much more by starting this training plan three months before your hike. —Michael Lanza
Strength
Two to three times per week, do muscle-building exercises that incorporate your core. Examples:
Push-ups: Perform them while resting your legs on an exercise ball.
Lunges: While holding a weight or medicine ball, twist your torso to the side of the forward leg, then return to starting position and repeat.
Step-ups: Hold 10-pound dumbbells and pump both arms up and forward with each step.
Bicycle crunches: These are great for building core strength. Do them slowly, with good form (back flat, navel in, neck straight).
Supermans: Lie on your stomach on an exercise ball; lift and extend opposing arms and legs, pause, then switch and repeat.
Prepare your feet
Strengthen ankles by using a balance board at least twice a week.
Condition soles by wearing lightweight shoes on long dayhikes.
Apply tincture of benzoin or soak feet in strong, brewed tea. Both toughen skin. Treat feet daily, starting a few weeks before your hike.
Hiking for Fitness
Do regular aerobic workouts like running or cycling, but remember that nothing prepares you to hike all day like … hiking all day. Once a week, get in a five-plus-hour hike with a pack load equal to your AT weight. Go on at least one 30-mile shakedown backpacking trip.
How many shelters are there on the Appalachian Trail?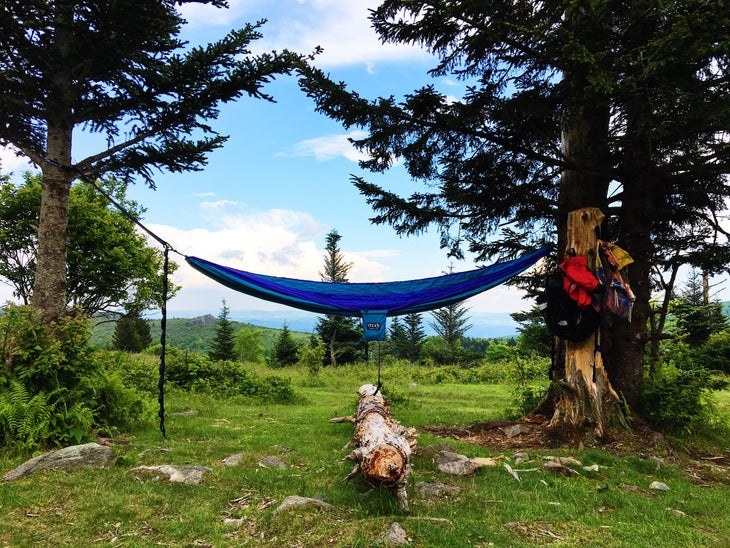 There are about 260 shelters along the entire Appalachian Trail. On average, you will run into a shelter every 8.5 miles, but some are spaced five to 15 miles apart, and if there is a town in between with lodging, it may be about 30 miles from one shelter site to the next. They are available on a first-come, first-serve basis.
Most hikers prefer these log structures to tents, and it's easy to understand why: It's simpler to just collapse than to spend time setting up a tent. Typically, the shelters are built in a lean-to style with a floor, a roof, and three walls. Most can accommodate at least six people; a few of the bigger, newer ones fit upwards of a dozen, often more.
Should I use a shelter or a tent on the AT?
Shelters are usually located near a water source, and there is usually a fire pit and a privy nearby. It's social (if you're looking for human interaction), and it's more convenient than pitching or packing a tent, especially in the rain. Some cons to sleeping in a shelter include the frequent presence of mice and the fact that shelters are usually located half a mile off-trail. Even though you might think you'll save time and move faster by spending a night in a tent, the time that it takes to locate a water source and pack up camp can take more time than it does to walk half a mile to a shelter and back to the trail.
You may ask why you should pack a tent or hammock if shelters are available. It's smart to carry a tent in case shelters are full, and this often happens when you pass through the more popular campgrounds.
How much does it cost to hike the Appalachian Trail?
The average cost of thru-hiking the Appalachian Trail ranges from $5,000 to $7,000 for a 5- to 7-month hike; that amount includes gear, trail resupply, and town expenses. Expect to spend about $1,000 a month per person. Below are recommended amounts for each category. Planning and budgeting wisely will save you a lot of headache and allow you to enjoy the wilderness stress-free.
Gear Expenses: ~$1,000 to $2,000
You likely won't spend much if you already have the necessary gear, but if you're starting from scratch, expect to spend about $2,000. The good news is that if you buy quality gear, this is going to be a one-time expense. Splurge on ultralight gear, and get everything right the first time. Test the sleeping bag to make sure it's warm enough, and hike with the backpack to ensure it's comfortable. Of the many annoyances and challenges you'll run into on the trail, dealing with cheap, heavy gear that's not up to snuff is an easy one to dodge. Check out the Appalachian Trail packing list for recommendations on essentials.
Trail Expenses: ~$15 a day
Trail expenses include buying food and shipping food. If you spend 5 months hiking the AT, that's $2,250 on food alone. Again, this is normal and you should not starve yourself to save money, otherwise you won't make it anywhere near halfway. Buy as much food as you need, and expect to consume about 2,500 to 4,500 calories per day.
Town Time Expenses: ~$50 to $100 a day
It's hard to resist the convenience that civilization has to offer: beds, hot showers, toilets, television, and restaurant food. Of course, this all adds up. If you share a hostel with friends, you'll spend around $20 a night, plus the cost of eating out. Upgrade to a motel or hotel, and you're looking at $60 a night.
You'll find it hard to completely avoid them, but don't stop in every town either (there are 70 towns on the AT). Our recommendation is to stop in a few of the Appalachian Trail's best towns to take in their culture and cuisine. Another way to save money is to camp near town—this way you'll still get to enjoy the town experience without forking out money for a hotel.
How many miles a day do I need to walk to complete the Appalachian Trail?
Most hikers start out slow, averaging eight to 10 miles a day. They will eventually work up to 12 to 16 miles a day. Don't worry if you end up doing less some days and more on other days; as long as you set a goal for where you need to be each month, you will survive and successfully complete the trail before winter.
How long does it take to thru-hike the Appalachian Trail from start to finish?
It takes the average person anywhere from 5-7 months, but experienced hikers going for fastest known times have completed the entire trail in under 50 days. Overall, 20% of people who set out to thru-hike the AT will finish.
When thru-hiking the AT, you will climb a total amount of 515,000 feet—the equivalent of going to the summit of Mt. Everest more than 17 times.
What is the fastest thru-hike of the AT?
The current men's overall and supported record for hiking the Appalachian Trail belongs to Karel Sabbe, a Belgian dentist and ultrarunner who finished the path going northbound in 41 days, 7 hours, and 39 minutes in August 2018.
The current men's self-supported record for completing the Appalachian Trail is 45 days, 12 hours, and 15 minutes, achieved by ultrarunner Joe "Stringbean" McConaughy going northbound in 2017. He averaged 48 miles (77 km) a day.
For women, the current overall and supported record belongs to Jennifer Pharr-Davis, who finished the trail going southbound in 46 days, 11 hours, and 20 minutes in July 2017. The women's self-supported record was set by Heather "Anish" Anderson in 54 days, 7 hours, and 48 minutes in September 2015, also going southbound.
How many people have completed the entire Appalachian Trail?
Since its creation in 1936, more than 20,000 people on record have successfully hiked the trail in its entirety. Of these people, about half were in their 20s. That doesn't mean you need to be a youngster to hike the AT, though: About 700 people in their 60s, and 50 people age 70 and above have completed the trail. About 15% of thru-hikers give up after just a few days of hiking through Georgia.
Did you know: About 50% of Appalachian Trail thru-hikers are in their twenties, according to the Appalachian Trail Conservancy. But if you're older, don't despair: Some 700 people in their sixties and several dozen people in their seventies have also finished the trail.
Can you hike the AT with a dog?
Most sections on the AT allow dogs, except for the following parks:
The Great Smoky Mountains National Park in Tennessee and North Carolina
Bear Mountain State Park Trailside Museum and Wildlife Center in New York
Baxter State Park in Maine
Keep in mind that you and Fido won't be the only creatures on the trail. Consult our guide on safely backpacking with dogs to make the hike enjoyable for you, your buddy, and others around you.
Interesting Facts About the Appalachian Trail
The Appalachian Trail, the Continental Divide Trail and the Pacific Crest Trail form what is known as the Triple Crown of long distance hiking in the United States.
The highest elevation is on Clingmans Dome in Great Smoky Mountains National Park, which is 6,643 feet above sea level.
The trail wasn't completed until 1937 and was largely the work of volunteers who made routes and drew maps.