8 Badass Older Hikers Who Proved It's Never Too Late to Hit the Trail
A little creak in the joints didn't stop them. Emotional maturity, discipline, and life experience helped these eight badass older hikers thru-hike as well as—if not better than—any younger trekker.
Heading out the door? Read this article on the new Outside+ app available now on iOS devices for members! Download the app.
1. George "Billy Goat" Woodard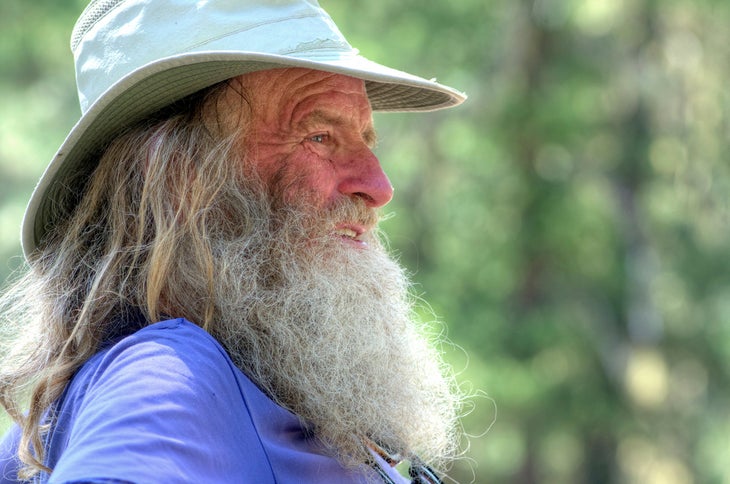 "I'm not on vacation. I'm not out for a weekend," Billy Goat once told the Los Angeles Times. "This is where I live." The retired Maine railroad worker spends six months of every year hiking the Pacific Crest Trail. He's now in his late 70s and still on trail as of the 2015 season. The triple-crowner has logged over 32,000 miles and has become a legend among long-distance hikers. To streamline the tedious process of signing his name in trail registers, Billy Goat inks a rubber stamp and leaves his red goat insignia in trail registers.
2. Emma "Grandma" Gatewood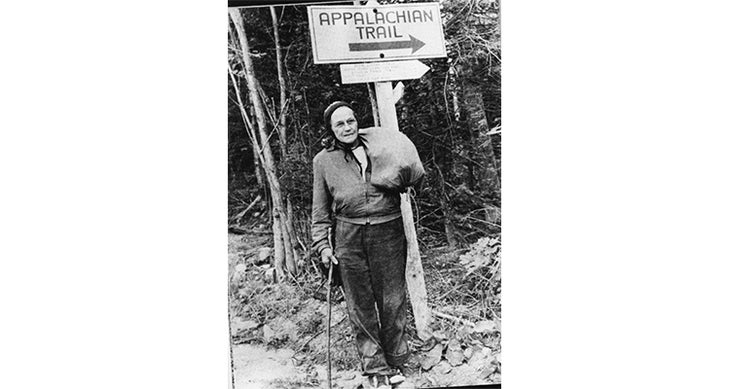 Footwear: Keds sneakers. Shelter: shower curtain. Pack: a sack slung over one shoulder. Emma Gatewood is proof that family responsibilities don't have to sideline long trail dreams. The mother of ultralight backpacking was also a mother of 11 and grandmother of 23. In 1960, she became the first woman to complete a thru hike, and at age 67, no less. She finished the trail for a second time two years later. Her toughness was beyond question. "Most people are pantywaists," she allegedly once told Ray Jardine.
3. Lee "Easy One" Barry
Easy One started hiking the AT just a year after its official opening in 1937. In 2004, he set the thru-hiker age record: 81 proud years summiting Katahdin. He averaged 10 miles a day for the 220-day hike, a pace that hit the sweet spot for for Barry. "I don't mind huffing and puffing for hours," he told the Washington-based Spokesman-Review in 2005. "I just want to be out here for the fun of it."
The secret to the steady progress? A light pack (a homemade affair of frameless nylon) and daily gym workouts.
4. Ray Jardine
This inventor and engineer is famous for revolutionizing rock climbing. Then sea kayaking. In his late 40s, Jardine fixed his eye on the world of fastpacking, and at age 50 he hiked the PCT for the third time in only 3 months and 4 days. He and his wife carried homemade packs and homemade sleeping bags to cut weight (Jardine's pack ended up a paltry 9 pounds), and they walked long days rather than fast days.
"That hike was pure joy," said Jardine of that third thru-hike. "With the focus no longer on whether or not we could finish, we could enjoy how much fun it was to spend months in the wilderness."
After revising his Pacific Crest Trail Hikers Handbook in 1995, he wandered to the next sport: arctic kayaking. Nevertheless, the father of ultralight backpacking left a stamp on the sport more enduring than his attention span.
5. Earl V. Shaffer
Let it be known: Shaffer got there first. The first ever recorded thru-hiker finished the trail in 1948. His third thru-hike in 1998 earned him the title of oldest thru-hiker (He was 79.) until Lee Barry beat him for the title in 2004. Despite the dethronement, his memoir Walking with Spring is still widely available, and his legendary status stands. Another first: Earl V. Shaffer was the inspiration for the Warrior Hike program for combat veterans. One of his motivations for hiking was "to walk the Army out of my system." Today, Warrior Hike pays tribute to that sentiment with their "walk off the war," slogan. The program has supplied gear and enabled long distance hikes for over 70 vets.
6. Bill Irwin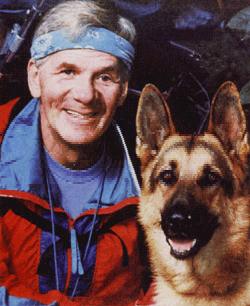 Lost youth wasn't the only obstacle beleaguering Bill Irwin: the 50-year-old thru-hiker was also blind. In 1990, he undertook the trail with kneepads and a guide dog, Orient, in lieu of map and compass. Together, the duo became known as the "Orient Express." The eight-month trip was anything but smooth, but despite innumerable falls, cracked ribs, and a bout with hypothermia, Irwin became the first blind thru-hiker. He credits his faith for his perseverance as well as his motivation for recovering from alcoholism and getting outdoors in the first place. "The first clear-eyed thing I had ever done was as a blind man, when I asked God to take charge of my life," he wrote in Guideposts. "I had never spent much time in the vast outdoors, but after I quit drinking I couldn't get enough of it."
7. Nan "Drag'n Fly" Reisinger
Drag'n Fly holds the record for the oldest woman ever to thru hike the AT. She reached the trail's northern terminus in 2014 at age 74, alongside her friend, Carolyn "Freckles" Banjak, who was in her late 60s herself. The white-haired and red-headed duo referred to themselves as Fire and Ice. Their secret? Slow and steady wins the race. "I had to keep at it. I couldn't take time off," Reisinger told The Sentinel newspaper. "We had to hike every day and not take breaks." Reisinger also credits good health, previous experience (she's logged over 6,000 miles on the AT alone), and an active lifestyle complete with canoeing, gardening, and tap dancing.
8. Warren Doyle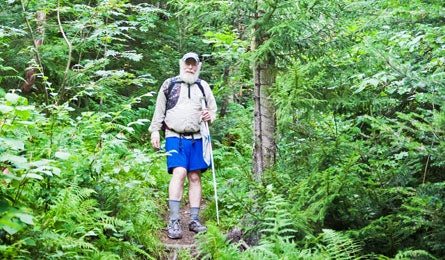 This 60-plus hiker has walked the Appalachian Trail 17 times since 1972. Nine of these have been thru-hikes. "Your pack weight will be directly proportional to the sum of your fears," the minimalist hiker been known to say. Doyle founded the Appalachian Trail Institute to provide AT crash courses to prospective thru-hikers. Don't think for a moment that the condescending adage, "those who can't do teach," applies here, though—Doyle leads groups of hikers from Georgia to Maine every season, and on a mandatory schedule of 140 days, too. The secret? Outlook. "Expect the worst. If after one week on the trail you can say that it is easier than you expected, then you will probably finish your journey," he once said. Read more.