The 5 Best New Thru-Hikes to Start Planning Now
Start planning to hike these in-progress U.S. trails in 2022.
Heading out the door? Read this article on the new Outside+ app available now on iOS devices for members! Download the app.
Every trail is special, whether it's a short jaunt in the city or a monthlong trek in the wild. But planning to thru-hike a brand new trail is extra exciting. There's something special about helping to lay the groundwork for a trip that not many others have completed yet; it feels like dialing up all the unknowns and uncertainties that make thru-hiking a fulfilling adventure. With a lot of planning (and a lot of patience while they're under construction), you can preview these five in-the-works trails now, and hike them end-to-end someday soon.
Alaska Long Trail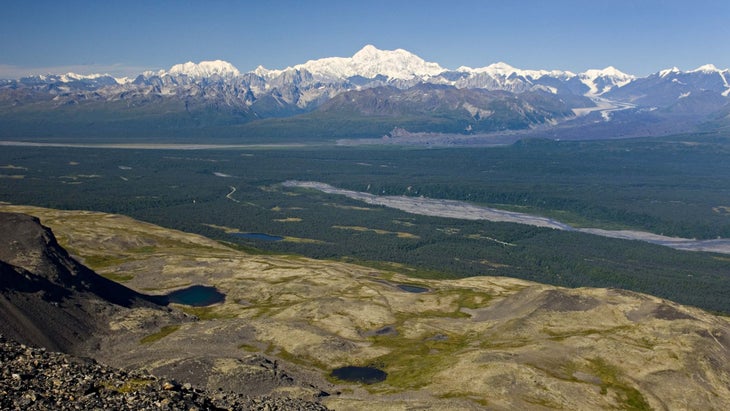 Alaska has boreal forests, icy glaciers, towering mountain peaks, and raging rivers. The only thing it's missing? A long-distance hiking trail through it all. That's exactly what the non-profit Alaska Trails decided to start building at the beginning of the pandemic. Now communities and state legislators are buying into the idea.
The first version of the Alaska Long Trail will run 500 miles from Seward to Fairbanks. Roughly two-thirds of the trail already exists, like the Kesugi Ridge Trail in Denali State Park and the Mount Healey Overlook Trail in Denali National Park. That leaves just one-third of the trail left to complete. The trail's boosters plan to get shovels in the ground and bridges built in the lowlands from Healy to Nenana, as well as restoring the Iditarod Historic Trail's Southern Trek. Trail builders are also considering adding cabins along the trail, like the AMC hut system in the White Mountains.
If you're excited about just 500 miles of rugged thru-hiking in Alaska, good news: Alaska Trails hopes to grow the trail to be over 2,000 miles long. They're dreaming of connecting to the Panhandle in southeastern Alaska as well as the North Slope. In remote terrain that often sees snowpack over trails in mid-June, this is a trail you'll likely have to hike in sections over multiple trips and years — and packing your bear canister is a must.
Support for the Alaska Long Trail has grown since its inception last spring. The Alaska Legislature and Gov. Dunleavy voiced support for (but haven't yet passed) funding for the trail, noting that the Great American Outdoor Act could provide federal funding for ongoing trail maintenance. Local businesses also stand to benefit from increased tourism, including lodging and resupplying.
Hike It: The Alaska Long Trail may be in its early stages but you can already hike sections of its planned route. Take 2-4 days to hike the 29-mile K'esugi Ridge Trail in Denali State Park (not to be confused with Denali National Park). Drive 4.5 hours north of Seward to start your hike at the Little Coal Creek trailhead and end at the Byers Lake Campground. A lot of this trail is high up in the alpine, so be prepared for high exposure and severe weather — and don't forget, Alaska is bear country.
California Coastal Trail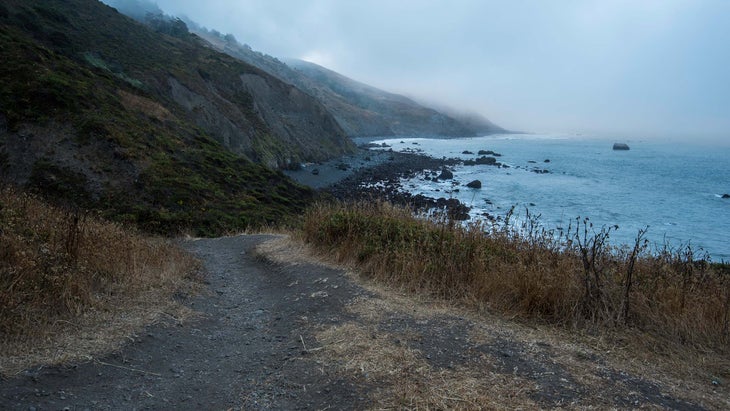 If you think hiking the Lost Coast Trail along California's rugged, wild coastline is up your alley, you can expect a lot more where that came from. The California Coastal Trail will span all 1,230 miles of California coastline, staying within "sight, sound or smell of the ocean" at all times.
The CCT was first planned back in 1975. It won't be a singular footpath like the PCT or AT, but a braided network of trails running up the coastline. That will give thru-hikers a choose-your-own-adventure journey along California's sandy beaches, tucked-away coves, rolling bluffs, sloping mountains, and rocky headlands. The trail will run along Los Angeles' famed Venice Beach Boardwalk, then head to Santa Monica Mountains National Recreation Area, Redwood National Park, Point Reyes National Seashore, and Big Sur on its journey, providing a much closer-to-civilization hike than much of the PCT.
Hikers will need to prepare to roll with the tides: some beach sections are impassable when the water is high. That means thru-hikers will need to dance to the moon's rhythm as they complete their 1,230-mile journey.
Today, the path is over 70% completed, with 875 miles of open trail. One of the biggest remaining challenges is private land along the coast, which makes it difficult to obtain land rights and private landowner cooperation that's necessary to build the trail. The PCT nearby was routed through existing public land, which makes it much easier to construct. The California Coastal Conservancy is working with over 100 government agencies and plenty of private interests to complete the project, though, which honestly sounds a lot more difficult than thru-hiking it ever will be.
Hike It: You can already hike one of the most beautiful sections of the California Coastal Trail: the Lost Coast Trail. While it's only 25 miles, don't let it's shorter distance deceive you: hiking in sand and navigating tides is long, strenuous work. Take 3 days to hike from Mattole to Black Sands Beach, and nab a backcountry permit through recreation.gov to camp overnight (no walkups available).
Great Eastern Trail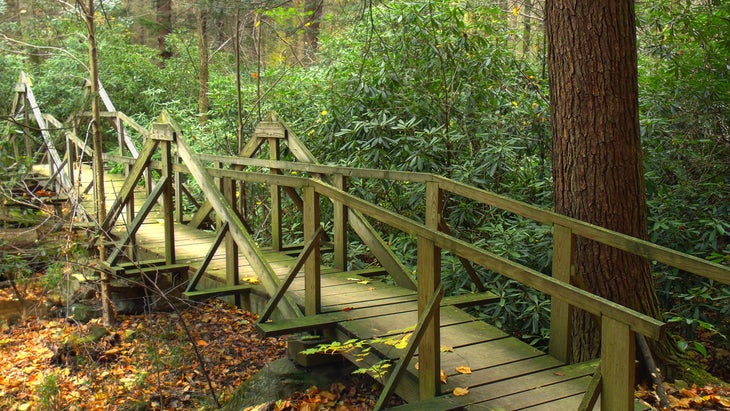 Itching for a long thru-hike that rivals the Appalachian Trail but not excited to deal with the crowds? Better plan to take 4 to 6 months off to hike the Great Eastern Trail once it's completed.
The Great Eastern Trail (GET) will wind its way from the middle-of-nowhere in Alabama to the Finger Lakes of New York, crossing 1,600 miles through 9 states just west of the Appalachian Trail. On the way, you'll cross Tennessee's Frozen Head State Park (home of the famed Barkley Marathons), hike the entire 252-mile Tuscarora Trail, stumble over the rocky terrain of Pennsylvania, and top some of New York's most famous peaks
The Great Eastern Trail Association has completed over 70% of the trail since 2007, relying on volunteers to build connecting trails Fittingly, Earl Shaffer, commonly believed to be the first person to thru-hike the Appalachian Trail, was the first person to hit on the idea of building the GET, but the first thru-hike of the GET, by Jo Swanson and Bart Houck, didn't occur until 2013
The GET will provide a much-needed alternative to the Appalachian Trail, which faces over-use and high traffic from accommodating over 1,000 thru-hikers a year and thousands more section- and day-hikers. Plus, with months and months of great scenery that's only been thru-hiked by a handful of people so far? We don't need much convincing to pack our bags and hit the trail.
Hike It: Pennsylvania has 400+ miles of completed GET trail, more than any other state. Take 4-7 days to hike the state's 84-mile Standing Stone Trail, which has become a part of the GET. You'll follow stunning ridgelines and the climb the famed Thousand Steps section which has, you guessed it, more than a thousand stone steps that climb up the mountain. The northern terminus begins at Greenwood Forest State Park and ends at a junction with the Tuscarora Trail in Buchanan State Forest near Cowans Gap State Park; overnight camping permits vary along the route.
Circuit Bay Trail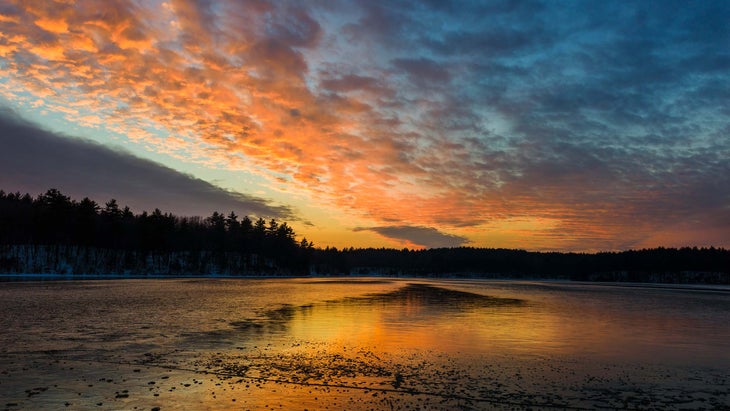 What this trail lacks in wilderness character, it makes up for in convenience and historical value. First conceived of back in 1929 as an "outer Emerald Necklace" for the enjoyment of Boston residents, the 230-mile Circuit Bay Trail around Boston has easy resupplying, public transportation around trails, and great access to restaurants along the way — sometimes even right next to the trail.
That's not to say there aren't great natural and historic wonders on this hike. The CBT leads you right to Walden Pond, the famed writing retreat of Henry David Thoreau, plus other natural areas like Audubon's Moose Hill Wildlife Sanctuary and Great Meadows National Wildlife Refuge. Thru-hikers will also interact with a treasure trove of American historic sites, like crossing the Old North Bridge at Minute Man National Historical Park where the Revolutionary War began with the 'Shot Heard 'Round the World."
The Circuit Bay Trail weaves through cranberry bogs, dense pine woods, flowery meadows, hardwood forests, and salt marshes as it winds its way in a "C" shape from Kingston Bay south of Boston to Plum Island in Newburyport. The Appalachian Mountain Club has finished much of the trail, but they're polishing up its final gaps to get it completely off-road and add more campgrounds along the way. 
Hike It: Head 40 miles southbound from the northern terminus at Newburyport to Lorraine Park Campground. You'll hike through state forests, picturesque ponds, and wildlife sanctuaries. Water is relatively easy to find and trailheads are scattered every 5 miles or so, which makes planning this hike a breeze — just be sure to book your campgrounds ahead of time.
Hickory Nut Gorge State Trail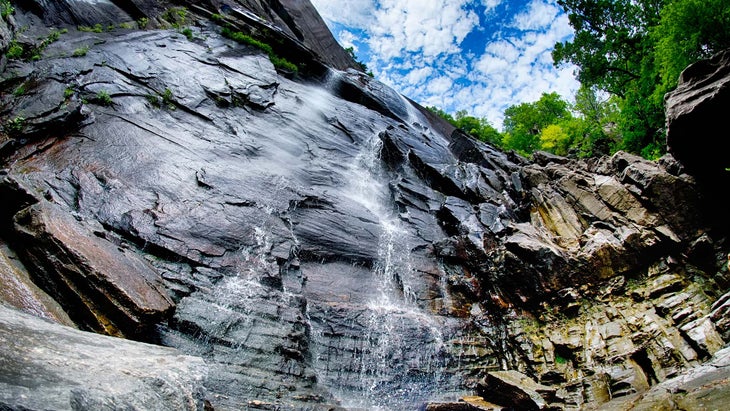 Tucked away in the Blue Ridge Mountains lies a new hiking trail that's making headway into previously-inaccessible foothills, forests, and caves. The Hickory Nut Gorge Trail will be a 130-mile trail just 25 minutes from Asheville, North Carolina. While there are 39 miles of trail built and open today, the state of North Carolina has already designated it as a State Trail. That sets the stage for the tough work of piecing together land parcels and building the path.
The Hickory Nut Gorge (for which the trail is named) is a 14-mile canyon that runs as deep as 1,800 feet. It has a great view of Lake Lure (worth an afternoon swim or two) as well as the iconic Chimney Rock, which rises 315 feet in the air with great views of the mountains to prove it. The proposed trail will also connect to Weed Patch Mountain, Bat Cave, Florence Nature Preserve, and Bearwallow Mountain — maybe even weaving to South Mountains State Park, too.
Hikers will enjoy more than a dozen waterfalls, caves and craggy rock outcroppings, plenty of foothills and mountains, and a great view of Lake Lure. These areas were previously locked away from the public by private landowners and developers, but as the trail has grown, so too has public access to these incredible natural areas.
Need one last reason to add this to your thru-hiking bucket list? Peter Barr from Conserving Carolina, the non-profit organization overseeing Hickory Nut Gorge Trail's construction, has said that the Hickory Nut Gorge is the "Gates of Mordor to the North Carolina mountains." That's all the arm-twisting we need to start planning our hike.
Hike It: With only 39 miles of non-continuous trail built today, the options for hiking Hickory Nut Gorge are limited. Take the Weed Patch Mountain Trail, a strenuous 20-mile round trip through old growth forests, trickling streams, and gorgeous mountain views. Start and end at Eagle Rock in Chimney Rock State Park (you'll need to snag and pay for a parking space). Unfortunately, there is no overnight camping along the trail, so plan for an epic, full-day hike for this one and leave the longer hikes for the more-completed trails above.