Long Trail (Section 11): VT 15 to Tillotson Camp
Ranging 23-miles through northern Vermont, this Long Trail section continues through rugged terrain and rewards thru-hikers with sweeping views of the Green Mountain range.
Heading out the door? Read this article on the new Outside+ app available now on iOS devices for members! Download the app.
Though Section 11 of Long Trail doest not tackle signature Vermont peaks like Camels Hump and Mount Mansfield (as Sections 9 and 10 do), thru-hikers still have plenty of tough ascents and rough descents to contend with on this 23-mile route–not to mention, plenty of rewarding Green Mountain vistas.
From VT 15, the route descends a trail ladder before crossing the Lamoille River and then climbing to Prospect Rock. Enjoy an overlook of the Lamoille River Valley and then continue climbing up to the broad summit of Roundtop (where another overlook awaits). Descend past the Roundtop Shelter, and then pick up steady climb up Laraway Mountain. Enjoy a view south of Mount Mansfield from the Laraway Lookout, then descend southeast along the ridge down to Corliss Camp.
Continuing northwest, the LT climbs the ridge of Bowen Mountain before dropping steeply down (past Spruce Ledge Camp) to Devil's Gulch. Here you'll scramble and squeeze through a large boulder field before skirting Ritterbush Pond and continuing north. After crossing VT 118, the final (and steepest) climb of the day awaits up Belvidere Mountain. After conquering this 2.2-mile, 1,500-foot challenge, it's about 2.5 miles to the section's end at Tillotson Camp.
Shelters: Roundtop, Corliss Camp, Spruce Ledge Camp, Tillotson Camp
-Mapped by Berne Broudy, AuthenticOutdoors.com
MORE LONG TRAIL MAPS
Section 1 | Section 2 | Section 3 | Section 4 | Section 5 | Section 6 | Section 7 | Section 8 | Section 9 | Section 10 | Section 11 | Section 12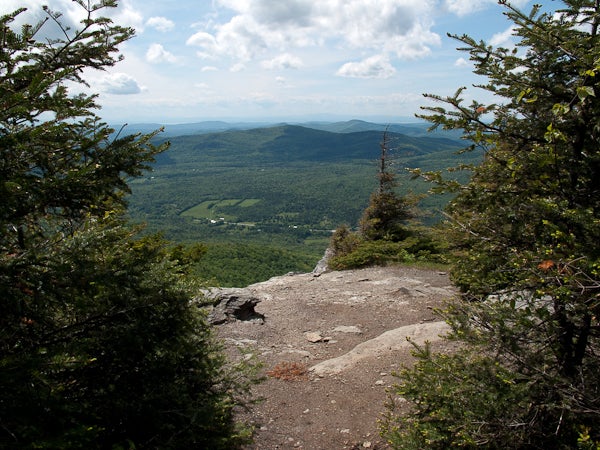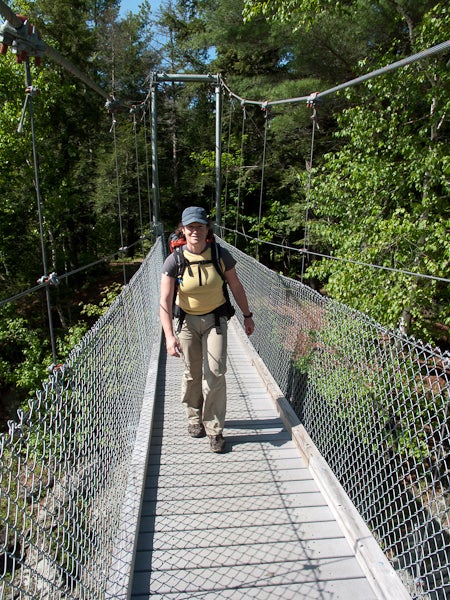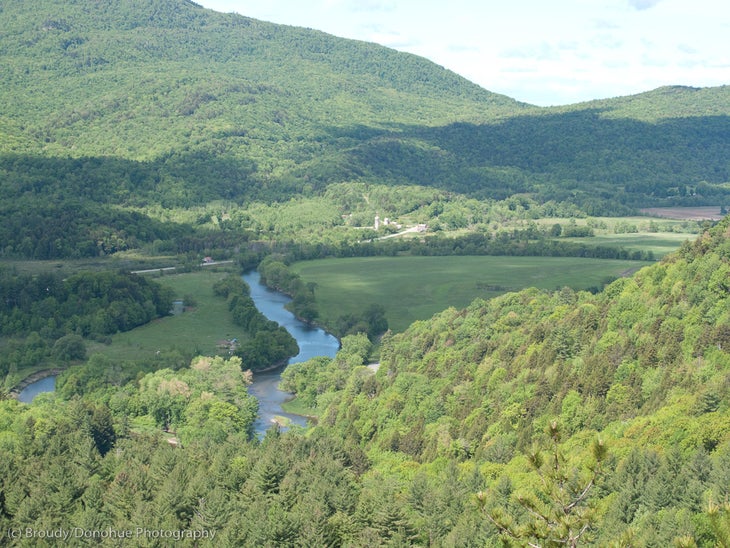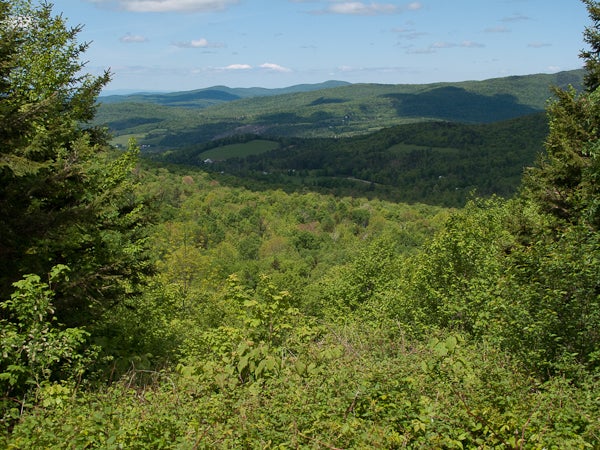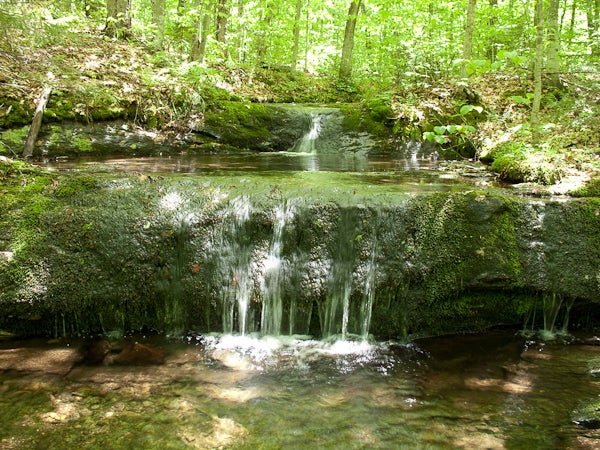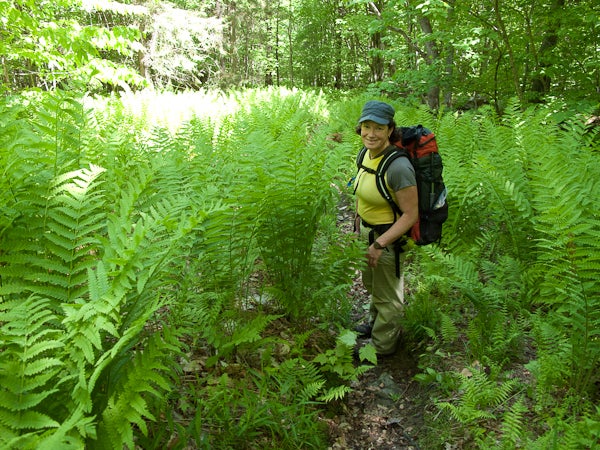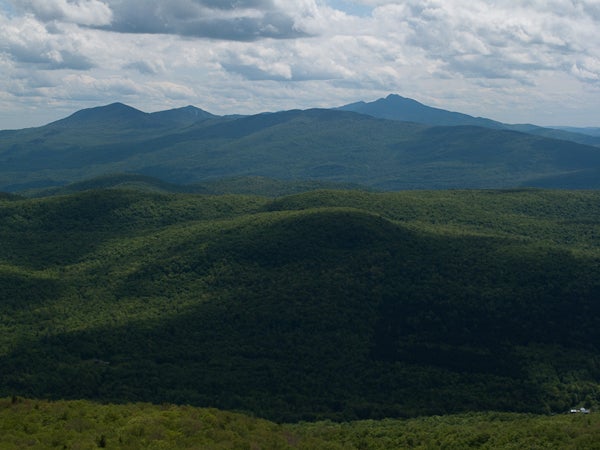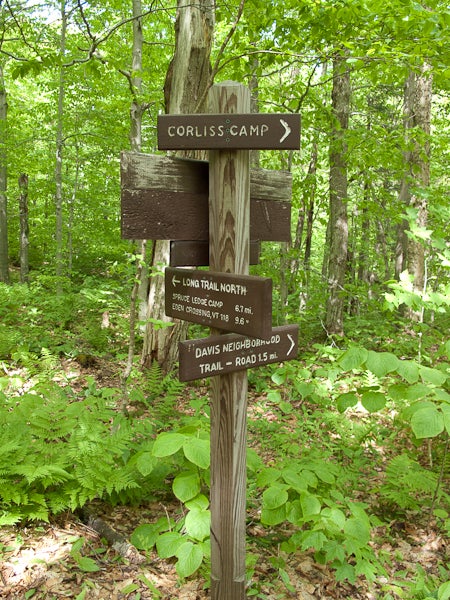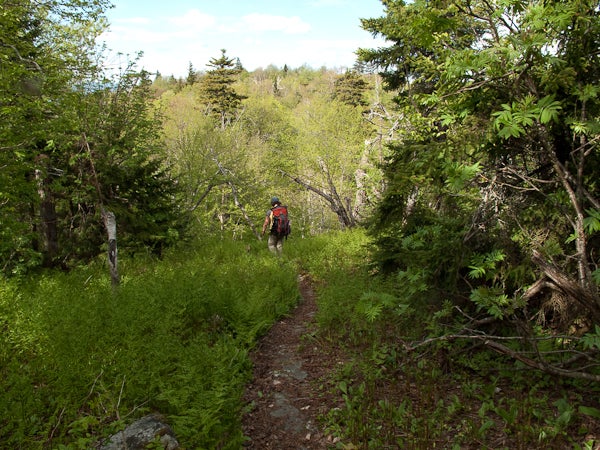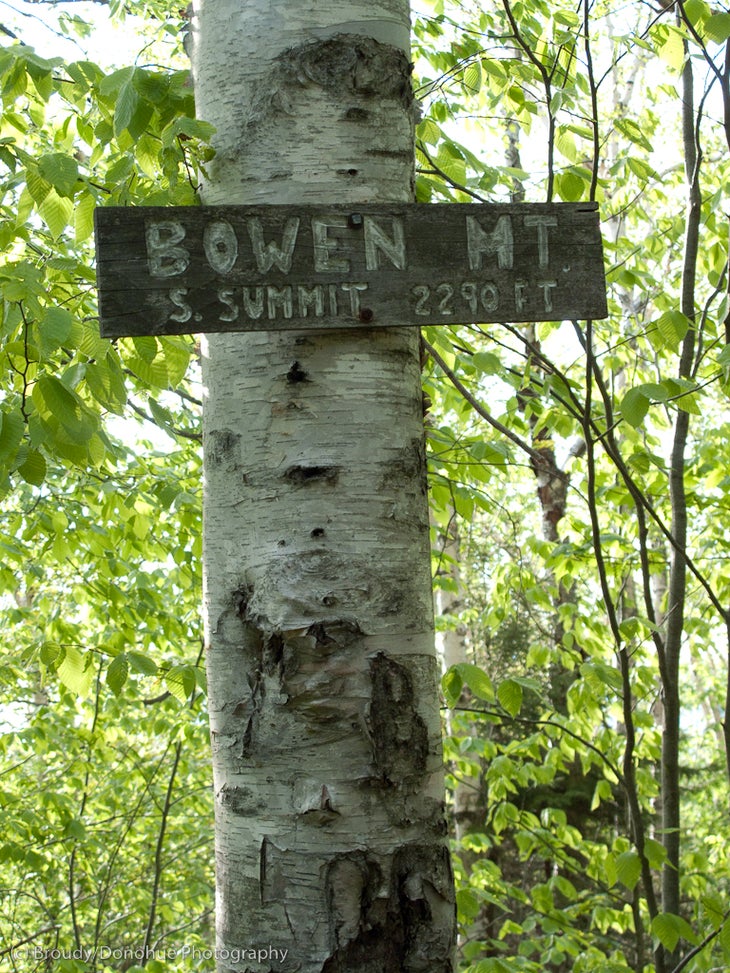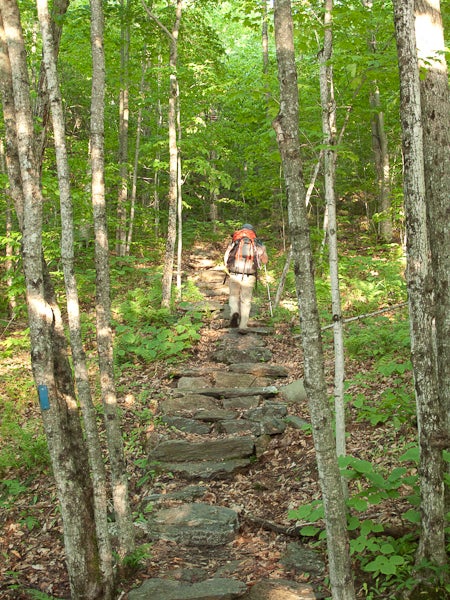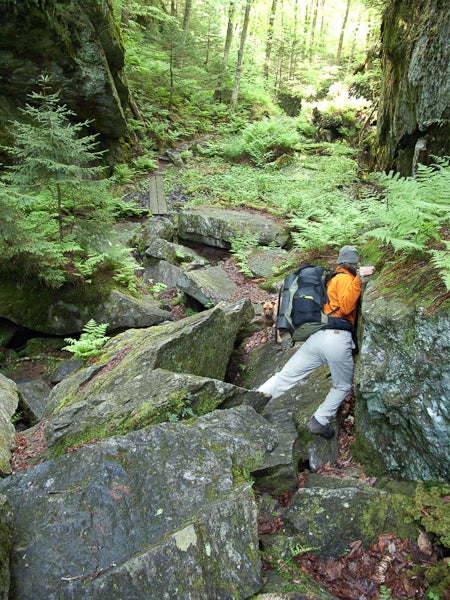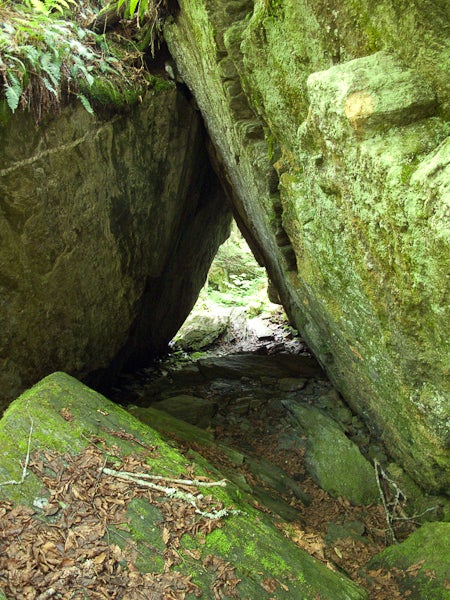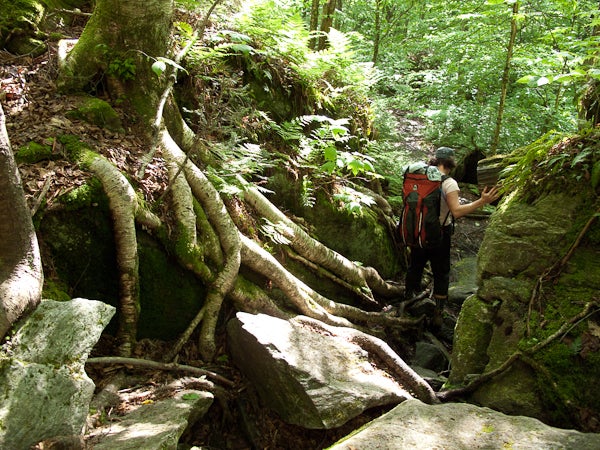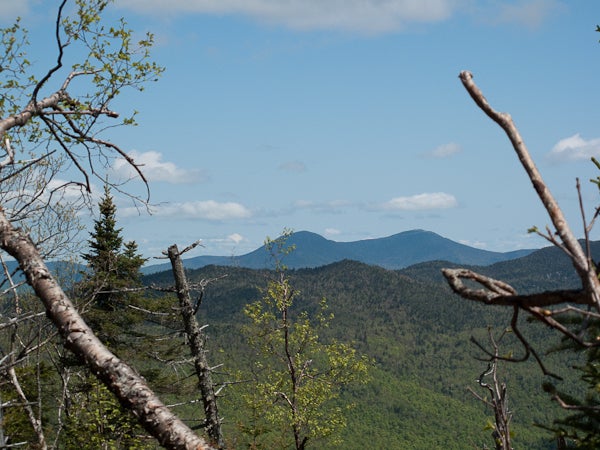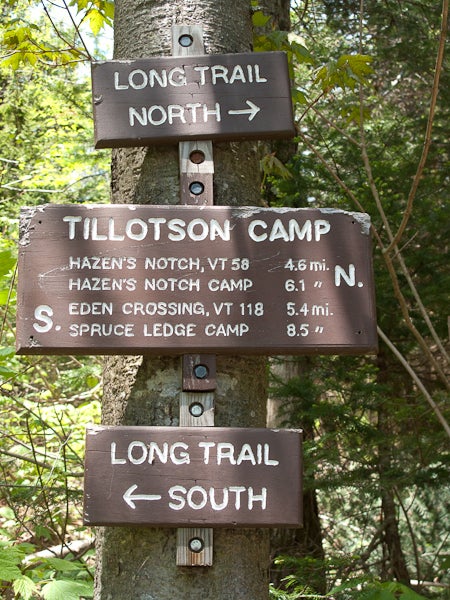 Trail Facts
Waypoints
LNG170
Location: 44.644964, -72.7282047
From the parking area on VT-15 head northwest towards the Lamoille River; ahead, a ladder aids in the descent down to the river. Cross the river and then begin the climb to Prospect Rock.
LNG171
Location: 44.6550034, -72.7231439
After a steep 200-foot climb, reach the top of Prospect Rock, which affords a nice view of the Lamoille River Valley to the south.
LNG172
Location: 44.6577283, -72.7214281
Reach the parking lot and turn left on Prospect Rock Rd; shortly ahead, the trail re-enters the woods on the right and begins a moderate climb up Roundtop before descending past the Roundtop Shelter.
LNG173
Location: 44.681342, -72.7193765
Cross Plot Road and continue climbing.
LNG174
Location: 44.7077507, -72.7113781
Cross Codding Hollow Road and begin a steep 1,000-foot climb up Laraway Mountain. Just before the top of the climb you'll reach the Laraway Lookout (with sweeping views to the southeast.
LNG175
Location: 44.7259194, -72.7119259
From the top of Laraway, continue down the east ridge on a gradual descent. Further on, the LT drops down steeper contours to a forest road.
LNG176
Location: 44.7062947, -72.6844255
Continue on the LT past Corliss Camp and begin a short climb up Butternut Mountain.
LNG177
Location: 44.722175, -72.6548212
Cross Basin Brook and follow blazes as the LT follows a few forest roads to a gravel road. Follow the gravel road for .2 mi and then turn right back into the woods to climb the north slope of Bowen Mountain.
LNG178
Location: 44.7244886, -72.6359057
Head northeast on the LT atop the ridge of Bowen Mountain. Ahead the LT descends to Spruce Ledge Camp.
LNG179
Location: 44.7454286, -72.6114277
Reach a junction with a Spruce Ledge Camp; the LT continues descending here soon curling east to navigate boulder obstacles in Devil's Gulch.
LNG180
Location: 44.7488124, -72.6027979
West of Ritterbush Pond, pass a junction for the Babcock Trail. Ahead, the LT climbs north away from the pond.
LNG181
Location: 44.7638499, -72.5867535
Cross VT-118 and begin the 1,800-foot climb up Belvidere Mountain.
LNG182
Location: 44.7740731, -72.5532865
At the saddle below the bummit of Belvidere, reach a 4-way junction with the Foresters Trail. Turn left to descend from Belvidere on the LT.
LNG183
Location: 44.7996216, -72.5509644
Section 11 ends amongst beaver dams at Tillotson Camp.
Laraway Lookout
Location: 44.72516, -72.716681
Pausing at the Laraway Lookout Perch
Crossing the Lamoille
Location: 44.6513145, -72.7290201
Prospect Rock View
Location: 44.6551001, -72.7232695
The Lamoille River Valley from Prospect Rock
Green Mountain Vista
Location: 44.6726815, -72.7264023
Tiny Cascade
Location: 44.701901, -72.718572
In the Ferns
Location: 44.705579, -72.715899
Laraway Lookout View
Location: 44.7249972, -72.7169609
Corliss Camp Junction
Location: 44.706066, -72.68424
A Fern Path on the LT
Location: 44.709405, -72.661646
Bowen's South Summit
Location: 44.7244179, -72.6355934
Side Trail to Spruce Ledge
Location: 44.745255, -72.610651
Devils Gulch Scrambling
Location: 44.745973, -72.607741
Boulder Squeeze
Location: 44.745711, -72.606552
A tight pass in Devil's Gulch
Gulch Roots
Location: 44.746292, -72.605829
Enormous roots add to the navigation challenge of Devil's Gulch.
Belvidere Lookout
Location: 44.776452, -72.555707
Tillotson Camp Junction
Location: 44.7996216, -72.551651