Long Trail (Section 06): US 4 to Brandon Gap
Tracking northwest along the western edge of the Green Mountains, this 19-mile section of the Long Trail skirts several peaks on an increasingly rugged path.
Heading out the door? Read this article on the new Outside+ app available now on iOS devices for members! Download the app.
Departing north from US 4, this section of the Vermont Long Trail splits from the Appalachian Trail at the Maine Junction at Willard Gap. As it treks north past the Ralston Rest shelter, the feel and ruggedness of the LT's path changes considerably. From here on, the route narrows and it treads over more rocks and roots as it climbs.
Heading northwest towards Brandon Gap, the route skirts the contours of several Green Mountain summits, but scales none. All the same, the LT does challenge hikers with an undulating and rugged route on this stretch, gaining just over 4,000 feet of elevation while losing about the same. Look for occasional westward views as the route criss-crosses through gaps and saddles en route to the section end at VT 73.
Shelters: Tucker Johnson, Ralston Rest, David Logan Hut, Sunrise.
-Mapped by Berne Broudy, AuthenticOutdoors.com
MORE LONG TRAIL MAPS
Section 1 | Section 2 | Section 3 | Section 4 | Section 5 | Section 6 | Section 7 | Section 8 | Section 9 | Section 10 | Section 11 | Section 12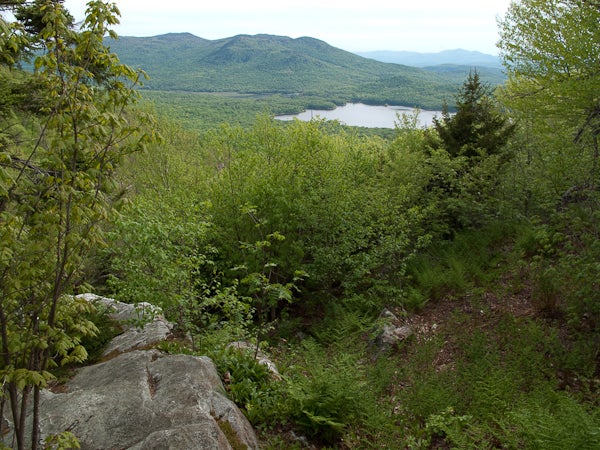 Trail Facts
Waypoints
LNG078
Location: 43.666692, -72.8498697
Section 6 begins on the north side of US-4, heading uphill to Willard Gap.
LNG079
Location: 43.6746835, -72.8392359
At the Maine Junction, the Appalachian Trail splits from the Long Trail. Go left to continue on the LT.
LNG080
Location: 43.679287, -72.8432287
Pass the Tucker Johnson shelter.
LNG081
Location: 43.7127904, -72.8615752
Pass Ralston Rest shelter/lean-to. Ahead, the LT makes a short ascent to a no-named ridge before continuing on a northwest track.
LNG082
Location: 43.7446391, -72.8865487
Exit the woods and go right on a logging roadd and then shortly ahead go left at a junction with the VAST 75 Trail. Ahead, a brilliant view of Chittenden Reservoir comes into sight on your left.
LNG083
Location: 43.7599327, -72.9018113
The trail curls into Telephone Gap briefly before crossing Billings Brook and beginning another short climb.
LNG084
Location: 43.7692344, -72.921195
Pass a junction with a trail heading downhill to the David Logan Hut. Ahead, the trail navigates the western slopes of Mount Carmel to head toward Wetmore Gap. Beyond that, the LT follows a contour around the eastern slopes of Bloodroot Mountain.
LNG085
Location: 43.8019338, -72.9426758
From Bloodroot Gap, the LT continues tracing contour lines below the east face of Farr Peak.
LNG086
Location: 43.8254988, -72.9446263
Cross a forest road as the LT begins descending to Brandon Gap.
LNG087
Location: 43.8320206, -72.9601643
The LT passes the Sunrise shelter.
LNG088
Location: 43.8398511, -72.9684448
Section 6 ends at Brandon Gap.
Chitten Reservoir View
Location: 43.745522, -72.8876352