Long Range Traverse, Gros Morne National Park
Bushwhack up a glacier-carved fjord to a lake-spangled subarctic plateau.
Heading out the door? Read this article on the new Outside+ app available now on iOS devices for members! Download the app.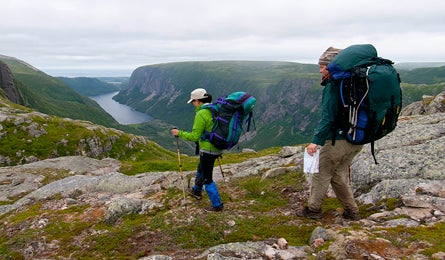 The plateau above Ten Mile Pond (Steve Howe)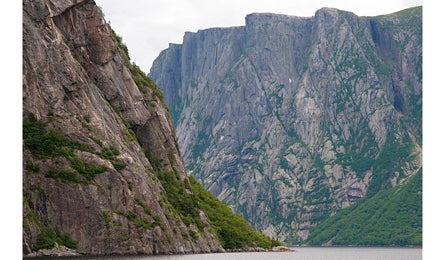 The 2,000-foot cliffs of the Long Range (Steve Howe)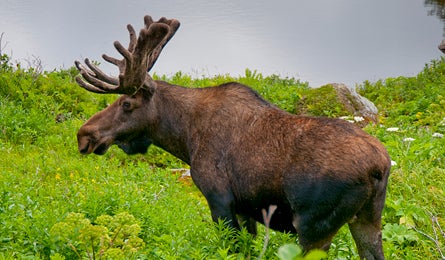 A bull moose grazes near Ferry Gulch. (Steve Howe)
The flight from New York is only three hours, but you'll think you landed in Norway as you embark on this 26-mile, three- to five-day off-trail adventure.
Begin with a one-hour boat ride beneath 2,000-foot cliffs up the massive Western Brook Pond. From the east-end dock, bushwhack east-southeast, sticking to the stream drainage as much as possible to avoid chest-high grass and thick deadfall. Climb faint, ladder-steep trail 1,800 vertical feet to the plateau. (Tip: Stay just south of the waterfall at the gorge's headwall.)
Atop the lush, rolling tablelands, turn right (south) and follow caribou trails around spruce-ringed lakes and across emerald tundra ridgelines. Fit hikers with decent trail-sniffing capabilities should be able to skip the often-busy designated tent platforms at Little Island Pond (mile 4.5) and reach more tranquil camping at Marks Pond (mile 7.1). Ten minutes southwest of Marks Pond, you must purposefully abandon superb caribou trail to climb southwest. Cross Pt. 629 (2,133 feet) over golf-course tundra, then plunge steeply before climbing a larger tundra summit en route to Hardings Pond (mile 10), or more scenic streamside camping at Green Island Pond (mile 14.8).

Immediately beyond Green Island, ford a 100-foot-wide creek, then follow more-obvious trail southwest past four large lakes and an overlook into the stony chasm of Ten Mile Pond. Your last big challenge is to find and descend a steep, brushy gully to your final campsite in Ferry Gulch (mile 18.5). (Bonus: Climb 1.4 miles of trail to the subarctic summit of 2,644-foot Gros Morne Mountain.) To finish, hike 4.1 miles to the James Callaghan trailhead; pre-arrange a shuttle back your car at the Western Brook Pond trailhead. Tip: Be ready to load waypoints during the mandatory pretrip orientation with wardens. 

Season July 1 to October 15

Permit $83CAD/person includes park entry; reservations ($25CAD) recommended

Boat $56CAD; (709) 458-2016; bontours.ca

Shuttle $55CAD; grosmorneviptours.com

Map NTS quad 012H12; ($16CAD for waterproof versions; 888-545-8111; fedmaps.com)

Contact Gros Morne National Park;(709) 458-2417; pc.gc.ca

Map & GPS databackpacker.com/hikes/1395790

Online Trip Planning Extras

Get There Fly into Deer Lake, Newfoundland, 42 miles distant. Rent a car or hire a taxi (see below) to reach trailheads. Campgrounds, cabins and motels are available in Rocky Harbour.
Travel Contacts
Deer Lake & Cormack (major airport towns)
>>Lodging: Rocky Brook Cabins (close to airport, reasonable prices, backyard stream, limestone cliff, and hiking paths); (877) 635-7255; rockybrookcabins.com
>>Transport: Gros Morne VIP Tours; (719) 458-8818; grosmorneviptours.com
Rocky Harbour (Gros Morne National Park gateway)
>>Camping: Berry Hill Parcs Canada Campground, (877) 737-3783; pccamping.ca
>>Lodging: Gros Morne Cabins (luxury cabins, great views, huge lawn for picnics, kids and gear sorting); (709) 458-2020; grosmornecabins.com
>>Lodging: Fisherman's Landing Inn (quiet, out of town, hot tub, modern rooms), (866) 458-2711;fishermanslandinginn.com
>>Restaurant and lodging: Ocean View Hotel (rooms with views, pub, restaurant, excellent music shows), (800) 563-9887; oceanviewexperience.com
>>Restaurant: Fisherman's Landing Restaurant (midtown, excellent seafood, deck with ocean view, liquor store next door); (709) 458-2711; fishermanslandinginn.com
>> Restaurant: Java Jacks (coffee, muffins, organic and vegetarian meals); (709) 458-3004;javajacksnl.wordpress.com