The Best Hikes in the Berkshires
Explore the natural side of New England with year-round dayhikes, waterfall treks, and backpacking trips in the scenic Berkshires.
Heading out the door? Read this article on the new Outside+ app available now on iOS devices for members! Download the app.
The leaves are just about to turn. Don't watch fall trickle in on your phone screen; experience it for yourself in the Berkshires, where the green leaves become fiery shades of auburn and gold. Mountain vistas, scenic byways, tree-covered hills, and healthy doses of small-town charm define this hiking haven. Nestled between in the western parts of Massachusetts and Connecticut, this region has enough stunning landscapes and scenic trails worth a lifetime.
You can find 90 miles of the Appalachian Trail and 800 miles of mapped trails in Berkshire County alone. Whether you're searching for a quick dayhike, a multiday adventure, or a scenic town to visit on your AT zero day, the Berkshires are for you.
Best Dayhikes in the Berkshires
Hike through some of the best mountain vistas, rocky crags, and fall foliage you can find east of the Mississippi.
Length: 2.4 miles
Elevation Gain: 594 feet
Trail Type: Loop
Difficulty: Moderate
Top out on 1,642-foot Monument Mountain, a fan favorite for most Berkshires hikers. With scenic views of quartzite outcrops, the Housatonic River Valley, and distant Mt. Greylock framed between the trees along the way, it's easy to understand why. Following the Hickey and Indian Monument Trails, the route presents a challenging yet surprisingly accessible climb with rock scrambles, granite slab staircases, and root and rock-covered single track. Take a short spur trail at the summit (also known as Peeskawso Peak) to see Devil's Pulpit, a cluster of 400-foot white quartzite cliffs rising out of the trees. You might even spot a Peregrine Falcon, the fastest bird on earth, flying overhead in the fall and winter seasons.
Length: 5.9 miles
Elevation Gain: 1,358 feet
Trail Type: Out and back
Difficulty: Moderate
Swap sweeping views for a backwoods experience along the Appalachian Trail. This heavily wooded 5.9-mile segment of the AT starts with an 800-foot climb from the trailhead to the top of Becket Mountain (no sweeping view here). The rocky moss and pine-needle-covered trail leads to a dead-end at Fintery Pond at mile 3.0. Take a swim or enjoy the peaceful view of the hardwood- and birch-lined swimming hole before retracing your steps. Hikers who prefer loop routes can follow Fintery Trail south from the pond back to the AT junction 0.6-miles from the trailhead. Heads up: This trail is prone to overgrowth in the summer, so keep a sharp eye out for white blazes.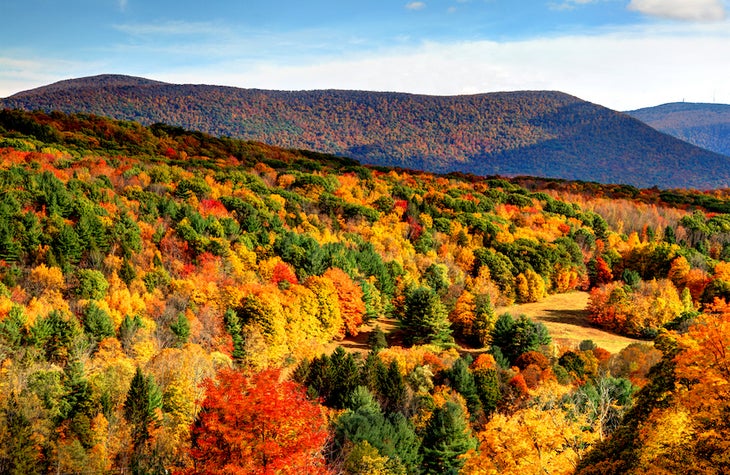 Length: 5.2 miles
Elevation Gain: 935 feet
Trail Type: Loop
Difficulty: Moderate
Mt. Greylock—Massachusetts's highest point at 3,489 feet—is a must-climb peak in the northeast. Hikers can choose from a number of routes, like Gould Trail or Overlook Trail, to the top, but Cheshire Harbor Trail offers the most direct and approachable route from base to summit. Follow a gentle climb into a boreal forest surrounding the top of the mountain, passing balsam fir and red spruce along the way. The summit houses the 93-foot granite Veterans War Memorial Tower monument with views of Newashford, Williamstown, and the Hudson River Valley in the distance. The Taconic Mountain Range, Berlin Mountain, and Saddle Ball Mountain finish out the panorama.
Length: 4.2 miles
Elevation Gain: 1,499
Trail Type: Out and back
Difficulty: Hard
Stony Ledge Trail, a short and steep trek, provides everything on a solid hike checklist: challenging terrain, quiet trails, remote camping, and unobstructed views from the top. The rocky outcropping at Stony Ledge offers views of Mt. Greylock and neighboring rolling hills blanketed in shades of green (or whites or autumns depending on the season). For an easily accessible overnight, stake out the first-come, first-serve group site at the top of Stony Ledge which accommodates up to 12 campers and comes with a bonus lean-to shelter.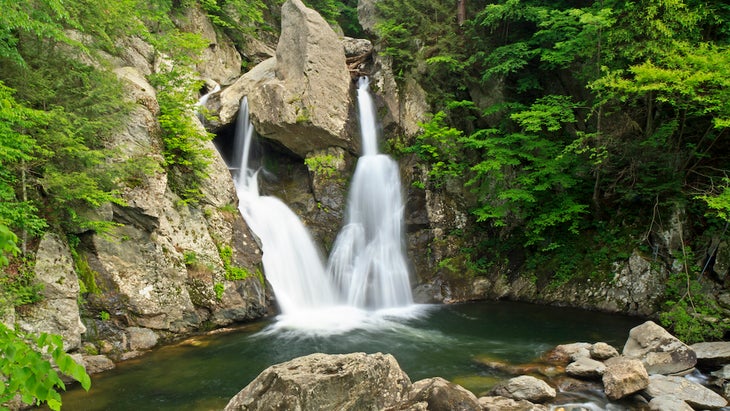 Best Waterfall Hikes in the Berkshires
Love waterfall hikes? You're in luck. The Berkshires have no shortage. Here are our three favorite.
Length: 1.5 miles
Elevation Gain: 239 feet
Trail Type: Out and back
Difficulty: Easy
A hike to Bash Bish Falls, the tallest waterfall in the state, ranks 11/10 on the "would recommend" scale. Plus, bonus points for a great name. Hikers young and old can tackle this easy, flat trail that follows Bash Bish Brook in the heart of Taconic State Park. The falls end in a picture-perfect finish: a 59-foot cascade split into two by a large boulder at the crest of the final pitch. Avoid foot traffic by hitting the trail early, as it's consistently one of the most popular hiking spots in the Berkshires.
Length: 1.4 miles
Elevation Gain: 187 feet
Trail Type: Out and back
Difficulty: Easy
Short hikes can offer some of the best views, and that's definitely true for Campbell Falls, a quick out-and-back treasure in Campbell Falls State Park Reserve on the Connecticut/Massachusetts border. The route features short cliffs of dark gray stone and moss-covered trees through a heavily-wooded white pine and hemlock path. At mile 0.7, hikers will find the sights and sounds of the Whiting River making its 50-foot plunge. Hikers can relax at the rushing yet tranquil falls before following their footsteps back to the trailhead.
Length: 2.2 miles
Elevation Gain: 275 feet
Trail Type: Out and back
Difficulty: Easy
Follow a lesser-traveled trail to a nearly-enclosed gorge before finding hidden Cascade Falls. This short hike is in a forest area tucked away in the town of North Adams and requires agile footwork as you navigate the root-covered, brook-adjacent trail. North Brook might wash out the visibility of the trail around mile 1 (especially on rain-heavy days). Hug the water's edge and rock-hop as needed before finding your footing on the dry path once again. Once you hear the falls, make your way into the gorge for a scenic view of the 40-foot cascading waterfall. From here, retrace your steps back to the trailhead to complete the short adventure.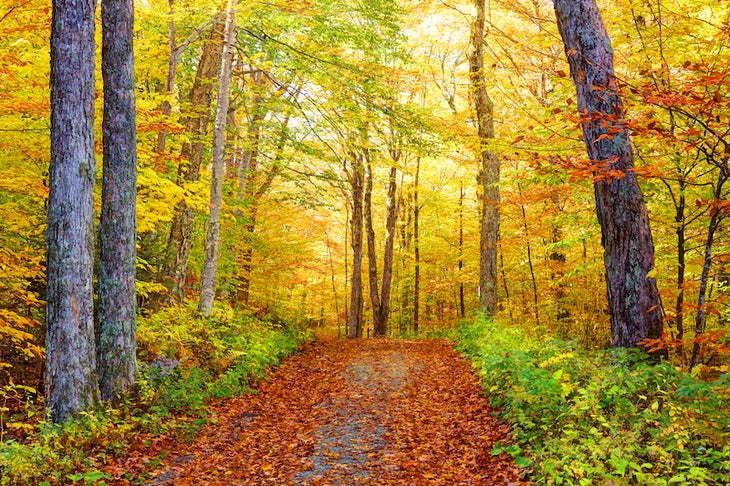 Best Backpacking Trips in the Berkshires
From local long trails to 90 miles of Appalachian Trail, the Berkshires have no shortage of multiday hiking trips worth taking.
Length: 9.2 miles
Elevation Gain: 2,647 feet
Trail Type: Point to point
Difficulty: Hard
Hike this trail segment for a snapshot of top-tier AT scenery. The challenging route passes through the popular Sage's Ravine, a stunning section of forest full of cascading mini falls, rock-filled streams, unique rock features, and craggy gorges. Highlights include Bear Mountain, Connecticut's highest peak at 2,316 feet, and Race Brook Falls, a three-tiered waterfall surrounded by hemlocks and pines. Starting at Mount Riga State Park, climb over 2,300 feet in the first 2.5 miles to Bear Mountain. Follow 4 miles of ridgeline to the top of Mt. Race before descending to Race Brook Falls around mile 8.
Length: 7.1 miles
Elevation Gain: 2,903 feet
Trail Type: Out and back
Difficulty: Moderate
This short stint along the AT packs a punch thanks to nearly 3,000 feet of elevation gain to the top of Mt. Greylock. It's a great introduction to backpacking along the Appalachian Trail for beginner hikers, and those looking for even more of a challenge can continue the route past the Mt. Greylock terminus for an even longer trek. From the start of this segment at Cheshire, begin your ascent reaching Saddle Ball Mountain around mile 5. Continue to the top of Mt. Greylock, this segment's terminus, camping at Sperry Road Campground overnight (reservation required). Follow your steps back to the campground or extend your trip along the AT for a longer adventure.
Length: 37.7 miles
Elevation Gain: 8,480 feet
Trail Type: Point to point
Difficulty: Hard
Rake in the miles on this long trail. The Taconic Mountains, a crown jewel of the Berkshires and a slice of the Appalachian mountain range, span 150 miles from central Vermont to southern New York. Catch classic New England geology and views: rolling tree-covered hills, rocky chasms, and trickling creeks. On a clear day, you can see New York's Adirondacks and Catskills from the top of Berlin Mountain. You'll pass through dozens of small towns along the way, including Berlin and Stephentown in New York, Hancock and Williamstown in Massachusetts, and Pownal in Vermont.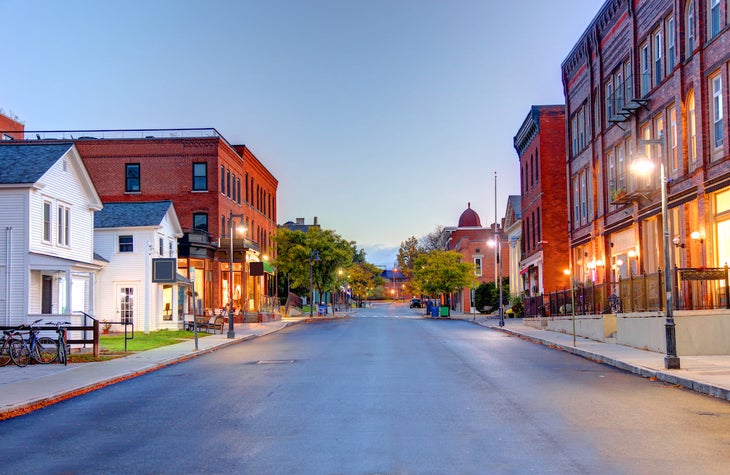 What to Know About Hiking in the Berkshires
When to Hike
When autumn arrives, hikers (and leaf-peepers) flock to the Berkshires in droves. Fall foliage pops in the region around mid-October, though you'll start to see color showing in late September. The mountains attract skiers in the winter, and trails with frozen waterfalls make a great off-slope activity in the hiking offseason.
What to Wear
Hikers should plan to pack with seasonality in mind. Summers can reach peak temperatures in the mid 80s but tend to hover in the mid 70s, so you'll want to pack lightweight, breathable, cotton-free clothes. Pack bug repellent and waterproof gear in the spring and summer, when there are lots of mosquitoes and other pesky bugs. In the winter, average temperatures hover in the mid to high-30s with lows in the teens at night, requiring down jackets, insulated boots, and sleeping bag liners (for winter campers).
Where to Stop
The Berkshires, which encompass dozens of small towns across western Massachusetts and Connecticut, are known for their charming main streets, cultural destinations, and home cooking (particularly satisfying while refueling on an AT thru-hike). Popular pit stops include the shopping and dining district on Main Street in Stockbridge, the Massachusetts Museum of Contemporary Art in North Adams, or an ice cream cone from SoCo Creamery in Great Barrington, just to name just a few.