Local Hikes: Northeast
Paddle to Maryland's Assateague Island; pack an ice axe for the Presidentials.
Heading out the door? Read this article on the new Outside+ app available now on iOS devices for members! Download the app.
Waterbury Reservoir (Kirk Marshall)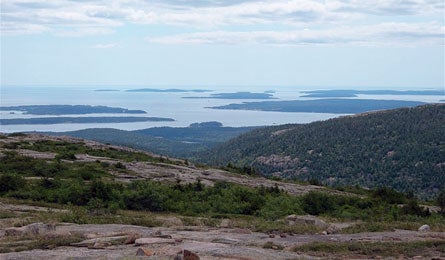 Porcupine Islands, Acadia National Park (Trung Q. Le)
MAINE

Acadia National Park

Cadillac Mtn. via Dorr Mtn.


On the airy summit of 1,530-foot Cadillac Mountain (the park's highest peak), halfway into this trip, you'll score views of the Porcupines, a smattering of tree-tufted islands to the east in Frenchman Bay. After topping 1,248-foot Pemetic Mountain, finish this three-peak 8.8-miler along the shores of two ponds, then end by tracing Canon Brook. Trip ID55560
NEW HAMPSHIRE

White Mountains National Forest (Print & Go)

Carter Dome to Wildcat

See how the Whites got their name on this 15.4-mile overnight snowshoe that bags five 4,000-foot peaks. Gain across-the-valley views of Mt. Washington from 4,832-foot Carter Dome, then sleep beside a warm fireplace at Carter Hut. Next day, stand atop 4,422-foot Wildcat to survey the snowy valleys. Pack crampons. backpacker.com/carterTrip ID399963
VERMONT

Burlington

Belvidere Mtn.

This 7.9-mile loop plays on like a symphony: It starts mellow, passing beaver ponds and meadows, then builds with anticipation at every tree-hemmed ridgeline, until it crescendoes atop Belvidere's 3,360-foot summit with a view from the Green Mountains to Canada. Trip ID840396
NEW YORK

New York City

West Pond Trail

Never mind the air traffic heading in and out of LaGuardia or JFK: The best fliers on this three-mile lasso in Jamaica Bay Wildlife Refuge are the terns, snow geese, Eurasian widgeons, and a profusion of songbirds. Circle the 45-acre lake—its bush-hedged shores home to some 325 species of birds (residents change seasonally)—then head home on the subway. Trip ID541141
CONNECTICUT

Hartford

Bear Mtn. Loop

This hardy 6.1-miler nestled deep in the Taconic Range reaches the highest summit (2,316 feet) in Connecticut via the AT. If you want the highest point, though, climb to the CT/MA border on the southern flank of 2,454-foot Mt. Frissell, whose peak is a few hundred yards into Massachusetts. Trip ID34984
PENNSYLVANIA

Erie

Minister Creek Loop

Ramble streamside, and weave through moss-covered boulders scattered like a giant's game of marbles on this 6.4-mile out-and-back in Allegheny National Forest. At mile five, says Mike Ciccone of Wexford, Pennsylvania, scramble up a side trail high above Minister Valley to take in a bird's-eye view of the hemlock forests. Trip ID54055
SEE THIS NOW

MUD-FREE TRAILS

Mt. Mansfield State Forest, VT
Payoff In spring, a combination of snowmelt, precipitation, and thawing subsurface frost besets the Green Mountain State with a mucky bridge season between winter and spring. Many trails close to prevent erosion, but we've got your ticket to hike.
Time Mud season has no fixed dates, but its start typically corresponds with maple sugar season (mid-April) and its end to Memorial Day. Green Mountain hikers looking for a trail fix then need to aim low, or head to areas with southern exposures (which dry out first).
Place Thanks to a lower elevation and burly road grade, the eastern edge of Mt. Mansfield State Forest (30 miles east of Burlington) is erosion-proof and used year-round for hiking and biking. From the Cotton Brook entrance, hike a nine-mile loop that traces Waterbury Reservoir's northern shore and crisscrosses Cotton Brook, before opening east onto the spiky (and tempting) heights of the Worcester Range. Trip ID 8335. More mud-season hikes: greenmountainclub.org.