Little Rock, AR: Black Fork Mountain
Hike, camp, and tag a summit with shutterbug views on this 11.4-miler in the Ouachita Mountains and the Black Fork Mountain Wilderness.
Heading out the door? Read this article on the new Outside+ app available now on iOS devices for members! Download the app.
From the parking lot, head 250 feet down a connector trail and turn left at the 3-way junction onto the Ouachita Trail. Descend to Big Creek before beginning a steady ascent. Turn left onto the Black Fork Trail and wind through short leaf pine intermixed with hardwoods. Climb past two backcountry campsites. Just before the summit, the trail passes the ghostly remains of a weathered chimney. On rocky top of Black Fork Mountain (2,600 ft.), take in sweeping views of the Ouachita Mountains and surrounding valleys. To return, simply retrace the trail back to the parking lot.
-Mapped by Charlie Williams
TO TRAILHEAD: From Little Rock, take I-30 W/US 167 S exiting onto US 70 W toward Hot Springs. Continue 18.6 miles, and merge onto Dr Martin Luther King Jr. Expy./ US 70 W. In 11.8 miles, exit US 270 W and merge onto Albert Pike Rd./ US 270. Go 63.8 miles and turn left at US 270/US 71. In 15.4 miles, turn right onto US 270 and park in lot after 7.6 miles.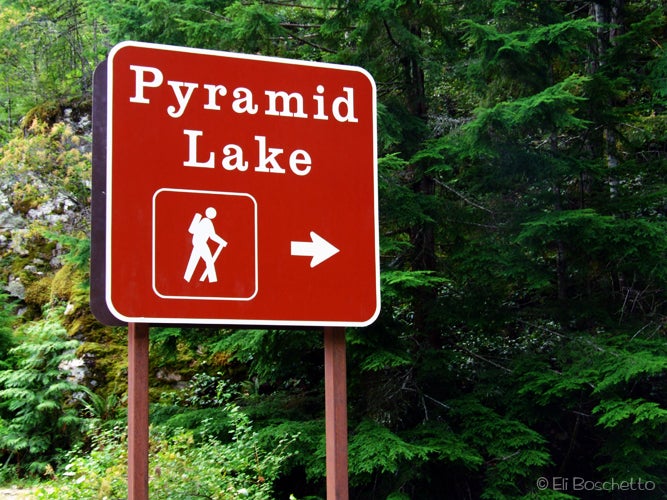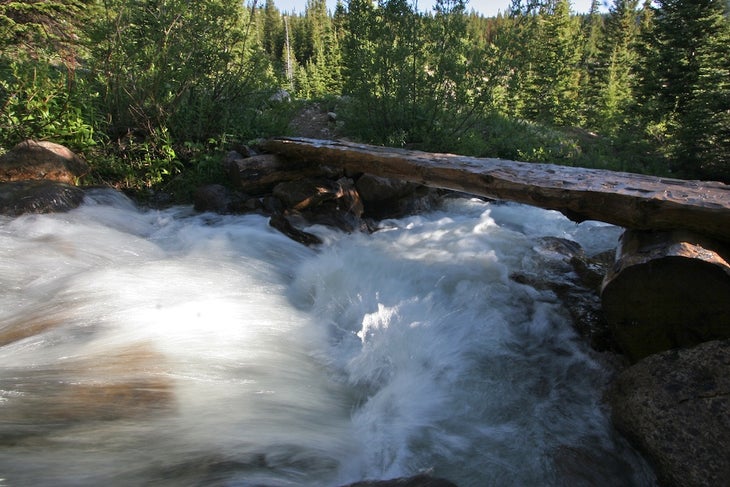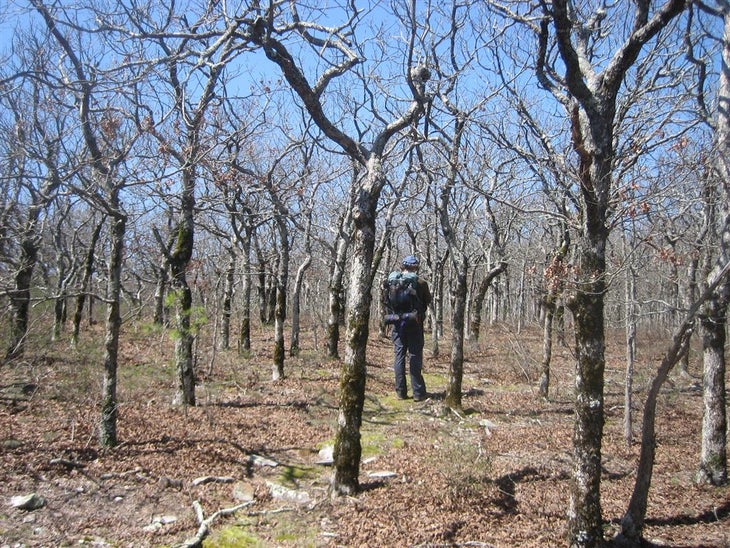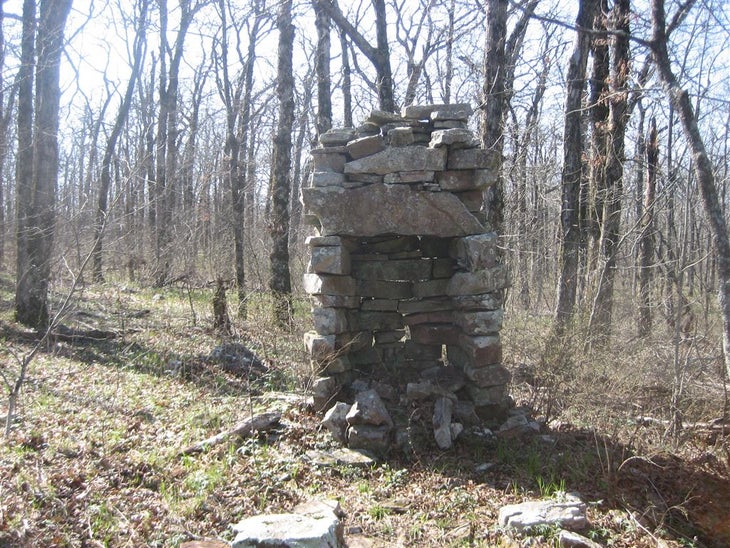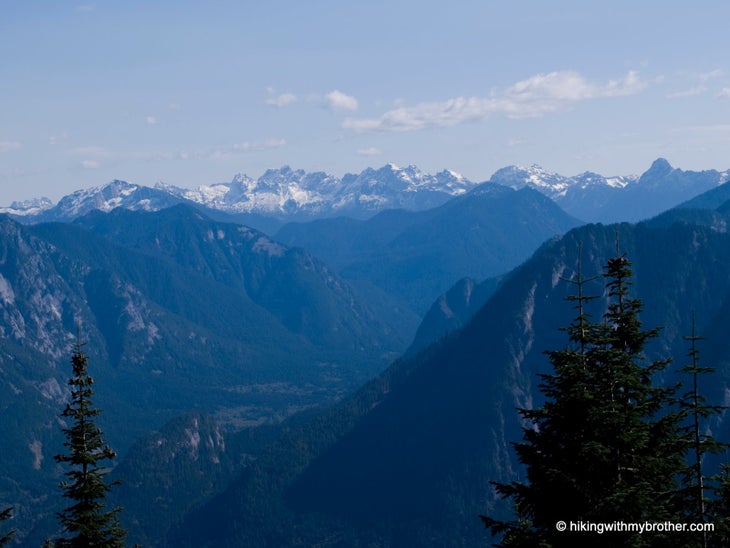 Trail Facts
Waypoints
BLA001
Location: 34.6842842102051, -94.3180084228516
From the parking lot, hike northeast on a short spur trail for 250 feet to the Ouachita Trail junction.
BLA002
Location: 34.6846618652344, -94.317512512207
Turn left at 3-way junction with the Ouachita Trail (marked with blue blazes) and immediately head downhill into the Big Creek drainage. Continue across the creek on an old wooden bridge and begin climbing back up out of the drainage through short leaf pine and hardwoods en route to the Black Fork Trail.
Caution: The trail crosses two busy rail lines. Make sure to look both ways for oncoming trains before crossing.
BLA003
Location: 34.6888122558594, -94.3084335327148
Turn left onto the Black Fork Trail (marked with white paint) at 3-way junction with Ouachita Trail. The trail follows an abandoned logging road as you ascend Black Fork Mountain.
BLA004
Location: 34.6982955932617, -94.3219146728516
Backcountry campsite: Good for summer camping, this large campsite has a fire pit and flat spot for the tent. Note: The tent spot tends to collect water, so if rain is in the forecast it's best to skip this spot.
BLA005
Location: 34.7011070251465, -94.3260650634766
Cross into the Black Fork Mountain Wilderness.
BLA006
Location: 34.702335357666, -94.3308715820312
Pass a small pond and a cacophony of frog sounds
BLA007
Location: 34.7044677734375, -94.3460235595703
Turn right at 3-way junction and continue on the Black Fork Trail heading uphill.
BLA008
Location: 34.704948425293, -94.3483047485352
Cross a small creek. Note: Depending on the time of year the creek may be dry.
BLA009
Location: 34.7108573913574, -94.3582077026367
Take in long views of the US 270 valley and Queen Wilhelmia Lodge on top of Rich Mountain, before cresting the saddle and passing a large open campsite.
BLA010
Location: 34.7119750976562, -94.3600769042969
Pass an old decaying chimney, which looks remarkably out of place in the Ouachitas and Ozarks.
BLA011
Location: 34.7119216918945, -94.3667297363281
Black Fork Mountain (2,600 ft.) Sweeping views of the Ouachitas from this rocky summit. Depending on your tenacity, bushwhack slightly west to the true summit, where 360-degree views emerge over weathered dwarf oaks.
To return, retrace the route back to Waypoint 1.
Trailhead
Location: 34.6844787597656, -94.3179168701172
Creek Crossing
Location: 34.6848373413086, -94.3178253173828
Twisted Trees
Location: 34.7053604125977, -94.3370056152344
Chimney
Location: 34.7119903564453, -94.3600311279297
Summit Views
Location: 34.7119598388672, -94.3666763305664