Lava Beds National Monument, CA: Lyon's Trail
Walk an old homestead route that crosses sagebrush plains and passes lava flows and collapsed tubes on this 9.5-mile point-to-point trail.
Heading out the door? Read this article on the new Outside+ app available now on iOS devices for members! Download the app.
You'll find little shade on this trail, so wear a hat, bathe in sunscreen, and bring plenty of water. In return, you'll get to wander a pleasant old homestead road amid rabbit and bitterbrush and a smattering of desert wildflowers on the gentle northern flank of the immense Medicine Lake Volcano. Along the way, you'll cross old lava flows and peer into numerous sinkholes and collapsed lava tubes. Oh, and watch out for rattlesnakes.
Start at the northern trailhead, on a gated gravel road just west of Hospital Rock. The first two miles is an easy amble along old roadbed, with Mt. Shasta's snowy peak glistening to the west. At the first fork in the road, continue south, now on rougher, overgrown tracks and cross a portion of an old lava flow. At the Juniper Butte trail junction take the right fork around the west side. Just a little ways beyond, a few large juniper trees offer a much-needed respite from the sun. 
The trail winds westward, then south again, crossing more ancient lava flows and passing numerous sinkholes and collapsed lava tubes. Look for a natural arch and several short caves created by collapsed tubes. At the junction with the Three Sisters Trail, the route once again becomes easy to follow, one stretch over crumbled red cinders and finally ends at the parking area for Skull Cave. Cool off from your hike and the mid-day heat by descending into the cavernous lava tube for a view of the 110-foot deep ice chamber at the bottom.
-Mapped by Eli Boschetto, BoscoMountainPhoto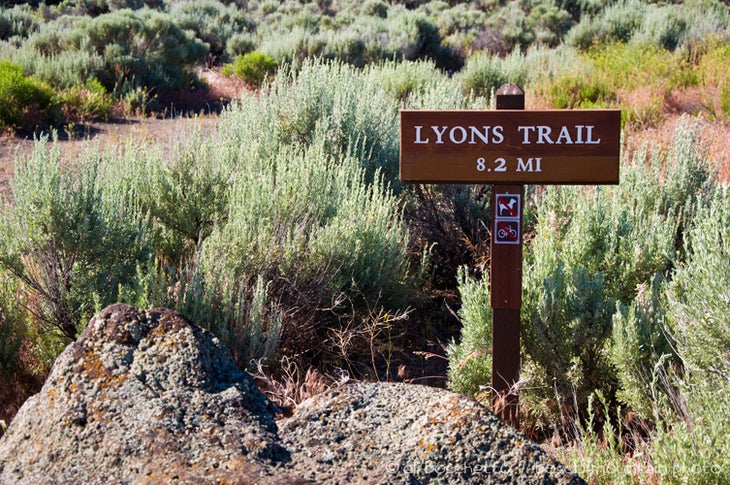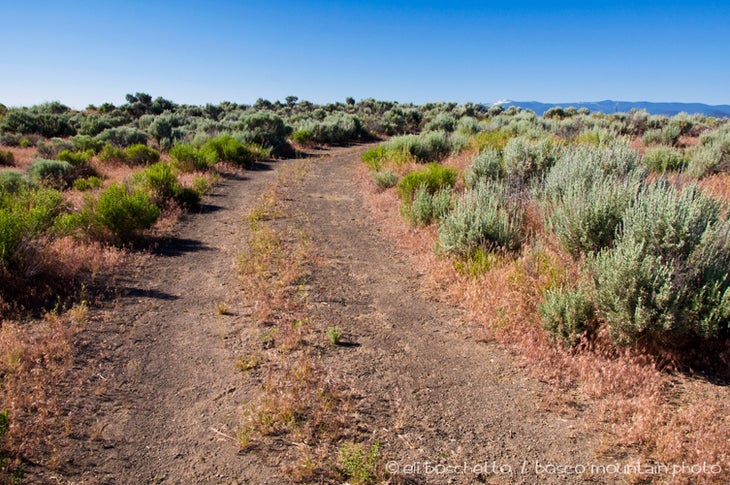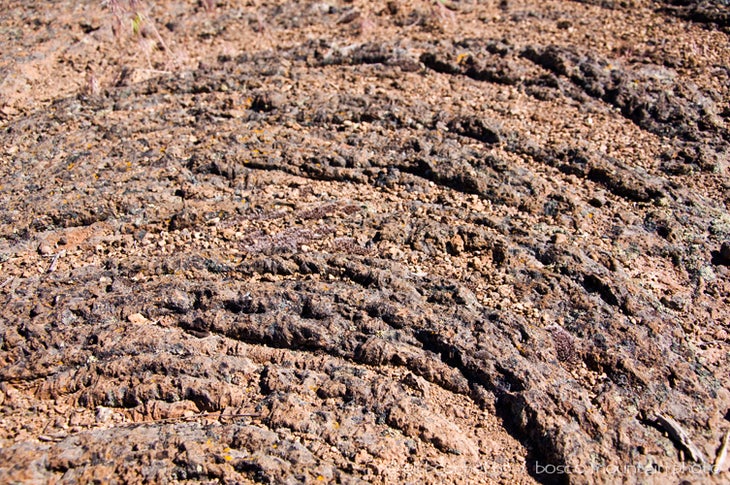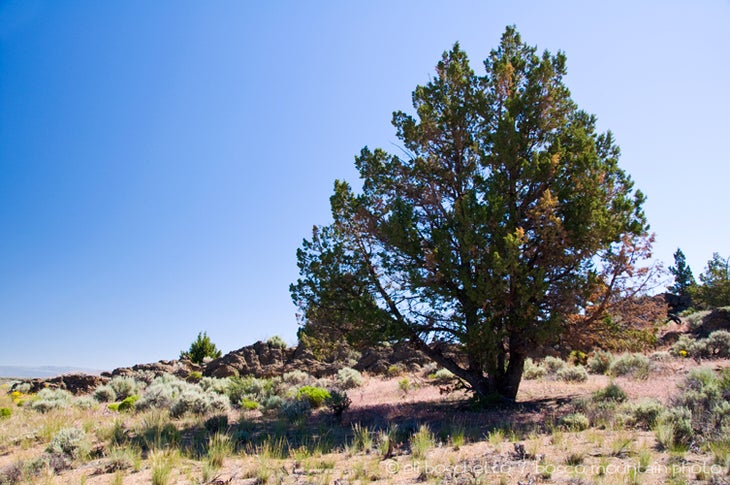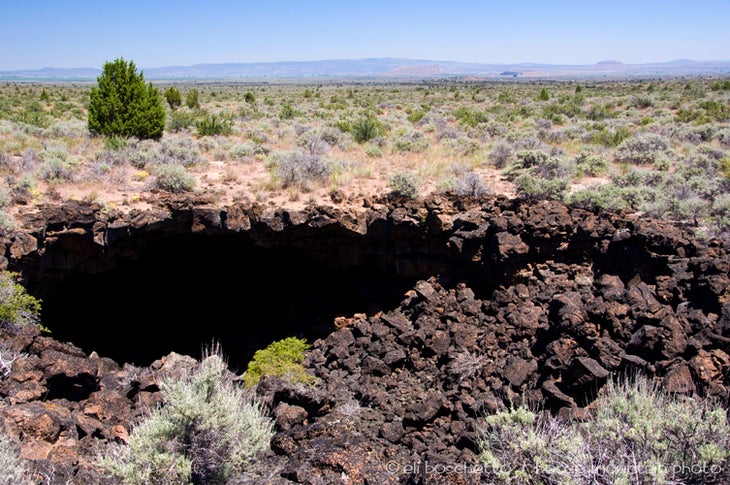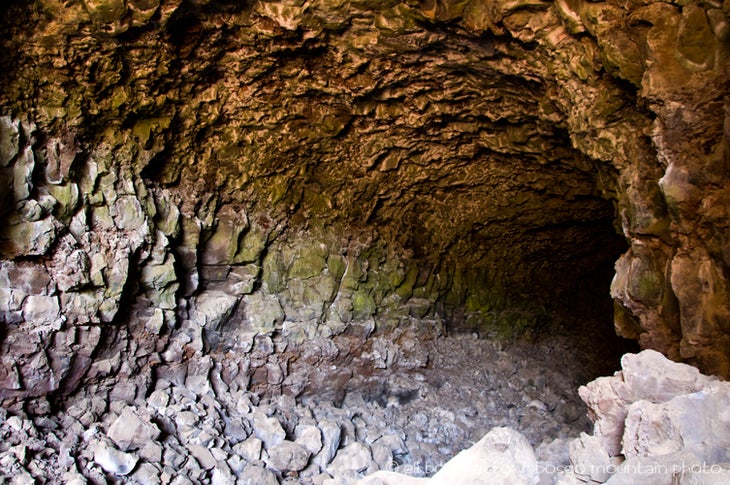 Trail Facts
Waypoints
LYO001
Location: 41.830932, -121.473103
The north end of the Lyons Trail begins on a short gravel road, just west of the Hospital Rock parking area.
LYO002
Location: 41.830231, -121.47312
Log your party number and entry time on the hiker register. Follow old road south.
LYO003
Location: 41.81249, -121.456674
Trail junction. The better road turns east at this point; continue south on overgrown, degraded tracks.
LYO004
Location: 41.809905, -121.455789
Cross an old surface lava flow. Trail is extremely thin through this area–be watchful.
LYO005
Location: 41.80688, -121.453322
Pass a large, fenced juniper just east of the trail.
LYO006
Location: 41.795149, -121.451489
Juniper Butte trail junction; continue south, veering right.
LYO007
Location: 41.79237, -121.452815
A large, shady juniper tree offers some respite from the mid-day sun.
LYO008
Location: 41.790608, -121.453739
Another shady juniper.
LYO009
Location: 41.778808, -121.459106
Enter an area dotted with lava sinkholes.
LYO010
Location: 41.773571, -121.471811
A few trailside junipers offer a nice shade break.
LYO011
Location: 41.773724, -121.4736
Spot a long, deep crack in the nearby lava flow.
LYO012
Location: 41.746962, -121.492643
A sign indicates the Schonchin Spur trail, though it is largely overgrown. Continue south.
LYO013
Location: 41.746503, -121.492551
A large collapse reveals a natural lava bridge, and debris-choked entrance to a lava tube.
LYO014
Location: 41.742341, -121.49475
Big sinkhole.
LYO015
Location: 41.741753, -121.495043
Junction with the Three Sisters Trail; continue south.
LYO016
Location: 41.741504, -121.495108
Another shady tree to escape the sun.
LYO017
Location: 41.73814, -121.497105
Large lava tube collapse.
LYO018
Location: 41.731329, -121.506
Big sinkhole. Look for a faint trail descending down to a lava tube cave.
LYO019
Location: 41.731243, -121.510377
Trail's end at Skull Cave.
Mt. Shasta
Location: 41.821479, -121.459866
Lyons Trailhead
Location: 41.831072, -121.47171
Homestead Road
Location: 41.825828, -121.467247
Pahoehoe
Location: 41.799215, -121.4536
Shade!
Location: 41.791985, -121.452913
Sinkhole
Location: 41.747943, -121.491966
Skull Cave
Location: 41.731547, -121.509733