Lava Beds National Monument, CA: Big Painted Cave and Symbol Bridge
This easy 2-mile out-and-back visits two collapsed sections of a wide lava tube with Native American pictographs and natural bridge walls.
Heading out the door? Read this article on the new Outside+ app available now on iOS devices for members! Download the app.
The Modoc Crater Lava Tube System extends over ten miles, from the Modoc Crater to the ancient shoreline of Tule Lake. Over the course of the system, several sinkholes and skylights have opened up access to portions of lava tube. In this area, prehistoric pictographs and paintings have been discovered on the rocky walls in a deep lava tube cave, and under nearby natural lava bridge.
From the trailhead along Skull Cave Road, start a short, level walk on easy trail amid rabbit and bitterbrush, with occasional juniper trees and clumps of rock penstemon and biscuitroot, with cinder-sloped Schonchin Butte rising ahead. After 0.75 mile, the trail forks left to Big Painted Cave, and straight ahead another 0.1 mile to Symbol Bridge. Start with either one, following short, rocky paths down into the caves to observe the ancient artwork close up.
The paintings and pictographs at Big Painted Cave and Symbol Bridge are believed to predate the Modoc culture who once inhabited this valley, and are thought to indicate the spiritual activities of the Ancients. Take photos but please don't touch, as natural oils on the hands promote decay. Return by the same route.
-Mapped by Eli Boschetto, BoscoMountainPhoto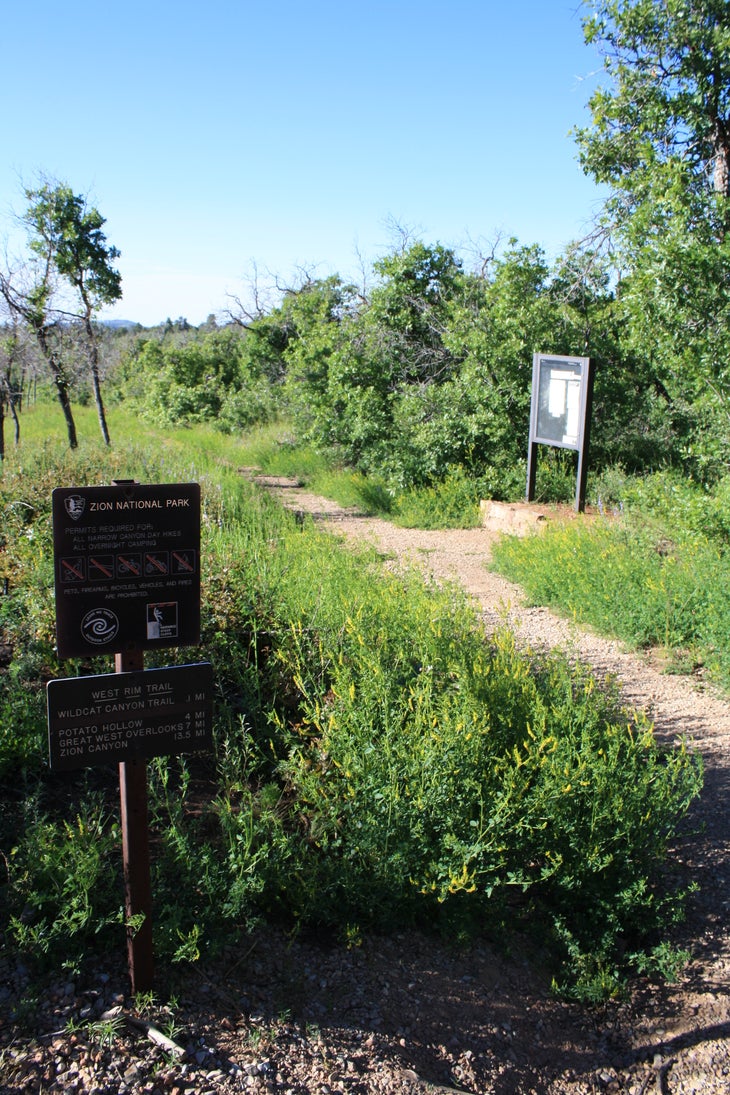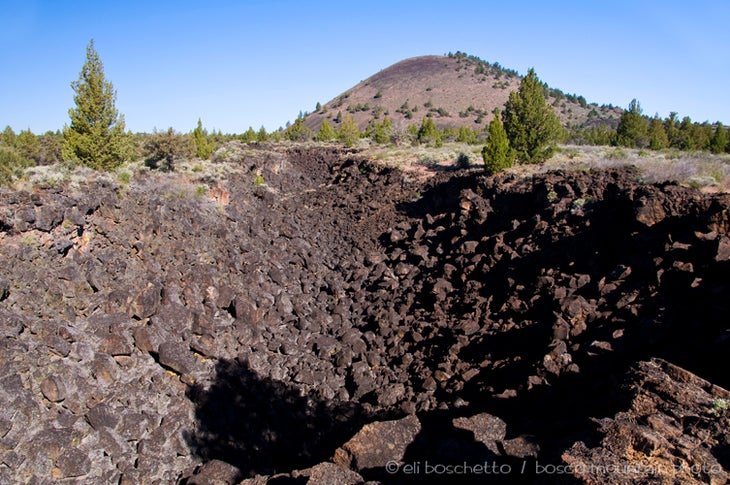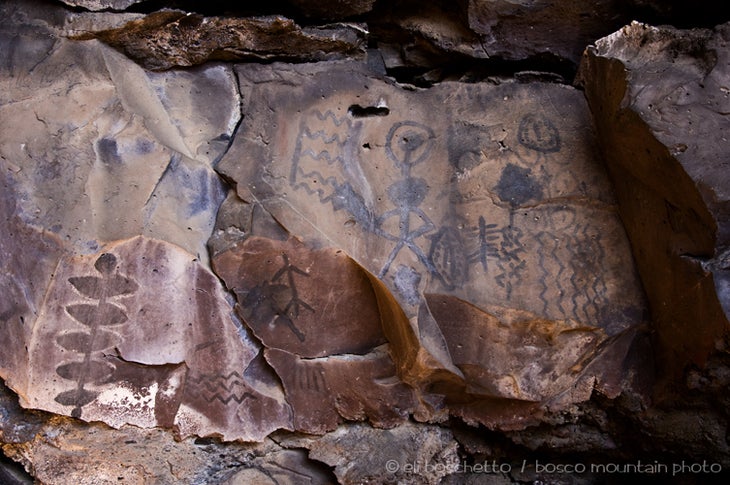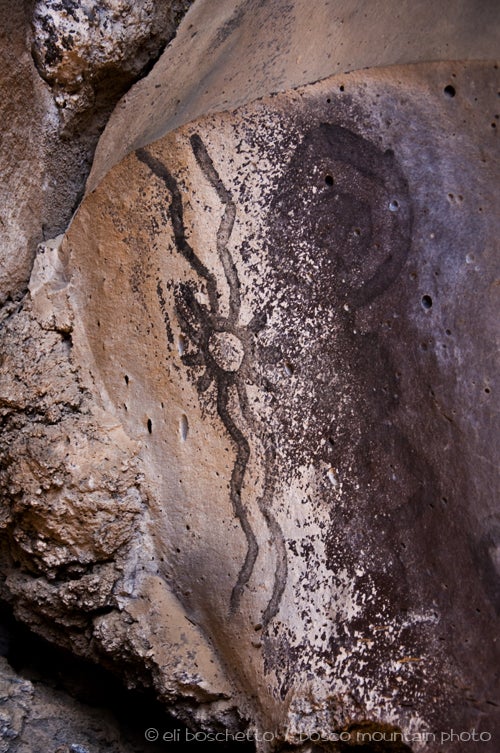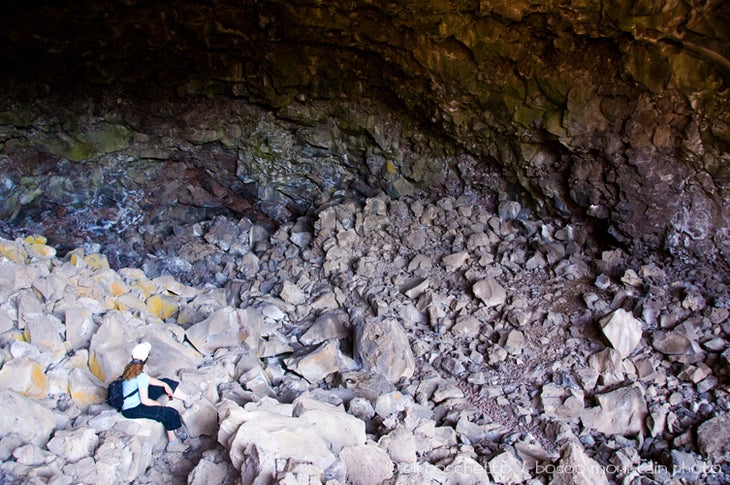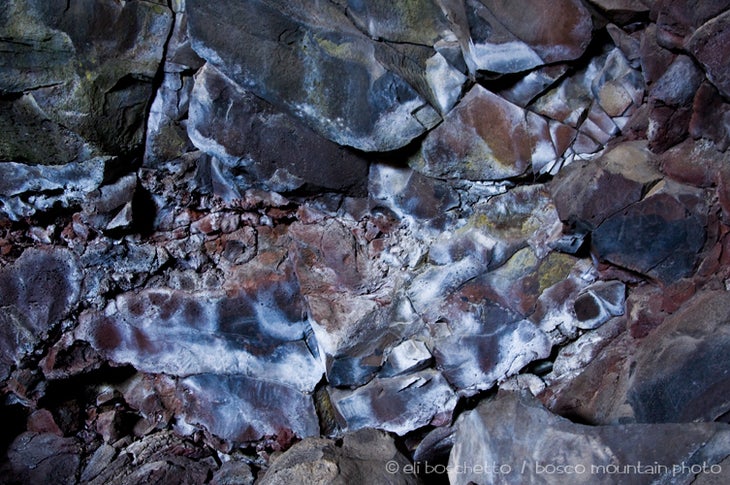 Trail Facts
Waypoints
SYM001
Location: 41.729457, -121.5123
Hike northwest from the Painted Cave and Symbol Bridge trailhead.
SYM002
Location: 41.731159, -121.517485
Cross Irish Bridge. There's a collapsed lava tube on either side of the trail.
SYM003
Location: 41.732141, -121.52279
Junction for Painted Cave (left) and Symbol Bridge (straight). Explore at will.
SYM004
Location: 41.731767, -121.523058
Entrance to Painted Cave. Look for faint petroglyphs and paintings on lava tube walls.
SYM005
Location: 41.733511, -121.526195
Symbol Bridge entrance. Look for very detailed petroglyphs on either side of the bridge.
Trailhead
Location: 41.729513, -121.512115
Schonchin Butte
Location: 41.731355, -121.517372
Symbol Bridge
Location: 41.733565, -121.525977
Pictograph
Location: 41.733325, -121.526127
Desert Color
Location: 41.73238, -121.523252
Big Painted Cave
Location: 41.731755, -121.522822
Cave Painting
Location: 41.731899, -121.523144
Painted Cave & Schonchin Butte
Location: 41.731675, -121.522372