Lassen National Park: Bumpass Hell
This easy, 3-mile trail (out and back) visits Lassen's largest geothermal area—a steaming basin filled with boiling mud pots, belching fumeroles, and colorful hot springs.
Heading out the door? Read this article on the new Outside+ app available now on iOS devices for members! Download the app.
Bumpass Hell was named for Kendall Bumpass, who "discovered" the area in 1864. A year later, while guiding a group of tourists, Bumpass fell through the surface into one of the mud pots and badly scalded one of his legs—which he later lost. He commented that his "descent to hell was easy." Today, a wooden boardwalk crosses the area, providing safe viewing for visitors.
From the trailhead parking area, set out on easy trail that gradually climbs around Bumpass Mountain. Along the way, spot several of the named peaks to the west; a viewpoint offers a plaque indicating the names of the surrounding points—Brokeoff Mountain, Diamond Peak, Mount Diller, and Pilot Pinnacle. Where the trail starts to descend, notice the distinct smell of sulphur, and the chugging sound of the Big Boiler fumarole. At an overlook of the basin, an interpretive sign tells the story of Kendall Bumpass.
At the basin, fork left on raised boardwalk to the top of a small hill which overlooks several of the boiling hot springs and the multicolored hillsides. Next, double back and continue up the basin, taking the turnoff to the Big Boiler viewing platform. The Big Boiler is the hottest geothermal feature in the world, with temps measured up to 322º. Move on up the boardwalk to view the Boiling Pool, Pool of Gold, and the upper fumaroles. When ready, return by the same route.
-Mapped by Eli Boschetto, Bosco Mountain Photo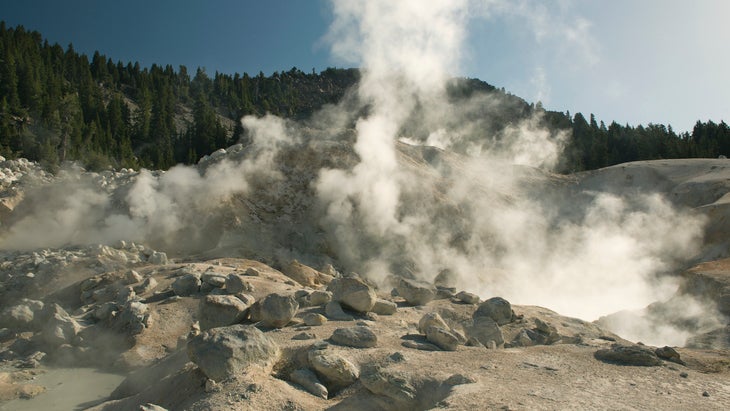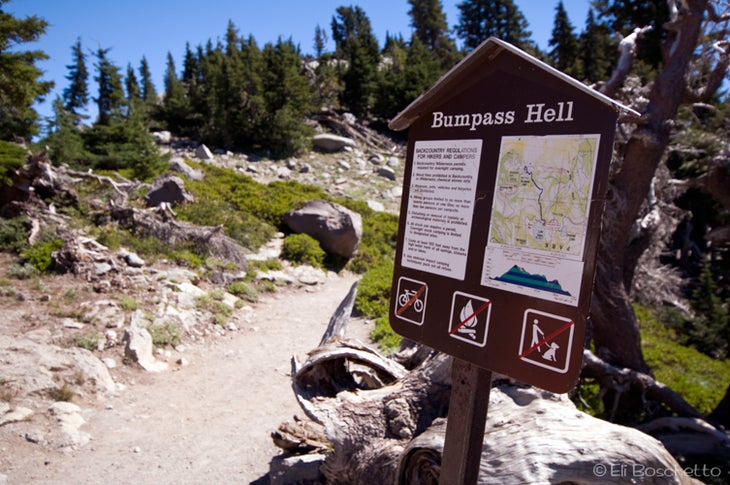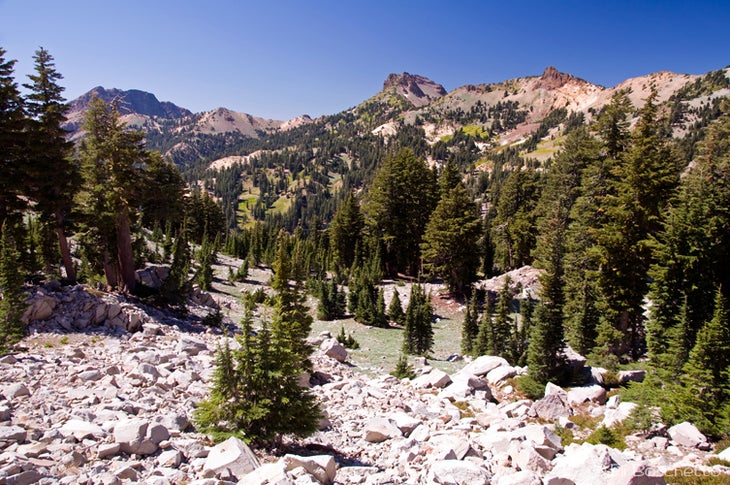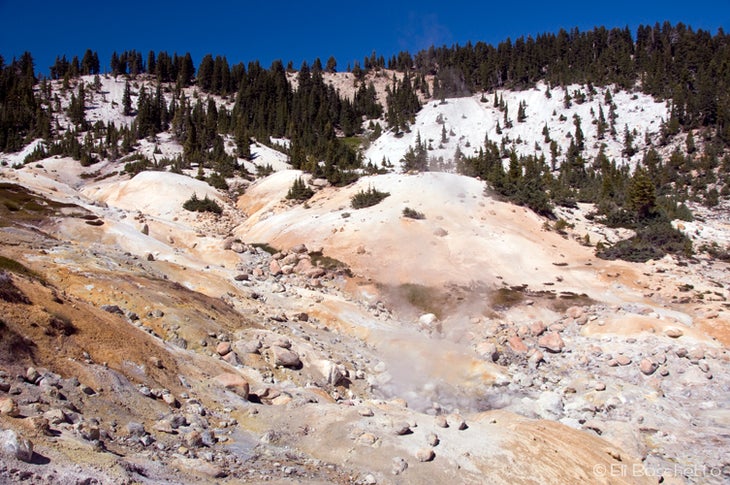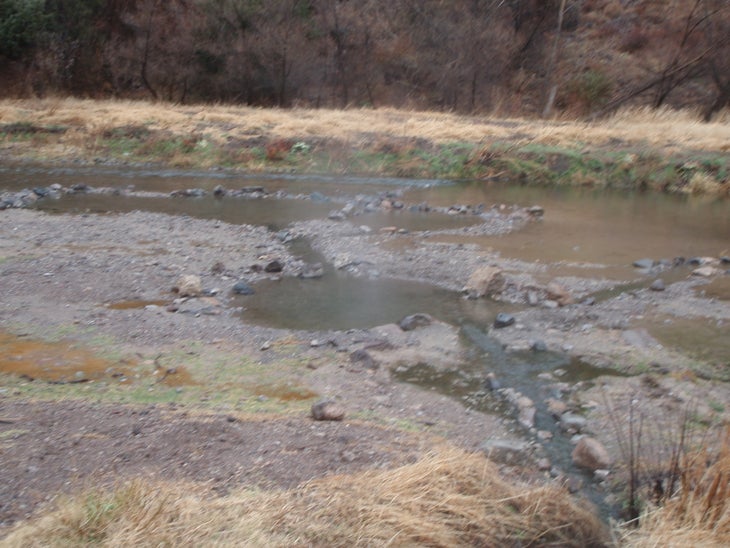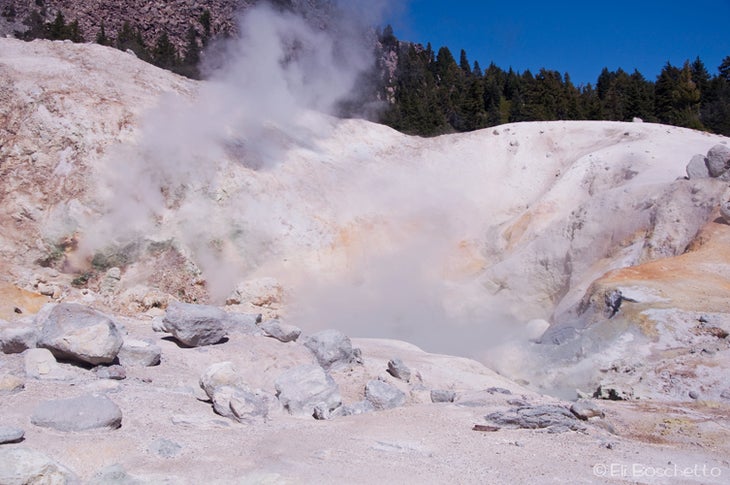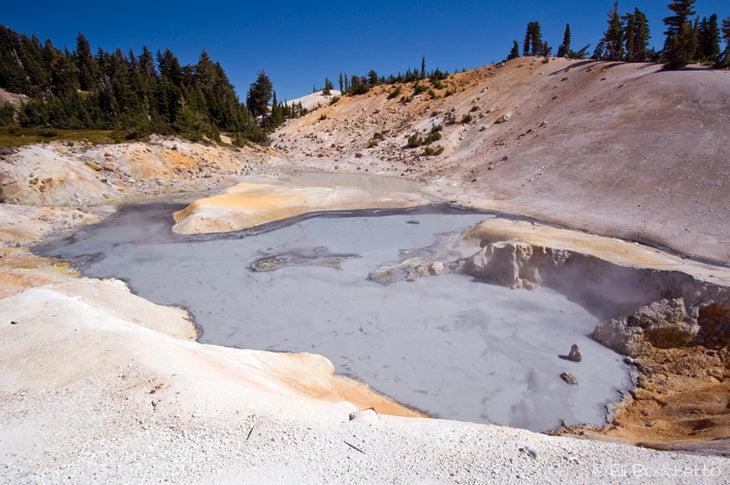 Trail Facts
Waypoints
BUM001
Location: 40.466128, -121.514039
Bumpass Hell parking area and trailhead.
BUM002
Location: 40.460801, -121.510024
Take a short side trail to a signed viewpoint, indicating the surrounding peaks.
BUM003
Location: 40.458639, -121.50532
Bumpass Hell viewpoint and interpretive sign, explaining the aptly-named "Bumpass' Hell."
BUM004
Location: 40.457224, -121.502805
Fork left at this junction to mount a small hill and overlook. Fork right onto boardwalk around several thermal features.
BUM005
Location: 40.457473, -121.502848
Viewpoint over thermal pools and painted hills.
BUM006
Location: 40.457389, -121.502315
Continue forward on boardwalk for more thermal feature views. Trail right continues on to Cold Boiling Lake.
BUM007
Location: 40.45768, -121.502093
Big Boiler overlook.
BUM008
Location: 40.457173, -121.501306
Boiling Pool overlook.
BUM009
Location: 40.457271, -121.500753
Pool of Gold overlook.
BUM010
Location: 40.458111, -121.500855
End of boardwalk at upper vents. Return by same route.
Bumpass Hell
Location: 40.458418, -121.505227
Named for the 1860's explorer that fell through the surface, scalding—and eventually losing!—his leg in one of the mud pots, he described it as "falling into hell."
Trail to Hell
Location: 40.466474, -121.510956
Hike this 1.5-mile trail to an otherworldly basin filled with steaming fumeroles, boiling mud pots, and colorful hot springs.
Lassen View
Location: 40.462401, -121.509165
From the Bumpass Hell trail, view Brokeoff Mountain, Diamond Peak, Mt. Diller and Pilot Pinnacle.
Painted Hills
Location: 40.457479, -121.502781
The Bumpass Hell basin is colored by a variety of geothermally-altered minerals.
Hot Springs
Location: 40.457683, -121.502159
From a viewing platform, peer across several steaming, boiling, strangely-colored pools.
Big Boiler
Location: 40.457593, -121.502008
Considered the hottest geothermal feature in the world, this massive fumerole emits a steam column with temperatures measured up 322º!
"Fool" of Gold
Location: 40.457348, -121.500721
This hot spring is named for the glittering iron pyrite, or fool's gold, surrounding the spring and covering the surrounding slopes.