Las Vegas, NV: Mary Jane Falls
Escape the heat of the Las Vegas Valley by trekking through a forested alpine canyon en-route to a waterfall, caves, and stunning vistas on this out-and-back 3.5-mile hike.
Heading out the door? Read this article on the new Outside+ app available now on iOS devices for members! Download the app.
There's more to Las Vegas than just bright lights and $8.99 surf-and-turf specials. Just 45 miles north of town, immerse yourself in the spectacular natural beauty of the area by hiking to Mary Jane Falls. This moderately strenuous, out-and-back trail culminates at a 50-foot waterfall (and several caves) and offers views of the regal Mount Charleston.
The well-marked trail starts by winding through a deep canyon lined with ponderosa pines, mountain mahogany, white fir, and aspens. Around mile 0.75, the trail delves into a series of sharp switchbacks that offer magnificent views of Kyle Canyon.
Following the switchbacks, gray limestone cliffs form the backdrop for Mary Jane Falls, which are fed by springs and snow. Though the falls are most vibrant in early spring, it's best to explore the caves once the snow has melted in the summer.
Even miles away from Las Vegas, it's likely you'll run into other groups on this well-traveled trail. And though hikers of all fitness levels can complete the hike, be prepared for the challenge of climbing nearly 1,000 feet in under two miles. Expect cooler weather beginning in October, and look out for snow and ice on the trail during the winter and early spring.
-Mapped by Chelise Simmons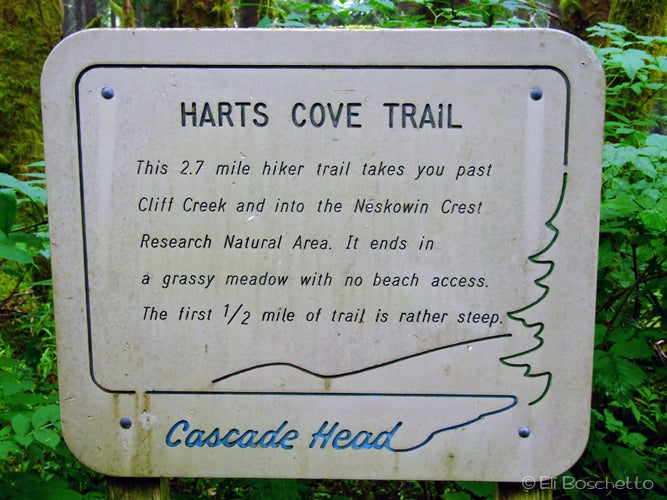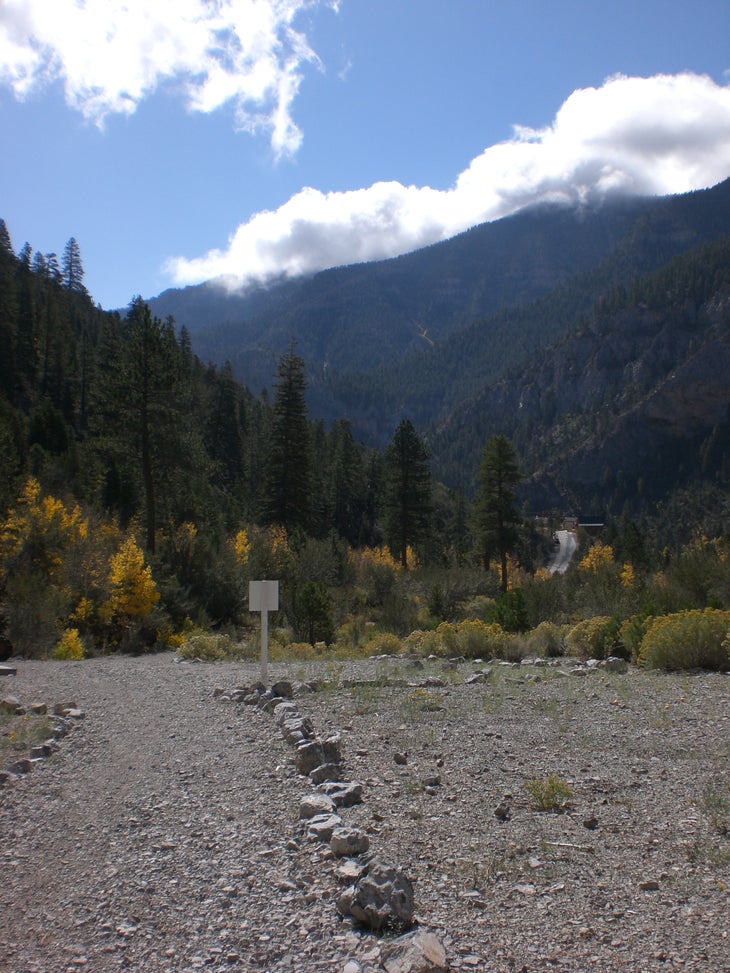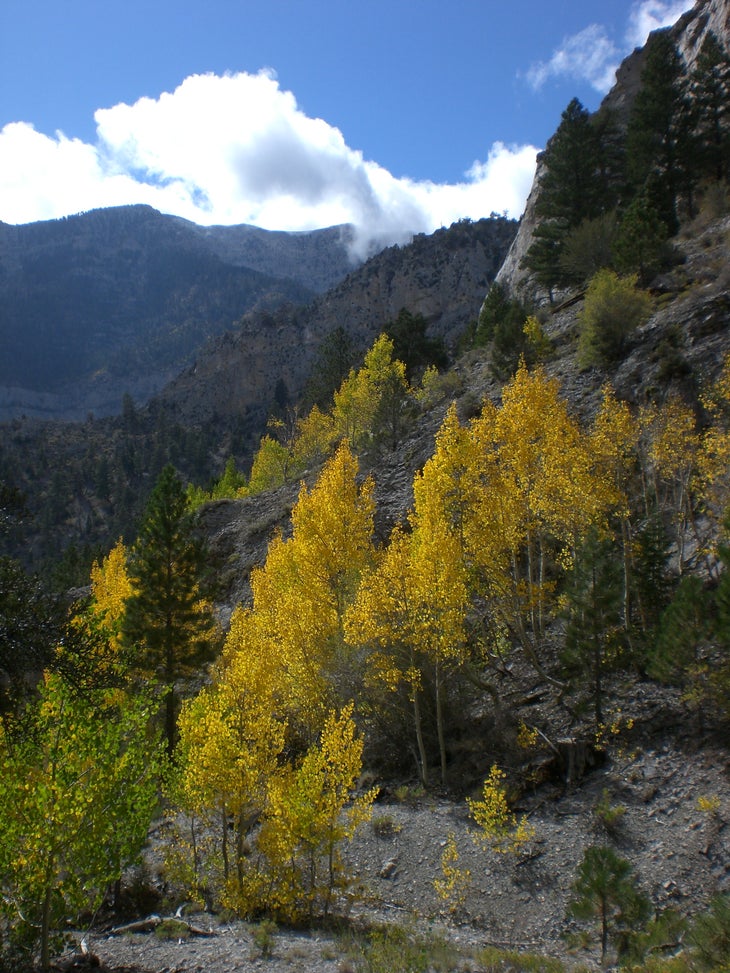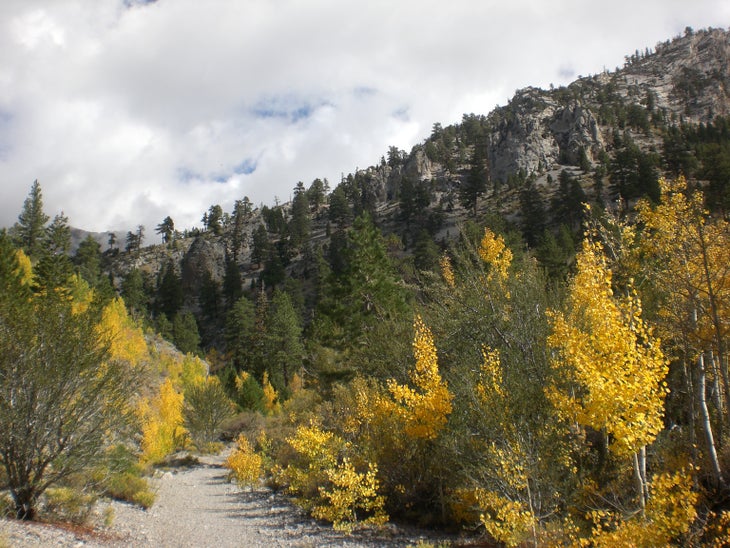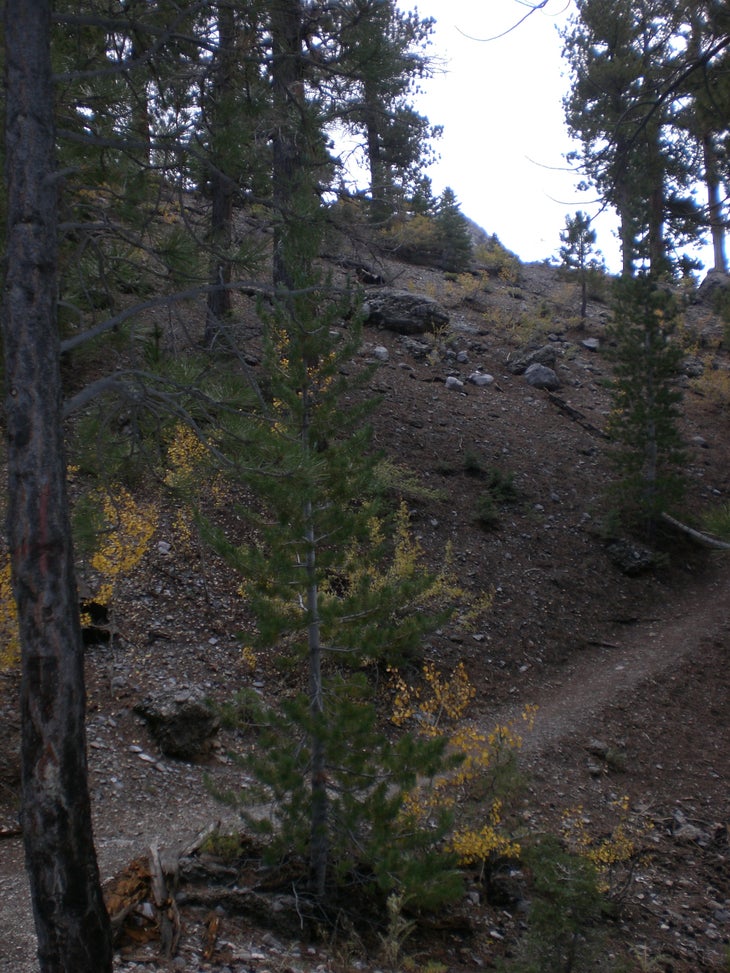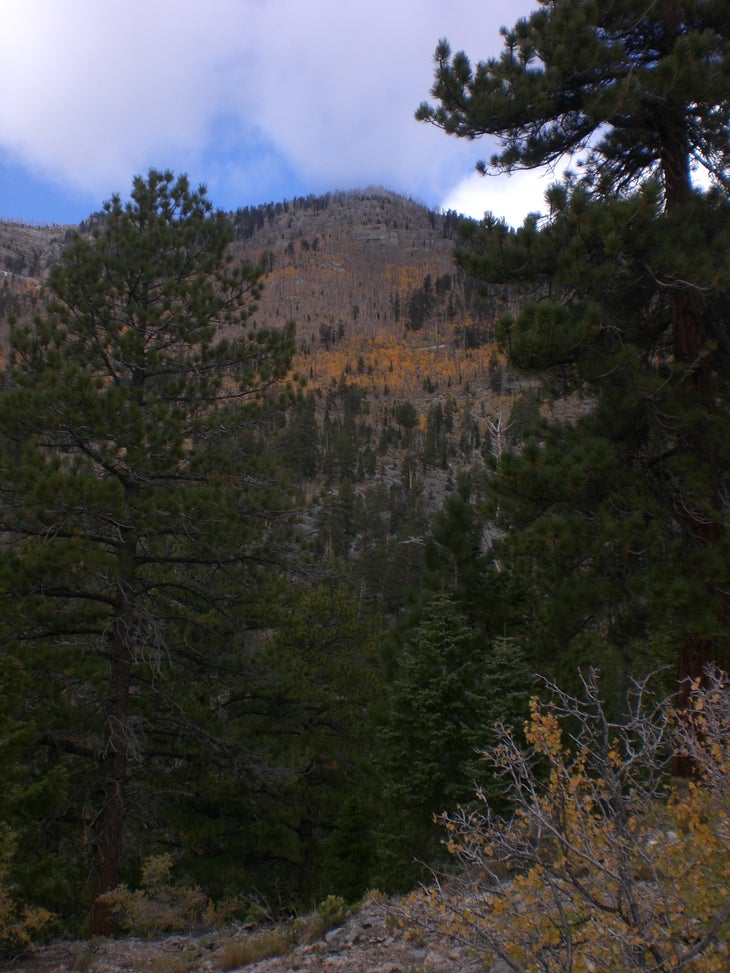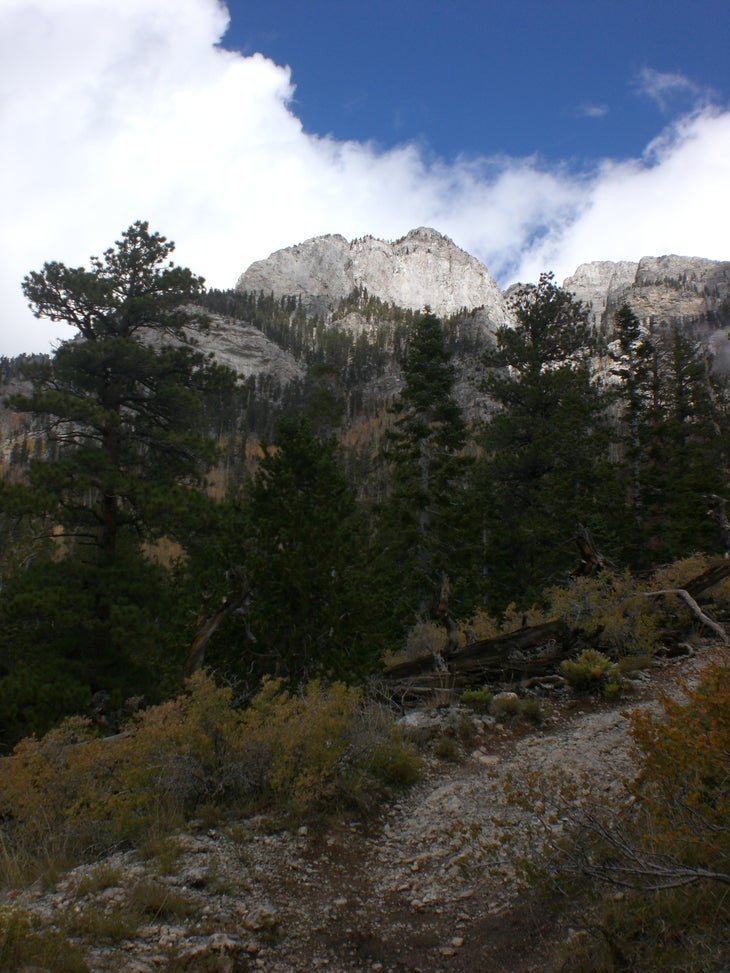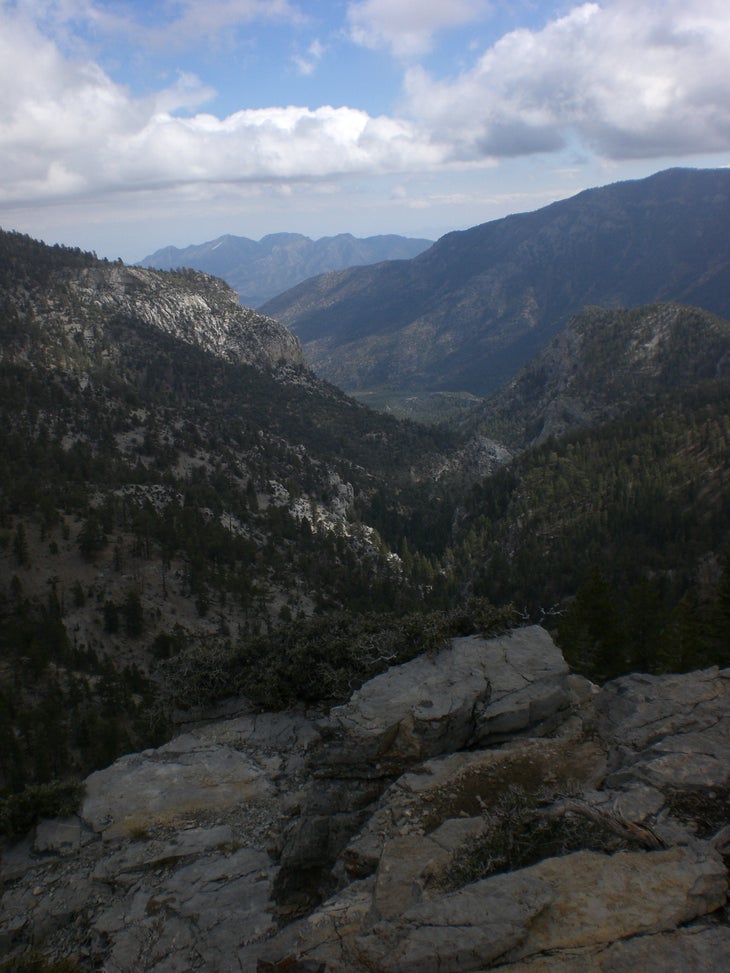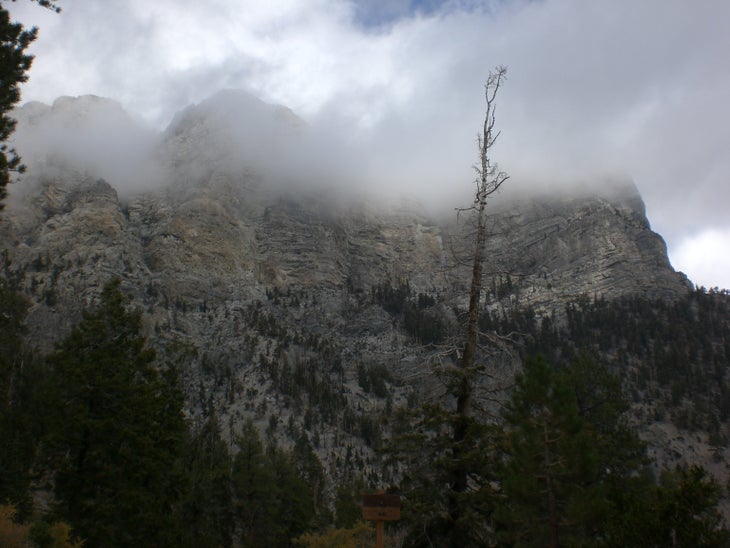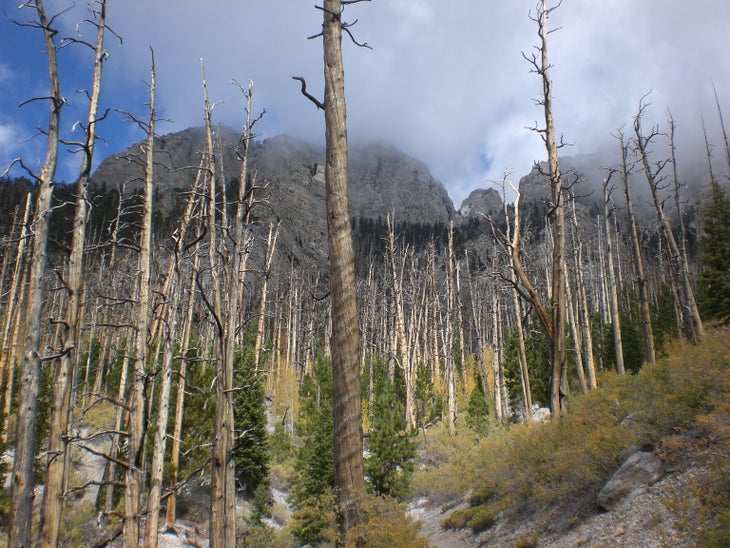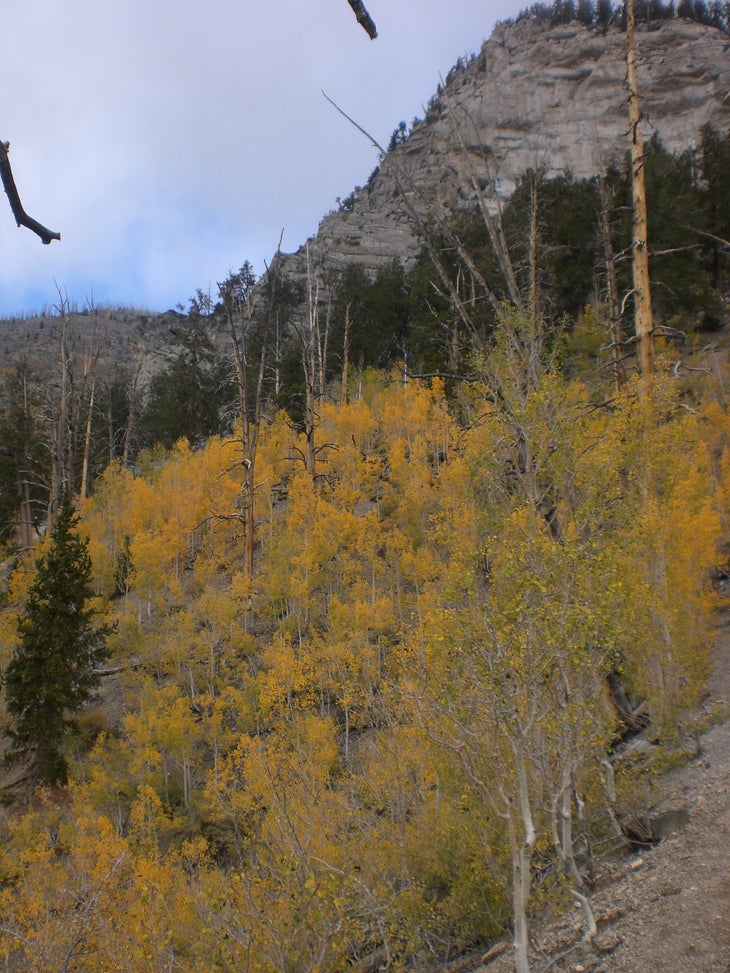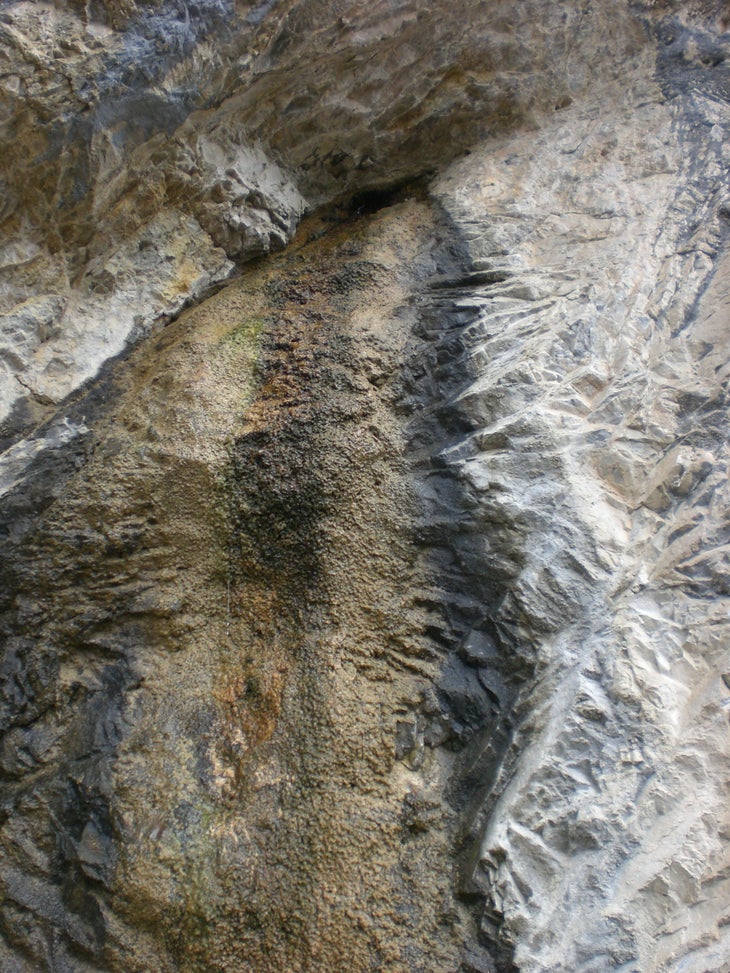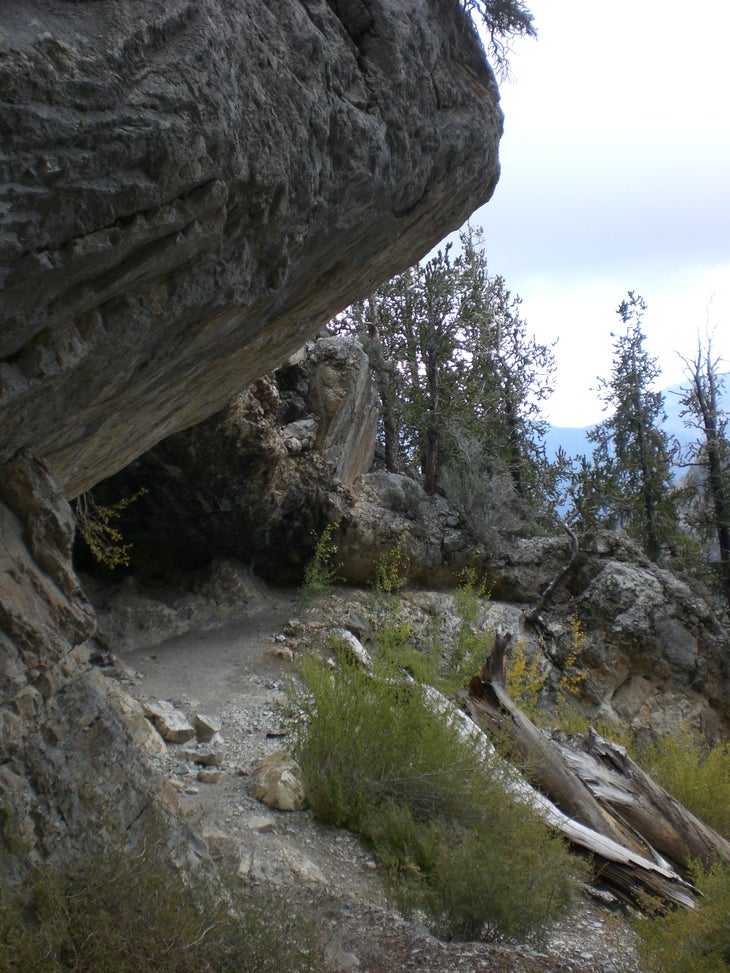 Trail Facts
Waypoints
TCN001
Location: 36.2675705, -115.6580734
Follow gravel service road from behind trailhead past a water station.
TCN002
Location: 36.2699356, -115.6581726
This is where dirt road leads to thinner path.
TCN003
Location: 36.274189, -115.6560593
Dried up creek bed is on your left. Mummy Mountain comes into view as does Aspen covered hillside to the West.
TCN004
Location: 36.2764931, -115.6563873
Trail crosses over the dry creek bed which now stays on your right.
TCN005
Location: 36.2779808, -115.6560822
Trail intersects with dry creek bed. Stay straight.
TCN006
Location: 36.2832375, -115.6547699
Path veers to the right through trees burnt in a fire.
TCN007
Location: 36.2853737, -115.6520309
Trail begins to snake into gentle switchbacks.
TCN008
Location: 36.2860718, -115.6474533
Trail Canyon trail reaches a saddle to merge with North Loop. Head West towards Cave Springs. On your way back down, briefly head East from here for views of Kyle Canyon.
TCN009
Location: 36.2906036, -115.6515274
Trail veers off steeply to the right for a quick scramble up to the Cave.
TCN010
Location: 36.2911377, -115.6527634
Cave Springs. Turn back here or continue West on North Loop Trail towards Charleston Peak (11,918 ft) which you can see South West from here.
TCN011
Location: 36.2855072, -115.6467743
Views South into Kyle Canyon. From here head back to the trail intersection and down to the trailhead.
Trailhead
Location: 36.2670784, -115.6580582
©Chelise Simmons
Looking Back Towards Griffith Peak
Location: 36.267807, -115.6577072
©Chelise Simmons
Looking Back Down Canyon at Charleston Peak
Location: 36.2689133, -115.6579666
©Chelise Simmons
Limestone Rock Faces & Aspens
Location: 36.2722359, -115.6584015
©Chelise Simmons
Mummy Mountain Ahead
Location: 36.2746201, -115.6568069
©Chelise Simmons
Enter burnt tree area
Location: 36.2844124, -115.6517868
©Chelise Simmons
Aspen Covered Mountain Face
Location: 36.2854153, -115.6507587
©Chelise Simmons
Mummy Mountain
Location: 36.2861061, -115.6499863
©Chelise Simmons
View Towards Kyle Canyon
Location: 36.2854156, -115.6482239
©Chelise Simmons
View Down Kyle Canyon
Location: 36.2854153, -115.6467676
©Chelise Simmons
Mummy Mountain Looms
Location: 36.2864189, -115.6474533
©Chelise Simmons
Burnt Forest Affords Terrific Views
Location: 36.2875938, -115.649086
©Chelise Simmons
Thick Forest of Aspens
Location: 36.2897034, -115.6499405
©Chelise Simmons
Springs
Location: 36.2910194, -115.6536331
©Chelise Simmons
Cave Springs
Location: 36.2913666, -115.6533737
©Chelise Simmons