Laramie, WY: Vedauwoo Turtle Rock
A towering pile of weathered granite is the cornerstone of this easy-access loop that rolls over 3.2 miles of trail in the Medicine Bow National Forest.
Heading out the door? Read this article on the new Outside+ app available now on iOS devices for members! Download the app.
This easy 3.2-mile loop circles Turtle Rock in the Medicine Bow National Forest. From the gravel parking strip just above the main trailhead area, walk downhill to the paved area at the base of the weathered formation. Head northwest on the easy trail as it winds beneath aspen and squeezes between Turtle Rock's boulder-strewn base and a marshy wetland to the south. This first section of trail affords up-close views of the piled, cracked rocks—and climbers making their way up the face—before gaining some distance from the formation as it turns east. Scattered fir and pine line the trail as it rolls over several small hills past the rock's sloped backside.
At mile 1.9, the trail turns to slickrock—watch for cairns marking the way—and turns south, skirting a small pool and cascade before turning left to go around an alternative trailhead (complete with pit toilet). The last 0.7 mile of trail parallels the road and tent campground, turning right at a signed trail junction to land back in the parking area.
-Mapped by Kristy Holland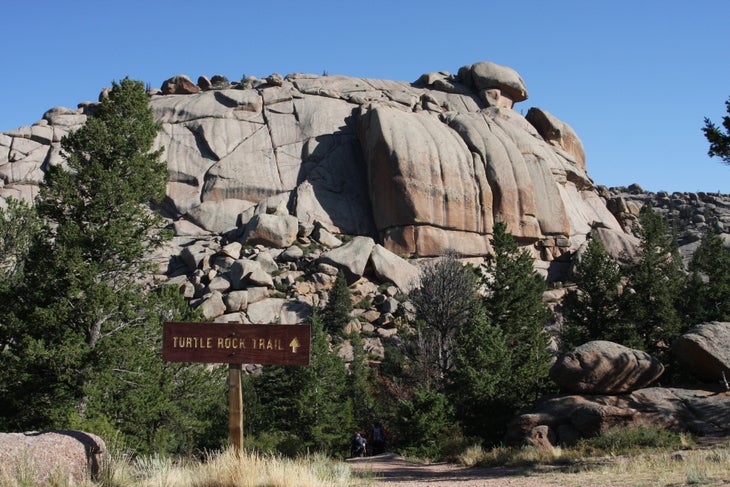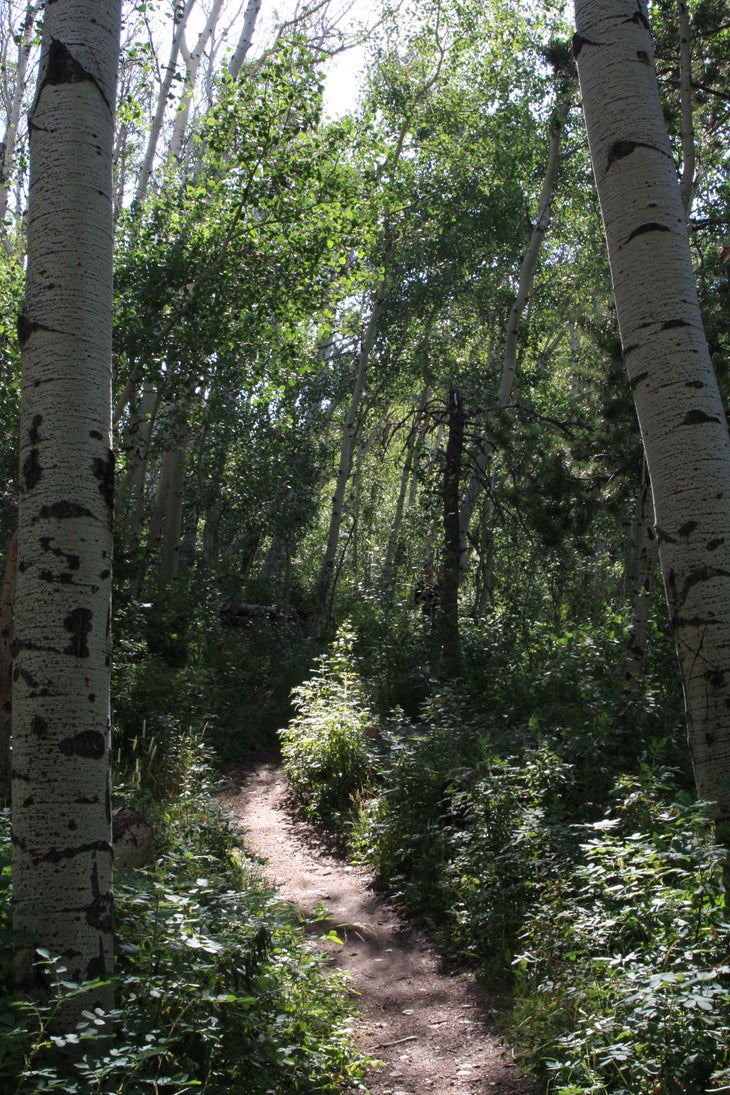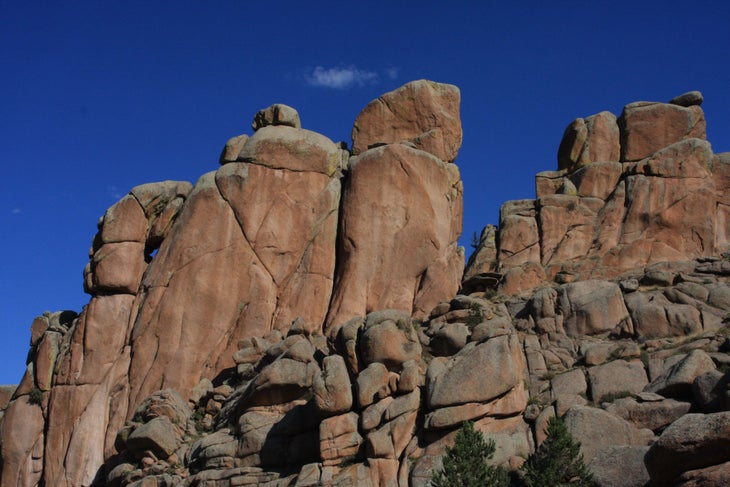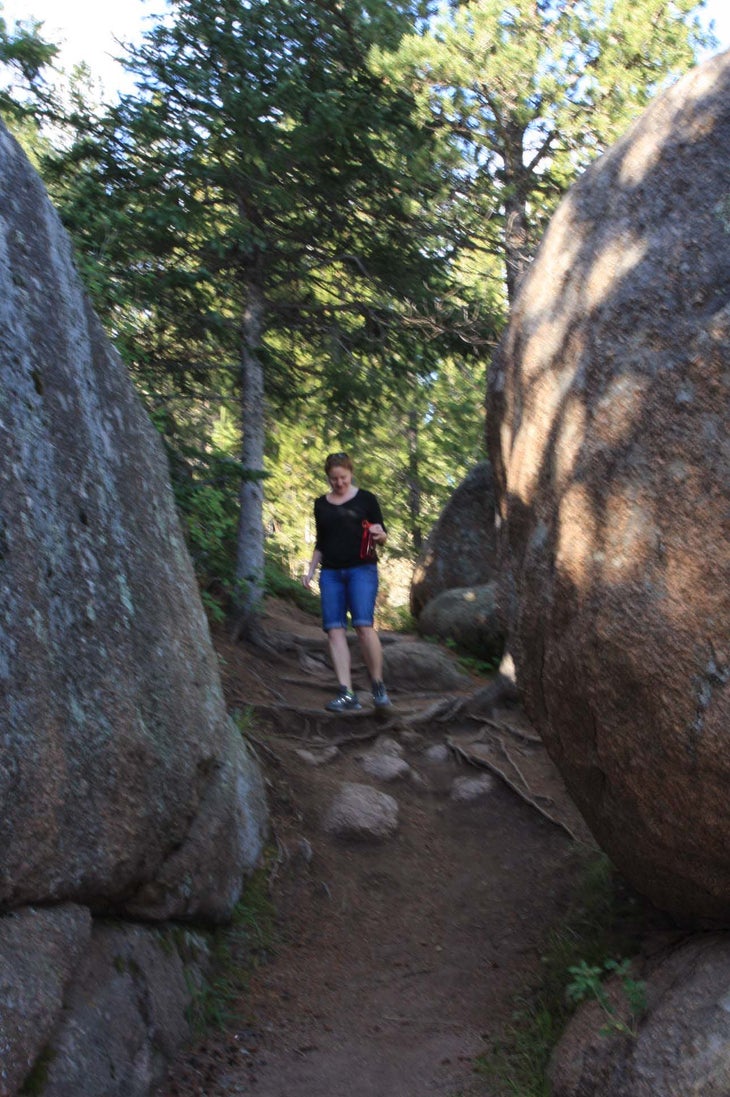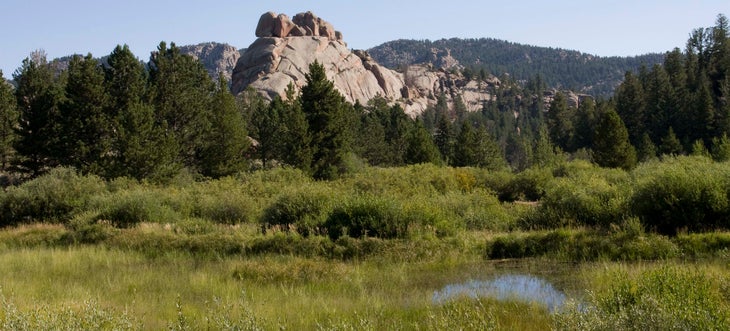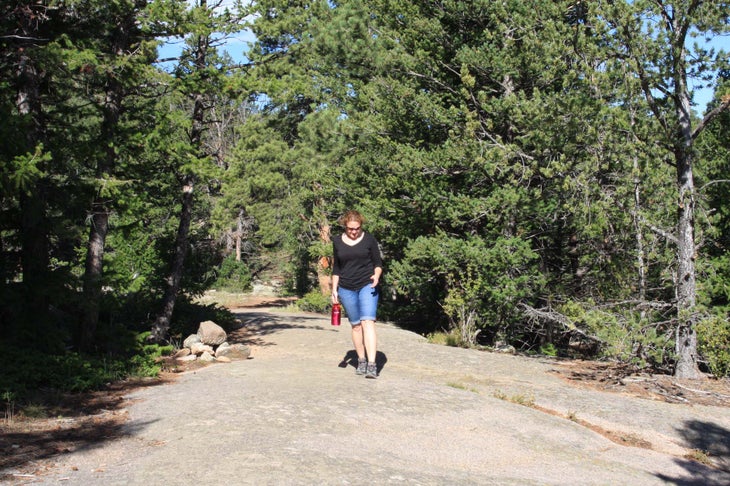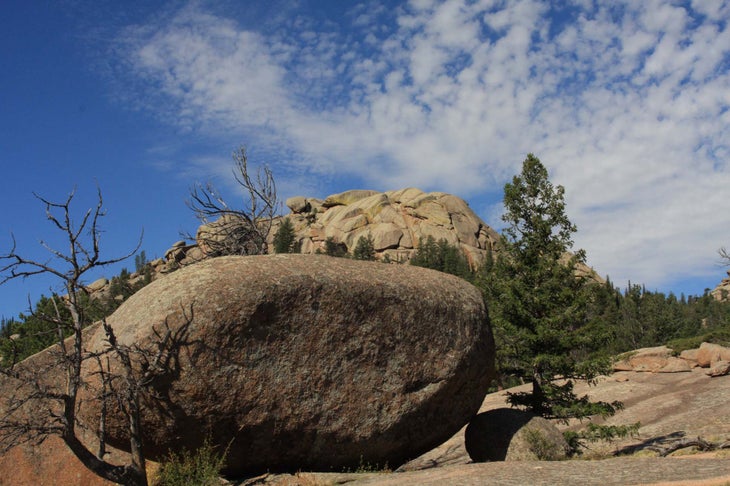 Trail Facts
Waypoints
TUR001
Location: 41.1595776, -105.375731
This upper parking lot is one access point for the trail. Walk downhill from here to reach the trailhead.
TUR002
Location: 41.1608687, -105.3761949
Pass a house-sized boulder on your right. Underbrush and aspen can crowd the trail, but open up as the trail moves away from the parking area.
TUR003
Location: 41.1610485, -105.3765571
Pass through this small metal gate and be sure to latch it behind you.
TUR004
Location: 41.1621979, -105.3797195
Erosion is a problem in this rocky environment. Watch your step and be careful not to twist an ankle on this eroded section of trail that skirts an aspen-choked wetland.
TUR005
Location: 41.1627387, -105.381165
Veer left @ Y-junction, following the trail downhill and around several boulders.
TUR006
Location: 41.1675744, -105.3812458
Navigate a section of steep, tree-root steps that are squeezed between two giant rocks. Just ahead, the trail overlooks another wetland and hoodoo formations that rise 0.3 mile to the north.
TUR007
Location: 41.1677677, -105.3776622
The trail turns away from Turtle Rock under a canopy of pines and rolls over a few small hills as it turns east.
TUR008
Location: 41.1660882, -105.3672233
It's easy to loose the trail for a minute on this uphill section of slickrock. Look for the dirt trail behind a boulder on your right.
TUR009
Location: 41.1646521, -105.3654554
This large open area has a few enormous boulders and offers a great view of Turtle Rock's eastern edge. Follow the boulders on the downhill edge of the clearing to pick up the trail.
TUR010
Location: 41.1630549, -105.3661394
Entering the woods, you'll pass a spring and a small creek tumbling over a 4-foot cascade.
TUR011
Location: 41.1620897, -105.3663808
Go straight through the gate and stay right @ Y-junction. Just ahead, a sign points to the Turtle Rock Trailhead, the easternmost trail access point. There are a handful of parking spots and a toilet at this location.
TUR012
Location: 41.1612379, -105.3665935
Turn right @ Y-junction to stay on the official trail. A few user-created trails crisscross the area, but since the trail parallels the park road, it's pretty difficult to get lost.
TUR013
Location: 41.159937, -105.3683487
Pass another trail access point, parking lot, information kiosk, and toilet on your right.
TUR014
Location: 41.1582843, -105.3740919
Turn right @ 3-way junction to bypass the main campground area and walk down a short hill and through the woods to the parking area.
Trail Sign
Location: 41.159723, -105.3755808
From the upper parking area, a sign points north down a short, steep trail to the lower parking area and trailhead. © MacKenzie Ryan
Aspen
Location: 41.161072, -105.3772759
The early section of the trail winds through aspen on the north side of a marshy wetland. © MacKenzie Ryan
Tea Kettle
Location: 41.162849, -105.3819537
A large, kettle-shaped outcropping stands out from the monolithic structure of Turtle Rock. © MacKenzie Ryan
Rocky Squeeze
Location: 41.1675578, -105.3811598
The trail drops down several tree-root steps as it squeezes between large boulders. © MacKenzie Ryan
View
Location: 41.1678, -105.3807199
Northwest views of marshy plains and hoodoos. © MacKenzie Ryan
Slickrock
Location: 41.1664593, -105.3680706
In its northeast corner, the trail turns to slickrock and climbs a gentle grade. © MacKenzie Ryan
Rock
Location: 41.1646421, -105.3653347
This house-sized boulder is too big to climb, but casts a large shadow and is situated just uphill from the slickrock trail. © MacKenzie Ryan