Lake Tahoe, CA: Squaw Bike Trail
Experience Tahoe scenery without Tahoe crowds on this 12-mile riverside out-and-pack path which passes under rugged crags en route to the lake shore.
Heading out the door? Read this article on the new Outside+ app available now on iOS devices for members! Download the app.
A short distance from the Resort at Squaw Creek, the multi-use Squaw Bike Trail slices through Squaw Valley along the Truckee River as it heads out to western shore of Lake Tahoe. The path is well-paved, making it suitable for hiking and biking alike.
From the trailhead, head southeast along the deep-blue Truckee River passing statuesque evergreens and riverside marshlands. Wide granite boulders line the river and you may spot deer or fox along the shores as well.
After the trail winds past Bear Creek on the right, the 7000-foot Thunder Cliff and Twin Crags appear on the left. Continue along the cliff faces until you reach Lake Tahoe Park. Snow Valley Peak and Genoa Peak can be seen across the lake. From the park, you can see the entire span of the eastern shore from Crystal Bay to South Lake Tahoe. Soak in the views before backtracking to the trailhead or the resort's bike rental shop.
-Mapped by Kari Bodnarchuk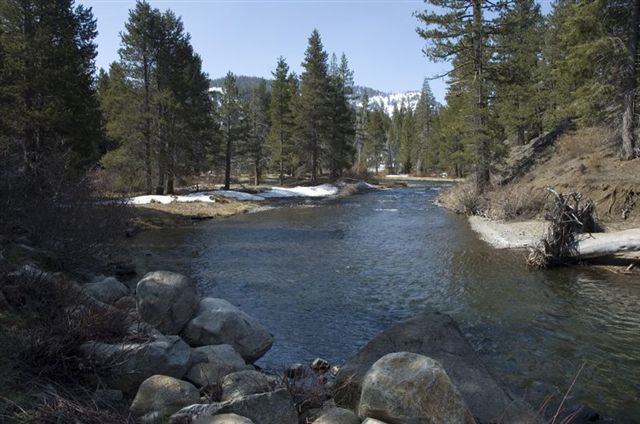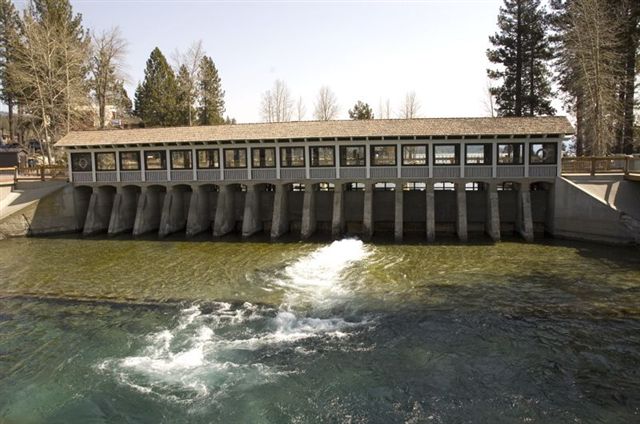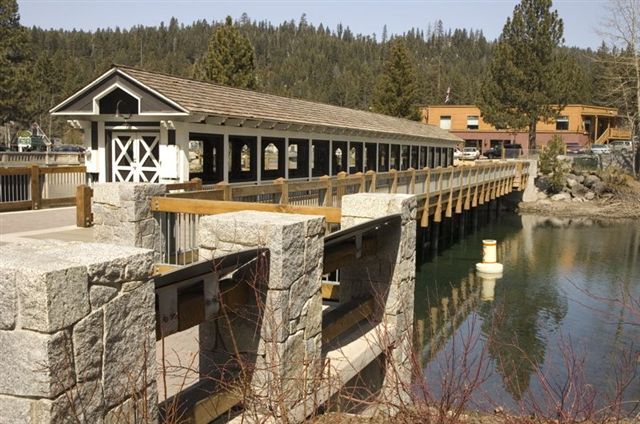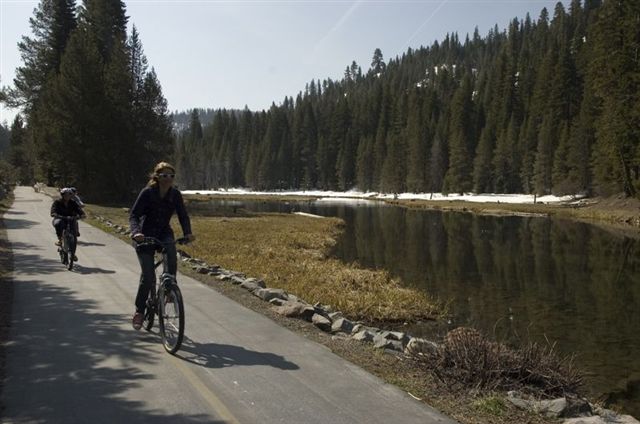 Trail Facts
Waypoints
SQT001
Location: 39.2052498, -120.2076797
Bike Rental at the Resort at Squaw Valley: To get to the bike path trailhead, head down Squaw Valley Road and cross CA-89.
SQT002
Location: 39.2046165, -120.1993332
Trailhead: Jump on the bike path at the junction of CA-89 and Squaw Valley Road. The path soon crosses the Truckee River and then follows its winding waters out to Tahoe City.
Note: Bike rentals are available at the Resort at Squaw Valley–see waypoint 1.]
SQT003
Location: 39.1971321, -120.1987534
The trail climbs uphill overlooking the river and passes under the CA-89 bridge before continuing a gradual ascent.
SQT004
Location: 39.1936836, -120.1968155
Just after a Z-shaped bend in the river, the path turns away from the Truckee and is flanked by grassy meadows–this is a good spot to look for deer and other wildlife. Ahead, there is an easy climb up to a great viewpoint overlooking the crystal-clear, jade-colored river.
Continue on the path for several more miles; when it ends, turn right onto the road, turn right at the next intersection, and head to Lake Tahoe Park (several hundred yards up on the left).
SQT005
Location: 39.1869316, -120.1952972
Caution: Cross Alpine Meadows Road (traffic pulling in and out).
SQT006
Location: 39.1670837, -120.1433334
Just past the covered bridge over the dam, Lake Tahoe Park has picnic tables that overlook the lake. Enjoy the views before backtracking back to Squaw.
Truckee River
Location: 39.193283, -120.1959229
© Kari Bodnarchuk
Truckee River Dam
Location: 39.1670525, -120.1441455
© Kari Bodnarchuk
Side view of the dam
Location: 39.1670857, -120.1441669
© Kari Bodnarchuk
Cruising
Location: 39.196875, -120.1996994
© Kari Bodnarchuk