Lake Tahoe, CA: Rubicon Trail to Rubicon Point
This 10.6-mile out-and-back links thick lodgepole pines, stunning overlooks, and jade-colored waters reflecting the high Sierra.
Heading out the door? Read this article on the new Outside+ app available now on iOS devices for members! Download the app.
Begin with a gradual descent to Emerald Bay and historic Vikingsholm Mansion. Just before the lake, veer northeast on the Rubicon Trail, and wander through thick coniferous forests, sprinkled with house-size granite boulders. Peak-a-boo views of South Lake Tahoe provide stunning photo opportunities while spring-fed creeks cascade violently to the lake below. Grab a snack at Rubicon Point, one of the best views of Lake Tahoe, before making a U-turn and returning on the Lighthouse and Rubicon Trail. Note: If hiking off-season, use this variation.
-Mapped by Kari Bodnarchuk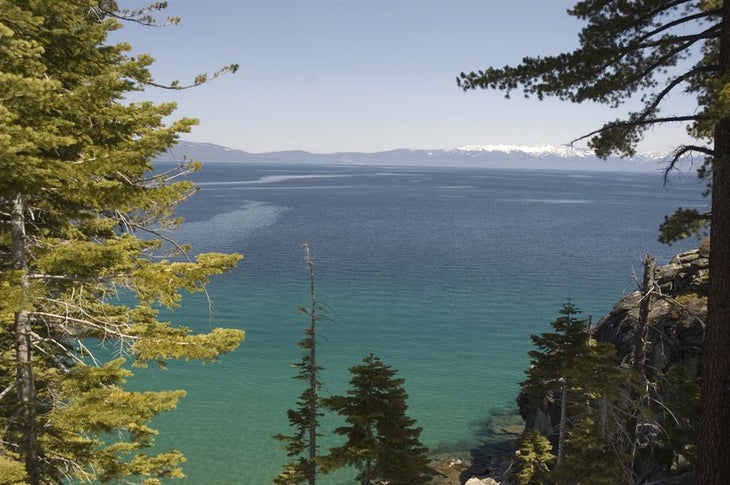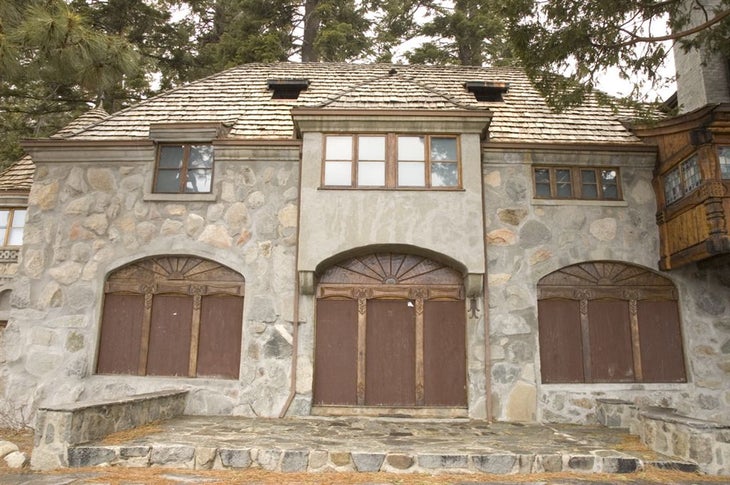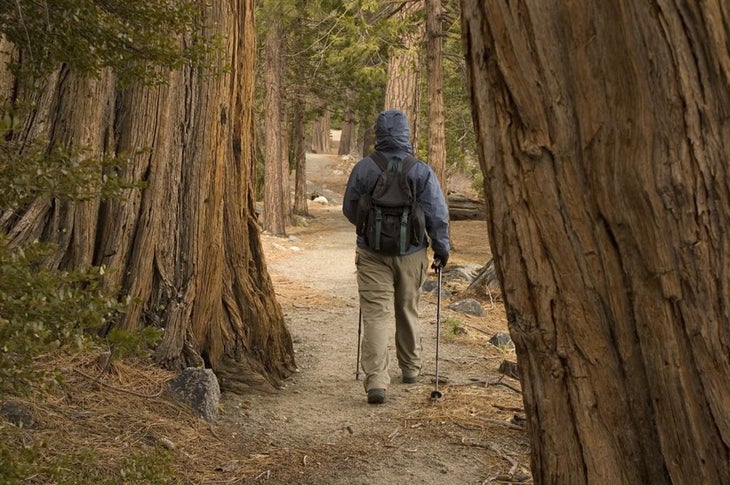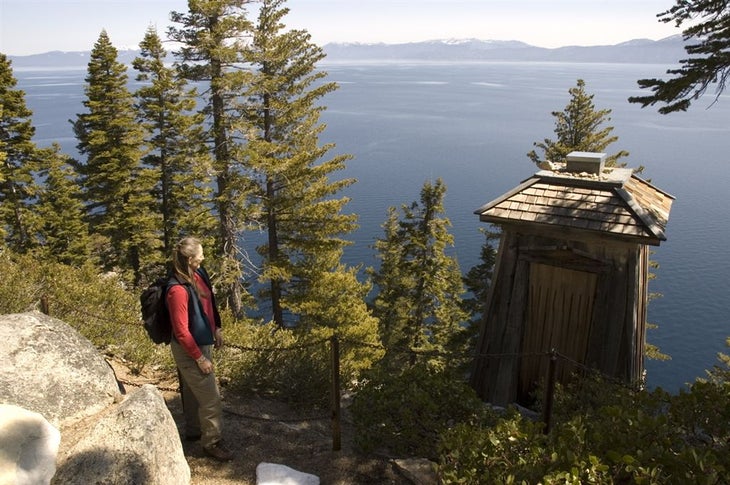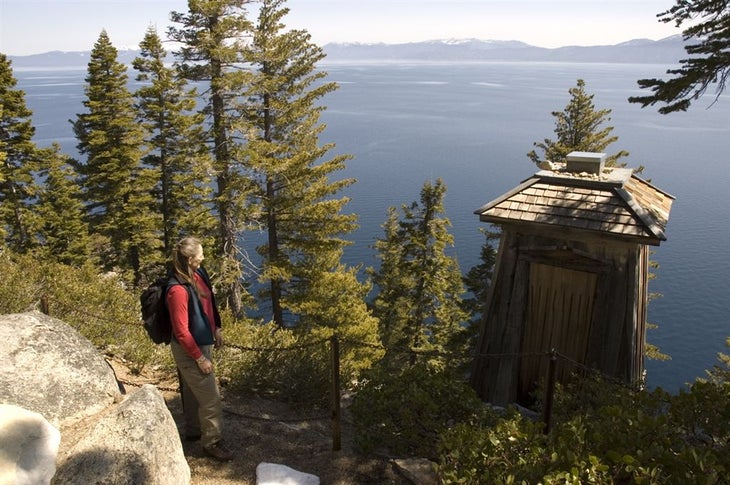 Trail Facts
Waypoints
WPT001
Location: 38.9542847, -120.110466
From the north end of Vikingsholm pull-off, hike northeast down the Vikingsholm Trail. Descend a wide, dirt path as it zigzags through a tall coniferous forest filled with lodgepole, ponderosa and jeffery pine. Occasional views of Emerald Bay emerge through the trees to the east.
WPT002
Location: 38.9546318, -120.107048
Turn right at 3-way junction and follow the dirt path to Vikingsholm mansion.
WPT003
Location: 38.9521179, -120.10672
Vikingsholm Mansion: Built during the summer of 1929, this rustic, Scandinavian-style mansion, with its sod and shingled roof sits prominently at the edge of Emerald Bay and overlooks the clear, jade-colored water. Spend some time checking out the expert craftsmanship and then continue hiking along the path towards Rubicon Point. The path, a strip of sandy singletrack, follows the shoreline and crosses over bubbling spring-fed brooks while flanked with shiny, rust-covered manzainta bushes.
WPT004
Location: 38.9587669, -120.0985336
Pass through Boat Campground (accessible only by boat) and continue to parallel the bay. Views of Fannett Island and the famous Tea House sitting on top are visible from the shoreline. Cut through an open forest where azalea bushes flank the trail and continue as the trail turns away from the water and back into coniferous forests.
WPT005
Location: 38.968399, -120.0898666
Walk through jagged split rock — broken glacial erratic — to a small beach tucked away in a cove. The trail follows shoreline before climbing about 30 feet above water, offering sweeping lake views on right with a steep hillside on left.
WPT006
Location: 38.9709167, -120.0924683
After climbing 150 feet above the water, stop for a breather at Emerald Point — a rocky point where granite boulders are covered in patches of pink and green lichen — which offers fabulous views of the lake and mountains to the north and east.
WPT007
Location: 38.9711342, -120.0938187
After climbing, cross a stream that steeply drops-off to the right. The trail follows a narrow ledge, with open forest dotted with bushes and large rock slabs. Continue on dirt path covered in pine needles occasionally taking the time to look back for views of headlands and coves to the south. On a clear day, it is also possible to see the slopes at Heavenly Resort on the right. Thick brush overhangs into the trail as you ascend up several switchbacks away from the lake.
WPT008
Location: 38.9786682, -120.0953979
Pass a fenced-off viewing area next to large rock and steep drop-off. Soak in views of the lake and pass beautiful tall lodgepole pines standing alone in a bushy field.
WPT009
Location: 38.9855499, -120.097847
Pass through a large clear-cut area and emerge back into forest spotted with boulders. Peek-a-boo views of lake through pine trees emerge and the trail levels out.
WPT010
Location: 38.9884987, -120.0977859
Continue straight at 3-way junction. The trail immediately opens up, providing spectacular views down into small coves nestled among the shoreline, where rock pinnacles beckon climbers to challenge their virgin routes. As you hike, the trail becomes sandy, and narrow with sharp drop-offs to the right.
WPT011
Location: 38.9972992, -120.09552
Just after views of the lighthouse emerge to your left, the trail narrows considerably, dropping off to the right. Continue traversing the cliff, passing a small cave formed by precariously leaning boulders and then under an archway of boulders. The trail begins to descend to Rubicon Point and stunning views of South Lake Tahoe.
WPT012
Location: 38.9986992, -120.0972824
Rubicon Point: One of the best views of South Lake Tahoe, take a moment and soak in sweeping views of the Sierra Nevada and crystal-clear, jade-colored water. Restrooms and water are available near the parking lot, and several large flat granite boulders provide a perfect place to sit.
To continue, bear left at 3-way junction onto Lighthouse trail, and begin a series of switchbacks through thick forested pine leaving the views behind.
Optional: Bring your swimsuit and head down the Calawee Trail to Calawee Cove, where a sandy, quiet beach is the perfect place for a refreshing dip in Lake Tahoe's frigid waters.
WPT013
Location: 38.9961014, -120.0953979
Rubicon Point Lighthouse: Turn L at 3-way junction and walk down 40 steps cut into the granite ledge leading to the wooden lighthouse, once the highest elevation lighthouse in the world. After checking out the digs, return to the trail and turn right. Turn right again at T-junction and continue ascending several switchbacks. The path, a dirt-packed, pine needle covered walkway, cuts through open areas interspersed with lodgepole pines. The trail steadily ascends back up to D.L. Bliss State Park.
WPT014
Location: 38.9894333, -120.0987854
Turn left at 3-way junction and then turn left again back onto the Rubicon Trail. Retrace your steps back to Waypoint 2 and turn right on the Vikingsholm trail, heading back up to your car.
South Lake Tahoe
Location: 38.9988823, -120.0976639
Vikingsholm Mansion
Location: 38.9520645, -120.1069794
Hiking
Location: 38.9597931, -120.0970306
Rubicon Trail
Location: 38.9898872, -120.0987396
Rubicon Trail
Location: 38.9682198, -120.0894318