Lake Tahoe, CA: Pope-Baldwin to Inspiration Point
This paved 11.4-mile out-and-back travels Lake Tahoe's mountainous southwest shoreline to an overlook with views across Emerald Bay.
Heading out the door? Read this article on the new Outside+ app available now on iOS devices for members! Download the app.
With several scenic detour options, Pope-Baldwin Bike Path tours the lakeside between Pope Beach, the first of Tahoe's southwestern sands, and Baldwin Beach. Sierra Nevada Mountains line the western landscape, while the alpine azure of Lake Tahoe teases your eyes to the east. From Camp Richardson, follow the trail west. For an optional side trip, turn left at mile 0.5 onto Fallen Leaf Road where Tahoe's tallest mountain, Mount Tallac, looms behind the lapping waves of Fallen Leaf Lake. The route continues along the bike path to Baldwin Beach Road (second side trip). Turn right onto the paved access road to Baldwin Beach—a birding and picnicking haven. Retrace your steps back to the Pope-Baldwin path. Continue straight for about a mile, then turn right on CA 89. From here, the route to Inspiration Point climbs 400 feet of elevation along the highway shoulder. Rewarding overlooks of Tahoe make three arduous switchbacks worth the workout. At mile 4.3, pass Emerald Bay Campground. For another optional side trip, turn right into Emerald Bay State Park, a designated underwater park and summertime favorite of scuba divers. Cascade Lake and Tahoe come into view as you climb the narrow road. At mile 6.4, take in the forested lakeshore panorama at Inspiration Point before turning back the way you came.
Mapped by Kari Bodnarchuk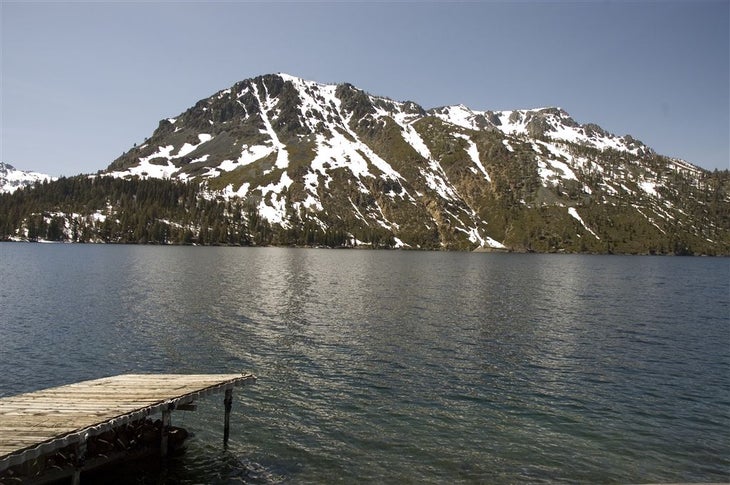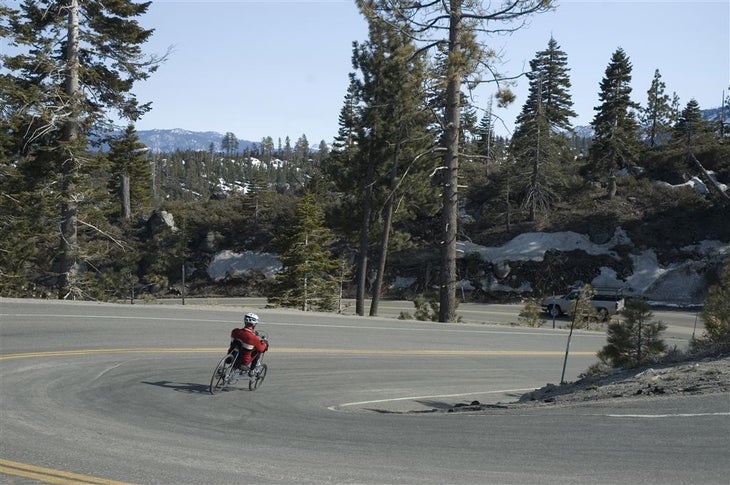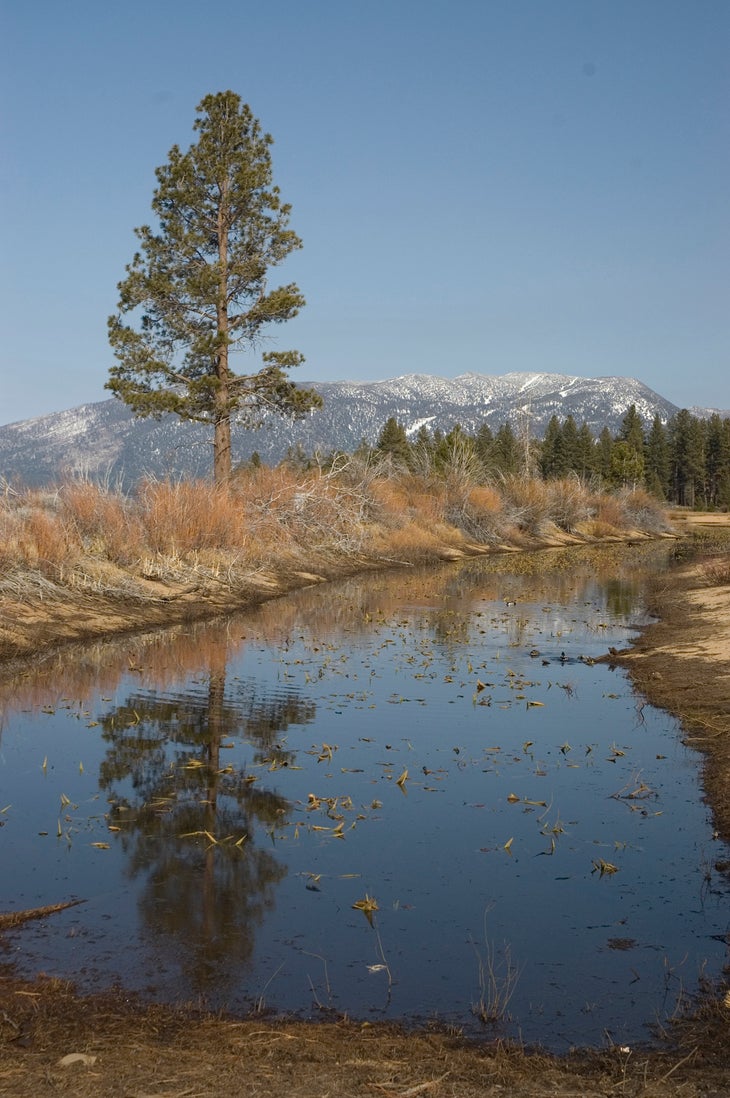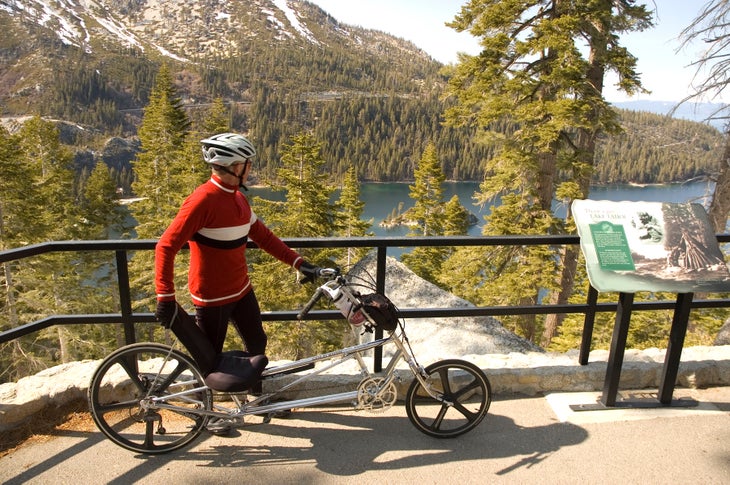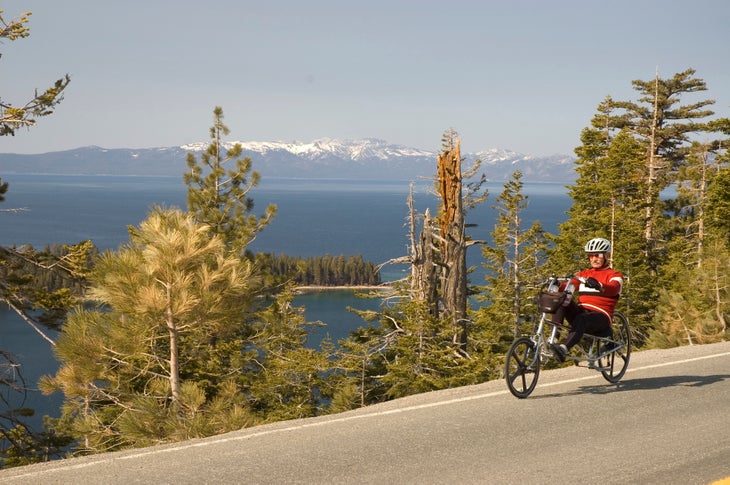 Trail Facts
Waypoints
WPT001
Location: 38.9337997, -120.0410233
From Camp Richardson (across the street from Mountain Sports Bike Rental), follow Pope-Baldwin Bike Path north through marshland and open forest with aspen and dogwood. Pass Tallac Historic Site on right (stop here to see the Baldwin estate, a house museum with historical information on Tahoe).
WPT002
Location: 38.9338226, -120.0496445
Continue straight @ 4-way on bike path bordered by open forest. Occasional views of spectacular mountains can be seen to the north. In 1.75 miles, the trail veers away from the road and cuts through forest (keep an eye out for bears and fox). Optional side trip: Turn left onto Fallen Leaf Road to reach Fallen Leaf Lake to the south.
WPT003
Location: 38.934166, -120.0650177
Turn right @ 4-way junction onto Baldwin Beach Road and follow 0.6 mile to the narrow, sandy Baldwin Beach. Take a break, go beach combing, or look for stellar jays, which are prevalent here.
WPT004
Location: 38.9417, -120.0631866
Baldwin Beach has picnic tables and miles of sandy beach to explore. Keep an eye out for golden mantled brown squirrels, ground squirrels, black bears, woodpeckers, and flickers (bird with orange and black striped wings). Retrace route back to bike path and turn right.
WPT005
Location: 38.9337273, -120.0770264
Turn right onto CA 89 and follow road north for a steady climb through forest to two viewpoints overlooking Lake Tahoe.
WPT006
Location: 38.9474487, -120.0774994
The first of two overlooks that offer stunning views of Lake Tahoe and the surrounding high Sierra Mountains. Continue north up CA 89 and after a short descent, climb up three steep and heart-pounding switchbacks to the ridge.
WPT007
Location: 38.9512329, -120.0856857
Pass Emerald Bay State Park Campground on the right as you climb toward Inspiration Point, heading southwest on CA 89.
WPT008
Location: 38.9494019, -120.0909195
Switchbacks lead up to the narrow ridge overlooking Cascade Lake on the left and Lake Tahoe on the right. Caution: Take care on this narrow road with small shoulders.
WPT009
Location: 38.9462509, -120.0982513
The reward: Inspiration Point offers stunning views of Emerald Bay on the southwest side of Lake Tahoe and sweeping mountain vistas to the north. This is a great spot to rest before the descent. To extend your trip, continue north on CA 89 for 0.1 mile to see Eagle Falls on the right. Retrace route to trailhead.
First Optional Detour: Fallen Leaf Lake
Location: 38.9338341, -120.0495911
Mount Tallac rises in the background.
Switchbacks near Inspiration Point
Location: 38.9510002, -120.0883789
Junction
Location: 38.9337082, -120.0768967
Turn right off Pope-Baldwin and merge onto CA-89.
Inspiration Point
Location: 38.946228, -120.098053
Descending from Inspiration Point
Location: 38.9465256, -120.0967484