Lake Bastrop LCRA Park North-South Trailway
This scenic trek from one end of Lake Bastrop to the other goes just over four miles, through oak and mesquite-covered hills into pine woods, over creeks and along the lake shore.
Heading out the door? Read this article on the new Outside+ app available now on iOS devices for members! Download the app.
Leave a car at one end and drive to the other, or hike both ways on this trail. This route starts at the south end and ends at the north. There are restrooms at both ends, and kiosks with trail maps.
From the south, the first part of the trail traverses slightly hilly terrain on a dirt track often strewn with loose rocks. A couple of small meadows fill with flowers in spring and golden grasses in fall. Most of the route is close to the lake, a small body of water popular with fishermen and waterfowl. You'll also hear ravens and other birds in the trees, and may see raccoon prints in the soft dirt.
The trail crosses a power line right-of-way, a dirt road, and a number of wooden bridges, which are named on the map. The trail is also well marked with metal tags on trees and occasional posts.
The second half of this south-to-north route covers more level ground, on a softer dirt and sand track under pine trees. In fall and winter, pine needles carpet the trail and bridges. Look for American Beautyberry, a gangly shrub with bright purple berries, along the way. Near the end, the trail skirts an arm of the lake, crossing a narrow dike before heading back into woods. Soon you'll come to an intersection with Buzzard Point Trail, which leads to the same parking lot but adds about a half mile. Turn left at the intersection to finish the North South Trailway without including Buzzard Point.
The South Shore Park, operated by the Lower Colorado River Authority, has camping, RV hookups, limited-use cabins, a group shelter, boat ramp, and additional trails. The North Shore Park has picnic areas and a boat ramp.
Before or after your hike, fuel up on burgers, chicken sandwiches and more at Bastrop Road House on Highway 21 about a mile before the turn-off.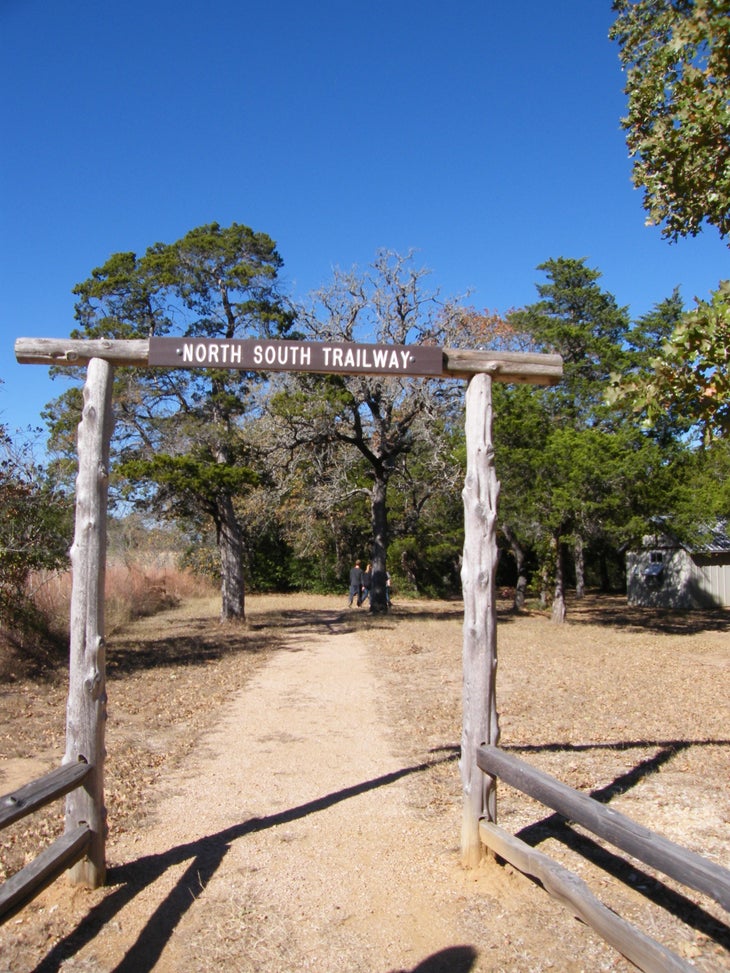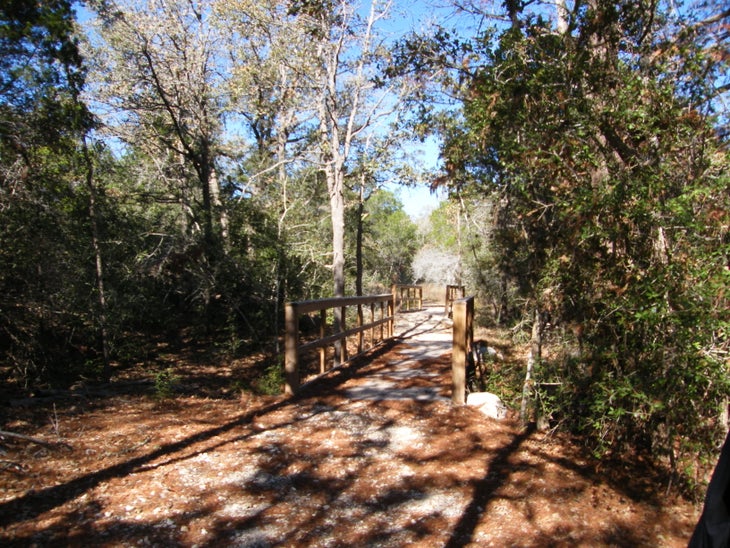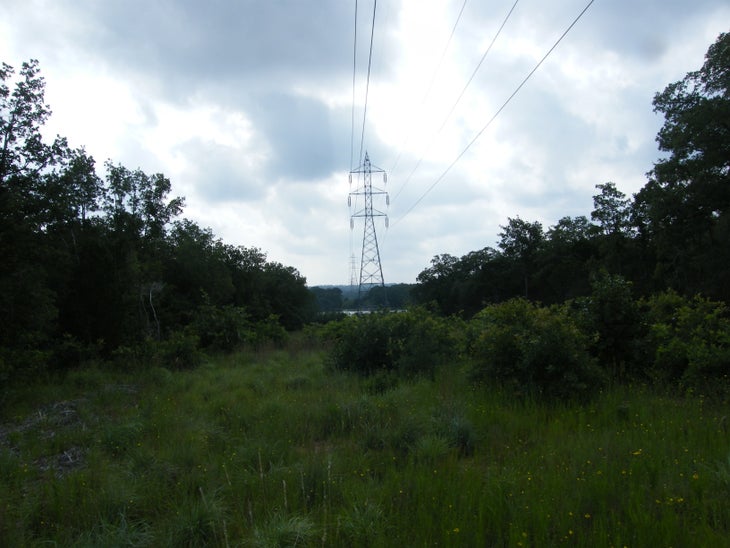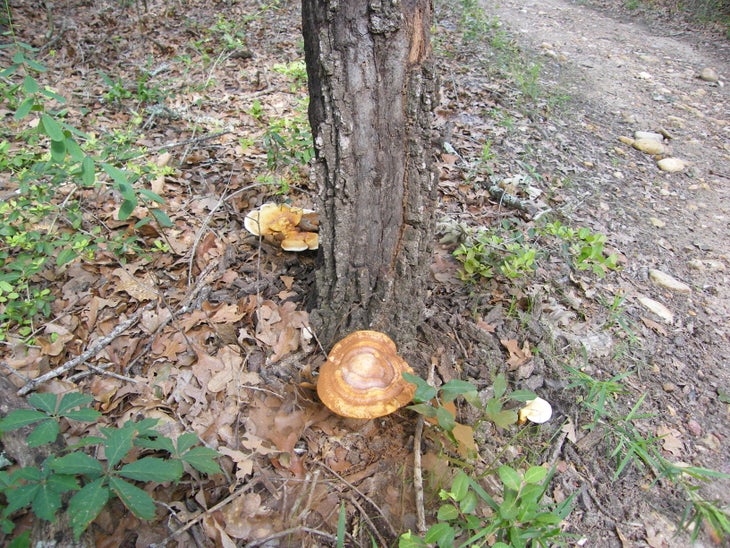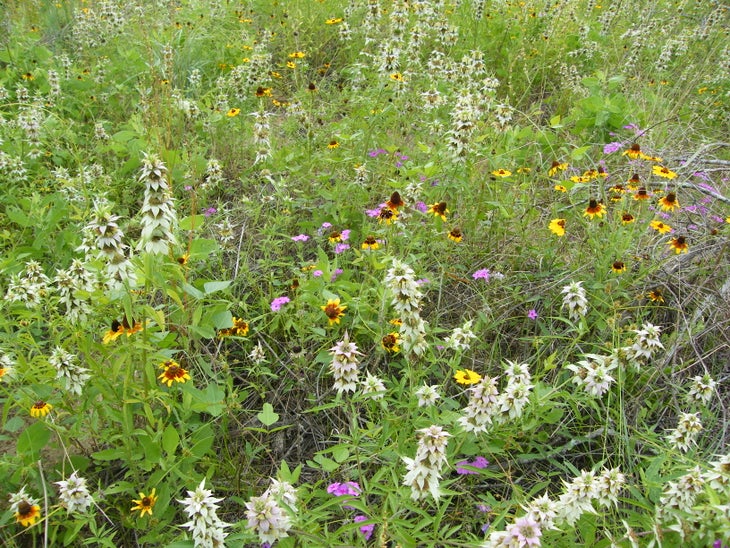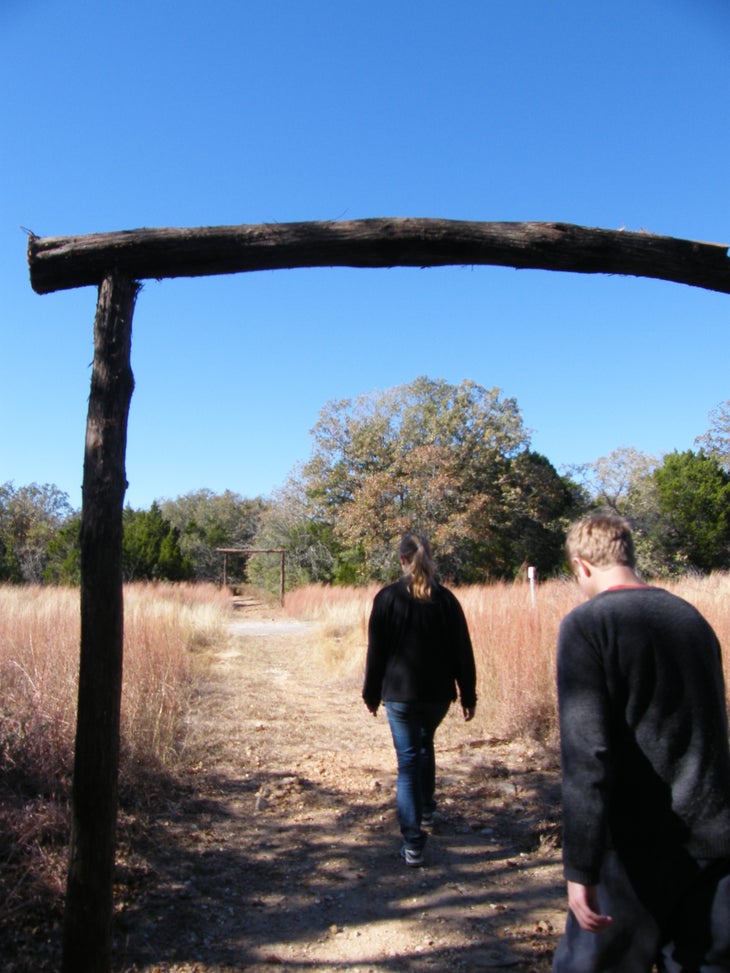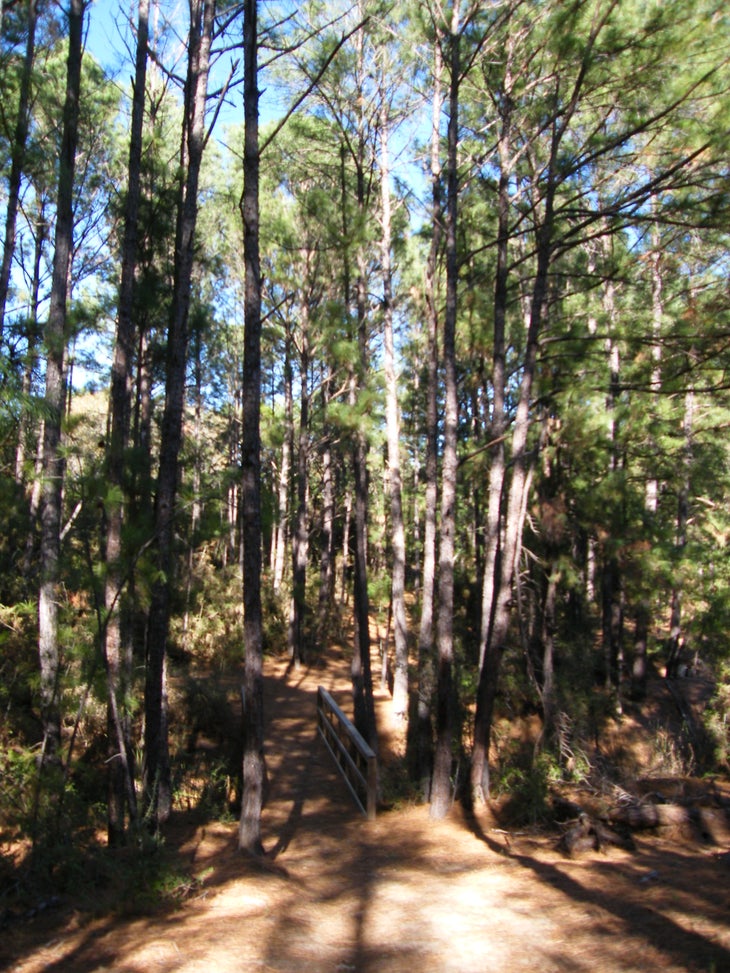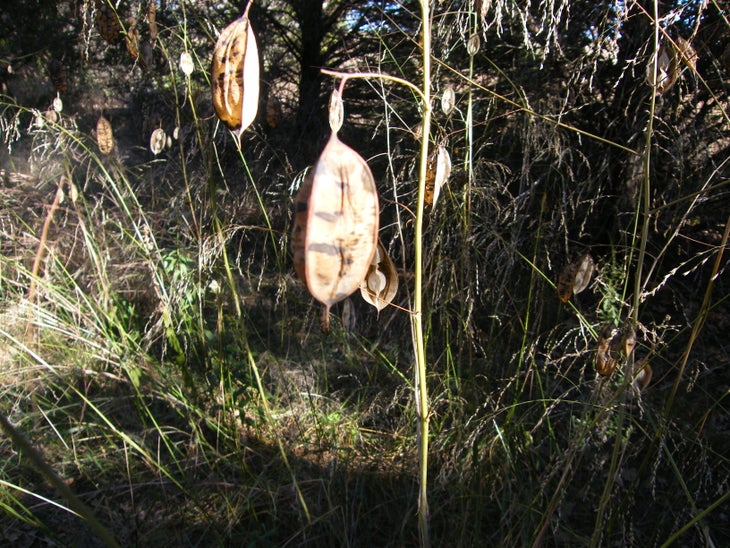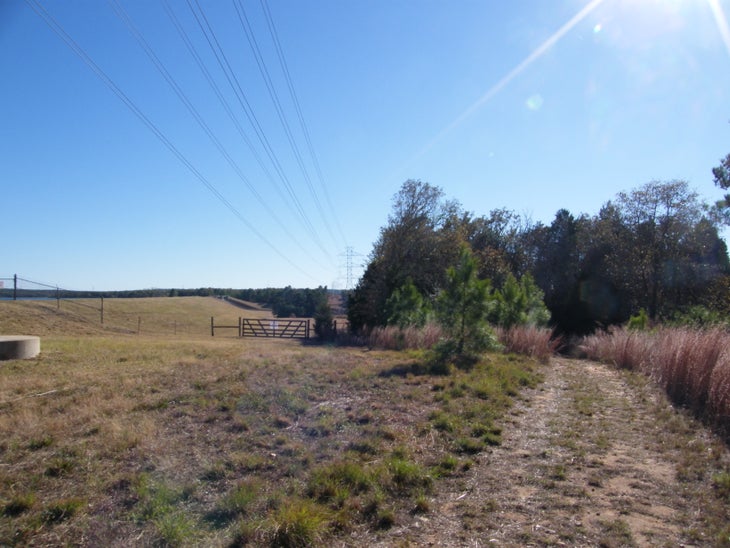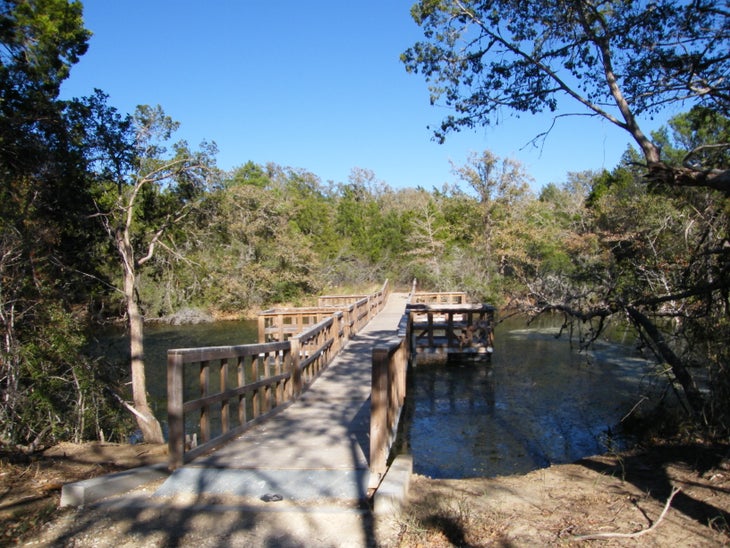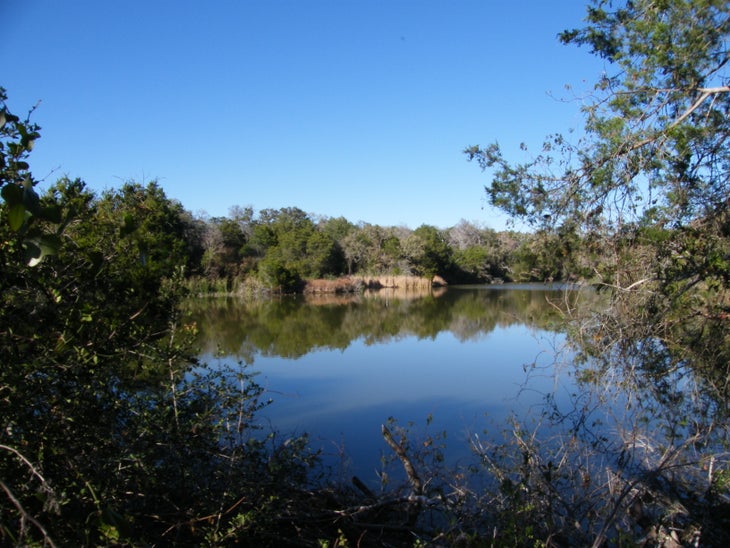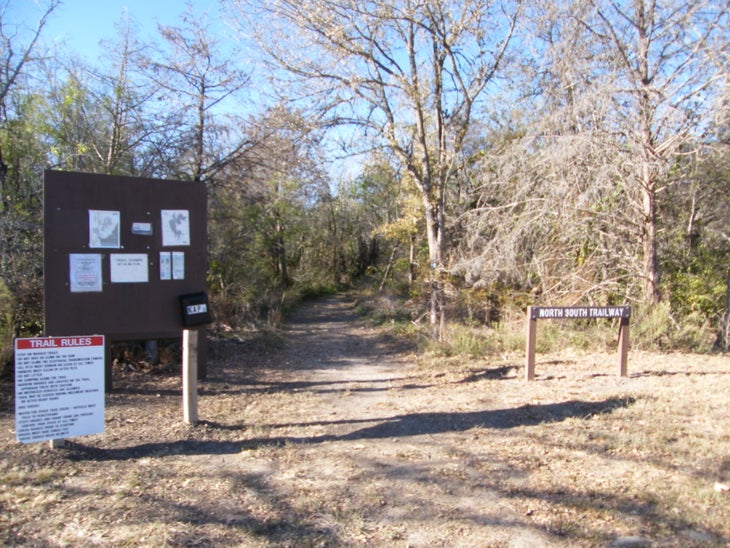 Trail Facts
Waypoints
Trail head
Location: 30.142565, -97.287029
South end starts in the park's cabin area.
Bridge
Location: 30.14702, -97.288045
27-NOV-10 1:41:52PM
Dirt road crossing.
Location: 30.1488, -97.290076
27-NOV-10 1:47:13PM
Thrill Creek bridge
Location: 30.149693, -97.294287
27-NOV-10 2:01:40PM
Spicer Creek Bridge
Location: 30.153768, -97.294941
27-NOV-10 2:10:29PM
Lakeshore and power lines
Location: 30.159756, -97.292653
27-NOV-10 2:25:04PM
bridge
Location: 30.160457, -97.292159
27-NOV-10 2:26:51PM
Floating bridge
Location: 30.166474, -97.287676
27-NOV-10 2:45:33PM
Bridge
Location: 30.168723, -97.28625
27-NOV-10 2:52:00PM
North trail head
Location: 30.166688, -97.28099
27-NOV-10 3:08:21PM
Southside trail head
Location: 30.142529, -97.286913
Wooden bridges
Location: 30.146639, -97.286704
Open right-of-way
Location: 30.14445, -97.287149
Lichens
Location: 30.145628, -97.287701
Spring wildflowers
Location: 30.146138, -97.28695
Intersection with Buzzard Point trail
Location: 30.167744, -97.28319
Road crossing
Location: 30.148838, -97.290153
pine needle covered bridge
Location: 30.153681, -97.295013
Seed pods
Location: 30.15895, -97.293001
Lake shore
Location: 30.159627, -97.292685
Floating bridges over lake
Location: 30.166408, -97.287803
View of lake
Location: 30.169274, -97.284214
Another lake view
Location: 30.169655, -97.283254
North end of trail
Location: 30.166705, -97.281044