Kings of the Hill: Q & A with Ed Viesturs, The Whittakers, Seth Waterfall, Dave Hahn, & Melissa Arnot
Three generations of American mountaineering royalty discuss their sport, their fears, and their new mission: design great gear.
Heading out the door? Read this article on the new Outside+ app available now on iOS devices for members! Download the app.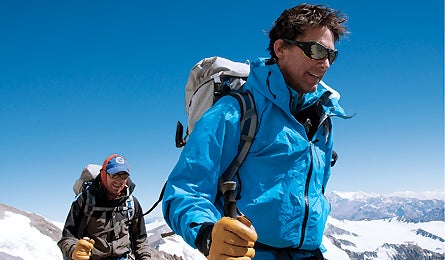 Peter Whittaker (right) and EB's Andrew Turner (Jake Norton)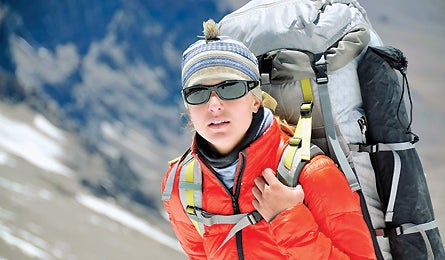 Melissa Arnot (Peter Norton)
Seth Waterfall (Jonathan Dorn)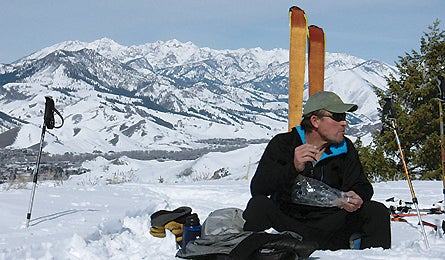 Ed Viesturs (Jonathan Dorn)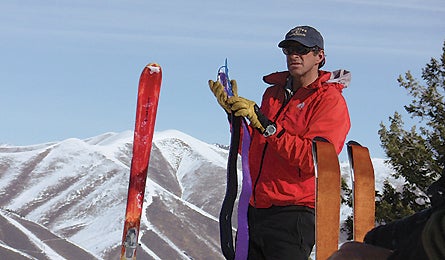 Dave Hahn (Jonathan Dorn)
When Jim Whittaker, 80, became the first American to reach the summit of Mt. Everest–on May 1, 1963–he wore a goose-down parka and pants made by Eddie Bauer. When Melissa Arnot, 25, attempts the first oxygenless ascent by an American woman–this month–she'll carry a Bauer pack, sleeping bag, tent, and head-to-toe kit of wool, fleece, and down clothing. But the link between these two climbers isn't just Eddie Bauer's efforts to emerge from shopping-mall purgatory to reclaim its status as a premier outfitter of mountain athletes. Whittaker and Arnot have joined a who's who of American mountaineering–Jim's brother Lou, Lou's son Peter, Ed Viesturs, Dave Hahn, and Seth Waterfall–to design and test Bauer's new products. BACKPACKER sat down with the team in February as they put the gear through its final paces in preparation for an Everest climb. (By now, all but Jim and Lou should be high on the mountain.) The conversation ranged widely, from comical tales of gear mishaps to serious talk about safety and regulations on high-altitude peaks. It also touched on the enduring legacy created by Lou, whose 1969 decision to start a guiding business on Mt. Rainier gave rise to Rainier Mountaineering, Inc., an operation that taught Peter (who runs it now), Viesturs, Hahn, and tens of thousands of others how to climb the world's highest peaks.
Let's talk gear. Jim, what's one item you see these guys using today that you wish you'd had on Everest?

Jim Whittaker: Brains.
How about old-school gear? Dave, is there anything you refuse to part with?

Hahn: A standard-length ice axe [because of its versatility]. A lot of climbers are using a waterfall tool in an alpine setting, or just a hammer.
Worst piece of gear ever?

Viesturs: When I was starting out on Rainier, I couldn't afford a rain jacket. So on one of my first winter attempts, I wore a bicycle poncho that kept blowing up into my face. It was horrible.
Have design advances made climbers better in the mountains, or just softer?

Lou Whittaker: The equipment doesn't make the climber. It's knowing how to live in the outdoors.
What's been the biggest leap in mountaineering gear and technique?

Jim Whittaker: The use of fixed ropes was a jump from what happened back in the '50s. With fixed ropes, people have access to difficult terrain that they couldn't have negotiated otherwise.
Peter Whittaker: The transition from leather to plastic [has created] boots that are vastly superior. Windproof fabrics that breathe really well are huge. And I love the JetBoil stove–really cool, trick-willy awesome.
Lou Whittaker: One thing that hasn't changed: Down clothing is still the best insulation for the mountains.
Talk about designing gear for Eddie Bauer. How did the process work?

Peter Whittaker: We sat down with a blank piece of paper and built exactly what we need up high. Among us, we spend 1,200 days outside a year, so it was pretty simple.
Arnot: We wanted to achieve firsts, but not by introducing crazy technologies. Our goal was to create core gear that doesn't require any compromises.
Any bells and whistles that you couldn't wait to strip off?

Jim Whittaker: Underarm zippers!
Lou Whittaker: Extra weight on packs. We're always cutting off straps.
Peter Whittaker: You know what joy it brings me to cut off a feature that doesn't provide a function? You're up there suffering and thinking about the things you're carrying that you never use. It really is about simplicity and questioning everything that has ended up on a piece of gear in the last 40 years. Dave, Ed, and I sat down and asked, "Have you ever used that?" And we realized that Dave might have carried something up Everest 10 times and never used it.
Hahn: But it's not just taking things away or adding the magic doodad. We've watched people struggle with zippers or Velcro when they're cold and tired and just want to get in a pocket for something to eat. So one of our guiding principles was to think about how a zipper will work when a guy can't use his hands.
There's been a huge increase in activity on 8,000-meter peaks–and plenty of accidents. Should there be a test for climbers before they can go above a certain altitude?

Jim Whittaker: The less restrictions there are, the better. Mountains are the greatest playground in the world, and people should be able to be up there and test themselves.
But your own guides are occasionally put in danger because of other people's inadequate skills. Dave, you were recently involved in a rescue on Everest. You're not going to pass up a semiconscious climber at 27,000 feet–and that compromises your safety.
Hahn: I made a choice by going to 27,000 feet. On Everest, there are going to be less experienced climbers, and some of them may need help from time to time. I put myself there and understand [that bargain]. And who would regulate this? There aren't too many governments that I would trust to do a good job of evaluating people's climbing skills.
Peter Whittaker: Agreed. That is a job for mountain guides–but we have to be very careful and realistic in assessing the ability of our clients.
Okay, lightning round. Longest time trapped in a tent during a storm?

Lou Whittaker: Eight days on K2.
Peter Whittaker: A week on McKinley.
Hahn: Four months in Antarctica.
Ed, scared of anything?

Viesturs: Avalanches. They're hard to evaluate and unpredictable. You get caught high in a storm and wonder: "Did I put my camp in the right spot?"
Melissa, worst thing about guiding?

Lou Whittaker: Men!
Peter, Pop-Tart or ProBar?

Peter Whittaker: Oh, sugar always, Pop-Tart.
Seth, one person you'd love to guide?

Waterfall: Obama.
Finally, for any of you: A guide told me a few years ago on Orizaba that she sometimes dozes off while leading clients up long snow slopes in the dark. Any other secrets you want to share?

Hahn: I've fallen asleep on my feet, too, but usually with good reason. On some multiday struggles, we've all had to wake up and focus again. It's kind of like falling asleep on the highway–only there are crevasses around.
Waterfall: Here's one. I often find myself waking up at 11 p.m. to climb Rainier and wonder, "Why do I do this? I spent a lot of money on college." But then the sun comes up on the upper mountain, and the glacier gets lit with the morning light–and I go, "Okay, that's why."