Ketchum, ID: Hunter Creek
Share the trail with resident elk, deer and mountain goats on this 5.6-mile out-and-back in Idaho's Boulder Mountains.
Heading out the door? Read this article on the new Outside+ app available now on iOS devices for members! Download the app.
Head to the east-facing reaches of Idaho's Boulder Mountains for ample solitude—and a chance to hangout with resident elk, deer, and mountain goats. This 5.6-mile route crisscrosses Hunter Creek, a small tributary of the North Fork Big Lost River, and tops out in a sagebrush meadow with views of the surrounding high peaks.
From the trailhead, the route climbs along Hunter Creek to a smattering of wind-battered whitebark pine snags that dot Hunter Creek Summit, a 9,400-foot saddle separating the North Fork Big Lost and East Fork Salmon River watersheds. Beyond this turnaround point, many additional miles of lonely backcountry trails lead into the vast expanse of central Idaho wilderness.
Note: This trail is closed to all motorized travel.
-Mapped by Jason Kauffman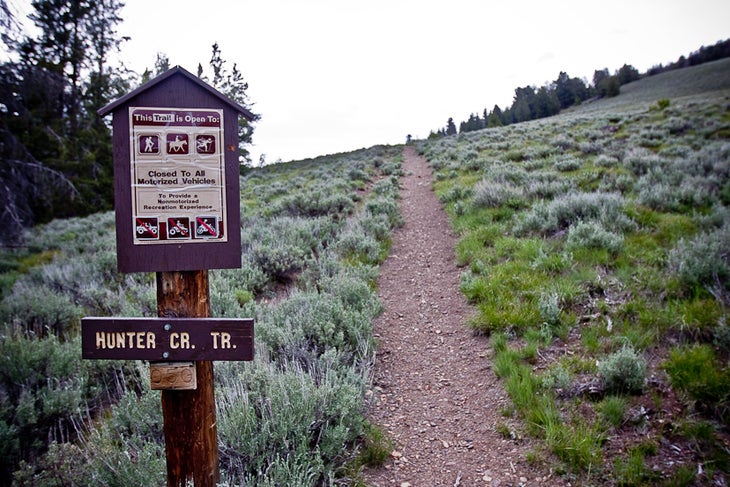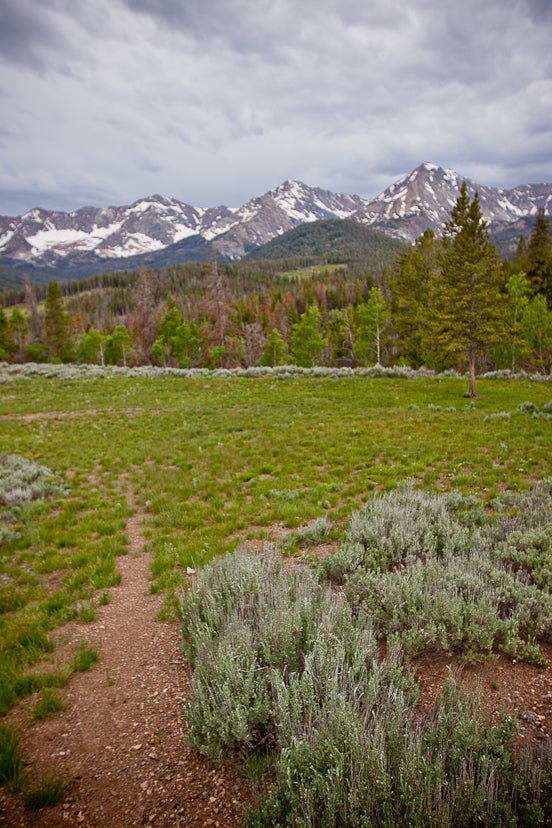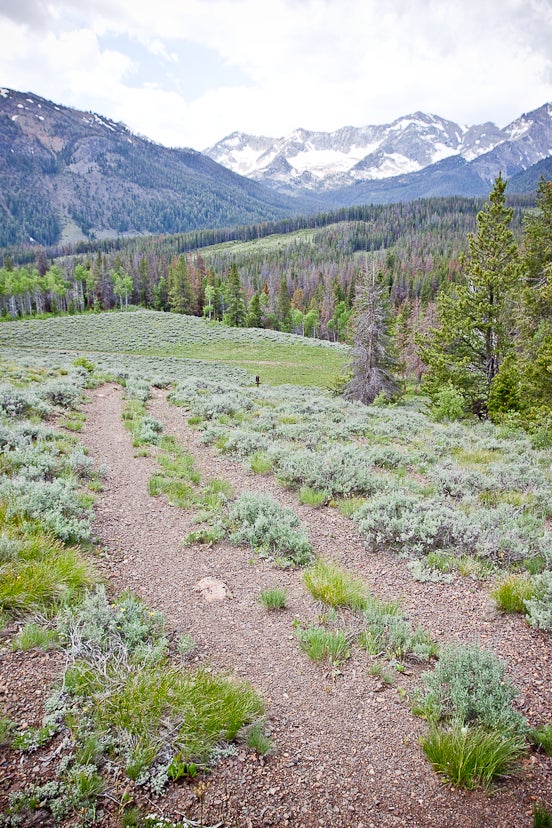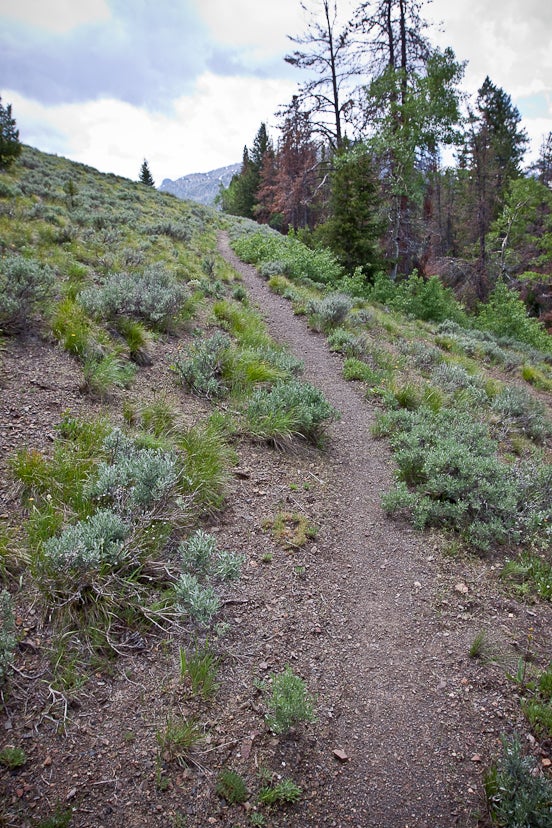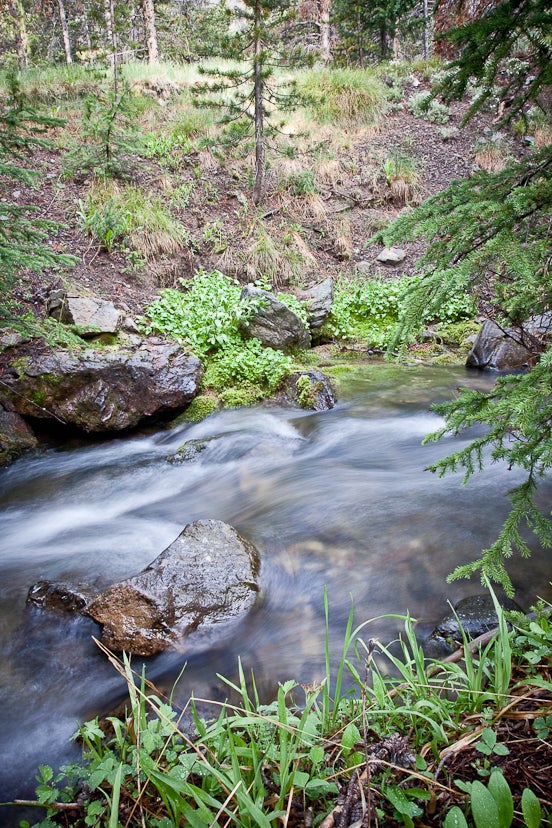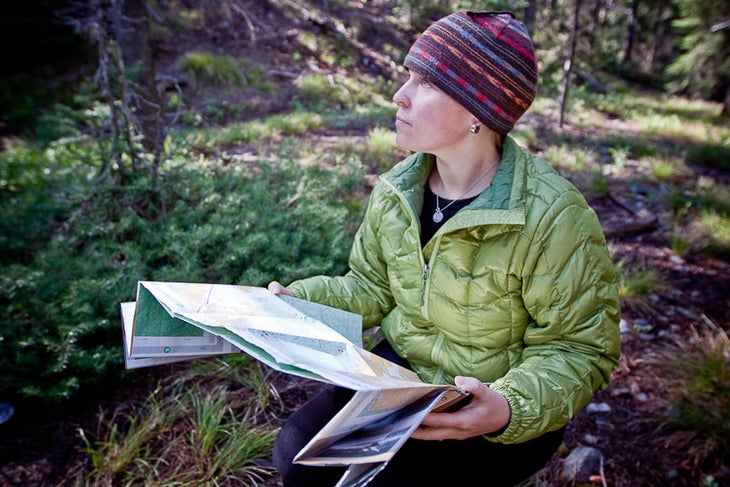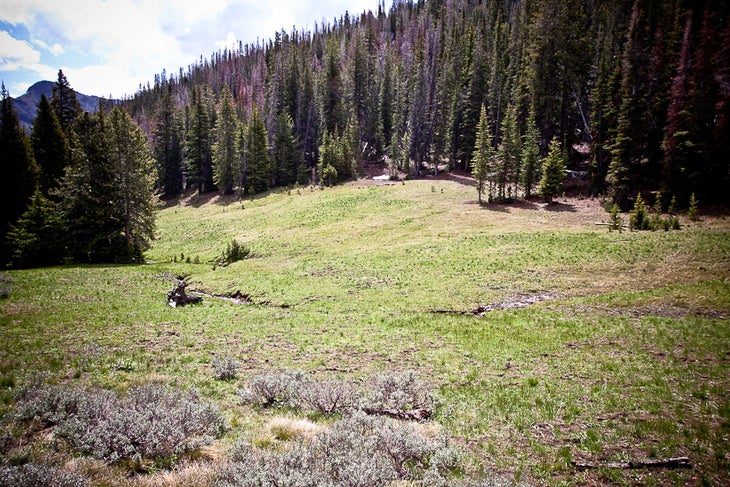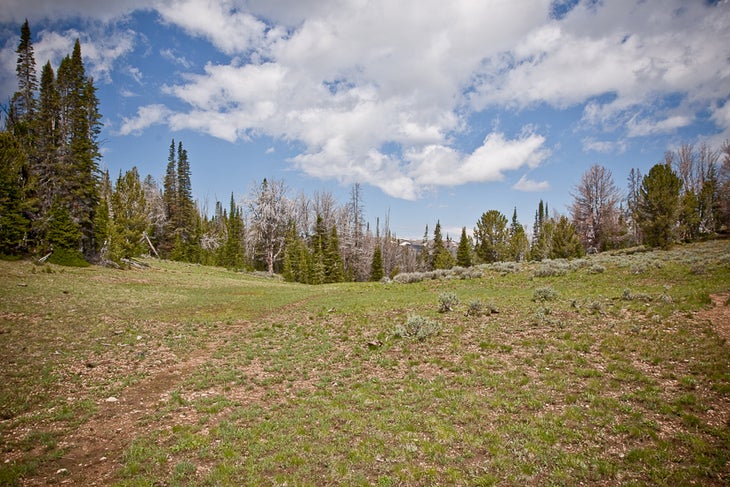 Trail Facts
Waypoints
HTR001
Location: 43.930392, -114.343364
From the trailhead, hike north on the narrow trail that immediately begins climbing a steep hillside dotted with sagebrush and aspens.
HTR002
Location: 43.932521, -114.343279
Traverse a sloping hillside that's full of sagebrush and abundant wildflowers during early summer. Watch for elk, mule deer, pronghorn antelope and other native ungulates that graze these gentle foothills.
HTR003
Location: 43.935453, -114.34367
Ford the first of six crossings of Hunter Creek. Beware of high early summer flows that can make fording this and other mountain streams nearby a challenge.
HTR004
Location: 43.94105, -114.343016
Cross the creek for a second time.
HTR005
Location: 43.945027, -114.343201
Cross the third of six stream crossings along this stretch of Hunter Creek. Meadows on the opposite shore make for a nice break spot.
HTR006
Location: 43.947475, -114.342579
Stream crossing number four. Enjoy the shade as the trail continues through a dense forest of lodgepole pine and Douglas fir.
HTR007
Location: 43.950313, -114.340611
Creek crossing number five. After this final ford of Hunter Creek be prepared for a steep and sustained uphill push all the way to the Hunter Creek Summit at the end of the hike.
HTR008
Location: 43.952598, -114.340623
Keep hiking northwest as the trail leaves Hunter Creek behind and begins climbing through more open forests of lodgepole and whitebark pine trees. Elk and other wildlife graze these folded hills during the warm, summer growing season.
HTR009
Location: 43.955836, -114.353631
Pass a grassy meadow and a small, unnamed creek. Shielded by the surrounding mountain slopes, this spot could make an excellent backcountry campsite.
HTR011
Location: 43.955826, -114.356544
Crest Hunter Creek Summit, a small grassy saddle flanked by whitebark snags, open hillsides and scree-covered slopes. Beyond, the trail immediately drops into remote and seldom-visited East Pass Creek. Follow the same route back to the trailhead.
Mountain Views
Location: 43.95563, -114.356432
Several trails, at least one not marked on maps, exist in the area of Hunter Creek Summit that provide even grander views of the surrounding high country. Wide views can also be had just by climbing one of the hillsides surrounding the pass to gain a better vantage point.
Hunter Creek Trailhead
Location: 43.930384, -114.343268
From a small grassy parking lot at the trailhead, the trail heads north through open sagebrush hills.
Backside of the Boulders
Location: 43.931373, -114.342914
Views from the beginning of this hike take in the southern backside of the Boulder Mountain range. The peaks in the distance are the highest in the range.
Hunter Creek Trail
Location: 43.932146, -114.343128
Few hikers use the many miles of trails on the eastern dry side of the Boulder Mountains, including the Hunter Creek Trail. The trail is closed to motorized use.
Along the Hunter Creek Trail
Location: 43.934062, -114.343514
Vast sagebrush meadows, aspen stands and dense forests make this an area rich in wildlife.
Hunter Creek
Location: 43.942777, -114.343659
Except during the early summer runoff, Hunter Creek is a small stream that's easy to ford.
Checking the map
Location: 43.943333, -114.343654
Possible campsite
Location: 43.955846, -114.353503
This large meadow near Hunter Creek Summit would make an excellent backcountry campsite.
Hunter Creek Summit
Location: 43.955587, -114.356539
This meadow at Hunter Creek Summit is the end of the line for the Hunter Creek Trail. Even more remote trails continue on from here deeper into the wild Boulder Mountains.