Kenai Fjords National Park: Harding Icefield Trail
Get a front row seat of retreating glaciers on this challenging 8-mile out-and-back to the Harding Icefield. No crampons or ice axes are needed during the summer hiking months.
Heading out the door? Read this article on the new Outside+ app available now on iOS devices for members! Download the app.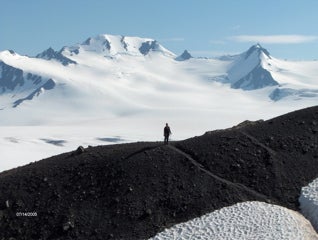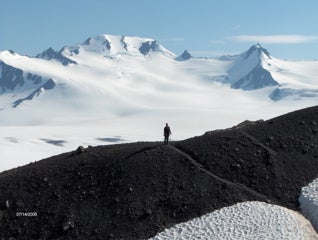 Trail Facts
Waypoints
HGL001
Location: 60.189274, -149.629318
Begin on Harding Icefield Trail near visitor center. Caution: Check trail conditions first
HGL002
Location: 60.187751, -149.632673
Trail junction; continue straight through hemlock and spruce forest
HGL003
Location: 60.184345, -149.644058
First views of Exit Glacier, a massive blue-white blanket capping nearby fields of willow and pioneer plants
HGL004
Location: 60.184132, -149.649551
Cross bridge over glacier-fed creek
HGL005
Location: 60.182976, -149.653061
Follow trail along Exit Glacier ridge; best photos in summer twilight
HGL006
Location: 60.181816, -149.656311
Trail opens to views of Harding Icefield, a near-
blinding spread of bowl-shaped glacial cirques covering half the park
HGL007
Location: 60.181412, -149.663361
Turn L onto side trail for Exit Glacier overlook
HGL008
Location: 60.183701, -149.665466
Follow switchbacks above cottonwood and alder treeline
HGL009
Location: 60.182297, -149.670547
Land opens to thick cover of pink fireweed and emerging snow patches
HGL010
Location: 60.184547, -149.672562
Watch for black bears while passing this popular wildlife hangout
HGL011
Location: 60.184559, -149.684586
Follow orange markers; use caution crossing 1st snowfield; watch for white mountain goats
HGL012
Location: 60.182037, -149.702515
Pass small gray emergency cabin
HGL013
Location: 60.178944, -149.706711
Reach Harding Icefield overlook; admire endless expanse of snow and ice. Retrace route to trailhead
Harding Icefield
Location: 60.183184, -149.664002
Harding Icefield
Location: 60.18327, -149.695244