Kenai Fiords National Park: Harding Icefield
Hike a classic in Kenai Fords--and escape the crowds by making it an overnight.
Heading out the door? Read this article on the new Outside+ app available now on iOS devices for members! Download the app.
This steep trail climbs 3,000 feet in 3.7 miles. The reward: some of the most spectacular views in Alaska, with incredible vistas over endless plains of glacial ice punctuated by dozens of nunataks–isolated, conical rocky peaks that protrude through the ice and rise several hundred feet.
No surprise Harding is a popular dayhike. But very few visitors continue past the first major overlooks. So to enjoy the view in solitude–and make this trip an unforgettable overnight–just continue west 1.3 miles, across the obvious dark moraines, to more secluded viewpoints and choice tent sites, which offer seclusion, equally good views of the icefield, and reasonable access to water running over the nearby ice. The total one-way trip is 5.3 very strenuous miles; the trail is steep and slick in wet conditions, hot and exposed on sunny days. Keep an eye out for bear, mountain goats, and marmot.
PERMIT INFO: No permits are needed, but for safety register your itinerary with rangers, especially if you're venturing onto the ice (glacier gear and experience required).
MORE INFO: Kenai Fjords National Park, 907-224-7500; nps.gov/kefj
-Mapped by Steve Howe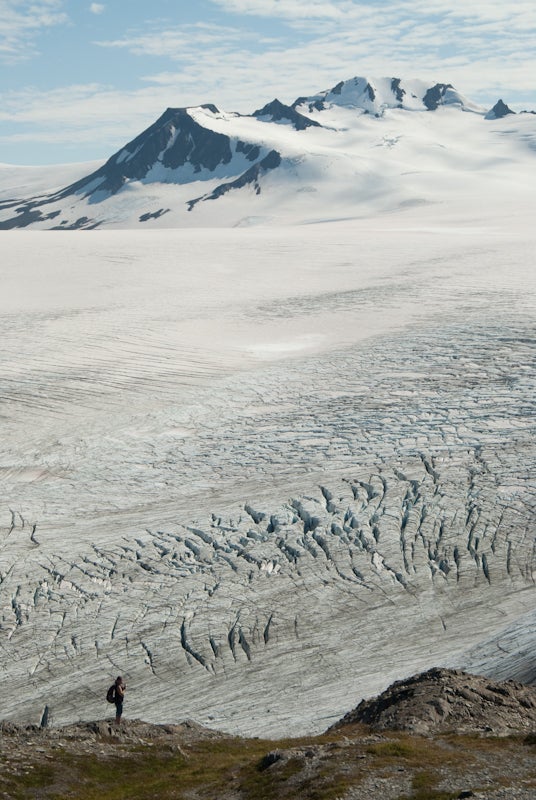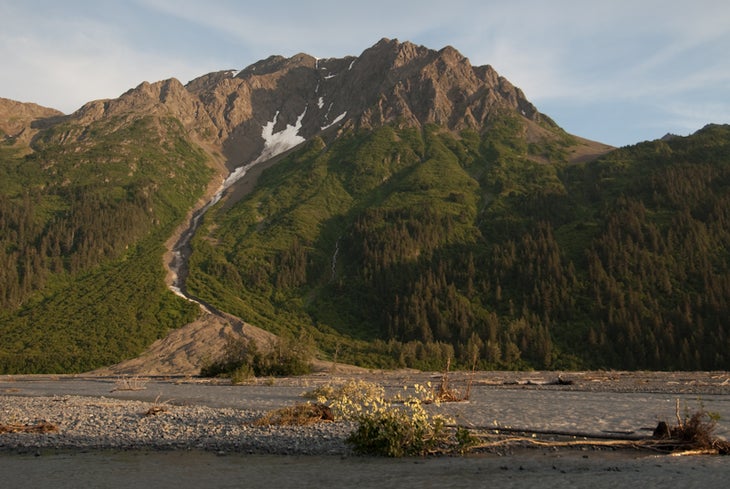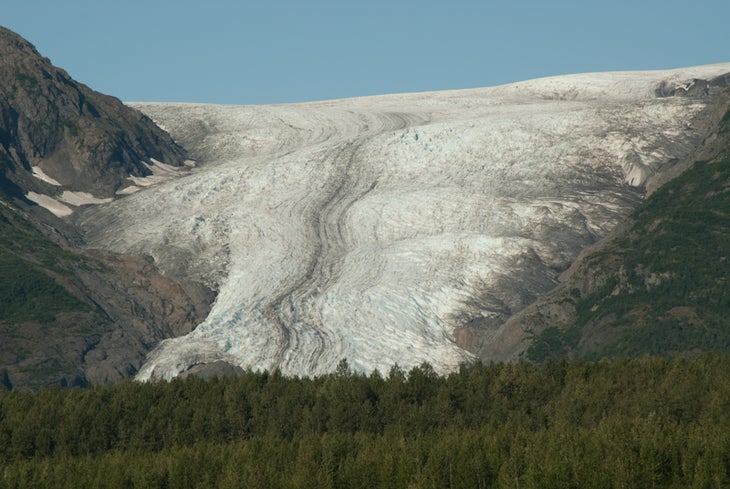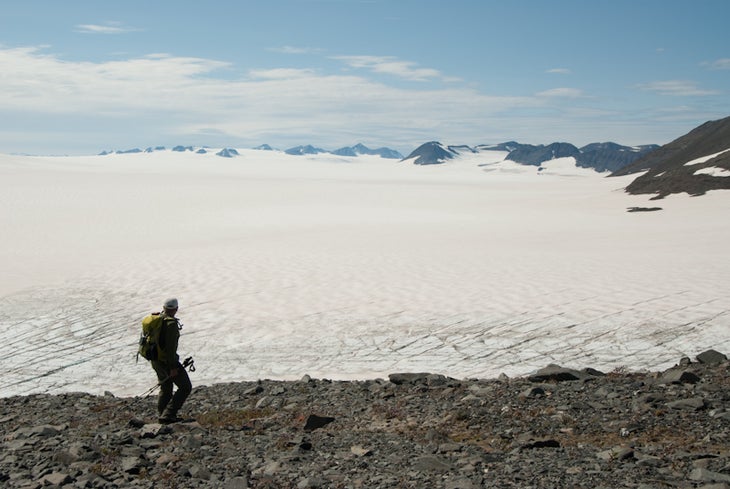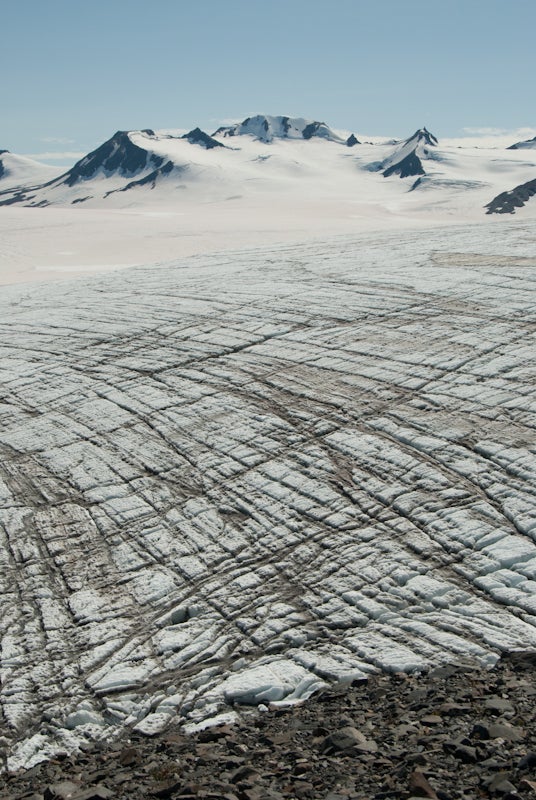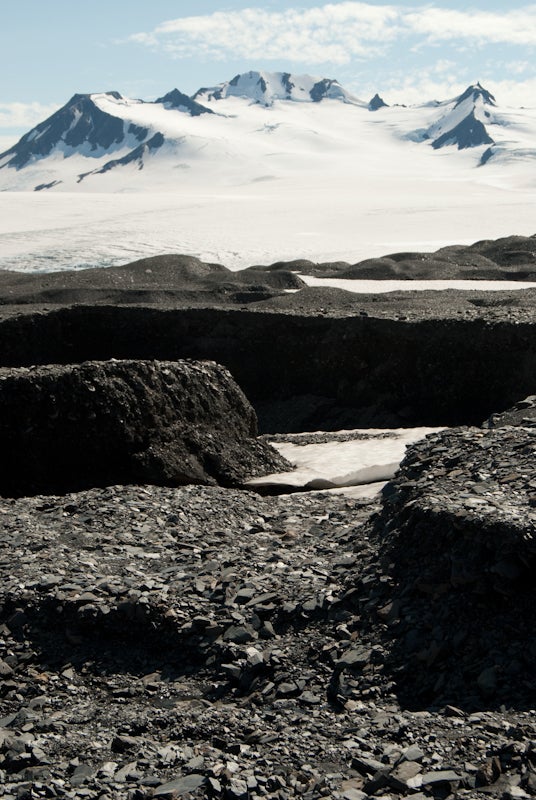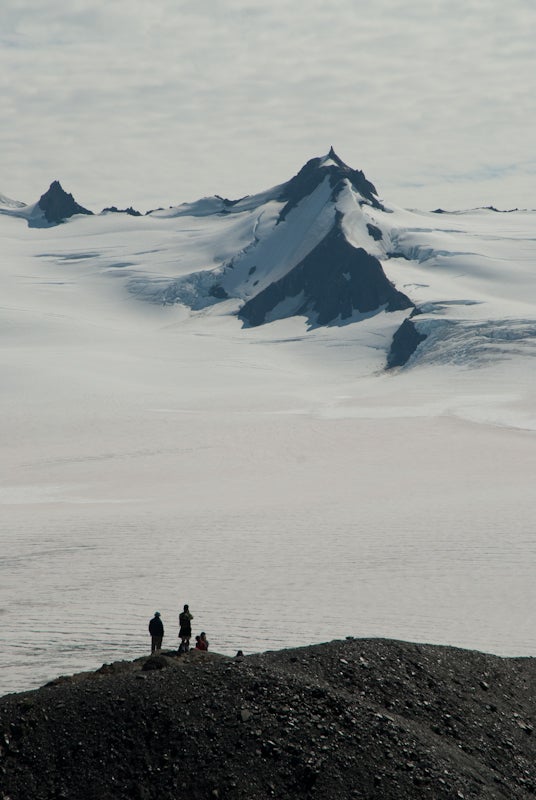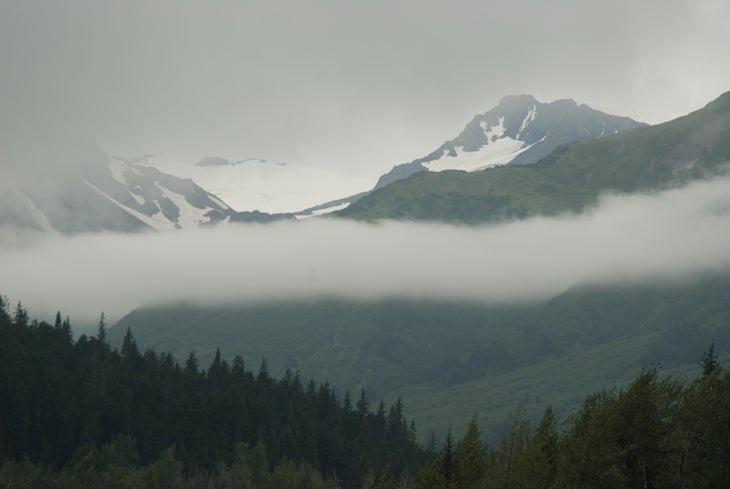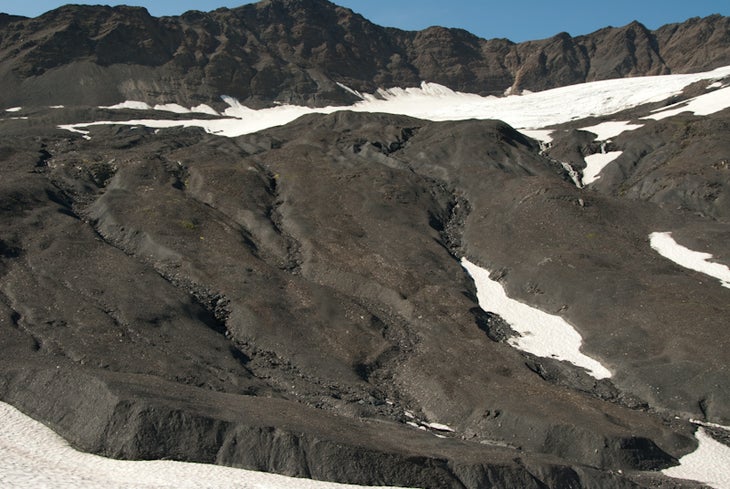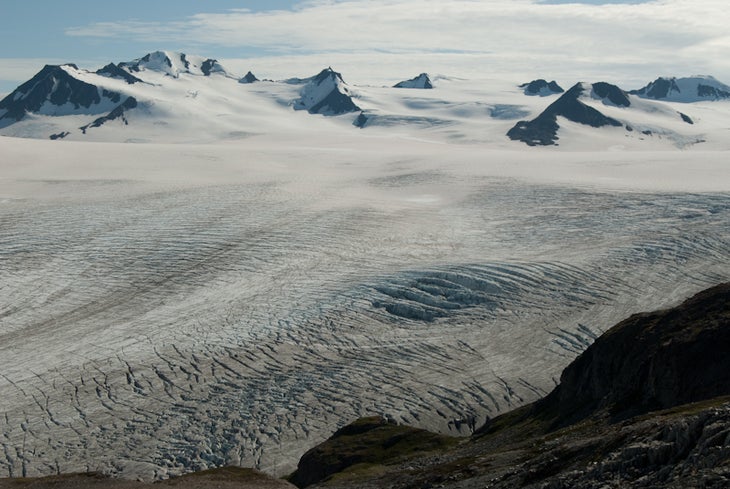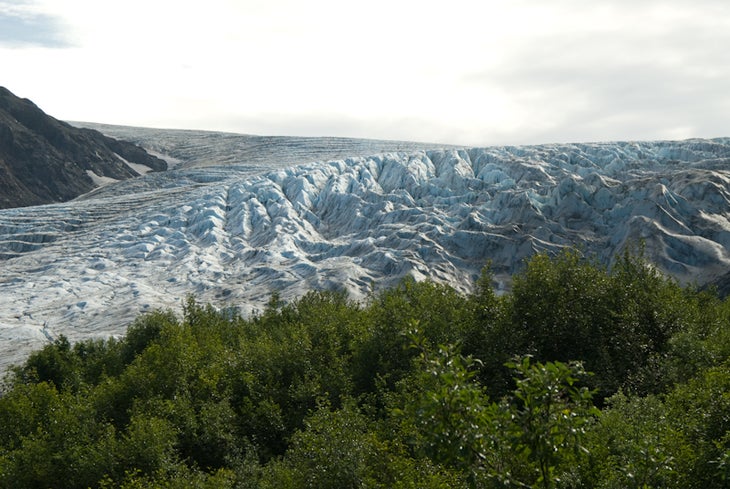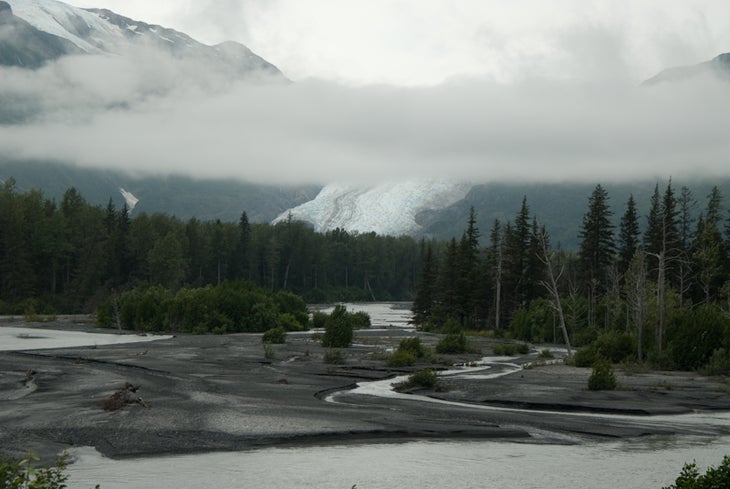 Trail Facts
Waypoints
HIF001
Location: 60.188322, -149.631275
Trailhead and visitor center
HIF002
Location: 60.186276, -149.634322
JUNCTION WITH EXIT GLACIER TOE TRAILS. MI 0.23
HIF003
Location: 60.184192, -149.636913
Junction with Harding Icefield Trail. Turn right/north.
HIF004
Location: 60.181723, -149.657592
Marmot meadows viewpoint
HIF005
Location: 60.183608, -149.66303
Begin steep switchbacks through cliff bands
HIF006
Location: 60.182562, -149.670381
Fine overlook at top of cliffs
HIF007
Location: 60.184782, -149.680725
Small stream crosses trail; good water source
HIF008
Location: 60.184562, -149.687058
Small stream crosses trail; good water source
HIF009
Location: 60.182123, -149.702784
Small NPS emergency shelter cabin. Note: No overnight camping allowed.
HIF010
Location: 60.17913, -149.707806
End of standard trail; excellent vistas
HIF011
Location: 60.179404, -149.725323
Small dirt ridge offers route to ascend around corner
HIF012
Location: 60.180637, -149.728431
Possible campsite (out of sight from trail) for two tents on flat gravel platforms; good views too
HIF013
Location: 60.181981, -149.727203
Possible site for one tent at ice margin
Harding Icefield
Location: 60.181178, -149.704599
Unnamed peak
Location: 60.193255, -149.601002
Glacier
Location: 60.189841, -149.618168
Icefield
Location: 60.180453, -149.728546
Ice border
Location: 60.181563, -149.727001
Moraine
Location: 60.180752, -149.716015
Excellent vistas
Location: 60.179172, -149.707088
Trail
Location: 60.181819, -149.70314
Low clouds near trailhead
Location: 60.188647, -149.621944
Glacial leftovers
Location: 60.182245, -149.70726
Ice fissures
Location: 60.18344, -149.693012
Ice meets trees
Location: 60.183697, -149.644089
Looking up valley
Location: 60.188903, -149.627266