Kauai, HI: Waimea Canyon
Explore Hawaii's own Grand Canyon on this 2-mile out-and-back that travels into the depths of Waimea Canyon and passes postcard views at nearly every turn.
Heading out the door? Read this article on the new Outside+ app available now on iOS devices for members! Download the app.
From Waimea Canyon Drive, start hiking east down Kukui Trail—make sure to turn left onto Iliau Nature Loop for a short .25-mile detour past extremely rare iliau plants and unobstructed views of Wailae Falls. After reconnecting with the Kukui Trail, hike along a blood red dirt path and tackle a steep descent down switchbacks into the depths of Waimea Canyon. Keep your camera handy—postcard-worthy views of the canyon and Kauai's rugged interior are frequent. Hike down as far as you like, and then retrace your steps back to your car.
-Mapped by Kari Bodnarchuk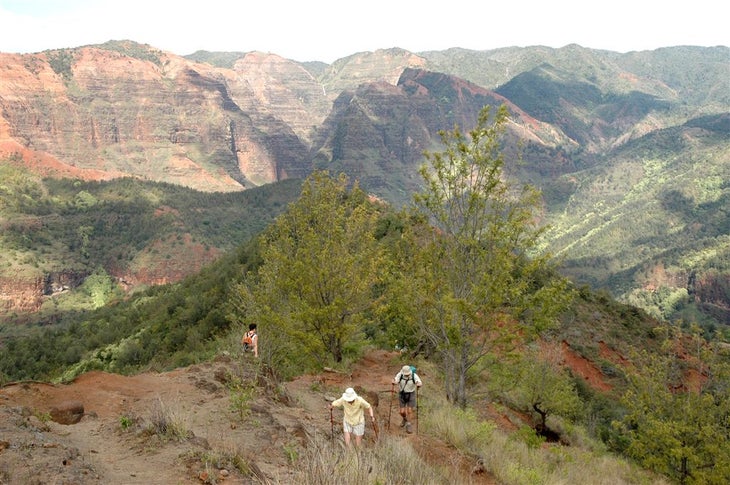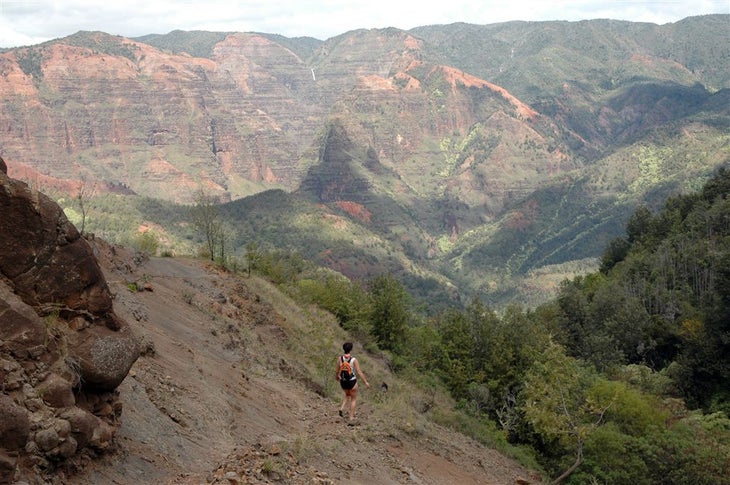 Trail Facts
Waypoints
WPT001
Location: 22.0510559, -159.6600647
Walk north along road. In 200 feet, turn right onto Kukui Trail.
WPT002
Location: 22.0516357, -159.6598663
Turn left @ 3-way junction onto Iliau Nature Loop. This .25-mile loop is lined with the extremely rare iliau plants identified by their tall stalks capped with flowering buds. As you hike, enjoy sweeping views of Waimea Canyon and Wailae Falls on the canyon's west wall.
WPT003
Location: 22.0514164, -159.6590118
Turn left @ T-junction to reconnect with Kukui Trail; continue hiking east. Prepare for steep descent into Waimea Canyon.
WPT004
Location: 22.0511513, -159.6583099
Snag one of several picnic tables on your left for a snack break or picnic lunch. Although dense vegetation can block canyon views, it creates a stark clash of color against the red dirt.
WPT005
Location: 22.0512733, -159.656662
Continue down a series of steep switchbacks that cut across volcanic rock into the depths of Waimea Canyon. Pass unobstructed views of the canyon; occasional wildflowers line the trail.
WPT006
Location: 22.051693, -159.6551971
Caution: The trail may be washed out here due to flash floods. Keep hiking.
WPT007
Location: 22.0521507, -159.6540222
Turn left @ T-junction and continue along Kukui Trail. Ahead, your shoes will turn various shades of red as you continue hiking on Hawaii's signature red dirt.
WPT008
Location: 22.0534325, -159.6518097
Steep drop-offs and an exposed ridgeline require sure footing and confidence. Along the ridge, 270-degree views of Waimea Canyon emerge. Scrub grasses and purple flowers line the trail.
WPT009
Location: 22.0536709, -159.6511841
Overlook: Take a few moments and enjoy the canyon's beauty, before turning around and retracing your footsteps to Waypoint 1. Optional: To add more mileage, continue descending down the Kukui Trail. Caution: The trail can be impassible in periods of heavy rain.
Waimea Canyon
Location: 22.0512867, -159.6566315
Views into Waimea Canyon
Location: 22.0518093, -159.654541