Kapalua, HI: Nakalele Blowhole
This short hike leads to one of Maui's more spectacular blowholes, and to an alien-looking rocky landscape tortured by the relentless wind and surf of the north coast.
Heading out the door? Read this article on the new Outside+ app available now on iOS devices for members! Download the app.
From the roadside parking area, the hike is only a quarter mile one way, but plan to spend some time here because the scene is spectacular. The short trail descends a gully to a viewpoint where most people stop to look then turn back. Continue down the faint trail into the "acid warzone," an area of deeply pocked and utterly mangled lava rocks, under constant assault by the wind and sea. A terraced area offers good viewing of the blowhole from a safe distance.
The Nakalele Blowhole formed as a result of the undercutting of the rugged lava shoreline by the continuous pounding of north Maui's powerful surf. The manhole-sized opening creates geyser-like eruptions reaching up to 100 feet high during heavy surf periods. Use extreme caution if you go near the blowhole.
For a longer loop hike, continue west overland (there are faint traces of trail in some spots, but you're pretty much on your own) to a light beacon and a large mushroom-shaped rock, before finding a faint trail that returns to the road a half mile from where you parked. Evaluate wind and surf conditions before attempting either. The hill above the trailhead offers stunning views of the north coast as far as Kahakuloa Head.
-Mapped by Eli Boschetto, Bosco Mountain Photo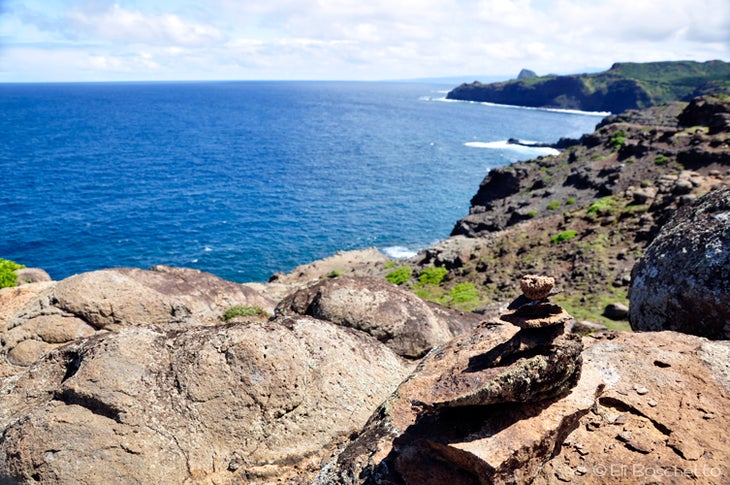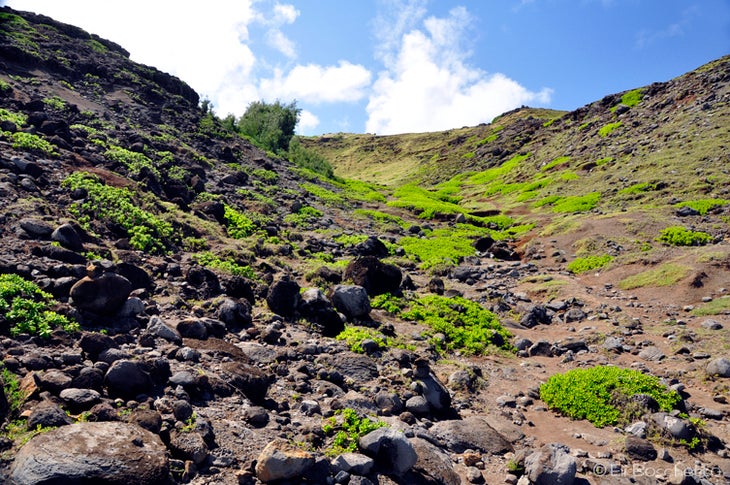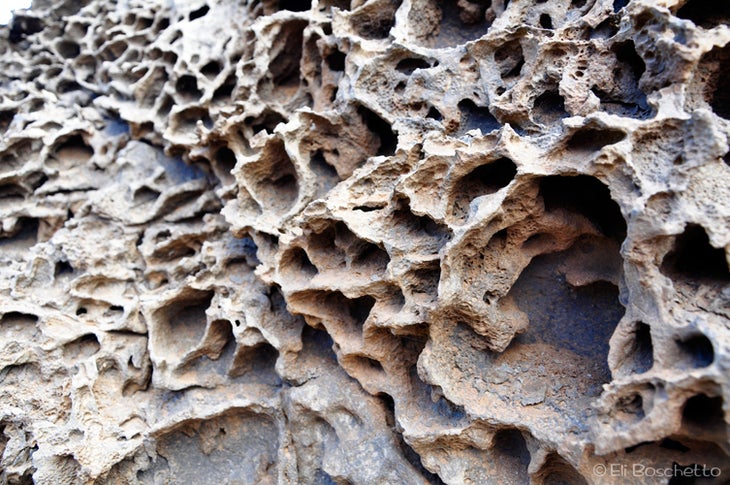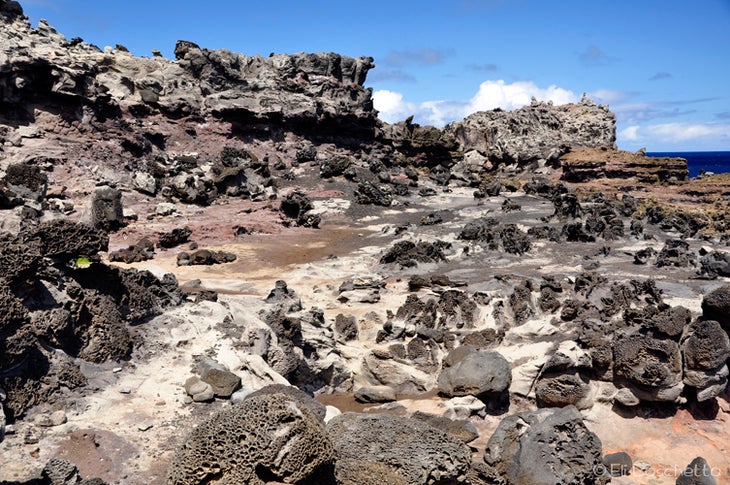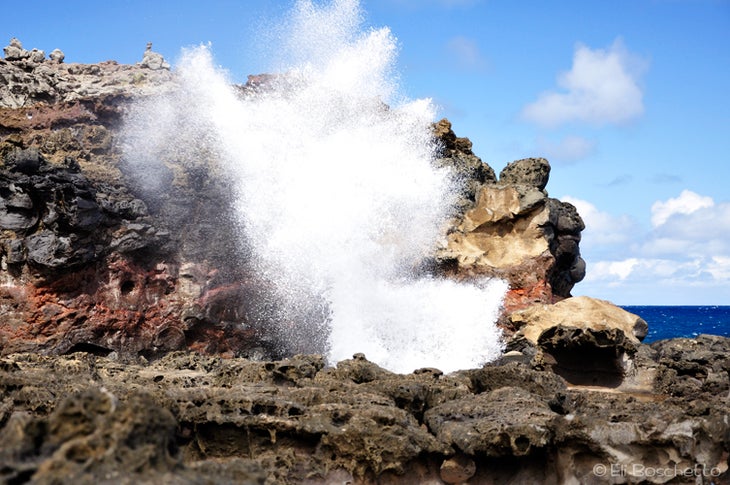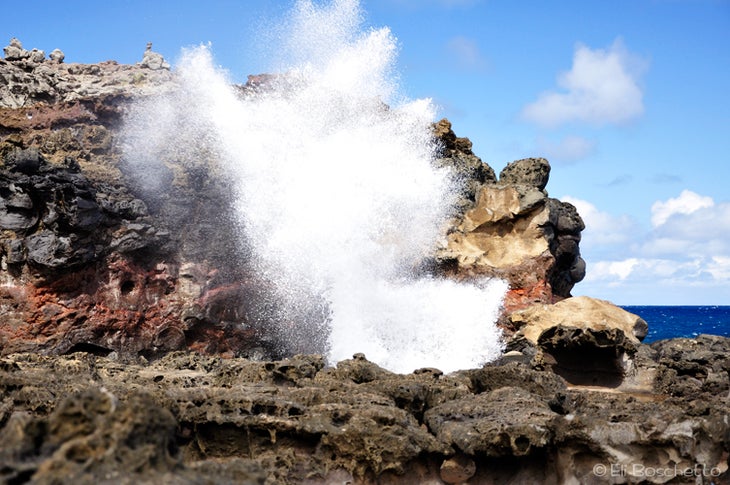 Trail Facts
Waypoints
NAK001
Location: 21.02439, -156.590315
Hike north from the trailhead.
NAK002
Location: 21.025116, -156.590125
The trail descends through a rocky gully.
NAK003
Location: 21.025491, -156.589953
Blowhole viewpoint: This is where most visitors stop. Continue north along the coastline.
NAK004
Location: 21.026575, -156.589041
Mushroom Rock and the Acid Warzone.
NAK005
Location: 21.027015, -156.588682
Nakalele Blowhole: The blowhole is caused by the ocean's undercutting of the rocky shoreline. During periods of high surf, the blowhole can spout up to 100 feet high. Keep a safe distance.
NAK006
Location: 21.024714, -156.589891
This hilltop is the perfect spot for a post-hike picnic.
Northwest Coast
Location: 21.024715, -156.589792
From the hilltop above the Nakalele Blowhole, view the entire coast down to Kahakuloa Head.
Nakalele Trail
Location: 21.025111, -156.590087
The short trail to the Nakalele Blowhole descends through a rocky gully.
Swiss Cheese
Location: 21.026398, -156.589342
Rock surface in the Acid Warzone.
Acid Warzone
Location: 21.026575, -156.588996
The mutilated lava plateau near the Nakalele Blowhole.
Nakalele Blowhole
Location: 21.026948, -156.588679
Nakalele Blowhole
Location: 21.027013, -156.588647