Joshua Tree National Park: Lost Palms Oasis
This 7.4-mile out-and-back rolls over hills dotted with spiky yuccas, ocotillos, and cactus before dropping into the lush Lost Palms Oasis in Joshua Tree National Park.
Heading out the door? Read this article on the new Outside+ app available now on iOS devices for members! Download the app.
Hike the Lost Palms Oasis
Home to the largest stand of fan palms in Joshua Tree National Park, the Lost Palms Oasis is a refreshing reward for hikers on this 7.4-mile desert trek. Starting near the southern border of the park at Cottonwood Spring Trailhead, the hike climbs to the southeast through scrub-covered desert. Watch for hummingbirds that dart around the surrounding yuccas, chollas, and ocotillos. (In early summer, red flower clusters adorn the tips of the ocotillo plants.)
Massive boulder piles and rocky gullies become more common as the trail nears Lost Palms Oasis. At mile 2.3, turn right into a wash and follow the sandy trail through a maze-like wall of rocks. Next, descend into a small canyon lined with gullies and gorges and continue hiking southeast. One mile later, turn right onto a short spur trail that leads to bird's-eye views of the green, shaggy-topped fan palms. After 3.5 miles, a short, downward scramble drops down to the oasis, a prime spot for picnicking and bouldering. After relaxing at the oasis, retrace the route back to the trailhead.
Contact
(760)367-5500
nps.gov/jotr/index.htm
Lost Palms Oasis Gear List
Wear
Synthetic T-shirt
Synthetic shorts or pantsSynthetic undies
Wool hiking socks
Sunglasses
Hiking shoes or boots
Sunscreen (SPF 15+)
Pack
Daypack
Midweight synthetic or fleece long-sleeve top
Wool or fleece hat
Waterproof/breathable jacket and pants
Map, compass, GPS unit
Water containers and water treatment
First-aid kit
Extra food and snacks
Firestarting kit
Lighweight gloves
TP and trowel
-Mapped by Amy Balfour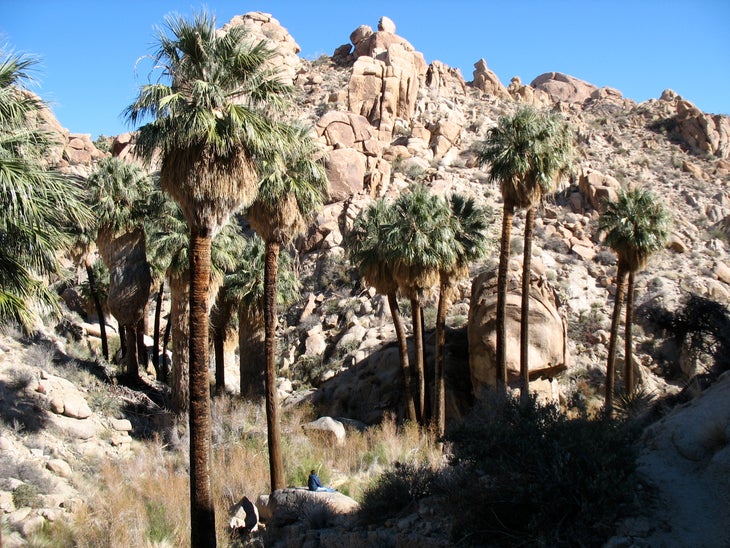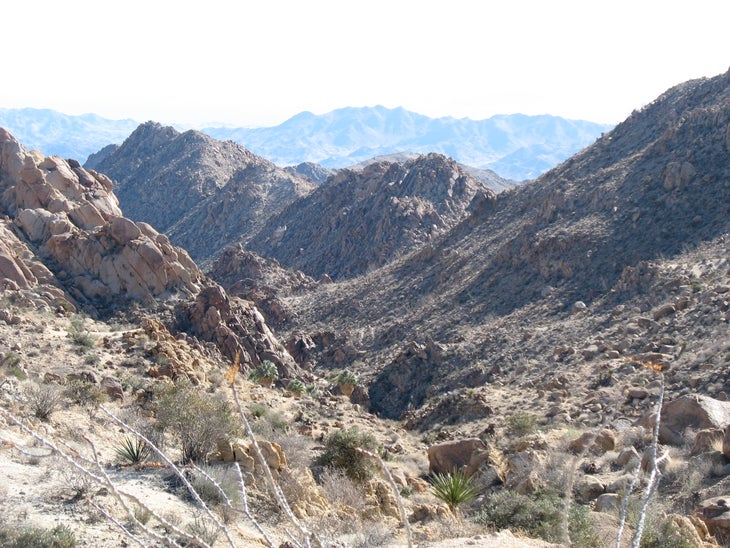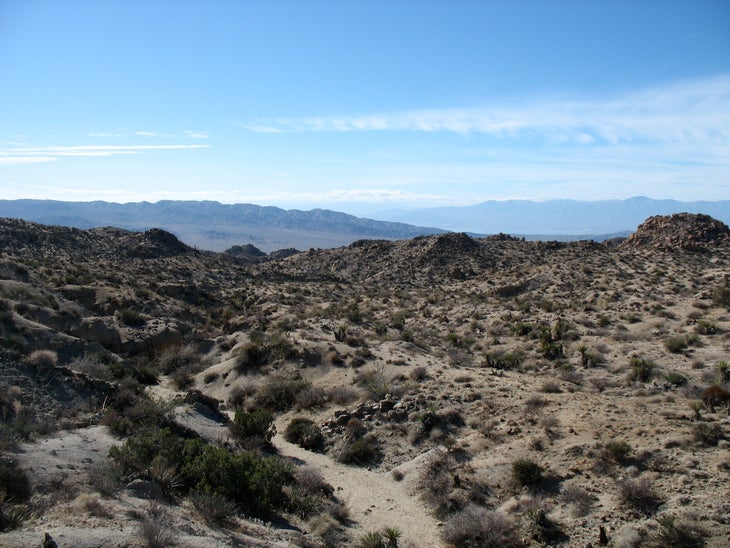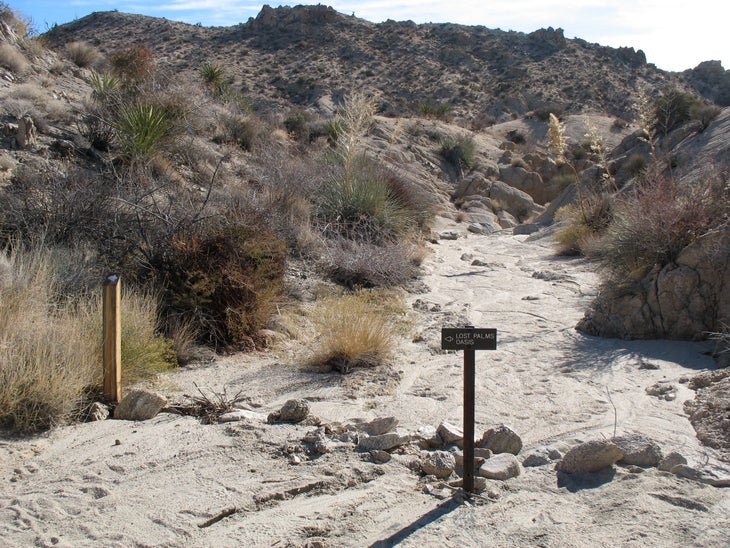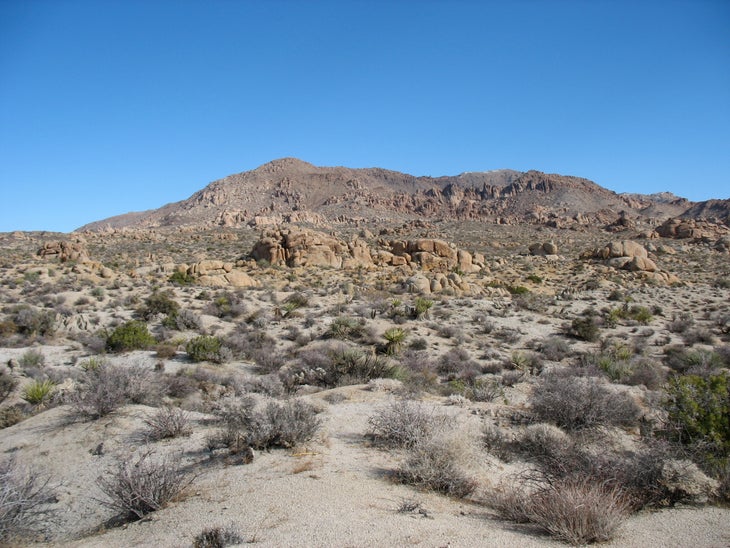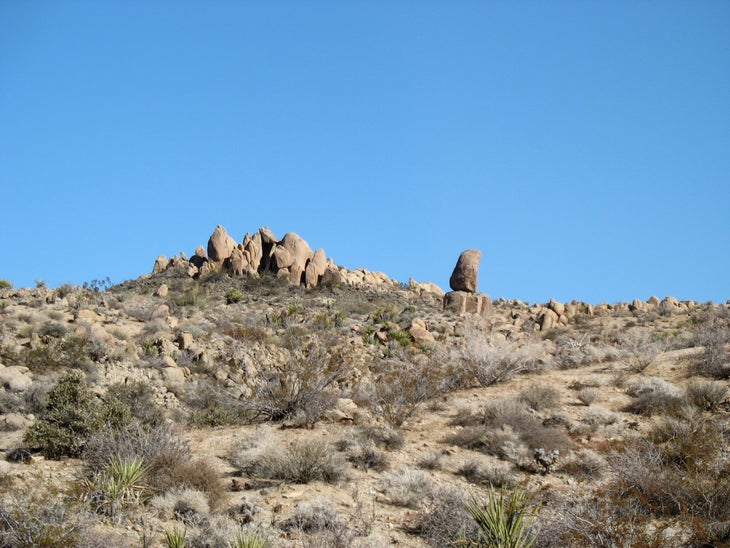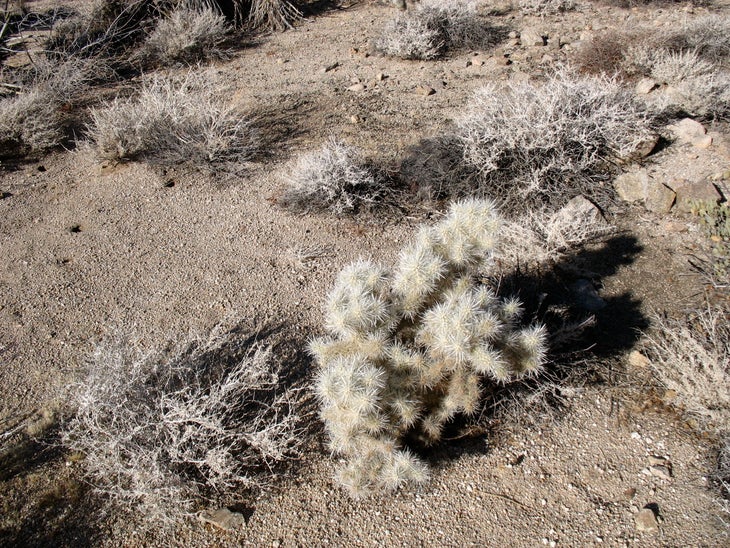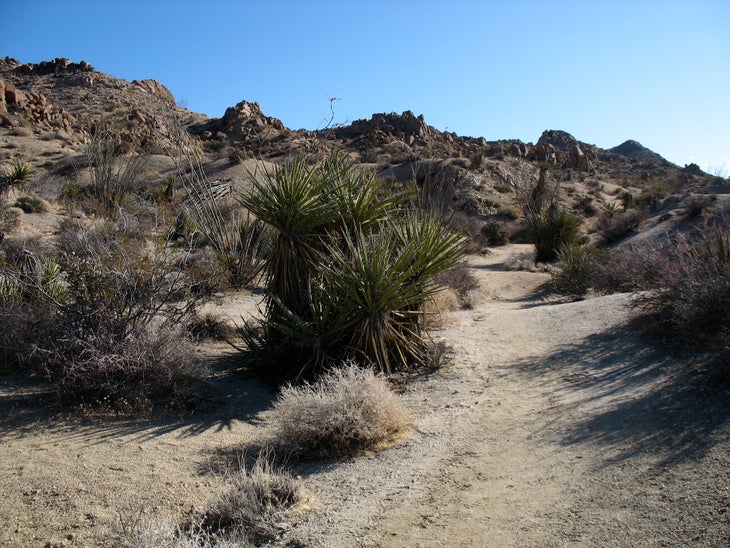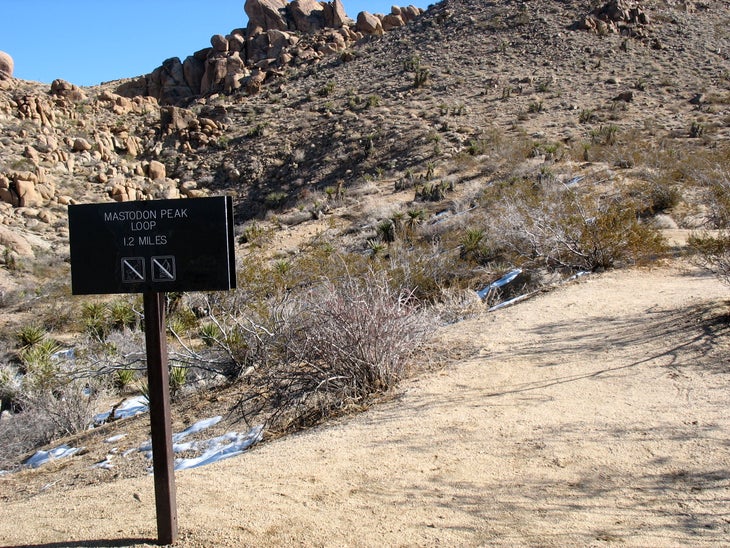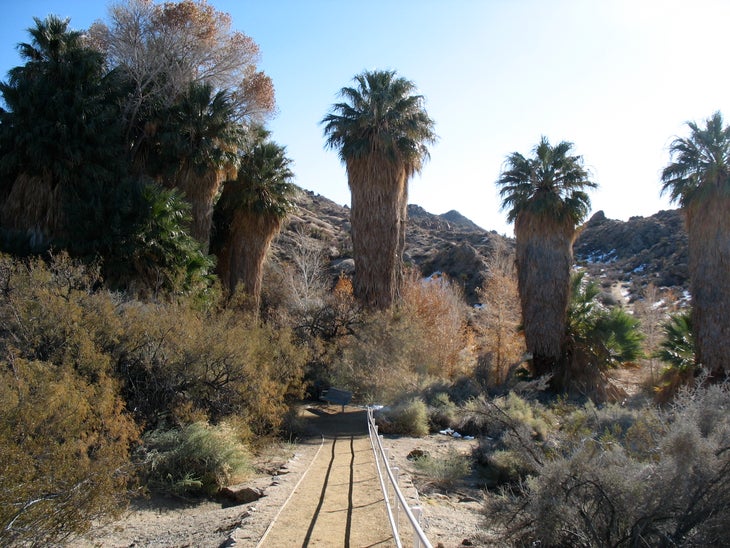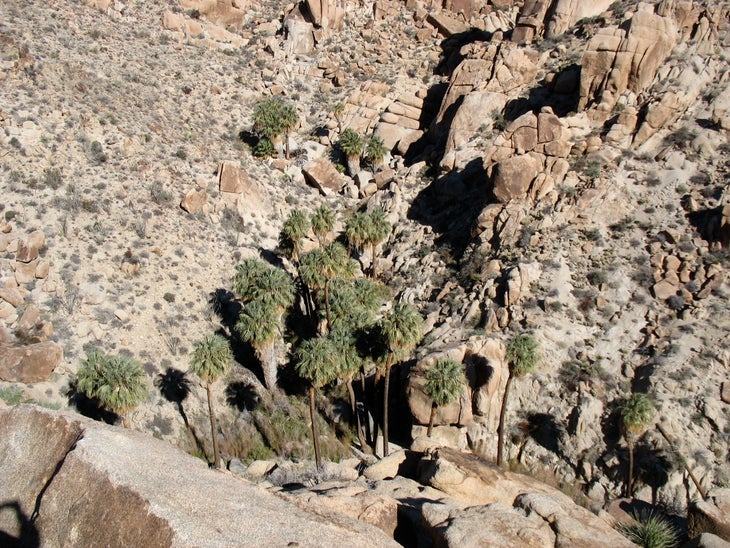 Trail Facts
Waypoints
LPO001
Location: 33.7369162, -115.810656
Cottonwood Spring: Once an important water-gathering spot for Cahuilla Indians and prospectors, the spring here now lures birdwatchers hoping to catch glimpses of ravens, slickers, cactus wrens, and hooded orioles.
LPO002
Location: 33.735264, -115.807595
Pass the first trail sign and continue southeast.
LPO003
Location: 33.7316119, -115.8014452
Stay straight at 3-way junction. The Mastodon Peak Trail veers to the left.
LPO004
Location: 33.72958, -115.797002
Hike past the one mile marker.
LPO005
Location: 33.729434, -115.795509
A precariously perched rock can be seen on the left. Continue hiking southeast through a desert landscape of rocks, shrubs, and cacti.
LPO006
Location: 33.7223587, -115.7835603
Pass a "Mile 2" marker, then meander southeast past the surrounding ridges and rock piles.
LPO007
Location: 33.7194852, -115.7777882
Turn right to follow a wash. The sandy trail winds through a craggy, maze-like wall of rocks.
LPO008
Location: 33.7193893, -115.7776299
Follow signs leading out of wash. The trail soon descends into a small canyon lined with gullies and gorges.
LPO009
Location: 33.7154872, -115.7682395
Tricky stretch: When you reach a ridge above a narrow gully, turn right off the ridge and drop onto a rock-bordered path. From here, the trail rolls across a series of hills and gullies.
LPO010
Location: 33.7126136, -115.7649779
There's no camping beyond this day-use sign. Bighorn sheep and other wildlife drink from the springs at night.
LPO011
Location: 33.7125734, -115.7644522
Look down the canyon for a first glimpse of the green, shaggy-topped fan palms. Before scrambling down to the oasis, turn right at 3-way to visit an overlook with bird's-eye views of the palms.
LPO012
Location: 33.712248, -115.762895
Take in the scene, then backtrack to Waypoint 11 and turn right. Descend 650 feet to Lost Palms Oasis.
LPO013
Location: 33.7128166, -115.7627758
Lost Palms Oasis: This peaceful oasis contains the largest number of fan palms in the park. When you're ready, turn around and follow the same route back to Cottonwood Spring.
Lost Palms Oasis
Location: 33.7128277, -115.7626712
Lost Palms Oasis Trailhead
Location: 33.7369162, -115.8106023
Cottonwood Spring was popular with Indians and prospectors, and it now lures birders.
Junction with Mastodon Peak Trail
Location: 33.7315851, -115.8011985
Mojave Yucca
Location: 33.735047, -115.8070135
A common sight on the hard-packed trail.
Cholla Cactus
Location: 33.7310944, -115.8003294
Look for these "fluffy" cacti along the trail just after the turn to Mastodon Peak.
Rock Pile and Well-Balanced Rock
Location: 33.7294348, -115.7953727
Rock Piles and Yucca
Location: 33.7220552, -115.7830667
Leaving Wash
Location: 33.719387, -115.7775199
Desert and Mountain View
Location: 33.7166384, -115.77097
First Glimpse of the Oasis
Location: 33.7125756, -115.7644174
Lost Palms Oasis Overlook
Location: 33.7122476, -115.7627785