Joshua Tree National Park: California Riding and Hiking Trail
Clocking in at 36.5 miles, this trail is a fine choice for hikers to see high desert landscapes, mind-blowing rock formations, and absolutely no one.
Heading out the door? Read this article on the new Outside+ app available now on iOS devices for members! Download the app.
The California Riding and Hiking Trail is the premier backpacking route in Joshua Tree National Park, stringing together lonely cacti and pinyon landscapes with iconic Joshua trees, incredible desert overlooks, and rock formations that defy Newton's Law. Backpackers can thru-hike this trail in three days or choose from several accessible trailheads for shorter dayhike or overnight options.
Hike The California Riding and Hiking Trail
SECTION 1
The California Riding and Hiking Trail is best thru-hiked from west to east, so start at the Black Rock Canyon trailhead located five miles south of the town of Yucca Valley at the Black Rock Canyon campground. This 7.5-mile section begins by weaving through low scrubland and past several side trails to a wide sandy wash. Next is a 1,000-foot uphill march and the steepest elevation gain of the whole hike. From the highpoint at 5,130 feet, it's 2 mostly downhill miles to the Upper Covington Flats trailhead.
SECTION 2
The 10.8-mile section from Upper Covington Flats to Keys View is the longest and most remote section of the CRHT. The trail is often overgrown so wear long pants or the woody and thorny underbrush will cheese grade your legs into a scratchy mess. Trace a desert plateau for .9 mile before descending into a sunburnt valley. The trail crosses several dry washes in Covington Flats and climbs again to a panoramic ridge just below 5,000 feet with views over Juniper Flats. Drop, cross washes, and climb again. Look north to Quail Mountain, the highest mountain in the park at 5,813 feet. Now, descend into Juniper Flats where you'll see groves of bushy armed Joshua Trees. Many unique rock formations dot the topography as the trail turns downhill into Lost Horse Valley to Keys View trailhead.
SECTION 3
Since it's near the halfway point, Keys View trailhead is a good place to stash extra water. From the road, head east .8 mile to Ryan Campground. Next, begin a short climb. Near the top, you'll pass junk left by gold miners, including old building foundations, wagon parts, and a mine shaft just south of Ryan Mountain. The trail quickly climbs again and continues to Geology Tour trailhead to end this 6.5-mile leg.
SECTION 4
It's only 4.4 miles from Geology Tour Road to the next major trailhead on Pinto Basin Road. This is a great option for dayhikers and has little elevation gain. Head east across dry washes and highspots with views into a geologial wonder called Jumbled Rocks (think Legoland for rocks). The trail flows in and out of various washes so navigate with caution. The last two miles offer spectacular views of Pinto Basin, a parched zone of sunken rocks that connects the Sonoran and Mojave Deserts.
SECTION 5
From Pinto Basin Road the trail swings north and in 1.3 miles passes a sidetrail on left to Belle Campground. Stay on the CRHT. You'll cross a dirt road 1.4 miles later. From here to the trail's end the path becomes faint in spots, so when in doubt, bear due north. You'll climb a small hill with views over the town of Twentynine Palms. To finish this 7.3-mile stretch, continue north-northwest to the North Entrance trailhead.
WHEN TO GO: Temperatures are ideal from fall through spring, and wildflowers bloom from February to April, depending on elevation. Drop water caches before you start and carry at least six liters of water per person per day; more if daytime temperatures rise above 85 degrees.
PERMITS: There is no fee for backcountry camping in Joshua Tree. Backpackers are required to park and register at designated backcountry registration boards. Learn more at nps.gov/jotr/planyourvisit/bcboards.htm.
MORE INFO: Joshua Tree National Park, (760) 367-5500; nps.gov/jotr
–Mapped by Ben Fullerton, fullertonimages.com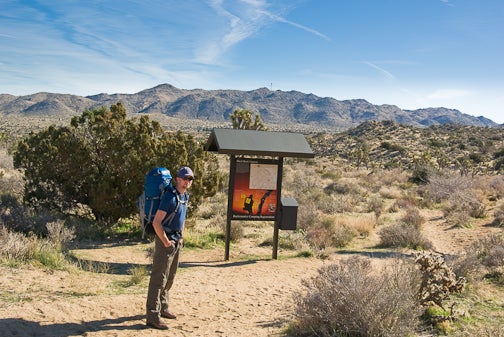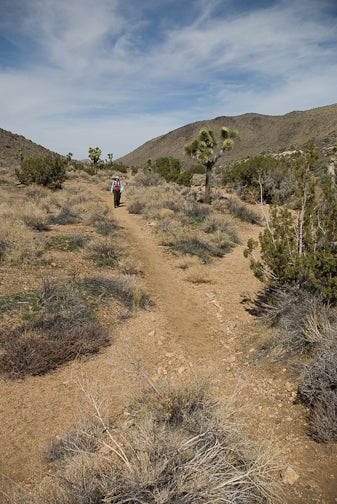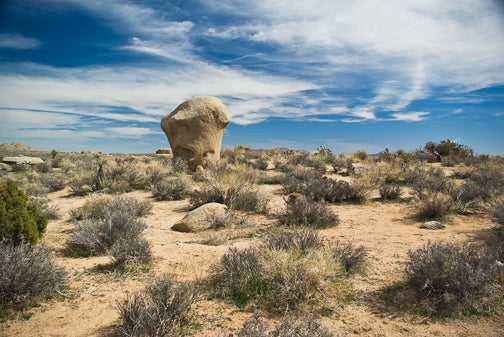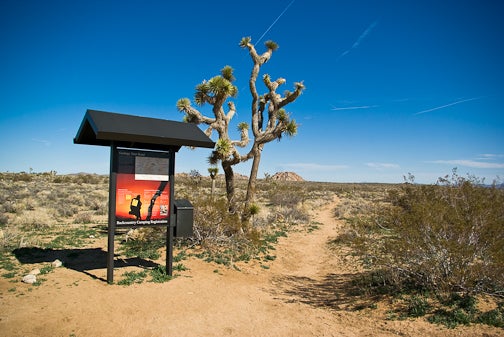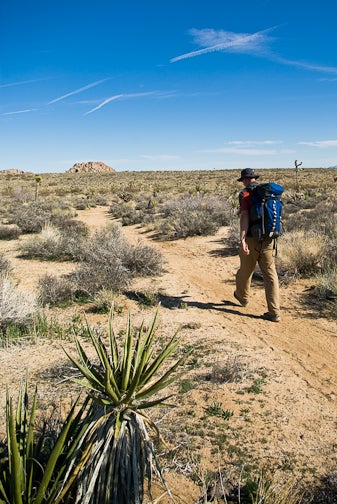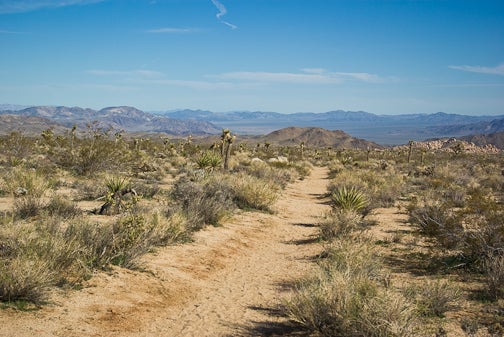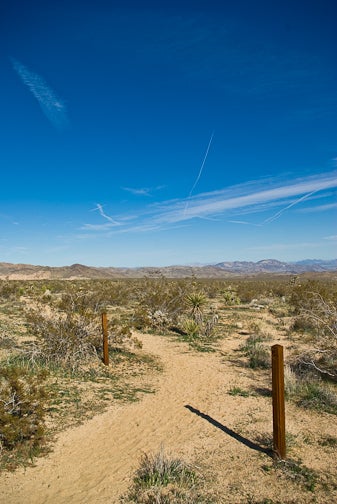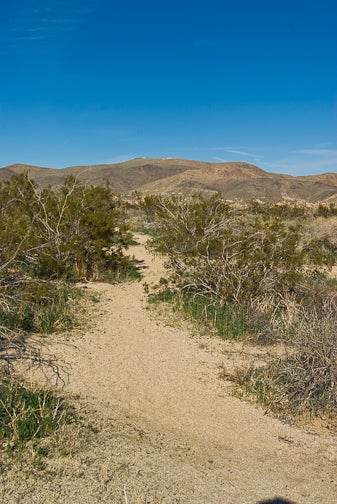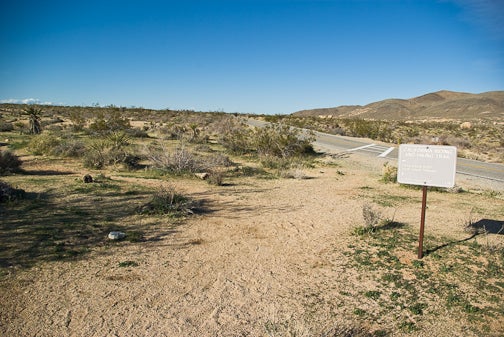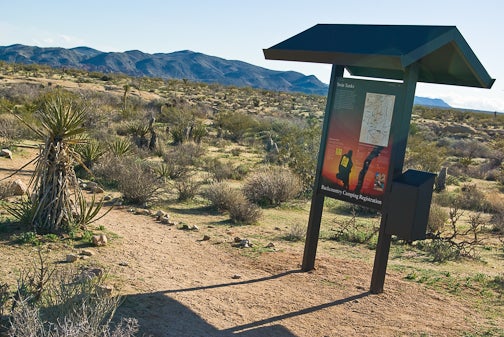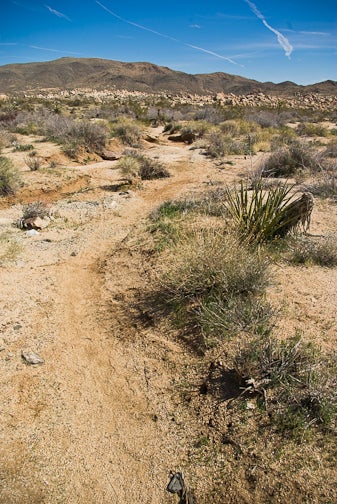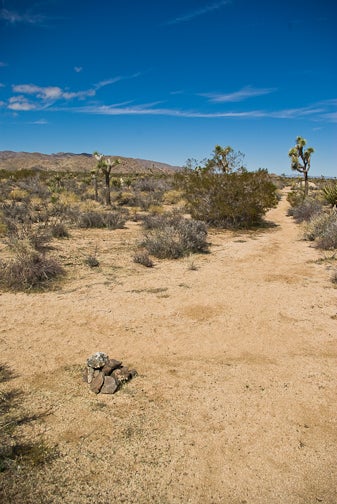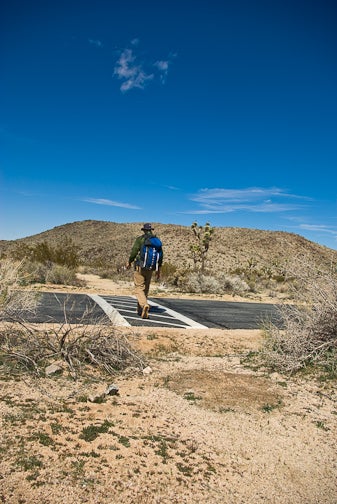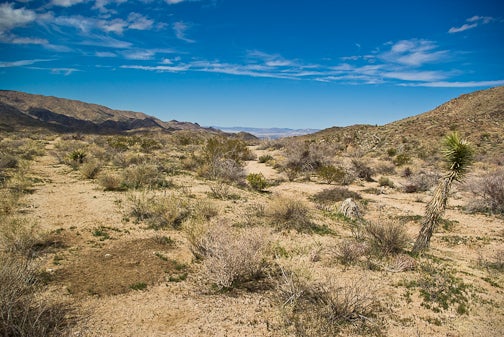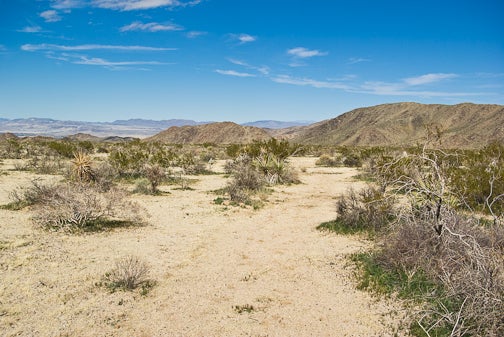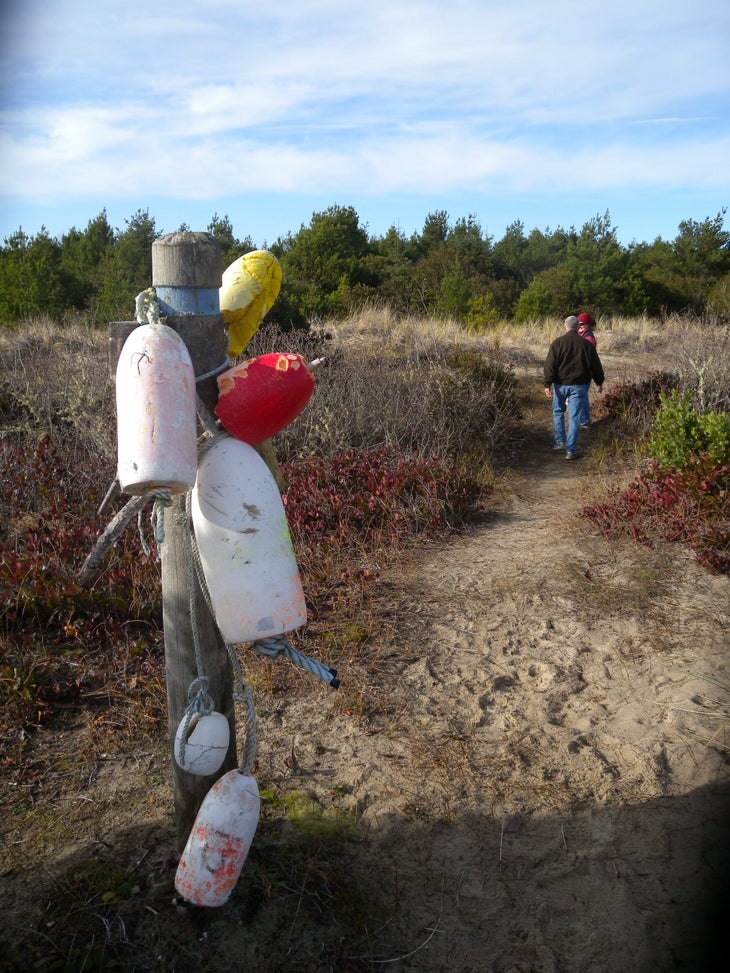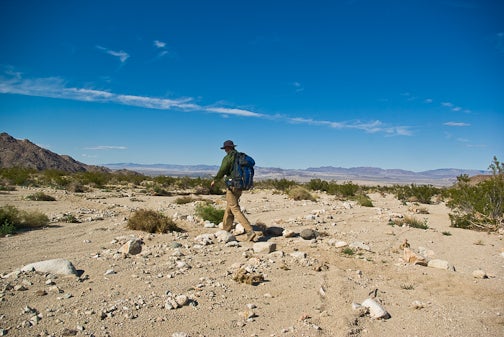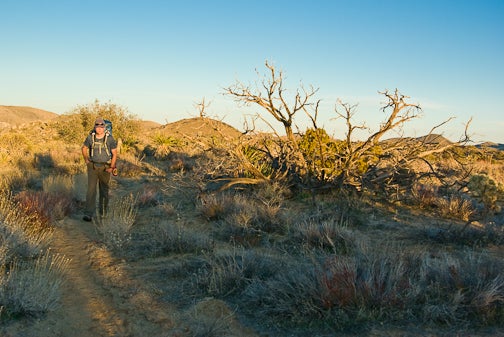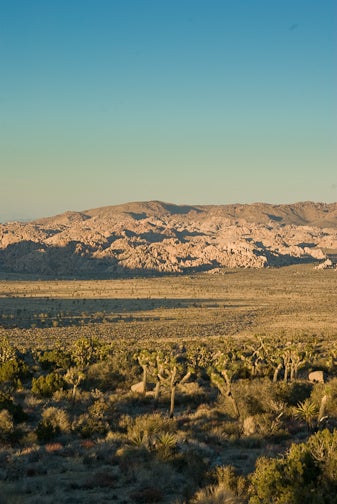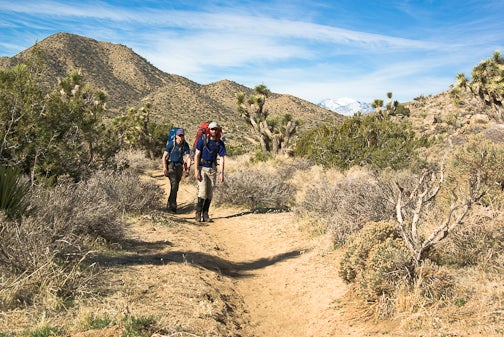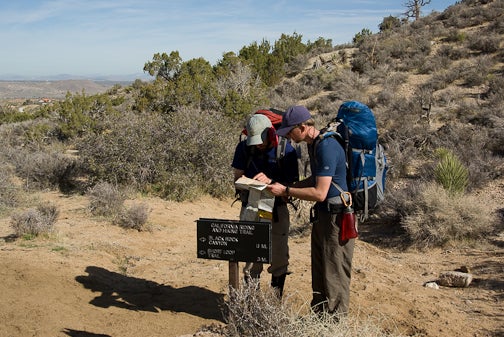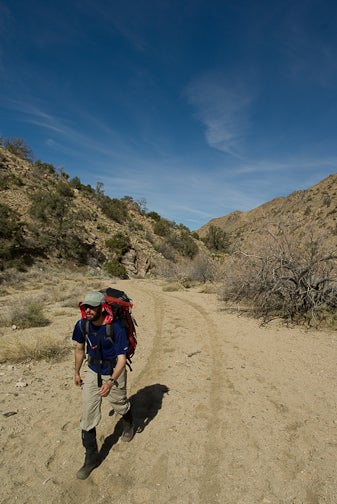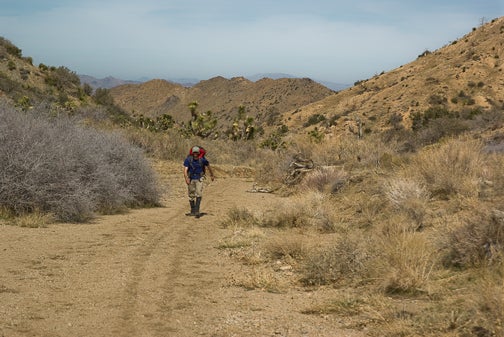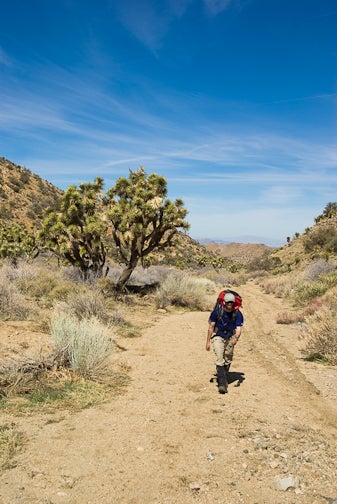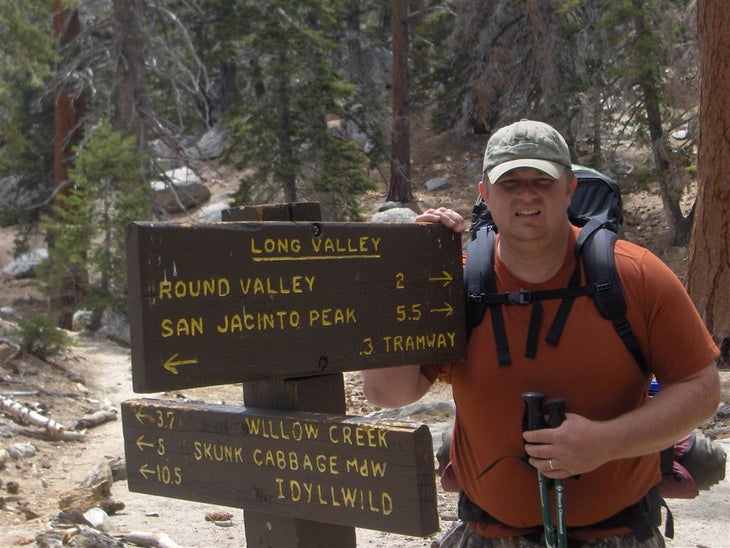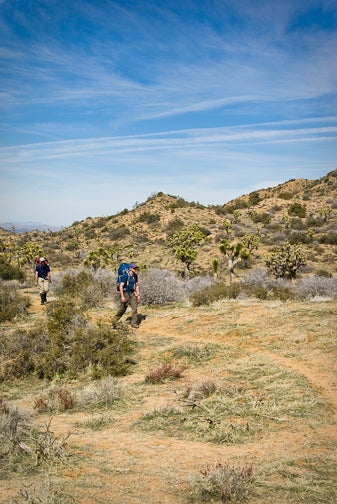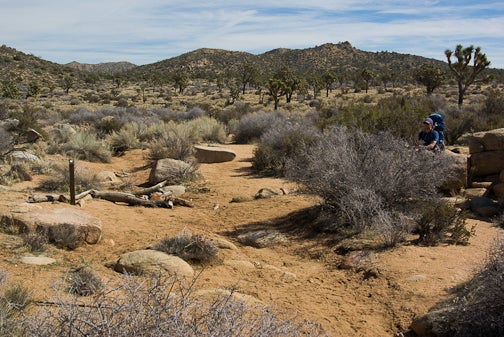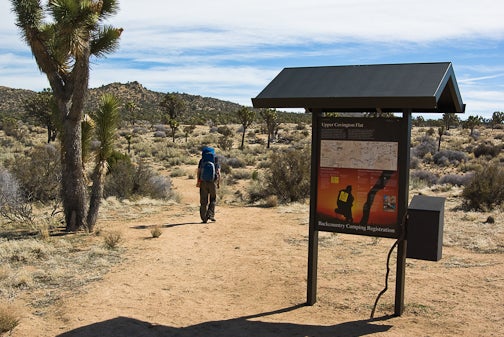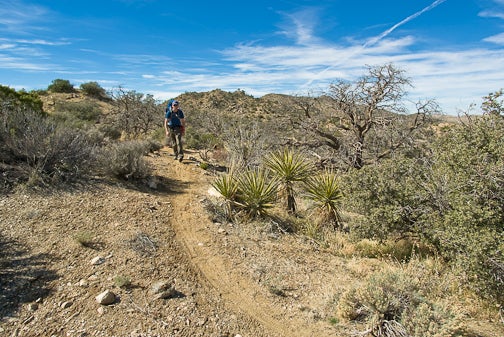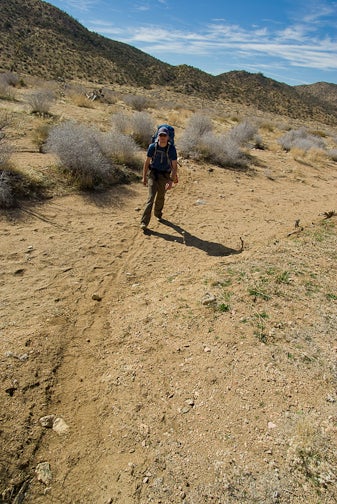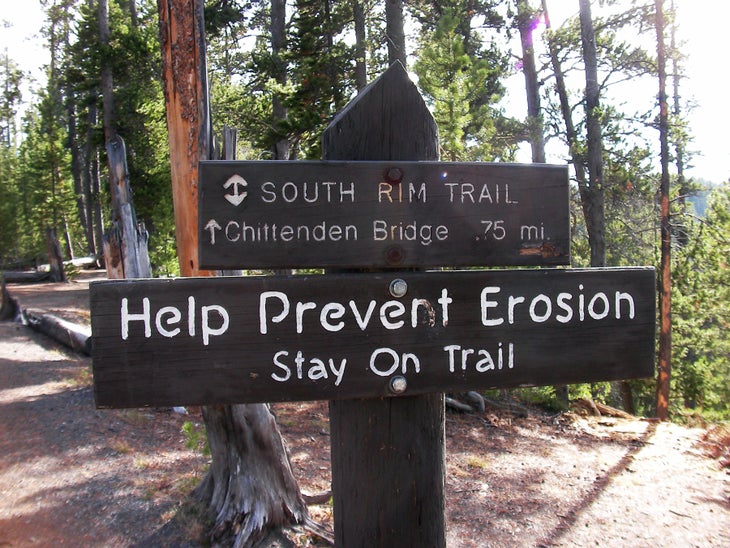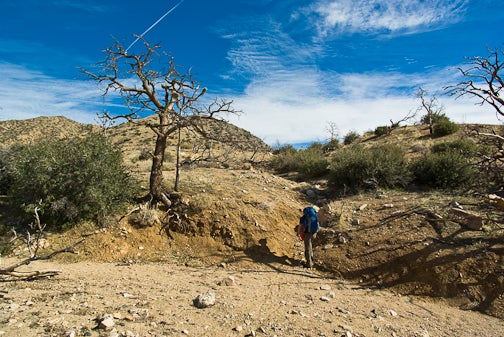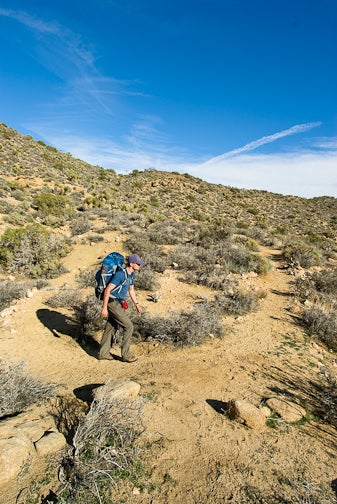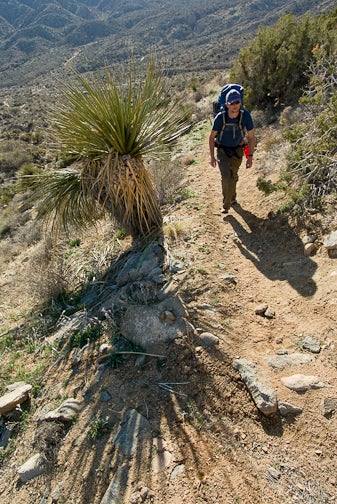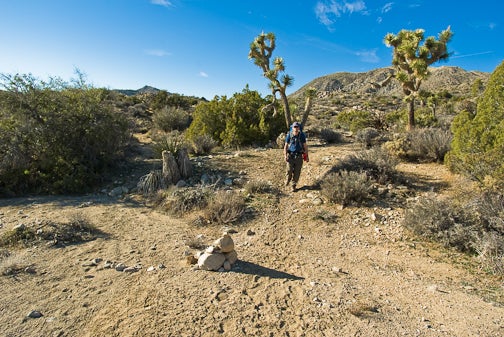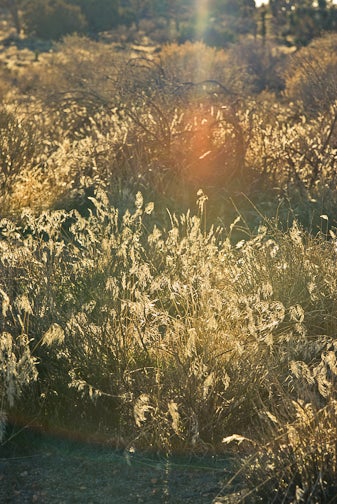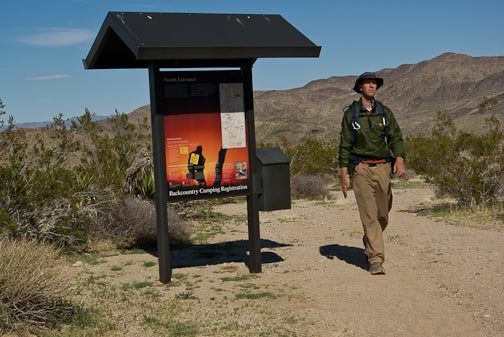 Trail Facts
Waypoints
WPT001
Location: 34.075083, -116.387833
Blackrock trailhead: Head east-southeast.
WPT002
Location: 34.074383, -116.3868
Continue straight as another trail joins in from the left.
WPT003
Location: 34.073233, -116.38655
Go left here, following the signs for the California Riding and Hiking Trail.
WPT004
Location: 34.068583, -116.369833
Stay left as the Short Loop Trail goes right, which ultimately joins back in with the CRH Trail up ahead.
WPT005
Location: 34.066967, -116.365017
Short Loop Trail rejoins trail. Stay to the left.
WPT006
Location: 34.06625, -116.364133
Continue up a wide, sandy wash. In a few hundred feet, continue straight, passing the Cliff Trail on your right.
WPT007
Location: 34.064083, -116.358483
Keep left as the other end of the Cliff Trail is on the right.
WPT008
Location: 34.06095, -116.350533
Lots of elevation gain pays off with sweet views of the San Bernardino Mountains.
WPT009
Location: 34.051467, -116.346017
Stay to the right, exiting the main wash as it goes off to the right, and enter a smaller wash.
WPT010
Location: 34.028533, -116.336233
Continue straight; Eureka Trail goes off to the right.
WPT011
Location: 34.027217, -116.335
The trail parallels Upper Covington Road.
WPT012
Location: 34.02685, -116.333917
Stay straight as an unnamed trail goes left.
WPT013
Location: 34.024885, -116.332469
Highpoint. The climbing is over, for now, and there's a flat grade and well-packed trail ahead.
WPT014
Location: 34.024352, -116.331525
Go straight across a dirt road, and continue down the trail on the other side. This upper plateau can be quite windy.
WPT015
Location: 34.016526, -116.318135
Stay straight and a unnamed trail crosses your trail.
WPT016
Location: 34.010088, -116.306119
Keep your eyes open for the trail to take a hard right, even though the current wash you're in continues straight, and then finish up the last few hundred feet to the next trailhead.
WPT017
Location: 34.009717, -116.30585
The trail passes Upper Covington Flats trailhead.
WPT018
Location: 34.008067, -116.291267
Start descending into a valley; take in nice views too.
WPT019
Location: 34.00835, -116.288467
Beware as the wash you're in goes left, but the CRH trail goes to the right.
WPT020
Location: 34.007433, -116.285517
Cross a wide, dry wash, and pick up trail on the other side.
WPT021
Location: 34.00745, -116.282417
Cross another wash.
WPT022
Location: 34.007333, -116.281683
At the trail junction for Lower Covington Flats, continue straight.
WPT023
Location: 34.00045, -116.2674
Cross another wash.
WPT024
Location: 33.99875, -116.267133
As you crest the ridge, take in the beautiful views of Juniper Flats, then begin your descent into the valley.
WPT025
Location: 33.991417, -116.26485
Caution: The trail takes a sneaky, sharp switchback to the left.
WPT026
Location: 33.991167, -116.264217
Go straight across another wash.
WPT027
Location: 33.981383, -116.2565
Cross another wash.
WPT028
Location: 33.97925, -116.255317
Pause for a nice break and enjoy the views of the valley floor that you've just crossed.
WPT029
Location: 33.98055, -116.248
Continue straight past a rock cairn, as another major wash comes in from the right side.
WPT030
Location: 33.981617, -116.24255
Finish the steep climbing and take a break to enjoy the giant valley behind you.
WPT031
Location: 33.982383, -116.240533
Go left, up a small hill not down the wash.
WPT032
Location: 33.98305, -116.2396
See first views of Joshua Tree's main valley.
WPT033
Location: 33.98495, -116.232233
Continue straight across another wash.
WPT034
Location: 33.9814, -116.227267
Cross another wash.
WPT035
Location: 33.9784, -116.219
Continue straight as the Stubbe Trail goes off to the right.
WPT036
Location: 33.979483, -116.211917
When crossing this high plateau, you get great views of the many unique rock formations of Joshua Tree.
WPT037
Location: 33.978433, -116.205917
Get ready for the long, slow descent towards Keys View Road.
WPT038
Location: 33.97025, -116.190233
Goes straight through an intersection with Stubbe and Johnnie Connector Trails.
WPT039
Location: 33.9727, -116.173433
Cross another wash.
WPT040
Location: 33.97755, -116.166083
Where the trail splits, go straight if you wish to hike the next section, or pitch a tent at Ryan Campground, or go to the right and hike 500 feet to finish this section at the Keys View trailhead.
WPT041
Location: 33.977767, -116.164933
Here the trail crosses Keys View Road and heads toward Ryan Campground. Since it's easily accessible by road and approximately halfway, this stretch of trail is a great place to stash water ahead of time if you plan on hiking the whole trail.
WPT042
Location: 33.9769, -116.165117
Hike past Keys View trailhead.
WPT043
Location: 33.981617, -116.15425
You will see the Ryan Campground on your left, and when the trail makes a sharp right, the smaller trail branches of left to take you to the campsite.
WPT044
Location: 33.977867, -116.14985
Go left here, instead of letting the larger wash sucker you off to the right.
WPT045
Location: 33.976633, -116.148467
Go straight across a wash; a few hundred feet later, the trail drops into another wash, and actually follows it to the right for about 50 feet, then goes left, up the other bank.
WPT046
Location: 33.973717, -116.146233
Straight across another wash. For the next mile, keep your eye on the sides of the trail for ruins of old mining camps.
WPT047
Location: 33.9627, -116.134017
Cross a wash.
WPT048
Location: 33.96615, -116.119417
Near another highpoint, there are good views in all directions as well as some odd-shaped rock formations.
WPT049
Location: 33.96855, -116.116017
Cross a large wash.
WPT050
Location: 33.974217, -116.1077
Enjoy the views and the flat terrain as you finish out this section to the Geology Tour Road trailhead.
WPT051
Location: 33.985283, -116.082033
Pass the Geology Tour Road trailhead.
WPT052
Location: 33.979367, -116.068217
Take in views of the valley below as you descend.
WPT053
Location: 33.969717, -116.047033
Watch out here, the wash you're in continues ahead, but the trail swings left.
WPT054
Location: 33.973517, -116.039883
Cross a wash; in 200 feet, the trail joins a wash going to the right.
WPT055
Location: 33.983417, -116.027317
Stay sharp here; the trail turns faint as it crosses more washes.
WPT056
Location: 33.987388, -116.023178
A trail goes to the left, right before the road that goes to the parking lot for the Pinto Basin trailhead. If you wish to finish the section, go left, or continue straight to hike on.
WPT057
Location: 33.989467, -116.022933
Pass Pinto Basin trailhead.
WPT058
Location: 33.988159, -116.021976
After crossing Pinto Basin Road, get into a deeply trodden, narrow wash which will be the trail for a while.
WPT059
Location: 33.99915, -116.01585
Continue straight as a dominant wash crosses the trail, which faintly exits the other side.
WPT060
Location: 34.001683, -116.0163
A trail goes left that will take you to the Belle Campground.
WPT061
Location: 34.006317, -116.016333
Cross another wash, then in a few hundred feet, be careful when a deep wash goes right and the trail ducks to the left behind a large bush.
WPT062
Location: 34.020683, -116.015967
Cross road, then go right in about 200 feet when road continues straight ahead.
WPT063
Location: 34.022033, -116.015983
The trail opens up into a very large dry riverbed, and virtually disappears, except for lines of small rocks that outline the trail edges.
WPT064
Location: 34.022267, -116.014717
The trail enters into a low basin, where the trail dubiously winds through loose sand.
WPT065
Location: 34.02415, -116.0124
The trail heads up a small hill, which represents almost all of the elevation gain for this section, then drops down into another basin. From here, you can see all the way to the town of Twentynine Palms and across to the mountain far on the other side.
WPT066
Location: 34.02575, -116.012617
This is one of the rare occasions that you don't go directly across a wash. The trail joins in for about a hundred feet, heading to the left, and turn right to exit (not well-marked).
WPT067
Location: 34.0424, -116.019617
Trail fades; continue due north when in doubt.
WPT068
Location: 34.05, -116.019833
Trail joins and follows wash; don't cross it.
WPT069
Location: 34.05675, -116.020267
The trail leaves the wash.
WPT070
Location: 34.068467, -116.020083
Views into Twentynine Palms valley.
WPT071
Location: 34.069583, -116.020133
The trail takes a hard left turn, crosses another wash, and heads to the final trailhead.
WPT072
Location: 34.07435, -116.031767
The route ends at the North Entrance trailhead.
Black Rock Canyon trailhead
Location: 34.075424, -116.387401
Joshua trees
Location: 34.072509, -116.380663
Map check
Location: 34.072107, -116.37959
Walking the wash
Location: 34.060979, -116.350408
Sandy wash
Location: 34.043817, -116.342039
More J-trees
Location: 34.039017, -116.339765
Trail junction
Location: 34.028549, -116.336203
Hiking southeast
Location: 34.018744, -116.321654
Rest spot
Location: 34.010123, -116.30599
Upper Covington Flats trailhead
Location: 34.009661, -116.305432
Start descent
Location: 34.008499, -116.291099
Curve
Location: 34.007289, -116.28243
Trail sign
Location: 34.007076, -116.281443
Cross wash
Location: 34.000482, -116.267195
Long desert views
Location: 33.979275, -116.255136
Spiky shadows
Location: 33.980817, -116.249042
Cairn marks trail
Location: 33.980414, -116.247926
Sun reflection
Location: 33.983664, -116.230545
Long downhill with views
Location: 33.977816, -116.204152
Easy walker
Location: 33.977543, -116.202908
Keys View trailhead
Location: 33.977638, -116.166043
Ryan Mountain
Location: 33.964125, -116.139007
Mushroom rock
Location: 33.966759, -116.118364
Geology Tour Road trailhead
Location: 33.98523, -116.082358
Well-established trail
Location: 33.983984, -116.075706
More great views
Location: 33.973521, -116.059313
Trail swings northeast
Location: 33.969773, -116.046824
Confusing trail
Location: 33.983688, -116.026998
Pinto Basin Road
Location: 33.987353, -116.023264
Pinto Basin trailhead
Location: 33.989417, -116.022792
Jet streams cut across the sky
Location: 33.988349, -116.02159
Deep sand
Location: 33.998917, -116.015797
Cairn
Location: 34.00155, -116.016183
Cross road
Location: 34.020617, -116.015797
Scrublands
Location: 34.030197, -116.015754
Continue north
Location: 34.042703, -116.01953
Trail marker
Location: 34.057139, -116.02026
Views to Twentynine Palms
Location: 34.070045, -116.02159
North Entrance trailhead
Location: 34.074346, -116.031289