John Muir Trail: Tuolumne Meadows to Devils Postpile
Score some of the John Muir Trail's most classic views on this 31-mile section hike in Yosemite National Park that starts less than two hours from Bishop.
Heading out the door? Read this article on the new Outside+ app available now on iOS devices for members! Download the app.
This three-day, 31-mile point-to-point runs south across two passes, rambles along tear-drop alpine tarns, and passes campsites framed by classic High Sierra vistas. The route starts out at the flattest section of the trail, but soon charges toward the higher elevations of the Ansel Adams Wilderness. Finish at Devils Postpile National Monument, where frozen columns of lava pierce the sky around the volcanic shoulders of Mammoth Mountain.
Shutterbugs: At mile 18.5, snap your own version of the scene shown below. (Ansel Adams's classic photo of Banner Peak and Thousand Island Lake was also shot near here.) Get the best light in early morning and late afternoon.
-Mapped by Andrew Matranga
TO TRAILHEAD: Start: CA 120 E to Big Oak Flat Road. Follow to Tuolumne Meadows Ranger Station for parking and wilderness permits. Best to reserve in advance: nps.gov/yose
Stop: There is a shuttle bus from Devils Postpile National Monument to Mammoth Mountain Ski Area during summer months: nps.gov/depo. Mammoth Town has a shuttle that stops at the Ski Area for local access.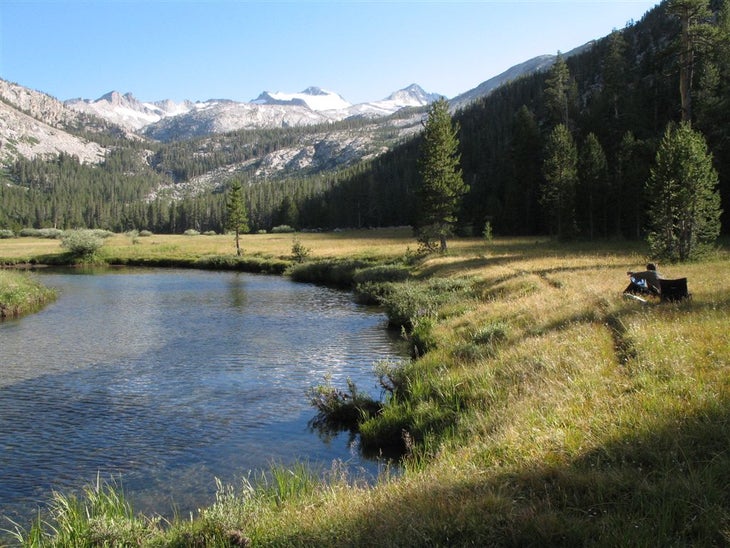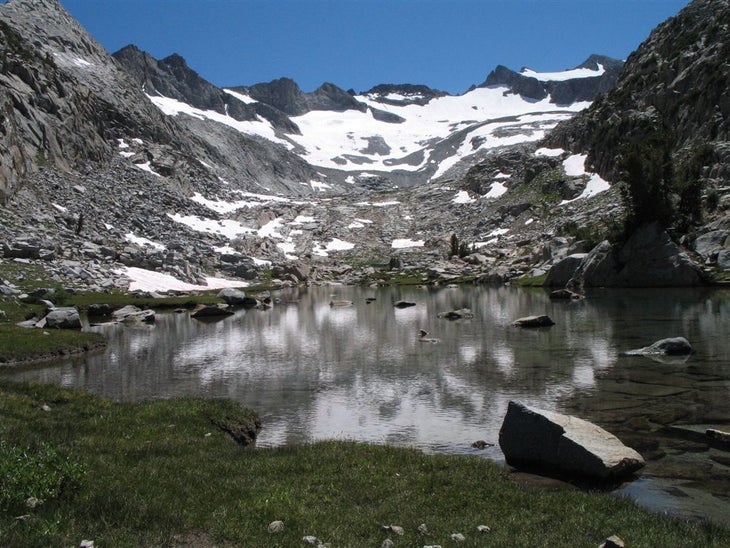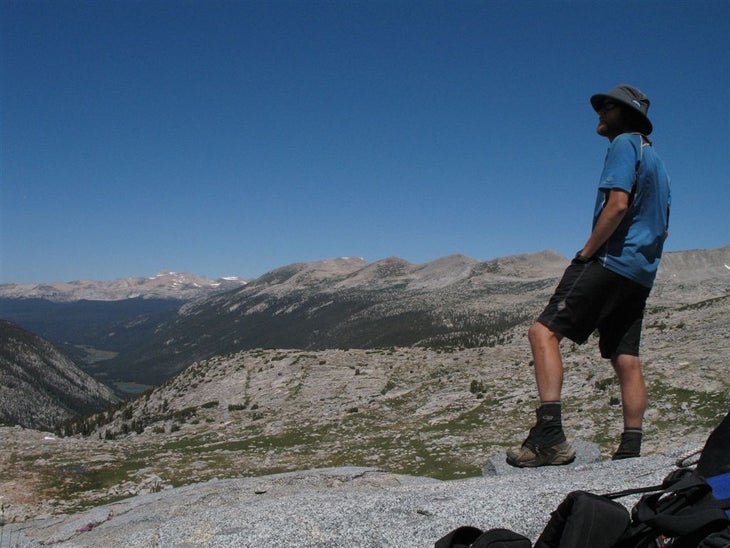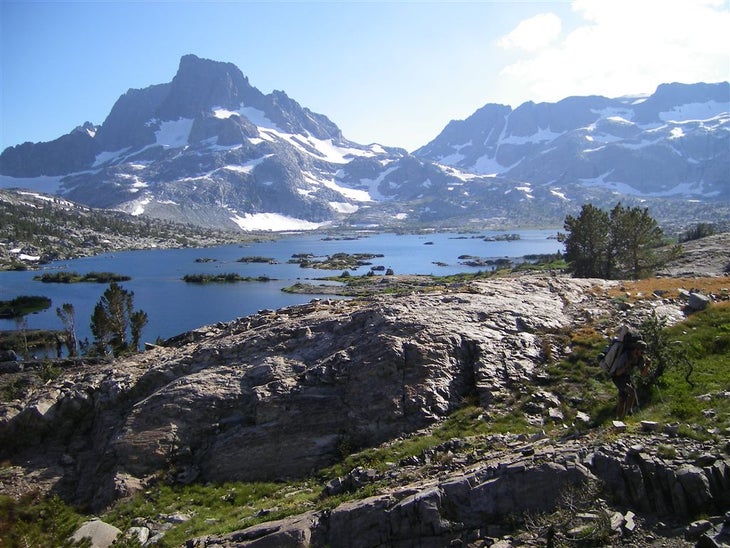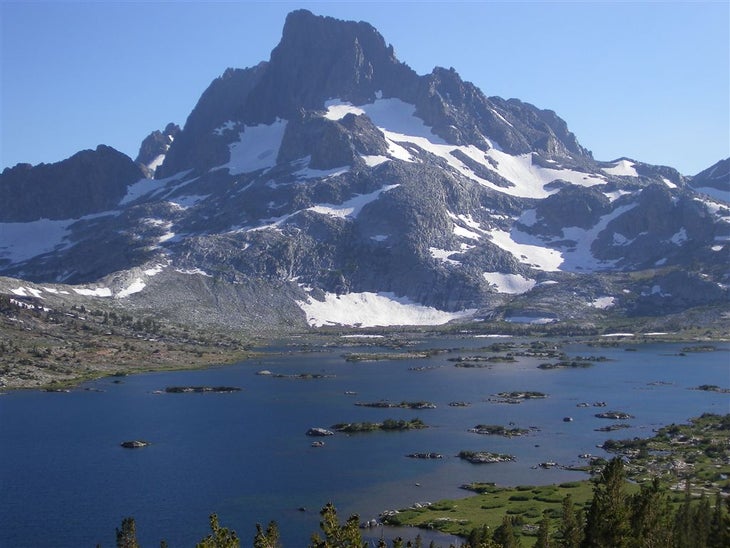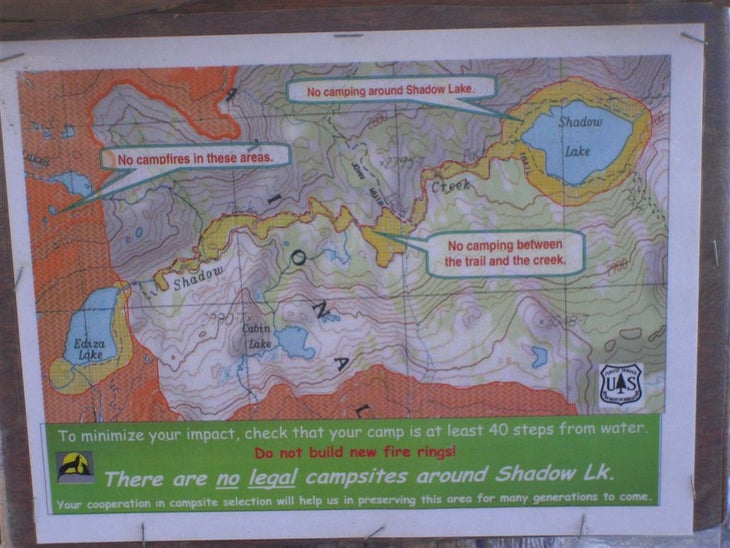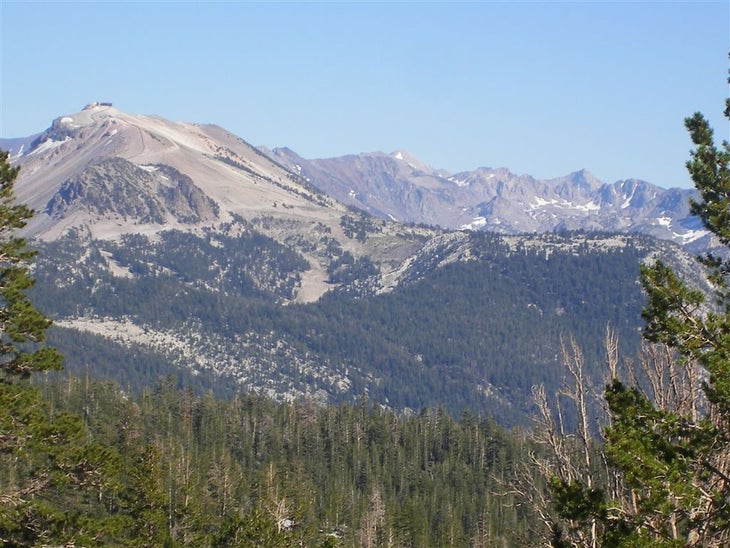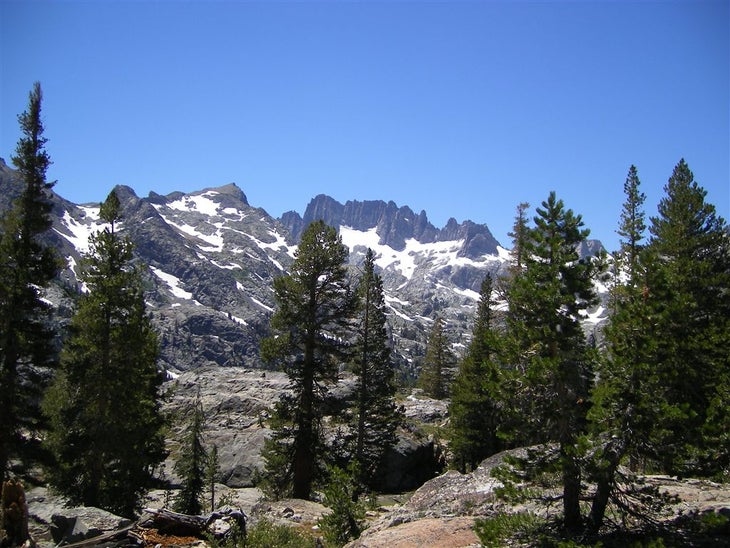 Trail Facts
Waypoints
JMT024
Location: 37.872139, -119.353203
Backpacker's Camp. Spend the night here if heading S. If not, head to parking lot @ Ranger Station to pick up car.
JMT025
Location: 37.876202, -119.354698
Tuolumne Store. Good place to resupply if continuing S to Reds Meadow. YARTS bus departs from this parking lot and returns to The Valley if you want to take mass transit back to Happy Isles
JMT026
Location: 37.876869, -119.343903
Parking lot at Tuolumne Ranger Station; best place for long-term parking. Head S on John Muir Trail section of Pacific Crest Trail; follow JMT signs throughout this hike
JMT027
Location: 37.82478, -119.277802
Small creek spills into Lyell Fork
JMT028
Location: 37.797173, -119.262825
Campsite along Lyell Fork. Be on lookout for the local bear at night; proper food storage required. Waterfalls spill off Kuna Creek to the SE. In the southern horizon, gaze at Yosemite's highest peak Mount Lyell (13,144 ft).and Lyell Glacier–the largest in the Sierras. To continue, head S for the 2,000 ft. climb to Donohue Pass–the first real, high pass of the trip. Good camp sites on the ascent.
JMT029
Location: 37.760961, -119.24876
Donohue Pass (11,056 ft.: Peer into the heart of the Range of Light. Smooth, scultped canyons and towering snowcapped peaks. Looking N see Lyell Fork of the Tuolumne River snaking through the deep groove of Lyell Canyon. Looking S into Ansel Adams Wilderness, is even more superlative Sierra scenery to come. Continue over the pass for a steep drop into the Inyo National Forest.
JMT030
Location: 37.735779, -119.192802
Campsite near Island Pass; many small tarns in this area
JMT031
Location: 37.728519, -119.171303
Thousand Island Lake; good camping up on N shores. Continue S on JMT. PCT ascends to L. Absolutely classic spot to view Banner Peak and Mount Ritter, the crown black volcanic rock of the Ritter Range.
JMT032
Location: 37.72504, -119.166791
Emerald Lake
JMT033
Location: 37.712978, -119.151604
Garnet Lake
JMT034
Location: 37.706996, -119.150977
Small crest near Garnet Lake
JMT035
Location: 37.692107, -119.130957
Shadow Lake
JMT036
Location: 37.688235, -119.12173
Sweet lakeside campsite at Rosalie Lake; great swimming
JMT037
Location: 37.678997, -119.118276
Overlook of Mammoth Mountain and the scorched forest around Devils Postpile; head down through thick forests and get slight views over the sharp teeth of the Minarets to the W
JMT038
Location: 37.633946, -119.089909
Enter Devils Postpile from Inyo National Forest
JMT039
Location: 37.632688, -119.08875
PCT and JMT rejoin
JMT040
Location: 37.629799, -119.084823
Devils Postpile National Monument Ranger Station
Along Lyell Fork
Location: 37.797204, -119.262385
Andrew Matranga sits and strums along the Lyell Fork of the Tuolumne River. In the background looms Donohue Pass and the exit from Yosemite National Park. The large snowfield below Mount Lyell is the Lyell Glacier, one of the largest remaining glaciers in the Sierra. © Tim O'Shea
Tarn below Donohue Pass
Location: 37.761283, -119.249232
© Tim O'Shea
Above Lyell Canyon
Location: 37.760961, -119.248331
Andrew Matranga surveys wide contours of Lyell Canyon, where the meandering course of Lyell Fork cutting through the large canyon floor in the distance.
© Tim O'Shea
Climbing out of Thousand Island Lake
Location: 37.729283, -119.172714
David Taus ascends to Island Pass, with Banner Peak in the rearview.
© Andrew Matranga
Banner Peak
Location: 37.728231, -119.171019
An iconic, if not classic, Sierra peak, Banner Peak juts high above the broad, island-dotted waters of Thousand Island Lake.
© Andrew Matranga
Camping sign around Shadow Lake
Location: 37.713277, -119.154582
Restrictions abound near the shores of popular Shadow Lake. Take note when planning your sites.
© Andrew Matranga
Mammoth Mountain
Location: 37.640913, -119.095273
The cinder-strewn slopes of Mammoth Mountain (note the ski lifts crowning the summit) come into view far before you make into Devils Postpile National Monument.
© Andrew Matranga
The Minarets
Location: 37.6385, -119.091496
The tall, craggy spires of the Minarets near Devils Postpile NM.
© Andrew Matranga