John Day Fossil Beds National Monument, OR: Blue Basin
This 3.9-mile loop in John Day Fossil Beds National Monument features panoramic views of Blue Basin and a memorable tour of 20-million-year-old fossils.
Heading out the door? Read this article on the new Outside+ app available now on iOS devices for members! Download the app.
Formed from 29-million-year-old, welded volcanic tuff, Blue Basin in John Day Fossil Beds National Monument features a treasure trove of archaeological remnants. Home to sculpted volcanic rock and 20-million-year-old fossils, the striking, greenish-blue-hued canyon is the setting for this 3.9-mile hike.
From the trailhead, hike northeast on Overlook Trail, winding around the north side of the canyon to Turtle Cove. (Keep your eyes peeled for rattlesnakes.) At mile 1.1, the trail starts a steady, switchback climb to the rim, passing occasional juniper trees that offer small patches of shade. At the top of the rim, stop at the overlook for dramatic views of the bluish canyon, then descend to the Island in Time Trail for a glimpse into a prehistoric landscape.
The gentle, 0.4-mile stretch (one-way) along Island in Time Trail visits several displays of fossils discovered in the area: tortoises, oreodonts, and saber-toothed cats. Turn around at the end of the canyon—an amphitheater of colorful, sculpted stone—and backtrack to the previous junction. Turn right to complete the loop and return to the trailhead.
Caution: Summer temperatures in this area can be brutal. There is little shade, and the interior of the canyon is nicknamed "clay oven" by local rangers (canyon temps are 20 degrees higher than the surrounding area). Plan to hike in the early morning or late evening, or during the spring or fall.
-Mapped by Eli Boschetto, Bosco Mountain Photo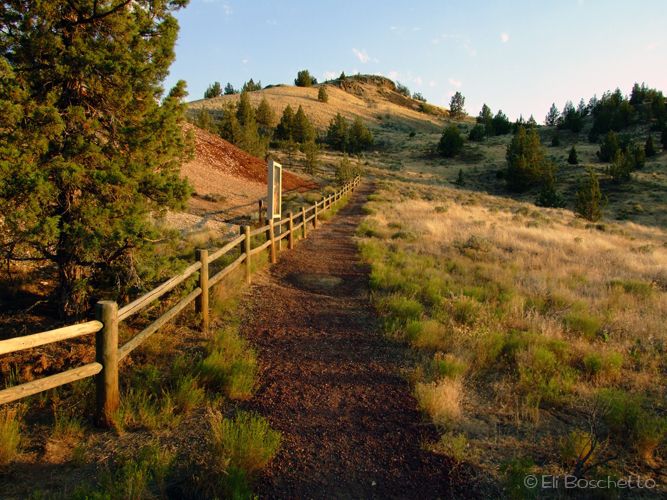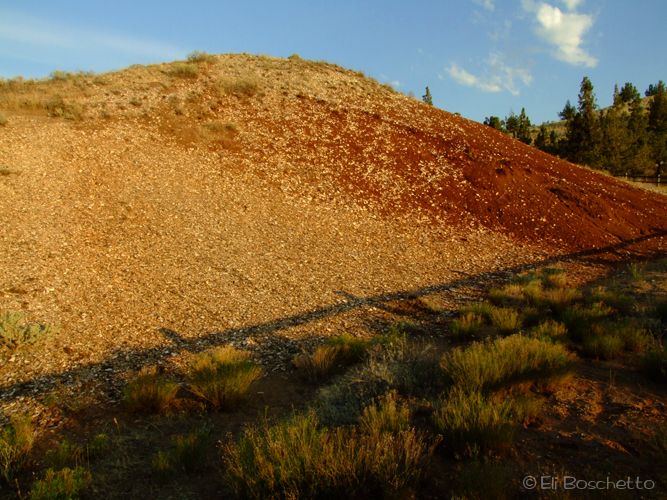 Trail Facts
Waypoints
LEF001
Location: 44.642777, -120.285833
Look for small fossils in the rock scree on the 0.25 mile loop around Leaf Hill.
Leaf Hill Trail
Location: 44.643159, -120.286345
Evening casts long shadows on the Leaf Hill Trail.
Leaf Hill
Location: 44.642895, -120.287477
Small fossils can be seen in the rock scree on Leaf Hill.