Jackson, WY: Shoal Falls Loop, Gros Ventre Wilderness
Escape the Tetons and Yellowstone crowds on this 18.9-mile loop, connecting Swift and Shoal Creek drainages in the Gros Ventre Wilderness.
Heading out the door? Read this article on the new Outside+ app available now on iOS devices for members! Download the app.
Haven't heard of the Gros Ventre? Neither have most people outside of Teton County. It draws a fraction of the hikers that the nearby Wind River and Teton Ranges do, and get this: The alpine lakes are every bit as stunning as those in the Winds; the wildlife is just as active and diverse as in Yellowstone; the ruggedly vertical high country is reminiscent of the Tetons; and the wildflower displays are the best I've seen in three summers of working as a USFS backcountry ranger in western Wyoming. The Reader Leader contest provided the opportunity to piece together the best weekend-size route within it, an 18.9-mile loop connecting the verdant Swift and Shoal Creek drainages.
Start at the Swift Creek trailhead, and hike through meadows to two intersections—take a right at the first and a left at the second to access the Shoal Lake Trail. From there, switchback 2.2 miles on the southwest flank of Peak 11,095. Cross Jack Pine Creek at mile 3.2, then walk through meadows blooming with lupine, larkspur, and sunflowers (in August), before ascending 500 feet to Deer Ridge with a balcony view of 11,404-foot Palmer Peak. Descend and reach an unsigned trail junction at mile 6.3 (go left). As Shoal Creek comes into view, an unmarked use trail to the left brings you to a nice campsite on its banks. Hear a muffled roar? That's Shoal Falls. Walk up-creek to the base of the cascades, tucked into limestone cliffs, to reach the hidden 60-foot falls.
Next day, ford Shoal Creek (spicy in early summer) and reach a signed junction in .1 mile; head left to reach Shoal Lake in four miles, navigating a fading trail between miles eight and 10 (best bet: follow the path of least resistance upslope). Monster Snake River cutthroat trout thrive here (they crowd the lake's outlet), and Indian paintbrush and bluebells color the bank with streaks of crimson and violet. If you're not pressed for time, spend a few nights here to fish (pack hoppers) and sidehike to Brewster Lake at 10,000 feet.
To continue the route, climb out of the drainage (sheep, mule deer, and elk are abundant here in summer) and follow cairns across the tundra until you hit Trail 081. Take a left. From here, good signage leads you to the Swift Creek drainage (with Tetons views to the northwest), and a 5.5-mile descent to your car. Posthike bonus: Granite Hot Springs is just 1.5 miles north of the trailhead. You can soak off the miles in a clear pool built by a Civilian Conservation Corps crew in the 1930s.
Map Gro Ventre Wilderness Map ($12, see contact)
Contact (307) 739-5500; fs.fed.us/btnf
-Text and mapping by Paul Chisholm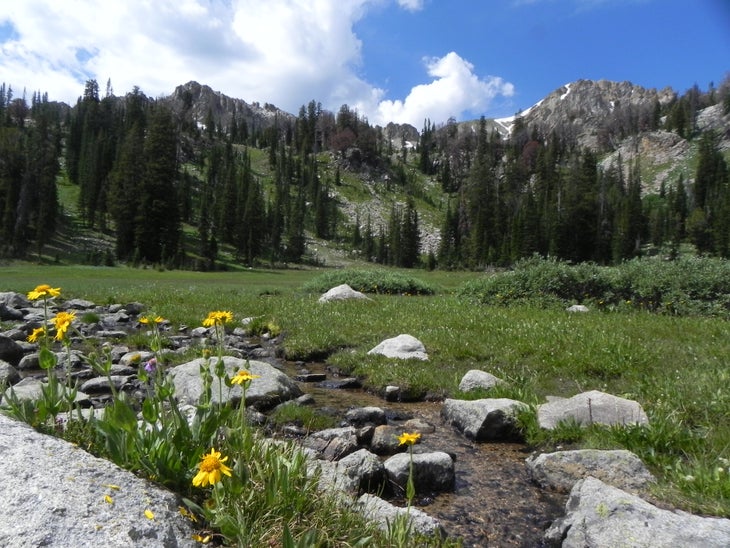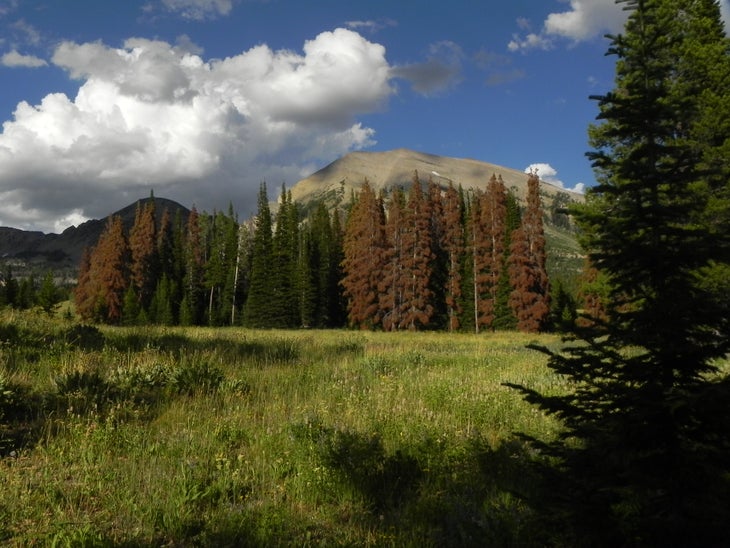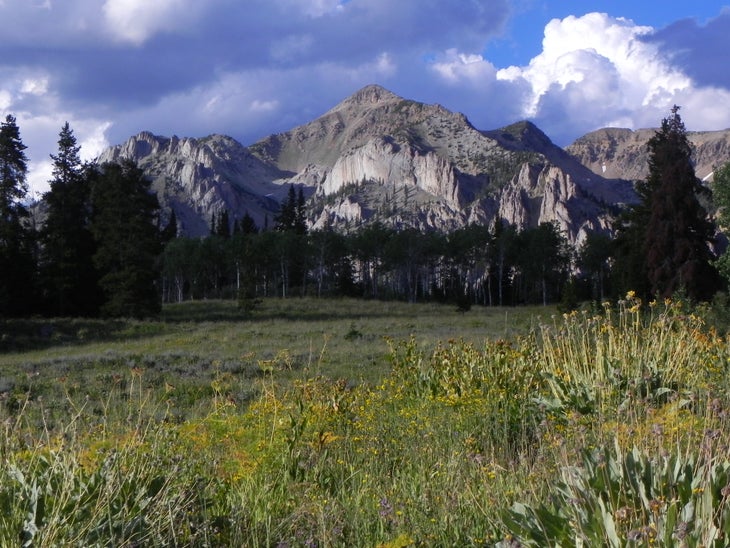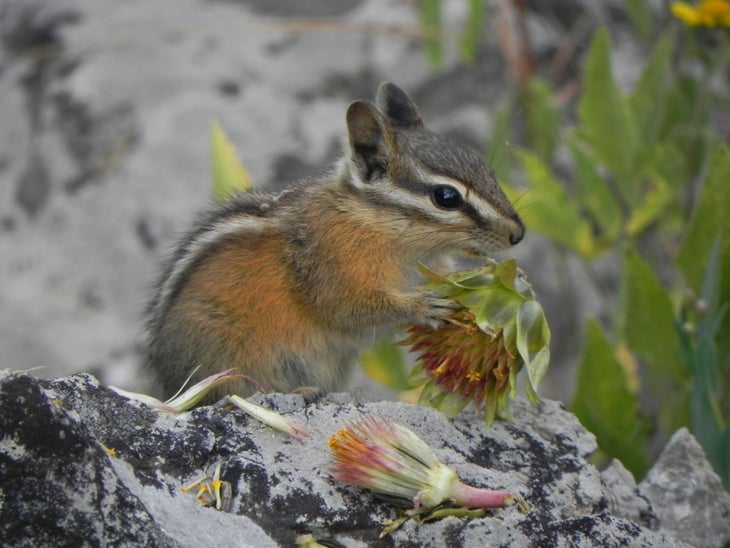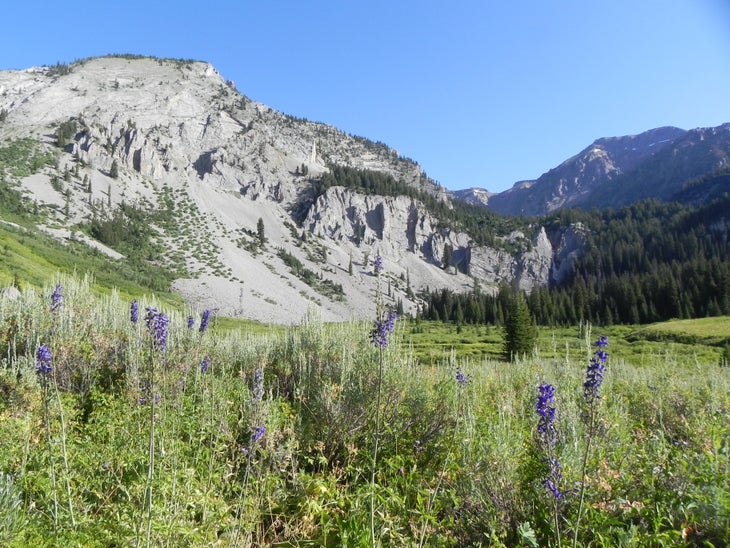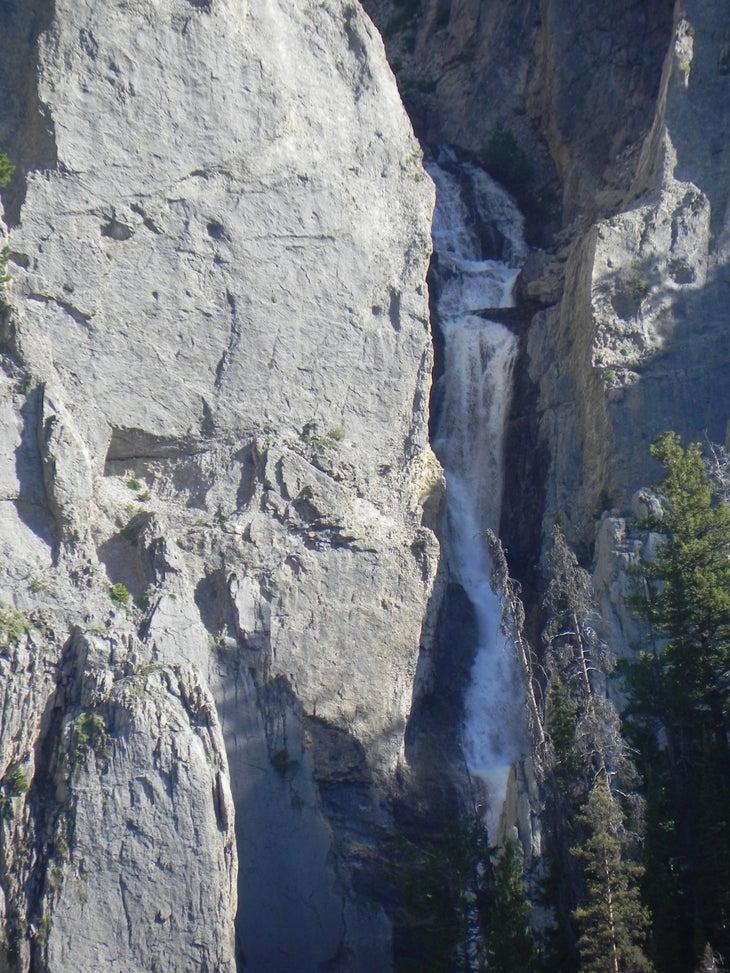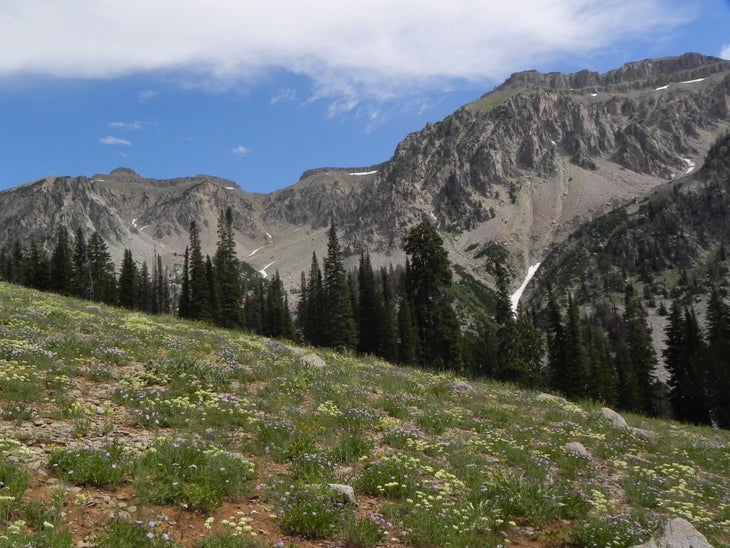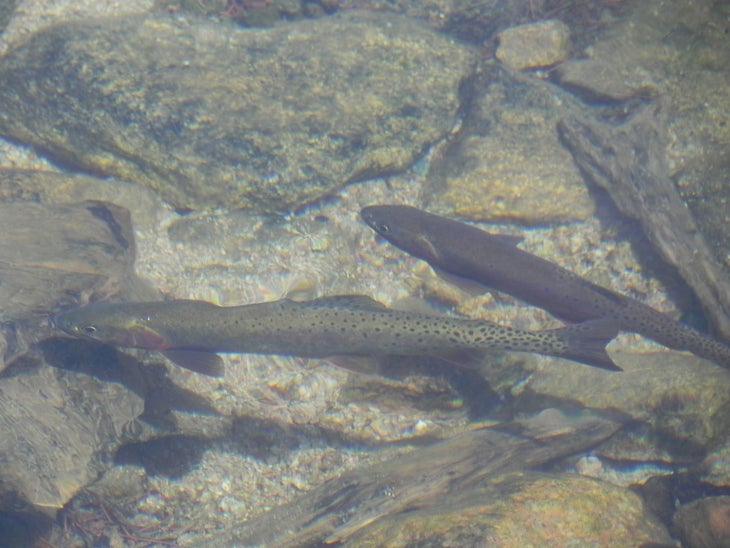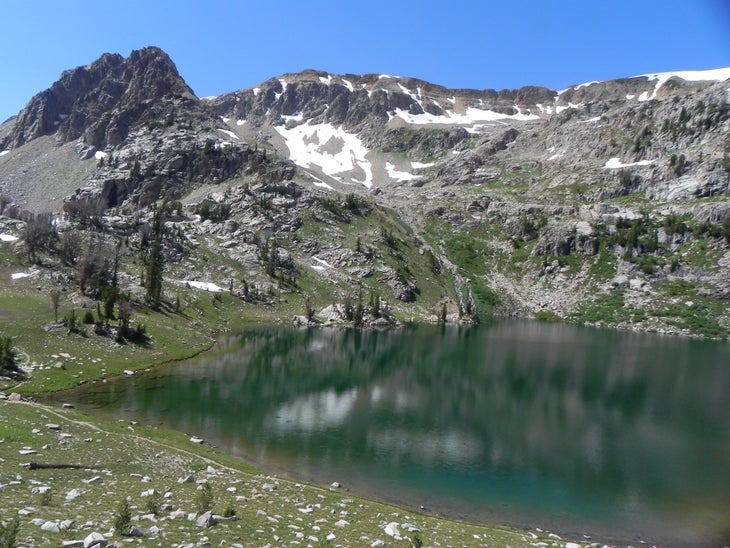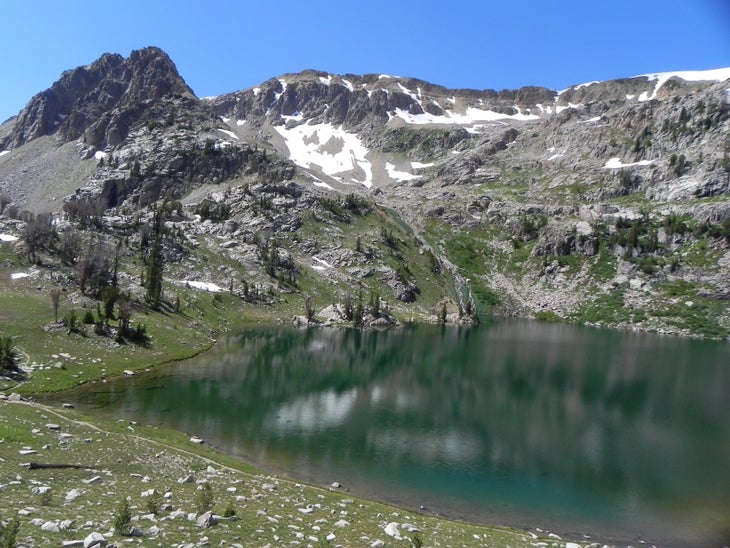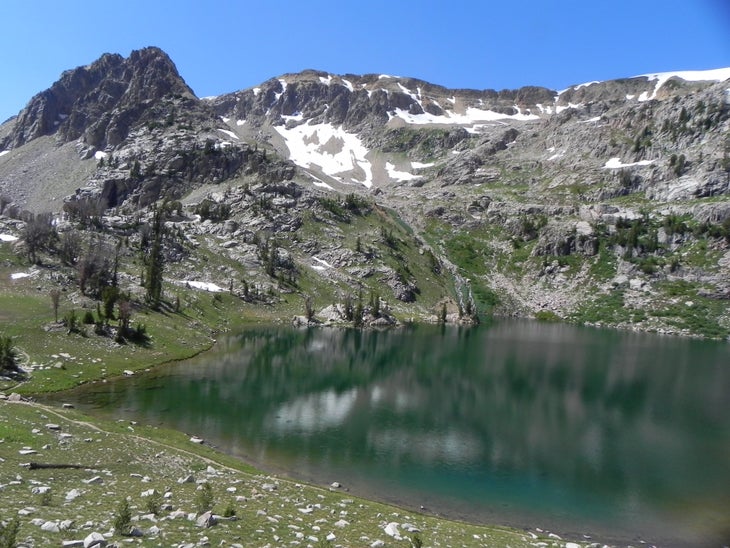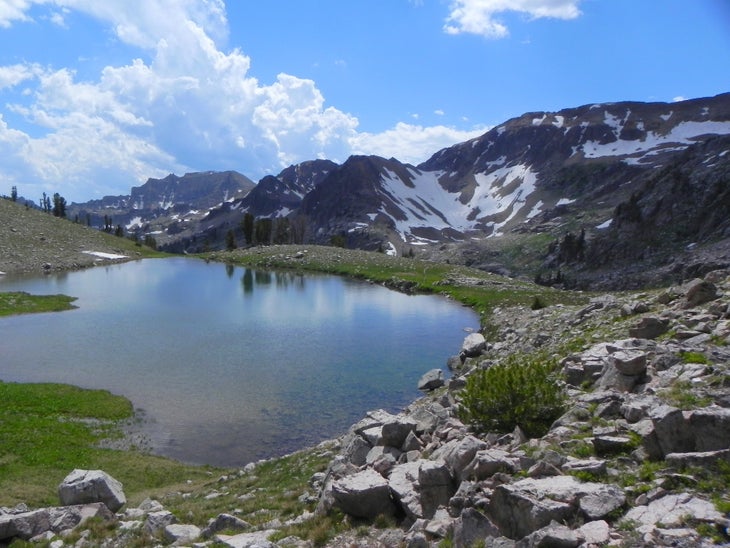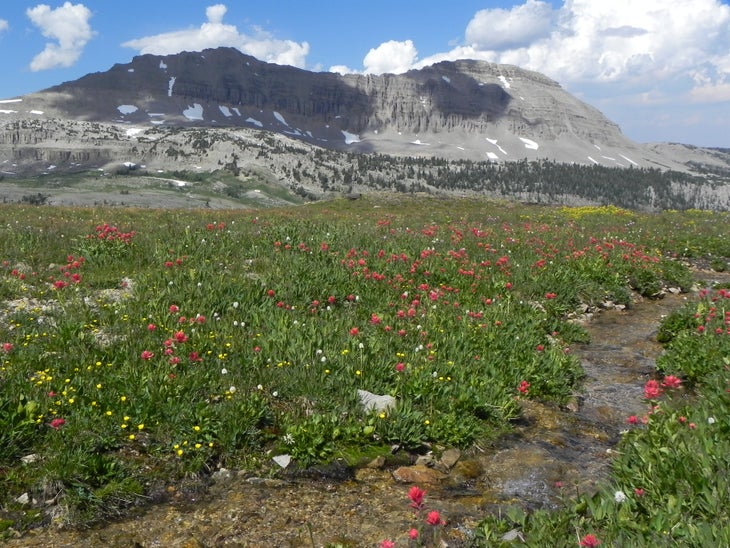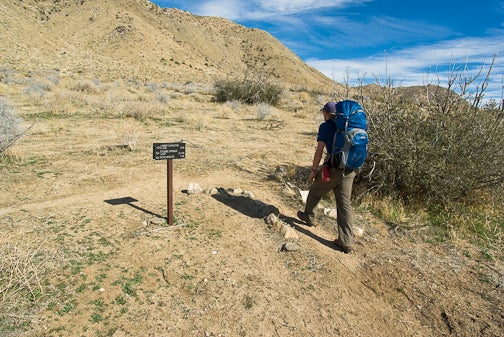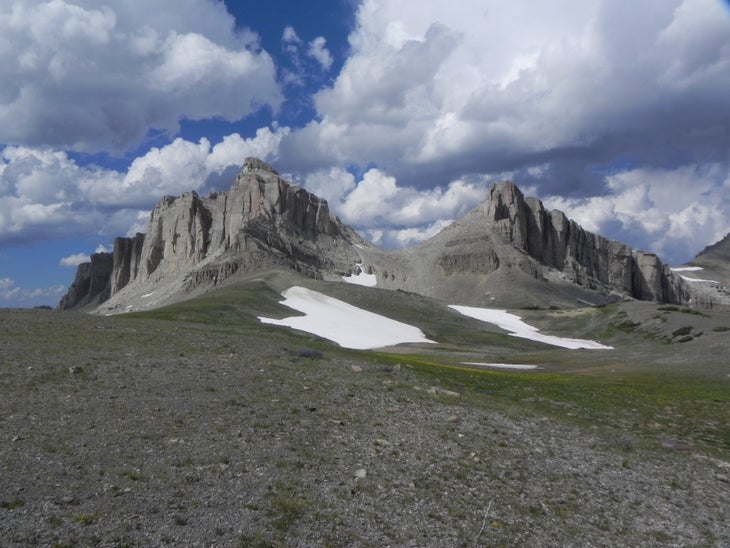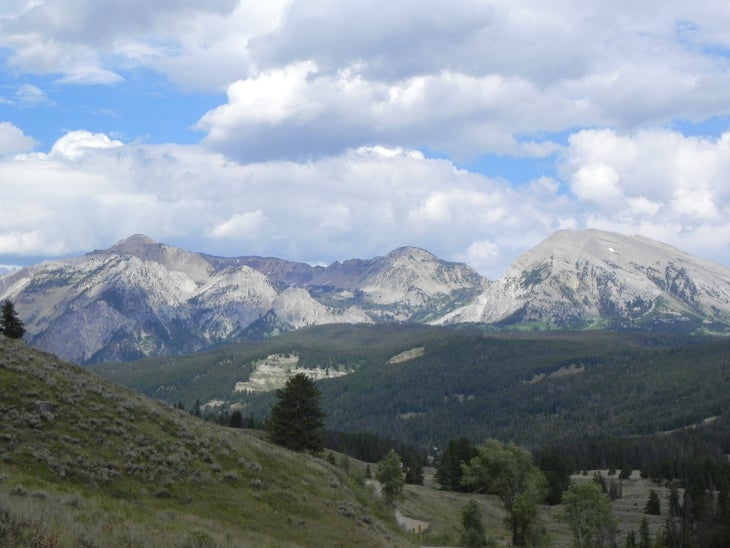 Trail Facts
Waypoints
SHL001
Location: 43.349189, -110.437048
Start the hike at the Swift Creek trailhead.
SHL002
Location: 43.35038, -110.428829
Take the trail that forks to the right, following the arrow on the sign saying "Shoal Falls".
SHL003
Location: 43.348088, -110.430272
A broken sign marks a trail junction. Take a left, following the arrow for "Shoal Lake Trail Junction".
SHL004
Location: 43.340099, -110.411021
The trail passes through intermittent meadows with views of the high Gros Ventre peaks.
SHL005
Location: 43.330199, -110.389953
Cross West Shoal Creek.
SHL006
Location: 43.330557, -110.364787
Crest Deer Ridge, then descend the other side.
SHL007
Location: 43.331862, -110.358219
An old, leaning Gros Ventre Wilderness boundary sign marks your entrance into the wilderness.
SHL008
Location: 43.331349, -110.356404
Unsigned intersection: Stay to the left.
SHL009
Location: 43.333985, -110.353981
A user trail to the left leads to a nice campsite near Shoal Creek.
SHL010
Location: 43.333813, -110.352999
Cross Shoal Creek.
SHL011
Location: 43.333125, -110.3524
Signed intersection: Stay to the left, following the arrow for "Shoal Lake".
SHL012
Location: 43.344792, -110.34413
Cross Shoal Creek above the falls.
SHL013
Location: 43.362011, -110.357526
Cross a small stream.
SHL014
Location: 43.364042, -110.35855
Cross Shoal Creek.
SHL015
Location: 43.369993, -110.360498
Cross Shoal Creek.
SHL016
Location: 43.37514, -110.362886
The trail reaches the eastern shores of Shoal Lake and the outlet creek; continue north.
SHL017
Location: 43.382891, -110.361099
Continue hiking north at the pass connecting the Shoal Creek and Gros Ventre drainages.
SHL018
Location: 43.395225, -110.377364
When you hit a discernible trail, turn left, heading west.
SHL019
Location: 43.394948, -110.382257
At the signed intersection, follow the arrow for Crystal Creek.
SHL020
Location: 43.394988, -110.386114
Take the left fork at the signed intersection, heading toward the Swift Creek drainage.
SHL021
Location: 43.393069, -110.398225
Crest a pass between Swift Creek and Crystal Creek drainages.
SHL022
Location: 43.358021, -110.413773
Cross Swift Creek.
SHL023
Location: 43.351623, -110.428114
A sign pointing to the left says "Shoal Falls"; take the right fork, which leads back to the trailhead.
A meadow in the Shoal Creek Drainage
Location: 43.36993, -110.360155
Meadow beneath Shoal Peak
Location: 43.340107, -110.410827
High Meadow
Location: 43.340196, -110.410087
Chipmunk
Location: 43.33729, -110.400195
A chipmunk munches on a sunflower.
A meadow near the top of Deer Ridge
Location: 43.33061, -110.369468
Campsite by Shoal Creek
Location: 43.334012, -110.353782
Shoal Falls
Location: 43.338944, -110.34977
Palmer Peak in Shoal Creek Valley
Location: 43.351397, -110.348225
Trout in Shoal Lake
Location: 43.375358, -110.363803
You may spot Snake River cutthroat trout in Shoal Lake.
Shoal Lake
Location: 43.376169, -110.36302
Shoal Lake
Location: 43.37698, -110.363417
Shoal Lake
Location: 43.377978, -110.36391
High Alpine Pond
Location: 43.380131, -110.362151
Corner Peak towers over an alpine pond.
Wildflowers below Black Peak
Location: 43.389924, -110.366936
Wildflowers grow in the alpine tundra below Black Peak.
Wildflowers
Location: 43.39086, -110.369811
Indian paintbrush and other wildflowers grow on the high Gros Ventre tundra.
Trail Sign
Location: 43.39496, -110.382171
Trail sign above treeline
Ramparts of Black Peak
Location: 43.394574, -110.384252
West slopes of Black Peak
Gros Ventre High Country
Location: 43.324179, -110.443497
The view from the road that leads to the trailhead.