First Tracks in Chile's New Patagonia Park
It's prime time to visit Patagonia's brand new park—before anyone else even knows it's there.
Heading out the door? Read this article on the new Outside+ app available now on iOS devices for members! Download the app.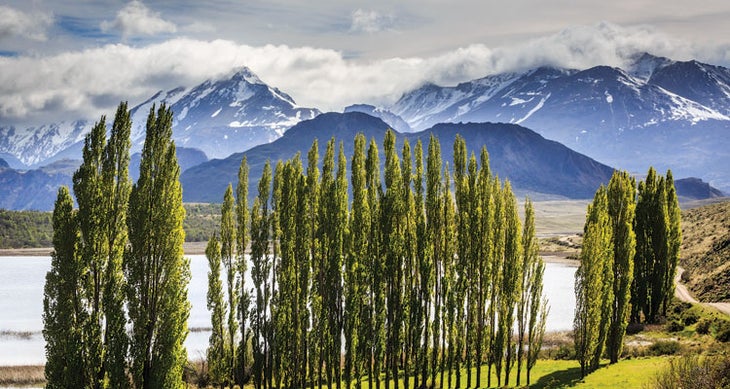 A stand of Lombardy poplars fringes the edge of Lago Cisnes (Swan Lake) near park HQ. (Photo by Linde Waidhofer)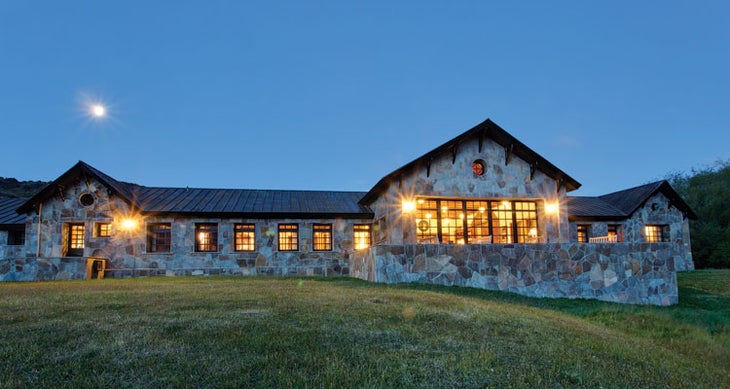 The lodge at Patagonia Park's main entrance is ready for visitors. (Photo by Linde Waidhofer)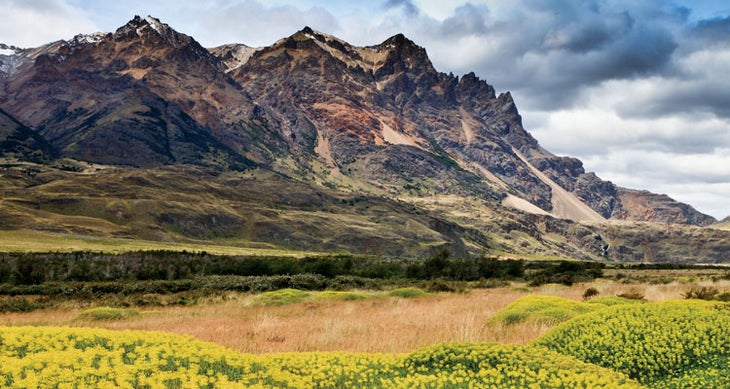 Bright yellow neneo (blooming in spring) line Valle Chacabuco en route to the Cerro Lucas Bridges, a stand of mountains on the park's eastern border. (Photo by Linde Waidhofer)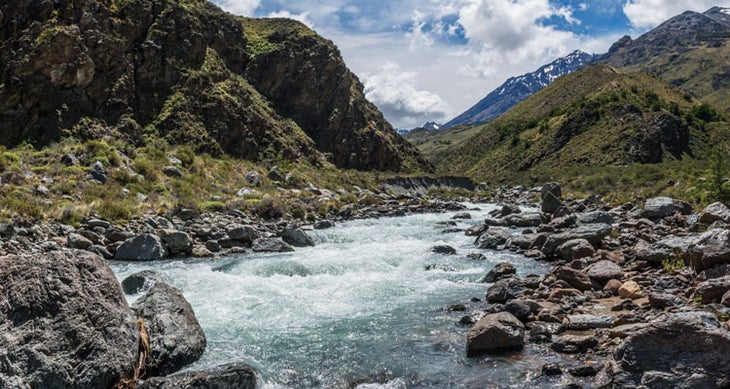 Hike the intermediate trail along this river. (See page 5 below.)
THE FEW PEOPLE WHO HAVE SEEN THIS PLACE talk about it in near-mythic terms. "The edge of the world," said one. "Extraterrestrial," said another. Sure, it felt that way as I bumped down the sometimes rough road from Santiago to the southern outpost of Coyhaique and the (future) home of Patagonia national park. But Would the destination be worth the trip? Firsthand beta is scarce; there aren't thousands of testimonials convincing you to go.
As the bus rumbled toward the park, I wondered if the place would be ready for its soft launch in early 2015 (the height of summer in the southern hemisphere). And then there was a separate question: How, exactly, does private land become a national park?
Chile already has easy-access, world-class trekking. The Torres del Paine, a jumble of Andean mountains shaped like shards of glass, make for a life-list hiking circuit that would excite any backpacker with a passport and a pulse. But here's what you probably don't know: the Torres are just a tiny speck on the country's 2,600-mile-long mountain spine. And as hikers explore new corners, they're ushering in a new era of conservation and adventure travel.
The recent expansion of hiking opportunities has roots in a vision of U.S.-style national parks, led by Kristine McDivitt-Tompkins and her husband Doug Tompkins (an outdoor industry power couple—she the former, longtime CEO of Patagonia, he the co-founder of The North Face). They'd already privately purchased and developed 715,000 acres of temperate rainforests to create Parque Pumalin 200 miles northeast of Coyhaique. They've also transferred two biologically rich properties to the Chilean government for conservation (Corcovado and Yendegaia National Parks).
In 2004, they bought the land for Patagonia Park and, in the last decade, have quietly transformed it from grazing lands back into a wild landscape where native plants and animals flourish amid glaciated peaks, clear rivers, and endlessly rolling hills.
That's what I came here to see—primal Patagonia. After arriving and taking in the newly constructed main office, a wood and stone structure built with understated elegance, I was ready to hike.
My route on the 13.5-mile Lagunas Altas Trail (translation: high lagoons) would take me to the top of a 4,872-foot peak and along a chain of eight lakes high in the southeastern section of the 200,000-acre park. I was far from the dense rainforests of northern Patagonia, but not yet enveloped by the never-ending steppe common to Argentina and southern Chile. Marked with fluorescent ribbons and colored rebar, the trail, like much of the park, was a work in progress.
Before me, a thick band of southern-beech forest spread below the peak of the snowy, 5,600-foot Cerro Tamango. To the northwest, the valley folded into tight, forested crevices, and then emerged in bulbous, misshapen mounds. The other side of the valley could have been 5 miles away, or 30. While I diverted onto an animal path a few times instead of following the barely-there trail, cut boughs and rough bridges kept me mostly on track.
Entering forest, I parted a curtain of lichen bearding old-growth beech trees and stepped into a hushed place with vegetation upholstering the trees and carpeting the ground. Hard to believe this place saw more sheep than people for so long. Now, from where I was standing, there was neither. I wasn't the first one to realize this place's potential.
"You are walking around a park that you have to yourself," said McDivitt-Tompkins, founder and president of Conservación Patagonica, the nonprofit organization created to oversee the park's development. "Just imagine what John Muir felt when he was in Yosemite before it was Yosemite. You are in a place before anybody goes."
Even more so than in the U.S., buying private land to turn over to the government for conservation is unheard of in Chile. And here it generated enormous suspicion. When Tompkins made the land purchases for Pumalin, speculation spread, none of it good and some of it bizarre. Locals accused the couple of creating a future nuclear waste site for the U.S. government, or even a Jewish state.
Of course, none of those fears panned out. The couple simply opened a park, curbed development, agriculture, and herding, and invited locals and visitors alike to share in the place. That allayed local fears, which has made this new project less fraught.
When McDivitt-Tompkins and Tompkins first saw the landscape, worn buildings, and wire fences here in 1993, they were immediately drawn to the area's vast beauty—they could see past the degraded grasslands that resulted from eight decades of sheep farming. In 2002, they heard it was up for sale and knew that Chilean officials had long coveted the 193,000 acres for its biodiversity and strategic location between two adjacent national reserves. To the north is the 400,000-acre Jeinimeni Lake, glaciated and stark, and to the southwest is the Tamango, which harbors the country's largest concentration of huemul, an endangered, short-legged deer adapted to rocky terrain and forests.
In 2004, they purchased the land for $10 million and immediately established Conservación Patagonica with the stated goals of building basic infrastructure, then turning the whole thing over to the government so it can be merged it with the two adjacent reserves into one national park.
Despite the success of Parque Pumalin, the plan wasn't without controversy. Beyond resistance to having an outsider control such a swath of land, some residents feared the local economy would crash, along with jobs and sheep prices, if the historic ranch shut down. McDivitt-Tompkins heard those concerns, but instead of supporting locals through sheep husbandry, she offered a new commodity: wilderness and the management and hospitality jobs that come with it.
At the time of purchase, nubs of coiron grass struggled to regenerate under constant grazing. Nearly 500 miles of fencing restricted wildlife movement. Guanacos, wary of dogs and hunters, maintained their distance, and pumas, the big cats of Chile, were rarely seen. There was a lot to do.
Conservación Patagonica employed more locals than used to work on the ranch, and over the course of four years, sold off the 50,000 head of sheep. Now, nearly all of the fencing has been ripped out. Guanacos give birth near the side of park roads and graze by the lodge. Puma-trackers use tranquilizer darts instead of bullets and collar the cats in the name of science and conservation.
It was just the jumpstart nature needed to re-wild this tamed land.
After 4.5 hours and 3,780-feet of climbing along the Lagunas Altas Trail, I emerged above treeline and onto the bald peak of Cerro Tamanguito. To the north stood the glaciated peaks and snowfields of the Jeinimeni Mountains. Below me were the distinct yellow and coffee-brown landscapes of the Chacabuco Valley I had hiked through. Solitary pyramids jutted out from the plains, while striated masses of earth cut east and west, and round, muscular shoulders of land jutted into the base of mountains where the wide Chacabuco River flowed like a silvery snake.
Surveying all this, I suddenly felt an urge to know everything about it, to peer around a bluff miles away just to know what it was like, to follow the rivers up to their headwaters. In the future, that won't be hard. When I return, I can expect to find an area edging closer to becoming a national park encompassing everything as far as I can see up here, plus the infrastructure that makes hikers feel welcome.
Applying the U.S. national park model, Conservación Patagonica has developed two campgrounds (with 60 tent sites and eight cook shelters), a lodge, a restaurant, and a new visitor center that's scheduled to open in early 2015. There are six trails in place, totaling some 77 miles, and crews are busy planning and cutting more every day.
By 2020, Conservación Patagonica hopes to hand the land to the Chilean government to connect the now-separate operations of icy Jeinimeni and forested Tamango and privately held Patagonia Park to create a 610,000-acre Patagonia National Park, a preserve larger than our Great Smoky Mountains National Park.
Aside from a few more trails and campgrounds, there is not much more to build, says McDivitt-Tompkins. And times have changed in Chile. Contrary to the resistance and suspicion that accompanied Pumalin, there's now wide support from a broad range of Chileans.
But that's for the future. Right now, the park is already accepting visitors (1,500 last year, most of them dayhikers and windshield tourists), and skilled trekkers can find solitude, all the challenging off-trail travel they can handle, plus wildlife, forest, mountains, and glacial lakes galore.
"You go around this area and 99 percent of what you look at has never been climbed, has never been walked up," McDivitt-Tompkins said. "It really is the undiscovered Patagonia."
Do It Fly into Balmaceda Airport in Coyaique, then drive or bus south on Carretera Austral (route 7). Bus ride (around $20) requires a hitchhike for the last 7 miles. Season Summer (January through March) has ideal hiking weather (highs in the 70s, lows in the 50s), but expect strong winds. Permits Not currently required, but all visitors must register. Map El Futuro Parque Nacional Patagonia ($10; mapsforgood.org) Gear Brunton's TruArc-5 compass is equipped with a rare-earth magnet, which keeps true, no matter what hemisphere you're in. $20; 1.8 oz.; brunton.comInfoconservacionpatagonica.org
Land of Opportunity
Only six trails totaling 77 miles? Consider that a blessing. Here's how to make the most of it, no matter your skill level.
Beginner
La Vega, Lago Chico, Lagunas Altas, and the shorter of the two Avilés routes are all established trails ranging from 1.7 miles to 13.5 miles. Each provides dayhikes through the park's range of ecosystems: dry steppes, rainforests, and snowy mountains framed by blue waters.
Intermediate
Hikers with more time and ambition can tackle the Valle Avilés, a 31-mile, one-way ascent north, beginning at the Casa Piedra campground and climbing along the ice-blue river of the same name. Prepare for wet feet: When the trail enters Valle Hermoso, it crosses a braided river more than 100 times. New wooden lean-tos provide shelter along the way (avoid the rundown gaucho shelters).
Advanced
Valle Furioso, in the park's northern area, is the starting point for a challenging, unmarked, several-day loop across rivers (running fast and cold with glacial melt in spring), grasslands, bogs, and glacial passes that eventually travels through Valle Hermoso.