Insider's Guide: White Mountains, New Hampshire
Tips from our expert on exploring New England's biggest alpine zone.
Heading out the door? Read this article on the new Outside+ app available now on iOS devices for members! Download the app.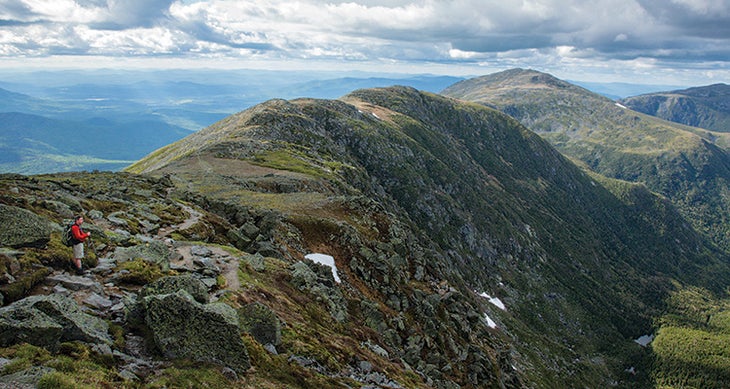 On a clear day, you can see 100 miles from the summits of Mts. Clay and Jefferson in the Great Gulf Wilderness. (Erin Paul Donovan)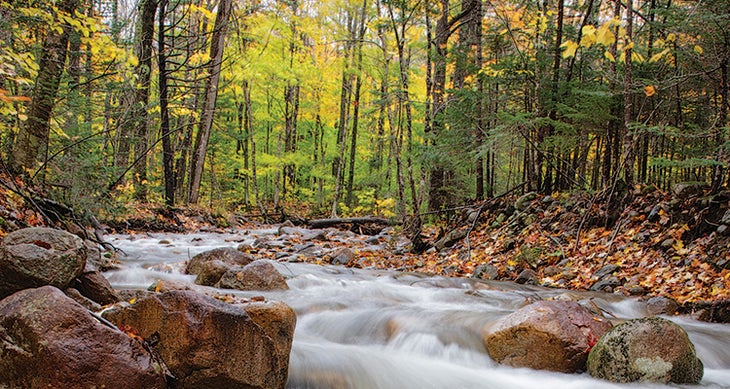 Fall colors decorate Hellgate Brook off the Franconia Brook Trail (Erin Paul Donovan)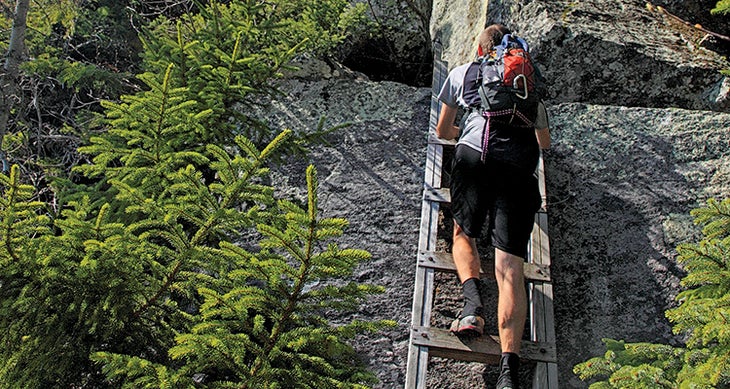 The Six Husbands Trail is so steep it uses wooden ladders. (Tim Seaver)
The Payoff
That moment of glory when you emerge out of the forest to wide-open vistas? Multiply that euphoria by 8,320—the Whites' above-treeline acreage—and you get the East's most viewtastic hiking, across summits clustered close and ripe for the picking. Even the lowlands dazzle, with waterfalls and quiet ponds where moose wade among lily pads. And in fall, swamp maples and other hardwoods erupt into a sizzling display of fiery reds and yellows. Western mountains never throw confetti like this.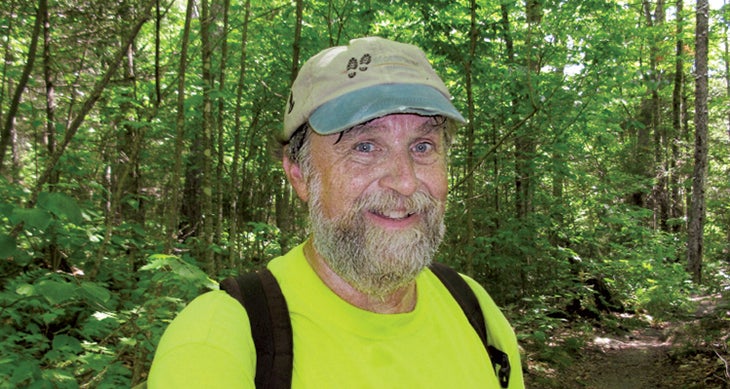 Your guide
Steve Smith, 60, of Lincoln, New Hampshire, owns The Mountain Wanderer (a specialty map and guidebook shop) and co-authored the AMC's White Mountain Guide, which details 1,420 trail miles—all of which Smith has hiked, making him one of about 20 people to have "red-lined" the entire guide.
Let weather rule.
The Whites' summits are often cloaked in clouds. So when seasoned hikers like Smith want to get up high, they scan the weather forecast (bit.ly/MWOBS offers detailed info) for high-pressure systems that usher in the kind of clear, calm skies that let hikers see 100 miles to the Adirondacks. "We call that a Presi Day," Smith says. And when rain won't quit? "That's a great time to visit waterfalls."
Visit Franconia.
If you can do just one hike in the Whites, make it Franconia Ridge, Smith says. Sure, it'll be crowded, but you'll get the Whites' finest vistas: From 5,260-foot Mt. Lafayette, hikers overlook some 30 peaks topping 4,000 feet. Smith loves the classic, 9-mile loop up the Falling Waters Trail and down the Greenleaf Trail (fewer crowds midweek; bit.ly/1014Franconia). For less company, leave a bike at the Greenleaf trailhead, then hike 4.6 miles south on the Skookumchuck Trail, which ascends Lafayette on a lovely, less-used path. Descend 3 miles via Greenleaf and cycle 2.9 miles on a paved bike trail back to your car.
Do the Semi-Pemi
The 32-mile Pemigewasset (or "Pemi") Loop is the pride of the Whites, but Smith recommends this slightly shorter version (25.2 miles) for similar rewards—with a fraction of the traffic. Starting from the Lincoln Woods trailhead, follow the Wilderness and Bondcliff Trails to scale Mt. Bond, one of the Whites' remotest peaks: No roads or buildings mar the views from its 4,698-foot summit. Camp at 4,360 feet at Guyot Campsite ($8), an east-facing perch offering a reliable spring and superb sunrise views from one of the Whites' few high-elevation tenting options. Next day, hike across Guyot and South Twin to overnight at Galehead Hut ($121) or Thirteen Falls tentsite ($8), one of Smith's favorite hideaways. "It's a beautiful spot deep in the Franconia Brook valley with several tiered cascades nearby," he explains. Day three, follow the Franconia Brook Trail 8 mellow miles back to your car.
Basecamp Great Gulf
"It's not shown on many maps," Smith says, "but there are two nice campsites off the Great Gulf Trail that set you up for several awesome day-trips into the Presidentials." From the trailhead west of NH 16, hike 4.5 miles to two sites marked with wooden panels. From this crash pad, hike the Six Husbands Trail (which is so steep, it uses wooden ladders to scale 50-foot cliffs) to tag Jefferson, Clay, and Washington (4,300 feet of elevation gain over 8.8 miles). A shorter loop (3,600 vertical feet, 7.6 miles) uses Six Husbands as a springboard for summitting Jefferson and Adams. Or for an easier trek (gaining 1,150 feet over 2 miles), continue up the Great Gulf Trail to Weetamoo Falls and tiny, evergreen-shaded Spaulding Lake: At 4,228 feet, it's higher than many Eastern summits.
Savor fiery fall colors
In any season, the 8.3-mile Baldface Mountain Loop ranks among the Whites' best dayhikes for its high-alpine views and scant crowds (it's located on the range's eastern edge, farther from the main highways' city traffic). But in late September and early October, the payoff climaxes in a show of fiery colors. "I've hung out for a long time just admiring the view," Smith says. From Baldface trailhead on NH 113 in Chatham, hike west following yellow blazes and turn left onto the Baldface Circle Trail. Once the trail leaves the trees (mile 2.5; camping option here), the route requires scrambling across chunky boulders before gaining 3,569-foot South Baldface, where views extend west to Mt. Washington. Turn right (north), following the ridgeline to 3,591-foot North Baldface, cruise northeast to Eagle Crag, then plunge steeply into the autumn colors to return to your car near the Maine state line.
Trip Planner
Go in October for fall color or June for alpine wildflowers. Get there From Boston, take I-93 N 130 miles to Lincoln. Permit USFS Recreation Pass required for parking at some trailheads ($3/day, $5/week, or $20/year; 603-536-6100). Camping prohibited above treeline, and AMC huts require advance reservations (603-466-2727; outdoors.org). Guidebook AMC White Mountain Guide ($25; outdoors.org) Maps White Mountains Waterproof Trail Map ($10; mapadventures.com); AMC's White Mountain Guide Online ($15/year, outdoors.org) includes GPS coordinates. Contactfs.usda.gov/whitemountain
Reading List
See a slideshow of Smith's book picks.