Insider's Guide: The Grand Canyon
From dayhikes to weekends to weeklong hikes, our Grand Canyon experts will have you ready to hit this natural wonder in no time.
Heading out the door? Read this article on the new Outside+ app available now on iOS devices for members! Download the app.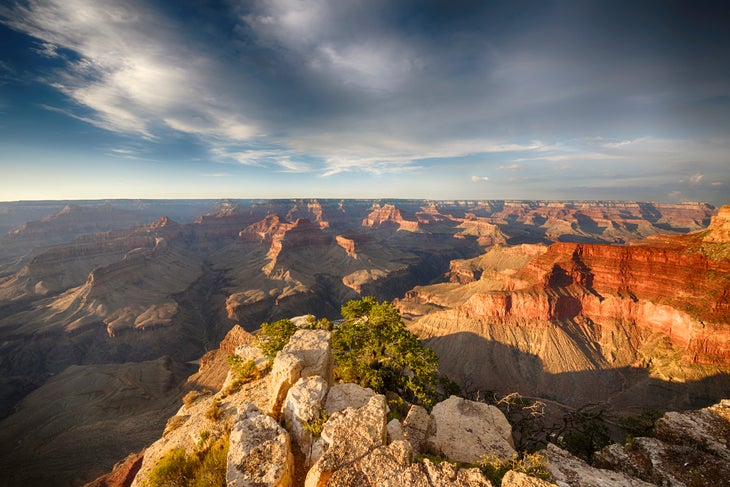 Want to do the Big Ditch right? BACKPACKER is partnering with Wildland Trekking to put on 4- and 5-day guided trips to the Grand Canyon. Learn more or sign up here.
The Best Trails in the Grand Canyon
Dayhike: Widforss Trail This 10-mile out- and-back on the North Rim loses and gains less than 500 feet from start to finish. From Widforss Point at trail's end, gaze down on Wotan's Throne, and Brahma and Zoroaster Temples. Beyond them on the South Rim, you can see the San Francisco Peaks, more than 100 miles away. En route to the point you'll hike through a conifer and aspen forest–beautiful in fall when the leaves are changing. And the 8,000-foot elevation is also great in summer, when daytime temps average 70°F while the canyon bakes like an oven.
Weekend: Grandview/Tonto Trail On this 13-mile, three-night loop hike, you'll circumnavigate the flat-topped monolith of Horseshoe Mesa, which offers panoramic views and creekside camping without crowds. From the South Rim's Grandview Point, descend the steep but maintained Grandview Trail for three miles to Horseshoe Mesa, dropping off the west side to Cottonwood Creek. In 1.5 miles, you'll reach a reliable spring and just beyond that, established campsites. Day two: Take the Tonto Trail east for five miles around the front of Horseshoe Mesa. Head to Hance Creek from the junction with Miners Spring Trail for your second night, then return to the Tonto Trail and climb up the east side of Horseshoe Mesa on Miners Spring Trail. Tank up at the spring and spend your last night dry camping atop Horseshoe Mesa before rounding back to Grandview Point.
Weeklong: Hermit's Rest to Phantom Ranch You'll sample nearly every Grand Canyon environment on this 40-mile route–and cold beer at Phantom Ranch to boot. From the Hermit's Rest trailhead, descend through Hermit Canyon for 7.5 miles to Hermit Creek Campground. Kick back on day two with a 1.5-mile hike to the Colorado River, camping next to roaring Hermit Rapids. Backtrack up Hermit Canyon on day three to the Tonto Plateau and hike east on the Tonto Trail to Monument Creek campsite. Ramble east across the plateau for two days, camping at Salt Creek (in 3.4 miles) and then Horn Creek (9 miles from Monument). Four miles past Horn Creek, intersect with the Bright Angel Trail, where you can cut the trip short by two days and 10 miles by hiking 1.5 miles to Indian Gardens. Spend the night and continue out the next day, or get that cold beer by hiking five miles to the Phantom Ranch/Bright Angel Campground. Back at the Bright Angel trailhead, catch a park shuttle to Hermit's Rest.
Hike Like Harvey
Grand Obsession co-author Tom Myers has spent more than 25 years following in the footsteps of legendary Grand Canyon hiker Harvey Butchart, who trekked more than 12,000 miles through the park and pioneered many new routes. Here are three of his favorites.
Clear Creek to the Colorado River
Starting half a mile north of Phantom Ranch (via the North Kaibab Trail), follow the Clear Creek Trail for nine miles until it reaches the bottom of Clear Creek Canyon. "Harvey discovered you can walk for six miles downstream along the creek [under dramatic Vishnu Schist walls] clear to the Colorado River," says Myers.
Vasey's Paradise "Harvey thought this was one of the most scenic areas of the canyon," says Myers of the spot where a waterfall gushes from a limestone cave above the Colorado River. From the rim of South Canyon (off House Rock Valley Road in Marble Canyon), follow the creekbed seven miles to a cliff above the Colorado, where it descends to a collection of Anasazi and Sinagua ruins.
Wotan's Throne This climb up an inner-canyon butte requires an 80-foot rappel and all-day bushwhack. "Wotan's was one of Harvey's favorites," says Myers, who scattered Butchart's ashes atop the Throne. From Cape Royal on the North Rim, drop down to the Hermit shale (a distinct, sloping bench), then contour to the east face of Wotan's, where a break in the Coconino sandstone offers access to the Throne's upper ramparts.
Key Skills: Scrambling
Negotiate any pour-off with these tips from Grand Canyon guide Sally Underwood.
1. Don't go down or up a pour-off that's five feet or higher while wearing a pack. Lower or raise yours using a 15-foot nylon handline.

2. Use your handline to help your partners up and down slick surfaces if they lack climbing/bouldering experience. Tie off around a boulder or tree, or brace against a stable rock.

3. Beware of black pools. "If you can't see the bottom, they could be a lot deeper and more slippery than you expect," says Underwood. "That's a good way to break an ankle."

4. Wear sturdy hiking boots. Water shoes and sandals don't cut it in places where you need to jam your toe in a crack to get up or down.
Stay Safe in the Grand Canyon
Avoid trouble–and have more fun– with these tips from ranger Bil Vandergraff.
Hide from the sun During warm months (spring through fall) head out in the early morning, late afternoon/evening, or when the path you're traveling is in shadow.
Stay positive but realistic "Inexperienced hikers get to the Colorado River, look up at the rim, and think they can't make it out," says Vandergraff. "If you need to, take an unscheduled rest day. We won't penalize you, and it's better than a rescue."
Back up your hydration system A rock-solid, leakproof, 3-liter hydration system, in addition to two 1-liter Lexan bottles and a 3- to 5-liter Dromedary for dry camping, are a must in this desert environment.
The Best Grand Canyon Photo Ops
Flagstaff photographer Elias Butler has spent more than a decade traversing perilous terrain to get the perfect Grand Canyon shot. Now you can shoot from his favorite spots.
Yuma Point: Reached from the South Rim via a five-mile hike on the Hermit and Boucher Trails, this sandstone lip above Hermit Creek offers one of the most spectacular panoramas of the Grand Canyon and Colorado River. "Always stop down [your camera's aperture] to achieve the traditional landscape that captures everything near and far in sharp focus," says Butler. 
Kolb Arch: Getting to this remote spot requires an all-day, off-trail hike from the bottom of the Nankoweap Trail into an upper branch of Nankoweap Creek below Point Imperial on the North Rim. The reward for the arduous bushwhacking is a rarely seen look at the arch named for the Grand Canyon's first nationally-renowned photographers, the Kolb Brothers. "The best time to shoot this unique feature is before noon, when the sun is hitting the arch," says Butler.