Indianapolis, IN: Monon Rail Trail
It's a multi-use magnet! This 15.5-mile path through Indianapolis has a smooth, paved, and traffic-free surface perfect for an evening ride or family outing--just watch out for runaway rollerbladers!
Heading out the door? Read this article on the new Outside+ app available now on iOS devices for members! Download the app.
This popular urban trail is easily accessible along its entire length, and bisects several other Indianapolis Greenway paths. This mapped route begins at the Monon's southernmost point—10th street just east of I-70—and heads north 15.5 miles through the city of Carmel. In it's southern reaches (below 38th Street) the trail has an industrial feel, passing warehouses before crossing Fall Creek and skirting the Indiana State Fairgrounds. As the trail continues north, it is increasingly tree-lined and passes several residential neighborhood parks and busy, retail hot-spots including Broad Ripple—be sure to stop by the Greenway Foundation Depot on 64th Street for a complete run-down of local bike routes. Continuing north, the Monon Trail passes the Nora Shopping center near mile 9 (use the pedestrian crossing signal at 86th Street) before reaching its official end at 96th Street.
The last five miles of this route follow the Monon Greenway of Carmel, a trail extension that leads into the northern suburb, passing through the town's bustling Main Street business center to a tiny plaza at 146th Street where this out-and-back—and the paved path—ends. Plans are in motion to extend the trail for an even longer round-trip in the years to come.
-Mapped by Swati Gunale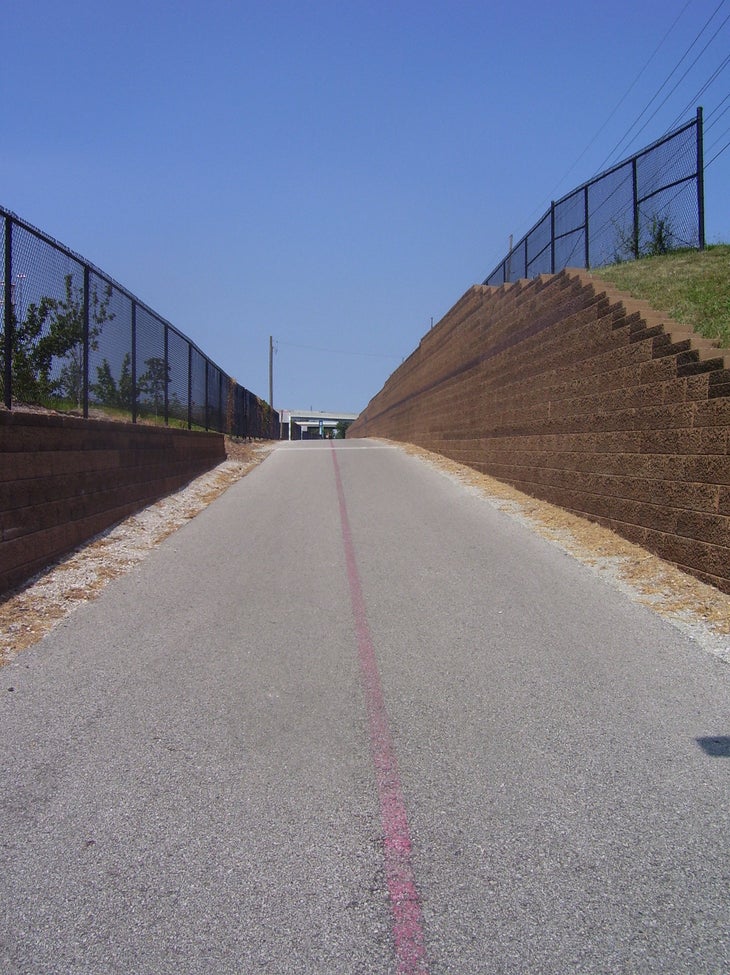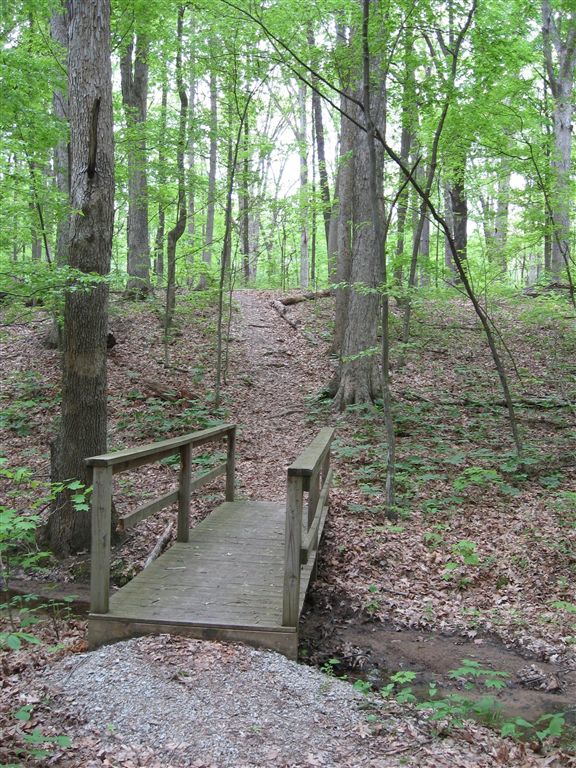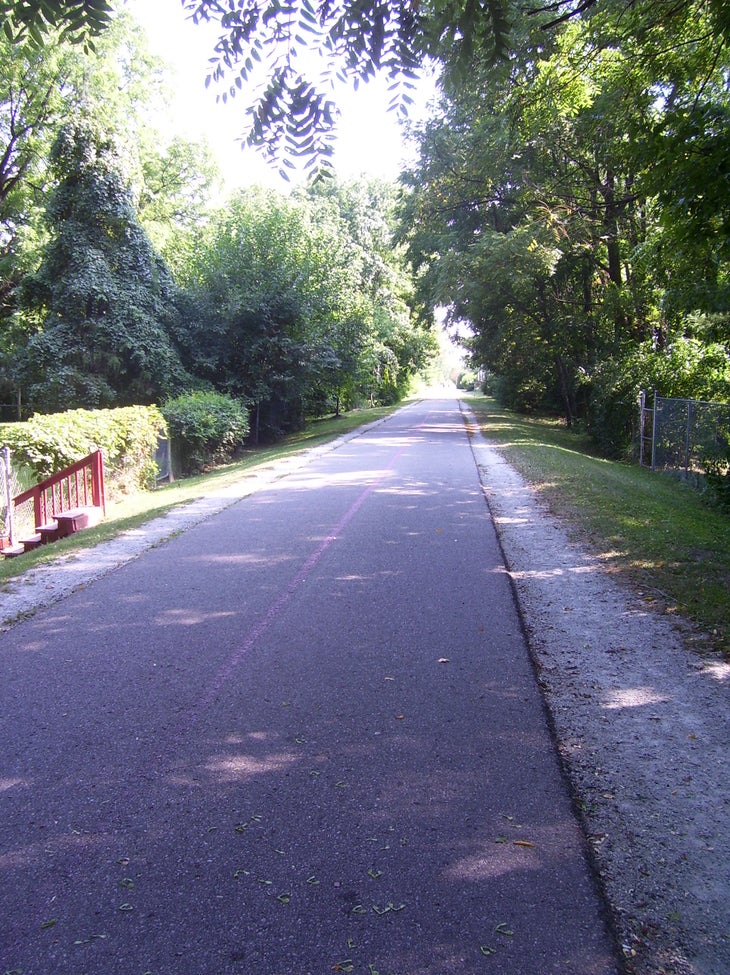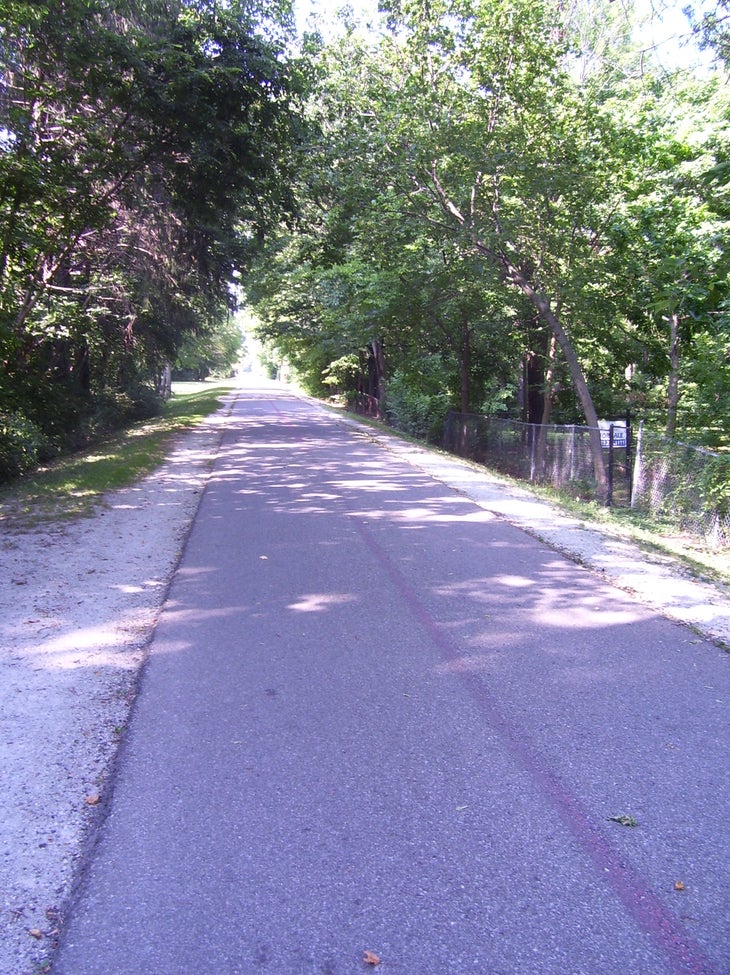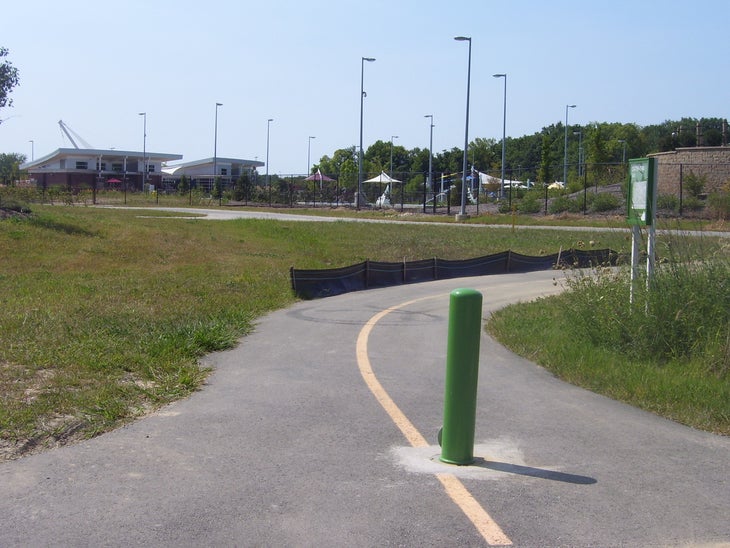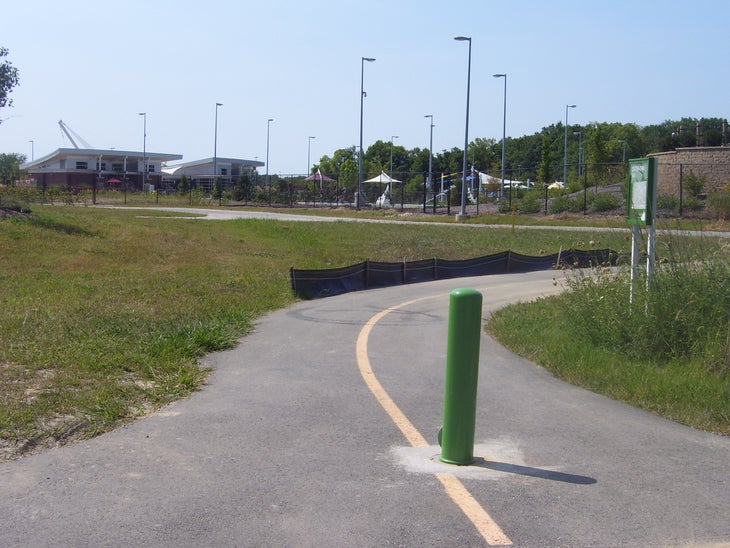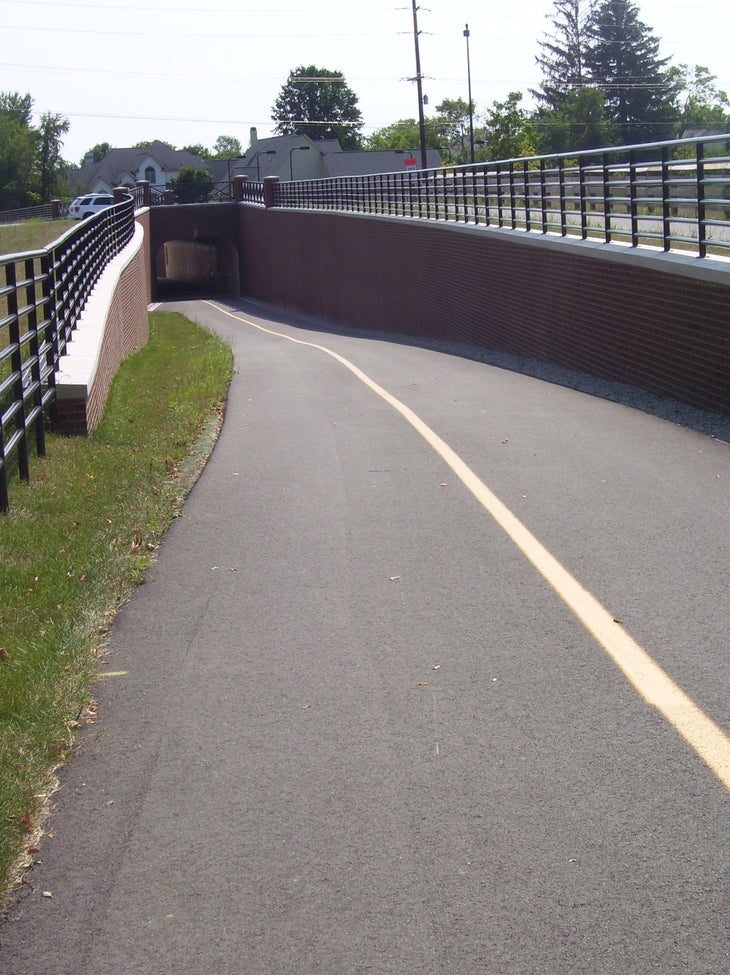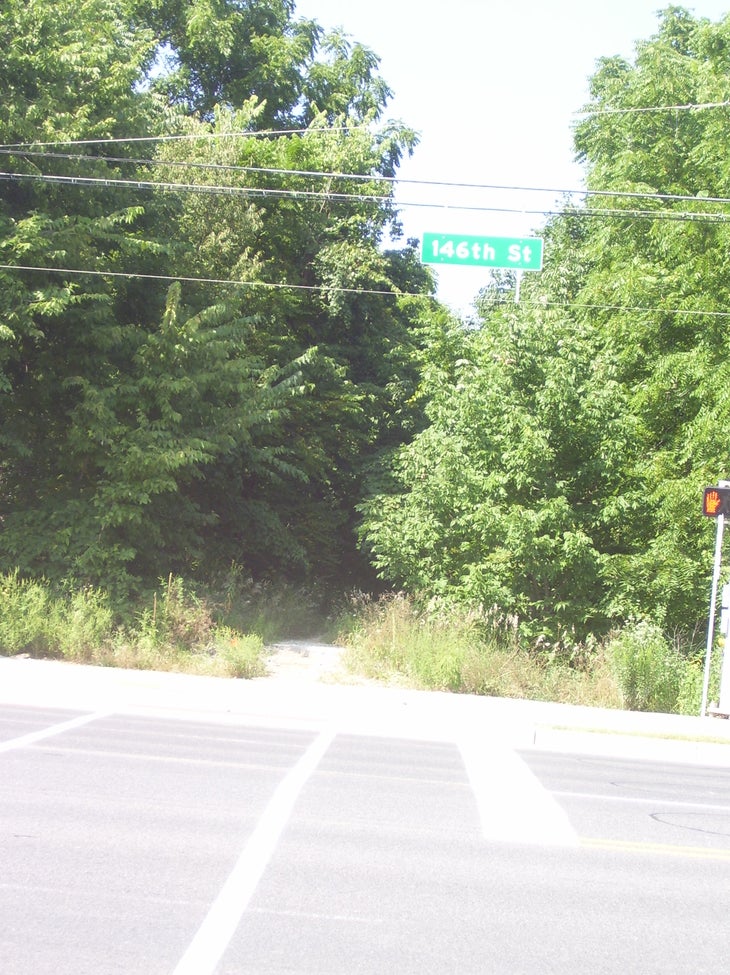 Trail Facts
Waypoints
MRT001
Location: 39.7814164, -86.1401078
The southernmost point on the trail is at 10th Street in downtown Indianapolis. The trail has an industrial feel from this point until it reaches 38th Street.
MRT002
Location: 39.8207335, -86.1368978
The Fall Creek Trail intersects the Monon Trail at mile 2.75, just north of Fall Creek. The Fall Creek Trail is a 6.9-mile asphalt path with a 6.3-mile addition in the works.
MRT003
Location: 39.8255326, -86.1399398
38th Street marks the southwest corner of the Indiana State Fairgrounds, a year-round event venue. The State Fair is held every August.
MRT004
Location: 39.8539356, -86.1405896
The trail cruises through Canterbury Park, a small residential park with several playgrounds and a sand volleyball court.
MRT005
Location: 39.8696275, -86.1412151
Broad Ripple Avenue's namesake neighborhood is host to dozens of restaurants, shops, and bars. This retail center is a draw for roller-bladers, cyclists, joggers, and dog walkers, making the path claustrophobic during peak summer weekends and afternoons.
MRT006
Location: 39.8715066, -86.141843
The Central Canal Towpath heads west from the Monon Trail at mile 6.3. The crushed limestone trail follows the Central Canal for just over 5 miles.
MRT007
Location: 39.872698, -86.1421281
Greenway Foundation Depot. A good resource for more information on the Monon Trail and other area greenways. Across from the Depot is Rusted Moon, a local outdoor retailer popular with backpackers and kayakers.
MRT008
Location: 39.9275004, -86.1363171
The Monon Trail officially ends at this 96th Street parking area and rest stop. There are plenty of parking spaces here, public restrooms and water fountains.
MRT009
Location: 39.9506199, -86.1363139
This area, Central Park of Carmel, hosts a new fitness center, a water park, a skateboarding park and short paved and dirt trails for running and cycling.
MRT010
Location: 39.9576073, -86.1358593
Continue under 116th Street through a tunnel. Note: Until Thanksgiving 2008, construction on the trail's Carmel Drive bridge required a west and northbound detour at this point.
MRT011
Location: 39.9781644, -86.129802
Another retail hot-spot: Restaurants, stores, and galleries along Carmel's Main Street make this a popular (and often crowded) section of the Greenway. Many of the eateries offer outdoor seating, so this is also a great place to stop for lunch.
MRT012
Location: 39.9660196, -86.1295039
The trail skirts Carmel's City Hall near mile 13.5.
MRT013
Location: 39.9927338, -86.1352546
This parking area along Rohrer Road is a great place for north-side trail access. The lot is equipped with water fountains and public restrooms.
MRT014
Location: 39.9997586, -86.1364346
The Monon Greenway of Carmel ends at 146th Street. Plans are currently underway to extend the trail north for several more miles in the years to come.
10th Street Trail
Location: 39.7815142, -86.1400223
The trail heading northbound from E. 10th Street. © Swati Gunale
Bridge
Location: 39.8206998, -86.1369538
The bridge over Fall Creek, just south of the Fall Creek Trail. © Swati Gunale
Wide Path
Location: 39.8485299, -86.1404943
The wide, paved path is a perfect surface for riding, running, or roller blading. © Swati Gunale
Shaded Path
Location: 39.8486452, -86.1405158
Tree cover along the trail keeps it shaded much of the day. © Swati Gunale
Central Park
Location: 39.9504936, -86.136353
Carmel's Central Park area is a recently built center for recreational activities of all kinds (including water sliding). © Swati Gunale
Central Park
Location: 39.9507733, -86.136353
The greenway path cruises through the center of Carmel's Central Park. © Swati Gunale
116th Street
Location: 39.9566455, -86.1362028
The trail dips below ground through a tunnel at 116th Street. © Swati Gunale
Extension
Location: 39.999742, -86.1364388
The trail ends at 146th Street, but someday it will continue north from this point. © Swati Gunale
End
Location: 39.9995612, -86.1364388
Looking south from the end of Carmel's Monon Greenway. © Swati Gunale