Ice Biking: Adventure's (Questionable) New Frontier
Is ice-bikepacking the cutting edge of adventure? Probably not. But being first is always worth the effort.
Heading out the door? Read this article on the new Outside+ app available now on iOS devices for members! Download the app.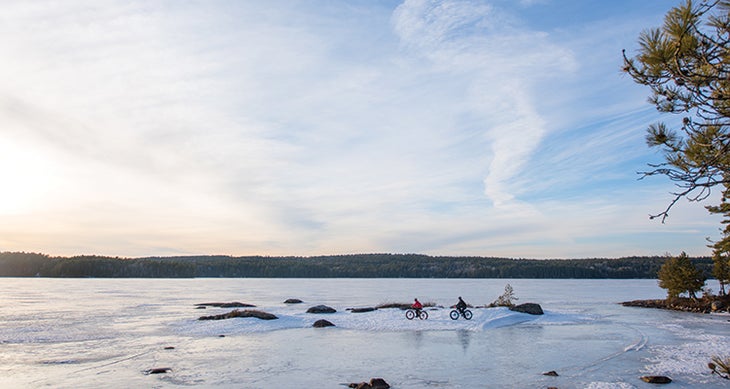 There was no reason to expect the ice would hold our weight.
Not from the scene in Duluth, where the first tanker of the year had sashayed into port the day before we did, heralding the melt. Nor was there any reassurance from the lakes we saw on the way to our starting point, marked as they were with ominous dark sections of open water.
But the three Minnesota boys seem confident. Or at least willing to get wet. I, on the other hand, am not possessed of the same sort of optimistic bravado. Because, man, it is cold, but maybe not cold enough, and as a kid who grew up being warned to stay off always-too-thin lake ice in Connecticut, I'm sketched out about what lies ahead.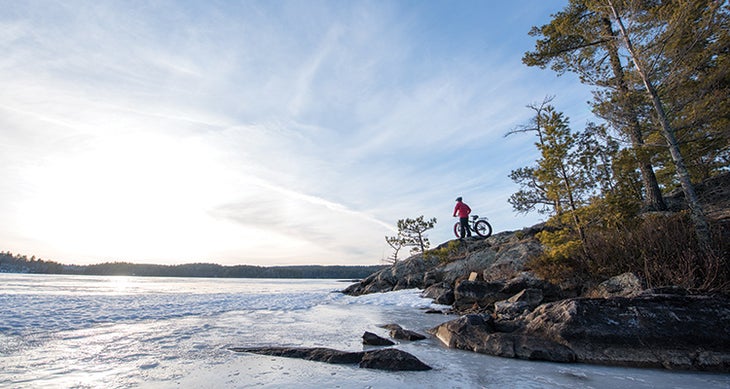 We're standing shoulder-to-shoulder astride our fat bikes 40 feet from the maybe-frozen, definitely freezing water of Bass Lake on a little peninsula of national forest that juts into the Boundary Waters. We look like a phalanx from some Western—if Red Bull made Westerns—ready to bomb into town on 4-inch-wide tires and serve up some justice.
There is always a moment when an idea reveals its true nature, good or bad, and this is ours. Either we're about to become trailblazers in an adventure we'll call ice-bikepacking, or we're going to sink four gear-laden bikes in very cold water. We will know in 40 feet.
"Let's crush this!" says Andrew Bydlon, our photographer, as he rolls forward. The snow crunches as he heads down the embankment, picking up speed.
But at the seam between land and lake the bike suddenly jerks like a balking horse. Bydlon muscles the handlebars to try and straighten 'er out, but his front wheel goes up to the rim in slush and he searches for a way to safely slow his momentum. No sir. Down he goes in a tremendous crash, all arms and limbs and spinning wheels, his head jerking to the side as though he'd been beaned with a water balloon.
"Are you OK?" one of us calls.
"Reaaaarrh" he returns.
"Are you on the ice?"
"Reaaaarrh," he yells, pounding on the ground.
"Is it solid?"
"Reaaaarrh."
If that doesn't seem like the kind of ground-truthing that gets you excited to risk your life pedaling over a maybe-frozen lake, then you will probably live a long life, seat-belted in next to your survival instinct.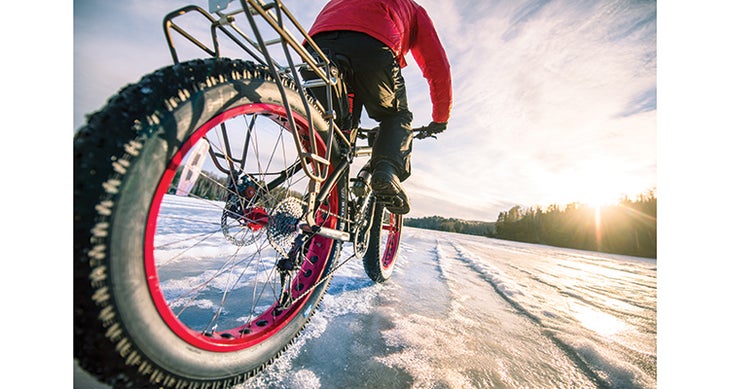 But where's the fun in that?
When a newspaper reporter asked George Mallory why he wanted to climb Everest, he famously answered, "Because it's there."
It was there, he was there, and no one else had been there. That's the stuff history is made of.
But, by and large, history has passed us by when it comes to "no one else has been there." These days, the world is a pincushion of waypoints, wrapped in a cocoon of GPS track logs. Since go-first is gone, for the most part, our options today are to go weird or go fast, and since fast is the domain of semi-sponsored, super-fit mutants, the weird is the only option left for most of us.
So in a way I was primed for Bydlon to walk into my office one day last winter, 90 years after Mallory famously pronounced his reasoning, and speak the words that would launch our epic: "We should go fatbiking."
"Um, why?" I asked.
"Because it's awesome."
"A lot of stuff is awesome," I answered, dismissively. But as I thought on it for a few days, I saw the idea for what it was. We weren't going to just go fatbiking, we were going to take this relatively new sport, and through gumption and geography, turn it into that rarest of things: something genuinely new. Fat-bikepacking, on ice.
Won't you be cold? some people asked. The subzero temps, -60°F wind chill, and long nights were all part of the charm, I'd say. What if you fall through the ice? another asked. We'll be safe, I assured, without thinking it through.
But there was one question that didn't have such an easy answer. My nana said it best when I told her about the prospective trip. After a pause, she asked, "Why would you want do to that?"
Here's what I told her: I thought it would be fun.
OK, maybe not fun like most people define it, but the other kind: periods of suffering punctuated by occasional laughter, with, hopefully, a feeling of accomplishment you don't get from a weekend hike. So-called Type 2 fun.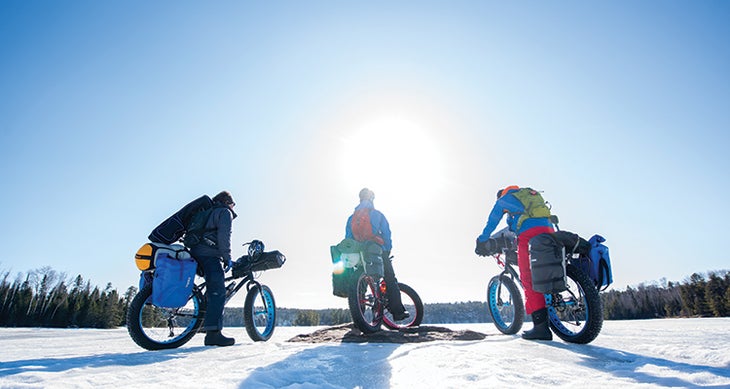 Even if I couldn't explain it, the idea seemed simple enough: Trace the under-the-radar Circle Route, a 30-mile, three-day canoe route in the Superior National Forest, at times less than a mile from the famed Boundary Waters, where mechanized travel is not allowed. We'd cross frozen lakes big and small, camp on islands, shoreline, or the ice. And we'd do it hauling all our gear in the tradition of backpacking and old-school winter expeditions.
This wouldn't be terra incognita, not really. But we coined a new term for this kind of pioneering travel: adventure incognita.
The ice is noisy. It squeals and it whines, and at night, it sounds like a bunch of chatty whales pinging each other endlessly. I can even hear it crunching beneath my fat bike's tires once my breath calms down enough that I can hear anything at all. White creases show where sheets of ice press into each other.
Sightlines are long in ice country, and we can see our campsite a few miles ahead on the tree-lined shore. The ice passes beneath our tires as our confidence builds and balance steadies. (Bydlon's start notwithstanding, the water is sufficiently frozen, so far.)
The Minnesota boys and I glide along, far from the rock- and frosted fir-covered shoreline. We slide into our first campsite at the ice's edge, and I resist the urge to kiss the solid ground. After setting up our four-man tepee, we fire up the titanium woodstove that fits inside, making a 10-foot-tall refuge of baselayer weather.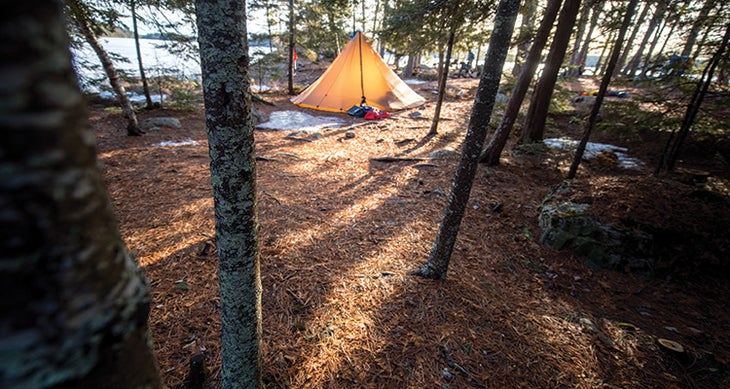 And then something curious happens (yes, after a round or two of Jameson). As though hunting for a victim, a new idea stalks in: We should go ice biking . . . at night. We crunch out under a swirl of stars, nervous breaths making big plumes of steam, into the lake's center. One factor we hadn't anticipated: These lakes see plenty of snowmobile and ATV traffic, and their tracks freeze into raised ridges—like booby traps for mountain bikes, no matter how fat the tires. The trick is to hit the grooves perfectly perpendicular or else the ice gremlins snatch out your front tire.
After a few bruises, we stop and gather. Then a distant crackling gets closer. I look to the others who are looking at me, smiling. "Shouldn't we spread out?" I ask. And then the crack moves right beneath my feet, causing me to take a half-squat "ready" stance while the others laugh. They may be ice-biking rookies, but these Minnesotans know ice: nothing happens. I look to Bydlon. "Crazy, right?" he says, smiling.
That sounds accurate. I'd like to claim some reason for exploring the ice at night, but we are not explorers clinging to the margins of the known, on some holy purpose to drive forward humanity's mastery of the world. Instead, we are adventurers—not even smart ones, it turns out—exploring a new type of fun.
It wasn't always this way, of course. Explorers used to be the opposite of frivolous, employed by kings and queens to literally map—and thereby, change—the world. Later, mountaineers assumed the mantle of "serious adventurer." First ascents mattered. But then the tide turned, revealing an increase in risk for diminishing returns of glory. Just look at how we stack on modifiers. Take Denali: First ascent (1913), first solo ascent (1970), first solo ascent in winter (1988), first solo ascent in January (2015). We can go on and on until others think we're twisted seekers of our own doom, a suicide tribe looking for silly ways to die.
This is a good time to introduce our little outfit, none of whom has a death wish. We have Bydlon, whose four words launched four men and 300 pounds of gear-laden fat bicycles. There's Tom, Bydlon's childhood friend and co-troublemaker, who's got a quiet intensity to him.
The final Minnesotan is Jim, Tom's genial father who's never short of words and solid, salt-of-the-earth instructions, and the only one of us who's ridden a fat bike before. Jim embodies everything you think you know about Minnesotans: funny accent, easy going, straightforward.
To the Minnesota boys, ice is home turf, the stuff you drive a car over on the way to a fishing hole. They jumped at the chance to use the ice in a new way. Though Jim hasn't camped in years, he's as happy as if you took him to Yosemite in summer, probably happier.
Fortunately, his relaxed vibe rubs off on the rest of us—even as we continue to see signs of thaw. In the morning, after packing back into our panniers and pushing off, the ice cracks terrifyingly beneath our tires. At the summer route's portages, we ride through the woods, gathering way more speed than is safe.
The most defining characteristic of ice biking, though, turns out to be the full-body tension called up by the battle against the ice gremlins. Between riding past frozen-over fishing holes, the constant cracking, and the ice ridges that drop us like snipers, my body gets so clenched it'd deflect a bullet.
Bicycling over ice, even with 4-inch-wide tires, is like being in a very slow-speed accident. Crashing is a matter of when, not if (even Jim goes down). Here's how it happens: An obstacle appears up ahead. You think, I'll just steer a little left to avoid it. But devoid of traction on the front tire, you cannot actually steer. You think to yourself, I should bail, but your rubber boot sole can't grip any better and you slip, fall, crack your knee, and lie prone, staring at the sky and building up the will to hoist the bike and throw your leg over it again. Meanwhile, your companions' response turns from laughter, to asking if you're OK, to ignoring you altogether, and back to laughter, but the exhausted kind.
Which is why relief comes so completely when the second day delivers us to the tiny speck of Tee Lake and a bluff-top campsite. The ice reflects the advancing sunset as far-shore shadows lengthen over the expanse. We can't say we're the first to camp here in the wintertime, but right now, it sure feels that way.
In 1971, soon-to-be-world-famous alpinist Reinhold Messner wrote an essay he titled "The Murder of the Impossible," decrying the use of new equipment and thuggish techniques (rather than the elegance of skill and judgment) as somehow cheating history, mankind, and the mountains themselves. His protest was keen—but ultimately doomed. We, collectively, wrestled the impossible into submission. (Just ask the 80-year-old who summited Everest in 2013 or the double amputee who did it in 2006.) The only limit of possibility became the imagination (see: ski-BASEing). Everything is possible with gear and determination.
We pedal along little inlets and open ice, connecting bodies of water by riding the portages. The spring-like conditions make for comfortable temps and sun-bright skies that keep our fingers and toes happy all day. We pass pocket campsites carved out of clearings and walk our bikes past small sections of open water in the narrow straits between lakes. We mostly stop caring about all the falling—it's just part of the routine—and simply enjoy the semi-frozen scenery and remarkable solitude.
We also enjoy something else I hadn't anticipated: Let's call it the first-time filter. Everyone remembers his or her first kiss, first solo night in the woods. We don't know what to expect and that changes our perception. It perks up the mind, breaks it out of that semi-trancelike state we spend our commutes and trips to the supermarket in, and causes it to write grooves deeply into our brains.
By the time we pedal back to the car, we're weary and pretty banged up. And we are pioneers back from the unknown. We can see that written in the faces of passersby in cars. Their wide eyes and raised eyebrows betray their thoughts: I didn't even know you could do that.
Yes, next time kneepads, studded tires, and definitely double the whiskey, but total preparation is for the second time. Though it sounds trite, you can only do something first once, no matter how much you wish you knew then what you know now.
So get out there and find your first. And good luck explaining yourself.
Senior Editor Casey Lyons just embarked on his next life-changing adventure: parenthood.