How User Fees are Saving Wilderness
Go ahead and complain about admission in national forests—just remember what they do for the wilderness you love.
Heading out the door? Read this article on the new Outside+ app available now on iOS devices for members! Download the app.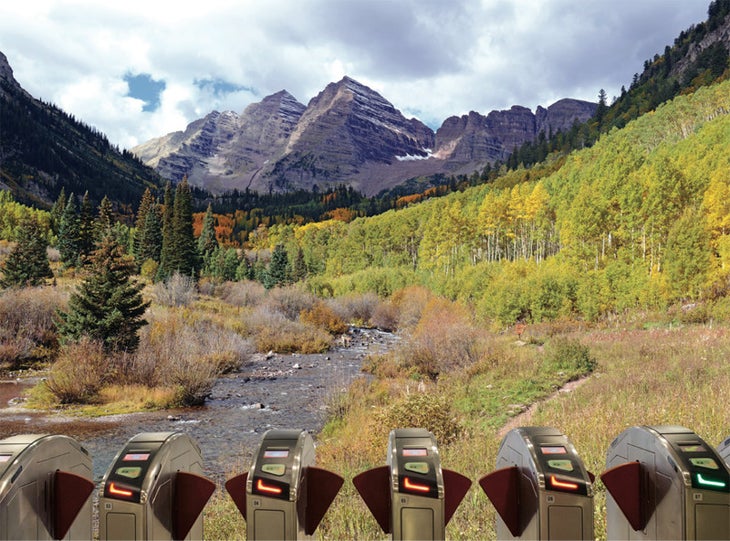 I stared at the trailhead kiosk with disgust. Ten dollars? Just to park near the Maroon Bells in Colorado's Elk Mountains? I would have gone to a national park if I wanted to pay an entrance fee. I shook my head in disbelief and reluctantly stuffed a tenner into the box with my self-issue permit.
A mile down the trail, I'd all but forgotten my trailhead tantrum. The weather was sublime, the views were unreal, and the trails? Well, they were perfect. Five sections of paths near the Bells had been destroyed by mudslides the year prior, which, for a place as popular as this, could have been disastrous—but fee-funded trail work had rendered the damage imperceptible. When I finished my two-night trip, I cleaned up in a trailhead bathroom powered by a hydroelectric unit, compliments of visitor fees. That summer weekend became a story about high mountain passes and utopian lakeside campsites—not water-logged footpaths, downed trees, and broken facilities.
The Maroon Bells aren't alone. Payment boxes are sprouting up at formerly fee-free trailheads all over the country. In the Pacific Northwest, fee envelopes have become more common than mustaches and flannel following the Forest Service's recent decision to require payment at all developed trailheads. The BLM has followed suit, converting dozens of trailheads across Utah, Nevada, and California into fee sites. Even the national parks, which have never been free, are getting in on the action—entrance fees went up at some 130 NPS sites last year.
So why now? It's not like the wildlife unionized and has demanded better wages. In short, wildfire. The cost of fighting fire is increasing at a time when government budgets are smaller than ever (thanks to the recession). Non-fire Forest Service personnel have decreased by 39 percent over the past two decades, creating a backlog of maintenance projects.
Land managers have few options when the belt tightens. They can shutter parks completely, at least for short periods, like California and Washington announced (but never followed through on). Or, like in Wyoming's Wind River Range, managers can resist introducing fees and instead opt to cut back services. At a time when the Winds are more popular than ever, many trails—like the Europe Canyon and Shannon Pass Trails—have become an indecipherable maze of brush and downed timber. This reduces the number of destinations available to backpackers, contributing to the overuse of popular areas like Titcomb Basin. More and more boots are finding fewer and fewer trails to tread on.
It doesn't have to be that way. In places all over the country, fees are making a difference. At Washington's Mt. St. Helens, they fund visitor centers and interpretive programs. In Moab in Utah, they're expanding trailhead parking and improving signage. And in the White Mountains of New Hampshire, fee-funded backcountry rangers are enforcing regulations and improving public safety.
Nobody likes paying for things that used to be free. When you slide an envelope of cash into that brown metal box, it might feel like you're dropping money into a black hole. But you're not. You're investing in rangers and trail crews, saws and Pulaskis. That money is overhauling reservation systems, managing permits, and maintaining campgrounds. Above all, it's ensuring that the places you love stay the way they are.
At $10, that's a steal.