Hot Springs: The Perfect Pool
Here are the top wilderness soaks on the continent. Can you keep a secret?
Heading out the door? Read this article on the new Outside+ app available now on iOS devices for members! Download the app.
Hotspring Island | Sespe | Yellowstone | Turkey Creek | Skillern/Big Smoky

Soak Here Now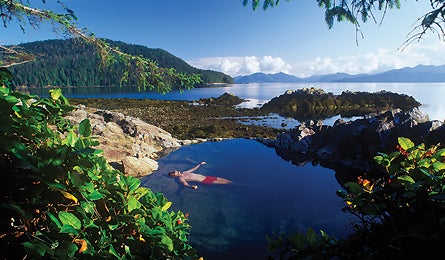 Soaking–the act of doing absolutely nothing while sitting in a natural hot spring–is an art. A true backcountry spring-bobber seeks immersion not just in hot water, but in the very wild nature of a place. You sit. You sweat. You listen to the river rushing by. But the art form isn't entirely passive: The best pots are often the hardest to reach, making a truly great hot springs sojourn an excuse to explore some of the remotest wilderness areas in North America. Here, we offer the top five springs on the continent, plus six bonus soaks for families, mountain bikers, even scuba divers.
Paddle to Oceanside Solitude

Hotspring Island

Gwaii Haanas National Park Reserve and Haida Heritage Site, Queen Charlotte Islands, British Columbia

Okay, so there's no Ricardo Montalban or Hervé Villechaize waiting to greet you, but Hotspring Island is nothing if not a fantasy waiting to happen. At Gandll K'in Gwaay.yaay (what the local Haida call it), you can soak in the springs on an empty beach surrounded by pristine coastal-mountain scenery while a pod of orcas swims by.
The island, a part of Gwaii Haanas National Park, is remote–450 miles north of Vancouver and 75 miles off the mainland–and most visitors pay for a puddle-jump plane ride from the town of Sandspit on nearby Moresby Island. To get there under your own power, you need a kayak, an understanding of tide charts, and the expertise to paddle some of world's roughest waters. It's a four-day, 40-mile paddle to these pools on Gwaii Haanas's eastern shoreline.
Ranging in temperature from a skin-peeling 130°F to a merely muscle-melting 107°F, the pools on Hotspring Island lie below rocky hills covered in Sitka spruce. Steamy thermal meadows are filled with monkey flowers. On the horizon, the peaks of Moresby Island's San Christoval Mountains rise like lazy humpbacks into the sky.
Pull your kayak ashore and walk to a modern longhouse where Haida Watchmen co-manage their native lands in a unique arrangement with the federal government. Then submerge yourself in water considered sacred by the Haida for centuries. Nestled among the broad leaves and purple berries of salal bushes, the main pool fits a dozen and is carved into the rock behind the Watchman's house. Or you can slide into the seven-person cliff pool, perched in the rocks above the beach. The best tub is right in the surf, overlooking Juan Perez Sound, where you might see those orcas, or a school of wave-hopping Pacific white-sided dolphins.
Camping at the pools is restricted, so plan to soak and then jump back in your boat for a half-hour paddle to Ramsay Island, where tenting is permitted. Spend the next few days paddling south into bio-rich Burnaby Narrows, often referred to as the Galapagos of Canada. Camp on Burnaby Island and wrap back around the eastern edge of the islands, exploring several traditional Haida village sites on your way back to Moresby Camp–or pre-arrange a floatplane pickup anywhere along the way. Getting There Gwaii Haanas, which translates to "Place of Wonder," is not easy to reach. Paddlers often book a floatplane from Sandspit to Hotspring Island. The Gwaii Haanas Tour Operators Association pairs paddling, sailing, or floatplane outfitters with travelers. (888) 877-1770; placeofwonder.com
Info

Gwaii Haanas National Park Reserve and Haida Heritage Site, (250) 559-8818; pc.gc.ca/pn-np/bc/gwaiihaanas/index_E.asp. Gwaii Haanas caps visitors at 300 per day for the entire park, and only 12 visitors are allowed on Hotspring Island at one time. Make reservations early (call Super, Natural British Columbia, 800-435-5622 beginning in February), and expect a mandatory orientation when you register at the Haida Heritage Centre in the town of Skidegate, near the Sandspit Airport. Study up on the region with Kayak Routes of the Pacific Northwest by Peter McGee ($15, The Mountaineers Books).
Season

The park is open all year, but the best times to avoid crowds and have relatively good weather are April through mid-June and September. Skip high season (July to mid-August), when Gwaii Haanas can be overcrowded with groups waiting to visit the island.
Hotspring Island | Sespe | Yellowstone | Turkey Creek | Skillern/Big Smoky

Soak Here Now
Hotspring Island | Sespe | Yellowstone | Turkey Creek | Skillern/Big Smoky

Soak Here Now
Sespe Hot Springs

Sespe Wilderness, California

Not far from the skate parks in Ventura sits a lonely, boulder-strewn valley patrolled by circling condors and peppered with bubbling springs. Put aside your Tinseltown stereotypes: This is raw, unspoiled country. The Sespe is the last free-flowing river in Southern California. The 219,700-acre wilderness, which also encompasses the 53,000-acre Sespe Condor Sanctuary, is the heart of the largest core of roadless land abutting a U.S. metropolis.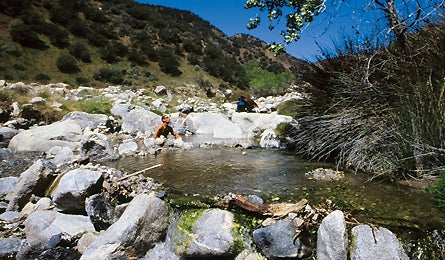 The 18-mile hike to Sespe Hot Springs starts at the Piedra Blanca Trailhead and climbs over smooth river stones, past numerous cool-water swimming holes (sometimes filled with steelhead trout), and shapely sandstone cliffs. Do it in one long day or two shorter ones, stopping to camp at 8.5 miles near 108°F Willett Hot Springs (which can be crowded on weekends). Claim the first-come, first-served cabin or one of a dozen free tent spots, and tackle the next 10 miles the next day. By the time you reach Sespe's pools you'll be ready for another soak. Just remember that these waters top out at 190°F: It takes buckets of runoff to cool them, but once they're bearable you can float until you prune, watching resident bighorn sheep that often graze nearby.
Getting There

From Ojai, go 25 miles north on CA 33 to the Rose Valley turnoff. Turn right, and drive until you reach the Piedra Blanca Trailhead. Sespe Hot Springs UTM: 11S 0316774E 3830569N
Info

Ojai Ranger District, Los Padres National Forest. (805) 646-4348; www.fs.fed.us/r5/lospadres. For the best route, consult the Sespe Wilderness Trail Map ($9; tomharrisonmaps.com).
Season

Spring, when streams are running and fairy dusters bloom on the hillsides. Winter's good too, as long as the road isn't closed due to snowfall. Fall can be perfect: crisp or beautifully balmy. Summer's just too hot.
Hotspring Island | Sespe | Yellowstone | Turkey Creek | Skillern/Big Smoky

Soak Here Now
Hotspring Island | Sespe | Yellowstone | Turkey Creek | Skillern/Big Smoky

Soak Here Now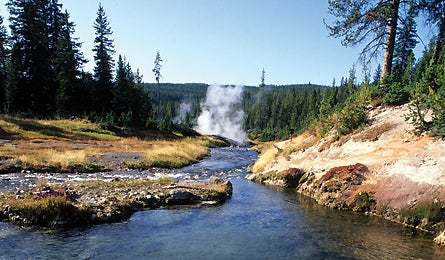 Swim in Yellowstone's Steamy Rivers

Ferris Fork and Dunanda Falls

Yellowstone National Park, Idaho/Wyoming

Hot springs form when molten magma heats underground water, so it makes sense that the highest concentration of geothermal spouts in North America would surface above the 300-mile-wide ocean of magma that is Yellowstone National Park. While most of Yellowstone's boiling baths are off limits to soaking (with good reason–they're hot enough to cook dinner), Dunanda Falls and Ferris Fork mix with creek water, making them fair–and NPS-approved–game.
You won't find much company among the belching geysers and grizzly dens of Bechler River country. Located in the southeast corner of the park, it requires a 26-mile dirt-road drive from Ashton, ID, just to get to the Bechler Trailhead. From there to Ferris Fork, it's a 15-mile walk along the roaring Bechler River through dense stands of lodgepole pine that give way to the steep walls of Bechler Canyon. You'll pass 12 raging drops (some slightly off-trail) that pour into the Bechler River, including funky wonders like Ragged Falls, named for its chaotic 5-foot tumble, and Twister Falls, which–you guessed it–coils downward along its 55-foot flume.
Day one ends with a short detour through Bechler Meadows to 150-foot-high Dunanda Falls. Take your pick from several soaker-made pots (averaging 110°F) and camp in your designated site for the night. Make it a hot springs doubleheader by trekking back to the Bechler River Trail and following it six miles northeast to Three Rivers Junction (where the Phillips, Gregg, and Ferris Forks converge). An obvious user trail leads to a steaming pool hidden along the banks of the river. Continue upstream to splash in cascading beauties like Gwinna Falls and Sluiceway Falls, and spend your second night just downstream of Three Forks, near sloping, 260-foot Albright Falls.Getting There The Bechler River Trailhead is at the end of unpaved Cave Falls Road, 26 miles from Ashton, ID. Dunanda Falls UTM: 12T 0498137E 4899394N Ferris Fork UTM: 12T 0590482E 4903815N
Info

Reserve campsites at Yellowstone Backcountry Office, (307) 344-2160; nps.gov/yell. Backcountry permits must be obtained no more than 48 hours in advance, in person. Use the Trails Illustrated Yellowstone National Park map ($10; maps.nationalgeographic.com). Season Year-round. Bechler River country has fantastic ski-touring (though it'll tack 10 miles onto your trip because the road isn't plowed). Avoid spring, when rivers bulge.
Hotspring Island | Sespe | Yellowstone | Turkey Creek | Skillern/Big Smoky

Soak Here Now
Hotspring Island | Sespe | Yellowstone | Turkey Creek | Skillern/Big Smoky

Soak Here Now
Soak in Aldo Leopold's Favorite Pool

Turkey Creek Hot Springs

Gila Wilderness, New Mexico

If Turkey Creek was good enough for Aldo Leopold (a reported hot springs enthusiast who roamed this region while dreaming up the idea of federally protected wilderness), it's good enough for you. On a map, the four-mile stroll to Turkey Creek looks deceptively simple. Don't be fooled. This challenging scramble plunges you through multiple creek crossings in a canyon that has no maintained trails. What it does have is a diverse mix of flora and fauna: The Gila Wilderness, where the Chihuahuan and Sonoran Desert ecosystems slam into the tail end of the Rockies, is uniquely biodiverse. Expect to see everything from shambling black bears to scurrying javelinas to Mexican wolves on the prowl.
The Turkey Creek hike starts out innocently enough, with the main trail unfolding along Turkey Creek for two leisurely miles. But once you pass Skeleton Creek, things get confusing: The path splinters into a maze of user trails with cliffs rising up both sides, slickrock traverses, and mandatory brisk-water wading. What's more, there's no guarantee you'll even recognize the springs when you reach them. Spring floods obliterate the rock-walled tubs that soakers often build. But the camping is plentiful, unregulated, grassy, and tucked in the trees. Several pools dot the creek, and a large swimming hole fills with hot springs runoff, making it a perfect all-day-dunking temp. Ready for more hiking? Backtrack down Turkey Creek and hit theTurkey Creek Trail before heading north another 22 miles into the secret valleys and ponderosa-filled forests of the Mogollon Mountains. Connect with the Little Creek Trail, and follow it 12 more miles to the ruins of the Gila Cliff Dwellings National Monument (where you can leave a shuttle vehicle).
Getting There

From the town of Gila, follow Turkey Creek Road north until it ends at the Gila River. Wade the Gila to the Turkey Creek Trail (#155). Hike for 2.5 miles, turn up Skeleton Canyon, and climb to the rim of Sycamore Canyon, heading off-trail to follow the creek upstream for about 1.5 miles to the springs. Turkey Creek Hot Springs UTM: 12S 0734871E 3666079N Info Gila National Forest: (505) 536-2250; www. fs.fed.us/r3/gila. Pick up Matt Bischoff's Touring New Mexico Hot Springs ($13, Falcon Guides) and consult the USGS Canyon Hill and Canteen Canyon quads. Season Summer and fall. Spring can bring high waters.
Hotspring Island | Sespe | Yellowstone | Turkey Creek | Skillern/Big Smoky

Soak Here Now
Hotspring Island | Sespe | Yellowstone | Turkey Creek | Skillern/Big Smoky

Soak Here Now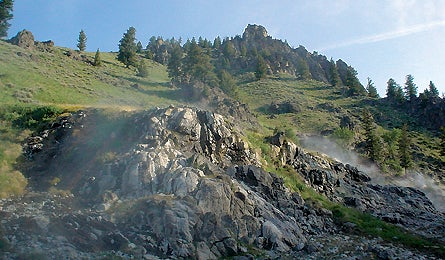 Ride Singletrack to Remote Pools

Skillern/Big Smoky Hot Springs

Big Smoky Mountains, Idaho

Want to end your next bike ride in a cloud of steam? Take the trail to Skillern and Big Smoky; it's epic Idaho singletrack that practically dumps you in a riverside pool. Though the springs are just three miles from a trailhead near Fairfield, the best way to tag them is on the tail end of a ride from Galena Summit, 25 miles to the north. Riders drop nearly 5,000 vertical feet on smooth, screaming singletrack that winds through alpine meadows and rock outcroppings before depositing them in thick forest along the creek. At the end, simply hop off your bike and slip into soothing goodness.
Just a stone's skip from Big Smoky Creek and right off the trail, Skillern is a natural grotto fed by a boiling shower that seeps out of overhanging granite. Though the main pool is soakable all year, when the creek runs low it reveals two additional couple-sized pools, where scalding water mixes with creek flow for a perfect midcurrent soak.
Keep your eyes and ears tuned to your surroundings for another sweet payoff: The Smokys are patrolled by their own wolves, the Soldier Mountain Pack. Numbering eight adults (in the most recent USFW survey), the pack hunts elk and rabbit in the rolling hills outside Fairfield, a pristine expanse of sage and pine ignored by the fun-seekers drawn to nearby Sun Valley. Up the trail from Skillern, head to the personal-size tubs of Big Smoky Springs, which lie among the roots and pine needles 5.5 miles upstream along Big Smoky Creek. These clandestine eddies–hidden in thick underbrush and smelling of pungent pine–take some poking around to find, but once you do, you won't be jumping back in the saddle anytime soon.
If mountain biking's not your thing, tackle the route on foot from the Fairfield side. To make it worthy of a long weekend, take a detour before the springs at Paradise Creek. Hoof 30 miles total, past 9,708-foot Paradise Peak, down the West Fork of Big Smoky Creek, and then back down the Big Smoky Creek Trail, where you'll hit the springs on the way out.
Getting There

To ride to Galena Summit, get a lift to the pullout at the top of the pass, and follow the obvious dirt road on the east side down to the Salmon River headwaters. Turn south, and pedal over the Big Smoky Divide to the Big Smoky Creek Trail. The springs are three miles north of Canyon Transfer Camp, near the end of the ride. Skillern UTM: 11T 0676137E 4834985N; Big Smoky UTM: 11T 0682264E 4841151N
Info

Sawtooth National Forest: (208) 879-4101; www.fs.fed.us/r4/sawtooth. For bike rentals and trail beta, contact The Elephant's Perch in Ketchum (866-327-3724, elephantsperch.com).
Season

Go in spring or summer; the place teems with hunters come fall. Big Smoky Trail is closed during the winter.
Hotspring Island | Sespe | Yellowstone | Turkey Creek | Skillern/Big Smoky

Soak Here Now