Hiking The Sierra High Route
On this burly, 210-mile traverse, which crosses 33 passes and barely touches established trails, you can find Alaska-sized scenery, complete solitude, and just enough risk to keep things interesting.
Heading out the door? Read this article on the new Outside+ app available now on iOS devices for members! Download the app.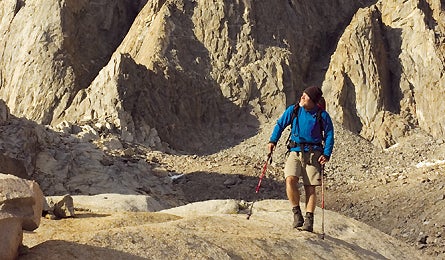 North Palisade, California's third highest peak – Photos by Steve Howe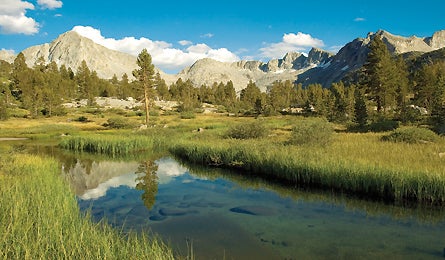 Dusy Basin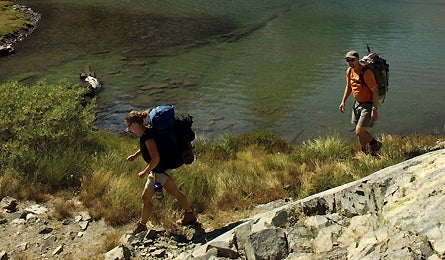 Minaret Lake beneath the Ritter Range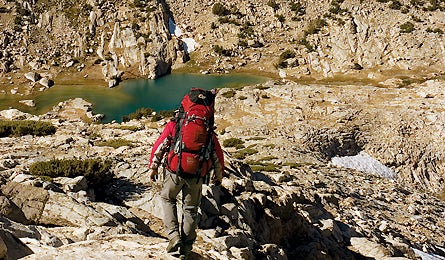 Descending Mt. Conness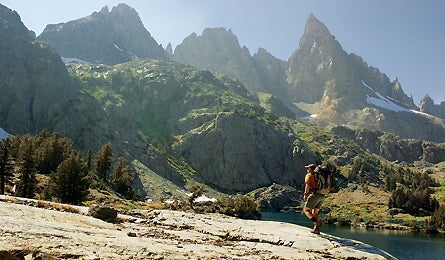 Campsite below Cirque Pass
Think you can't find life-altering adventure in the Lower 48? Think again. Right under Yosemite's nose is an extra-burly route that gave our battle-scarred veteran more than he bargained for: more scenery, more solitude, and more jaw-tightening risk. Join him on an Alaska-size trek across a landscape of irresistible power.
The pond is so blue I can't tell if I'm descending to a lake or climbing out of a hole into the sky. The question doesn't even seem weird to my oxygen-starved brain, still ditzy from clambering across 11,500-foot Red Pass. I've barely begun this trek, and already things are feeling surreal. They don't get any more normal once I reach the uncanny blue oval, its translucent sapphire water so clear I can see 20 feet down.
I strip for a quick baptism to wash off the 6,400 feet of climbing and five passes I've crossed since joining the Sierra High Route at Kings Canyon two days ago. The cold slap of September-cool water reorients me. The map says this is Marion Lake, at mile 23. Only 160 miles to go.
Conceived by climber Steve Roper in 1977 and first published in his book Sierra High Route: Traversing Timberline Country, the SHR is a classic mountain journey similar to the John Muir Trail (JMT), but with a huge difference: It touches trails only grudgingly, and it rarely dips below 10,000 feet. Steep, rocky, and often hazardous, it's thru-hiked only half a dozen times each year and requires more self-reliance and routefinding skill than the average trail hiker possesses.
Yet every inch is also achingly beautiful. Since I left Road's End in Kings Canyon, I've been staggered by the flower-filled meadows, skyscraping cirques, and clear streams flowing over polished granite slabs. If there's a Shangri-La in the Lower 48, the Sierra may be it. And if there's a Shangri-La in the Sierra, the lake I'm crawling out of might get my vote.
The window of my Torrey, Utah, office looks out on a hedgerow. It's thick and impenetrably green, another one of those ridiculously effective barriers of suburban chlorophyll. Somewhere behind it is the red uplift of Capitol Reef National Park, but in the months before I hit the SHR I'd been too boxed in–by shrubbery and deadlines–to get out into it. By summer's end, thick around the middle from too little activity and too many nachos, I needed to escape.
I picked the SHR because I'd heard it was long and solitary, a perfect filter for civilization's toxins. A few calls turned up a reputation for brutal topography, but the warning barely registered. I'd hiked the hardest trails in America's wildest parks, and–humility be damned–I didn't find much challenge in them anymore. Sure, pockets of tough terrain exist, especially if you like bushwhacking, but I subscribed to the notion that the Sierra was a thousand miles too far south for true adventure. Need your ass kicked and your soul cleansed? Better go to Alaska.
Or so I thought. A day past Marion Lake, the view from atop Frozen Lake Pass brims with unsettling menace. Below me, a steep pile of refrigerator-size blocks perches atop downsloping slabs and ball-bearing gravel, all set in a corkscrewing 60-degree gully. Even a rope wouldn't help; there's nothing solid to anchor it.
Reluctant to retreat so soon into the journey, I test the terrain by downclimbing the top section without my pack. Minutes later, I claw back to ridgeline, my mind made up: I'm going around. Not only is the descent deadly, but the location is appallingly remote. I haven't seen another person since Kings Canyon, and my satellite phone is getting spotty signals. Even if
I survived a fall intact enough to make a call, it could take searchers days to find me.
So I back down the col, chastened and awakened. These days, 200 miles might not sound like much–not in an era of transcontinental yo-yo's and thru-hiking speed freaks. But this route is the real deal. Curtains up. Lights on. This is some big, bad wilderness. It's showtime.
Two days later, after a 16-mile detour that touches the JMT, I'm back on sketchy terrain. This time, I'm navigating a labyrinth of cliff bands above Lower Palisade Lake. The exposure and slick tundra ramps require all of my focus, and I'm whipped by the time I pitch camp near Cirque Pass.
That night, camped on a granite slab next to an unnamed tarn, surrounded by the immense, parabolic ridgelines of the Cirque Crest, my solo tent looks awfully tiny. Staring up at the peaks, their tips glowing in the fading sun, I feel a twinge in my gut that I haven't felt since a six-week solo on Alaska's North Slope, 15 years ago.
The spasm of uncertainty is ironic, because the JMT is just three miles back, and I'd encountered 65 people on it in just three hours. In two days, I'll be at South Lake, one of the Sierra's busiest locales. And at least 10 million outdoorsy Californians live within a day's drive of the trailheads here.
But proximity is deceptive, especially in the mountains. Four formidable ridges rise between me and the nearest parking lot, and very few of the JMT's hordes ever venture into these trailless cirques. It occurs to me that steepness, obscurity, and difficult routefinding make more effective wilderness boundaries than legislation or mere distance.
The next morning, I cross Cirque Pass on monster granite ramps, then Potluck Pass via a 40-foot rock climb. I drop down into Barrett Lakes, threading my way around tadpole-filled pools beneath the jagged, wizard-castle spires of the Palisade Crest. Days pass, and I settle into the trail's rhythm, my legs and lungs growing stronger. Clambering over tremendous boulder piles beneath North Palisade, I finally reach easy terrain at Bishop Pass. It's day nine, time for my first resupply.
From the ridge, I can almost smell the pizza at Parchers Camp, a cabin resort only six miles downvalley. But I'm immersed in my wilderness reverie, so I make quick work of the detour, sorting supplies and heading right back out. Soon, I'm breezing down through pastoral Dusy Basin, its meandering stream cloaked in deep emerald grasses.
The placid creek rolls over a brink into the deep V of Le Conte Canyon, and I follow it on a magical descent spiced by long slab waterfalls, the twisting bonsai trunks of Sierra junipers, and conical peaks of the Black Divide lording over the far side of the gorge.
I hike on for two more days, September getting colder and the snowfields hardening beneath a nightly rain of shooting stars. Lacking an ice axe or crampons, I cross the Glacier Divide via bouldery Alpine Col rather than steep, icy Snow Tongue Pass. That night, I watch huge thunderstorms rake the open tundra, swallowing the colossal ocher pyramid of Mt. Humphreys in orange-sherbet veils of rain.
Weasels scamper through the rock piles as I crest Puppet Pass, drop into deep French Canyon, then climb again to Feather Pass. On the ascent, I run into the first person I've seen off-trail in 100 miles of hiking. John Miles is a young painting contractor on an eight-day solo. We chat and compare notes, two kindred spirits, but soon branch off, anxious to be back in our own spaces.
Dropping into Bear Lakes Basin, I stumble upon the most evocative country I've encountered. This rocky alpine bowl merges every Sierran archetype–blond granite, clear water, airy vistas, rushing cascades, and flowery meadows–into one died-and-gone-to-heaven setting. Isolated ledges and pockets of tundra are scattered around the azure pools, a perfect maze of meditative perches, each poised at a scenic vantage point, beckoning me to linger. I push on up to the highest pond and camp at 11,760 feet with a sweeping view of Seven Gables and the stairstep lochs below.
Lapping waves rouse me around midnight. A waning moon paints a shimmering silver path across the black water. Low clouds hover above, creating an apocalyptic sky washed in deep blue. The scene is raw and harsh, beautiful in a primeval way, and very cold. The season is sliding toward winter, and my ultralight gear barely suffices. The chill drives me inside, where I shiver until dawn, sleeping in full Gore-Tex.
Shout-of-Relief Pass is a welcome landmark. Supposedly, it's so named because the next 25 miles to Devils Postpile National Monument–and my second resupply–are easy. Sure enough, two fast days later I'm gable-walking down the high pumice ridgeline of Mammoth Crest as hawks whiz past on howling gales.
Descending on easy trail, high on fresh air, I reflect on the Sierra, the most beautiful of ranges. The impact of its graceful aesthetic on visitors like John Muir almost singlehandedly created the modern environmental movement. And its recreational history goes back almost 150 years. Long before backpacking became a sport, people like Joseph Le Conte, Theodore Solomons, and Norman Clyde threw home on their backs and got lost here for weeks at a time.
Steve Roper, the father of the SHR, is a throwback to that era, and to the early days of the '70s backpacking boom. A Berkeley boy who became a Yosemite dirtbag climber, he betrays a bit of hippie still, sprinkling his sentences with 'mans' and frequent profanities.
"Climbing and hiking get you out into nature and away from these horrible f***ing cities, all that traffic and war and pestilence and sh**," he tells me when I call him for pre-trip beta. "It gets you out, and you're there, man."
Roper's eureka moment in creating the SHR–recorded in a July 26, 1977, diary entry–came on a backpacking trip in the Laurel Creek area. "I was with my wife and sister-in-law," he recalls. "Around the campfire that night, I looked at my maps and went 'God, you could actually do a timberline route the whole length of the Sierra!'"
He didn't want it to start at Whitney ("too high, too crowded, too much talus"), so he spent the summers of 1978 to 1980 reconnoitering the route. "It took me three years because I was so f***ing lazy," he laughs. "The research was the fun part, just going in there with friends, or alone. It was pretty easy to write, you know, just a guidebook, so I had to pad it with birds and trees and all that natural history sh**."
Roper's nonchalance belies an almost religious passion for the region's history and landscape. "The country, those lakes," he says, "are some of the most beautiful places on Earth. They call it the gentle wilderness, and it sure is, especially with the weather and you're always hiking on those slabs, with all the birds, and the little gardens of wildflowers. One guy wrote me last year and told me he ran the thing in six days. Seems pretty f***ing stupid."
It's hard not to agree, but I discover that Roper has his foibles, too. Chief among them is a tendency to sandbag. I discovered this first at Frozen Lake Pass, then again as I muddled through an obtusely described descent below Izaak Walton Lake. Now, as I pass the halfway point, I occupy a few minutes composing a Roper-to-reality phrasebook. "Beginning hikers might have trouble" means hairy Class III scrambling. A "frustrating" descent means hellishly loose leg-breaker talus that seems to go on forever. And euphoric purple prose generally covers up a serious routefinding challenge. Other than that, he's spot on.
Mammoth Crest comes ahead of schedule, and I face the resupply with ambivalence. I'd keep going, but I need the food and warm gear in my box, some glue to fix a boot sole, and I've promised to meet my brother-in-law, Jeff Kirstein, and his wife, Nancy, who'll join me for the next four days.
I spend two claustrophobic nights holed up in a Motel Six watching Jerry Springer and Telemundo as frigid arctic winds blow volcanic dust through the town of Mammoth Lakes. Jeff and Nancy finally arrive, and we punch northward into the jagged Ritter Range, with its dark, twisted Minaret Spires.
Laughing and joking, we scramble endlessly along rock-bound shorelines. At Cecile Lake, the view is pure Himalaya: Banner Peak rises like a monstrous pyramid above us, lacking only the summit plume of an 8,000-meter giant. Four days later, on the west shore of Thousand Island Lake, we hunker down in a whitebark grove as winds pummel our tents, and in the morning, my friends bid adieu. Watching them skirt the lake, I suddenly feel tiny, vulnerable, and intimidated by the huge ridgeline I must cross westward.
Slowly, I climb to Glacier Lake Pass. The ponds are thickly iced, the streams choked with crystalline shards. The birds and marmots are silent until noon, when the sun briefly thaws the landscape again for a few hours.
The nights freeze my bottles solid, even inside the tent. The cold is a predator now, dogging my tracks, nipping my fingers every time I pause too long. And then, suddenly, the weather turns warm and I spend an hour lounging on sun-baked slabs in Bench Canyon, watching miniature trout weave through rivulets pouring across the polished rock.
I blow through Yosemite on good trail. The facilities at Vogelsang and Tuolumne are closed for the season, and since no pizza or brews await, I slink across the Tioga Pass highway like any respectable coyote, waiting for a break in traffic and sprinting, unseen, to the safety of the far woods.
North, north, always north. I cross Mine Shaft Pass on a geologic contact zone, my left foot on gray Sierra granite, my right on brick red schist. I traverse Mt. Conness by descending a steep slickrock arête and a half-mile of granite slab, set like a chessboard with house-sized boulders for the pieces.
Packing up the next morning, I'm surprised to see silhouettes atop Sky Pilot Col, my next goal. Suddenly, two of the figures run at each other, followed seconds later by the distinctive hollow crack! of sheep horns colliding. It's a small group of bighorn rams. By the time I treadmill my way up the pea gravel of Sky Pilot, they're long gone, so I skitter down a slope of hardened clay overlain with ball-bearing pebbles. The only way I can descend is to wear gloves, stand sideways, and ride the talus avalanche, dragging my rear hand like a surfer sliding down the face of a wave.
At Soldier Lake, I'm only a day from trip's end. Already, I'm waxing nostalgic, trying to stretch and deepen every moment. I grab my sleeping bag, hike to a knoll above camp, and sit cross-legged watching stars emerge around a scimitar sliver of moon.
I've spent 40 years chasing adventure from Peru to the Canadian arctic, but this has been perhaps my toughest–and most magnificent–mountain journey. For the last month, despite the hard work and occasional trepidation, I've slid comfortably into a simple, migratory lifestyle. The immersion has been calming, purifying. I sleep better, feel fitter, worry less, laugh more. I have someone else's legs, and the bags have disappeared from beneath my eyes. (Funny how unhealthy civilization can be, isn't it?)
If winter weren't approaching, if I didn't miss my wife, if I had more supplies, perhaps a hot shower, I'd happily turn right around and do the SHR again. One thing I know for sure: I'll never be the same after this trip. Challenge, scenery, wilderness–the bar has been raised on all of them.
All along this last leg, I've been worrying about Stanton Pass, the last big crossing. In the morning, it looks quite scary. The gully rolls over into an open-book corner with 400 feet of exposure. Fall-you-die country. But just across the canyon I can see Horse Creek Pass, and from there it's just a stroll to the finish line at Twin Lakes. So I lace my boots tighter, cinch my pack, and begin inching north once again.
Expedition Planner Sierra High Route
This 210- to 220-mile, 20- to 30-day cross-country journey could be the premier mountain trek in the Lower 48. But it is an expert route–not for novices, youth groups, bad knees, or even experienced trail hikers new to loaded scrambling and off-trail navigation. You'll hop boulders for 40 miles, and cross a sawtoothed succession of steep passes and deep gorges. You'll traverse two national parks, three wilderness areas, one national monument, 33 named passes, and 11 major divides. If you're unsure of your abilities, gain experience on less committing trips or section-hike the route. Since this trek crosses much fragile alpine tundra, small groups and Leave No Trace practices are mandatory.
Best Maps I used the detailed and nicely illustrated Tom Harrison Kearsarge Pass, Kings Canyon High Country, Mono Divide High Country, Mammoth High Country, Yosemite High Country, and Hoover Wilderness maps. (tomharrisonmaps.com)
Guidebook Sierra High Route: Traversing Timberline Country, by Steve Roper ($17, The Mountaineers, mountaineers.org)
Download The author's 63 sat-phone podcasts from the SHR are free on iTunes. Search "BACKPACKER," then hit the Trail Tours icon.
Getting Around Park your car at journey's end, Mono Village Resort ($1/day), on Twin Lakes above the town of Bridgeport. To access the southern trailhead at Road's End in Kings Canyon (see opposite page), the easiest/cheapest way is to start from Onion Pass trailhead above the town of Independence, then hike 19.6 miles/2 days to Kings Canyon, and begin the SHR from the Copper Creek Trail. While commercial shuttles have operated in the past–you could get one from Twin Lakes to Onion Valley for about $330, or from Twin Lakes to Kings Canyon for $1,000 or more–there are none currently offering the service.
Checklist
Solid aerobic fitness
Good knees and ankles
Off-trail navigation skills
GPS and/or compass
Ability to downclimb Class III-IV with a heavy pack
Tough boots
Bearproof canisters
Full storm gear
A big pack, for the food
Freestanding tent
Trekking poles (with rubber caps for the tips)
First-aid and repair kits
Stream-crossing shoes (until midsummer)
Ice axe and crampons (often until September)
Recommended: PLB, satellite phone, or SPOT beacon (especially for soloists); 40 feet of climbing rope for pack hauling and lowering
Hiking Logistics
Section 1
Onion Valley to Bishop Pass
Distance 64 miles; 7 to 10 days
Southern Trailhead
From Market Street in Independence, CA, drive 15 miles west. Forest Service camping is available along the way.
Northern trailhead Drive 22 miles SW from downtown Bishop via Bishop Creek Road (CA 168) and South Lake Road to South Lake trailhead.
Resupply
Parchers Resort is 1.2 miles from the South Lake trailhead and offers cabins, a restaurant, a small general store, and free package hold for guests. Reservations recommended. (760) 873-4177; parchersresort.net
Permits
Free if you start from Onion Valley. Reservations are $5/person, via mail or fax. Inyo National Forest: (760) 873-2485, (760) 873-2483 for reservations; fs.fed.us/r5/inyo. For Kings Canyon start: Apply via mail/fax ($15). Sequoia/Kings Canyon National Parks: (559) 565-3341; nps.gov/seki.
Section 2
Bishop Pass to Mammoth Lakes
Distance 73 miles; 10 to 13 days
Southern Trailhead
See South Lake above.
Northern Trailhead
Reds Meadow in Devils Postpile National Monument. Take US 395 and CA 203 through Mammoth Lakes to Mammoth Mountain Ski Resort and park. To reach Devils Postpile (760-934-2289; nps.gov/archive/depo/depomain.htm), take the mandatory shuttle bus ($7) to either Reds Meadow or Devils Postpile Ranger Station bus stops (30 minutes).
Resupply
Use the post office on CA 203 in Mammoth Lakes, or Motel 6 (760) 934-6660, which is next door and will hold UPS/FedEx parcels. The Mammoth Lakes Welcome Center (2510 Hwy. 203, 760-924-5500) is located a quarter-mile east of the PO. More than a dozen Forest Service and BLM campgrounds are in and around Mammoth Lakes (760-924-5500 info; 877-444-6777 reservations). Additional lodging info: 888-466-2666; visitmammoth.com. Earlier, pre-shipped resupply is also available at Mono Creek (mile 113) via a 10-mile hike west from the SHR to Vermilion Valley Resort on Lake Edison ($15/package; 25-lb. limit; 559-249-4000; edisonlake.com).
Permits
Same as above
Section 3
Mammoth Lakes to Twin Lakes
Distance 77 miles; 8 to 10 days
Southern Trailhead
See Devils Postpile above.
Northern Trailhead
Mono Village Resort (760-932-7071; monovillage.com) on Twin Lakes offers lodging, long-term hiker parking ($1/day), a restaurant, and internet. From Bridgeport on US 395 (760-932-7500; bridgeportcalifornia.com), drive 14 miles on Twin Lakes Road.
Resupply
Tuolumne Meadows (mile 192) has a general store, campground, and post office. Send packages to: "Hold for thru-hiker X" c/o Tuolumne Meadows Post Office, Tuolumne Meadows, Yosemite, CA 95389. Mark food packages so USPS employees can store them appropriately. The post office closes each day at 4 p.m., and all Tuolumne facilities close on September 15.
Permits
Walk-in at Mammoth Welcome Center (see resupply, above). (760) 873-2483; fs.fed.us/r5/inyo