Hiking the A.T. in a Day
How's this for a speed record? In June, BACKPACKER readers hiked almost 2,000 miles in 24 hours. One participant reflects on the unprecedented event.
Heading out the door? Read this article on the new Outside+ app available now on iOS devices for members! Download the app.
I'm the kind of happy loner who sees one person in three days and wishes it weren't so crowded. Still, being an AT fan, I decided to join a hiker's version of a flash mob: nearly 700 people trekking different stretches of a 2,180-mile trail on a single day. Only true backpackers could conceive of a mass celebration that relies on lovers of solitude.
The idea was simple, if nonsensical to normal people. In celebration of America's most legendary path, BACKPACKER encouraged fans to hike a stretch of the Appalachian Trail on June 20. If someone had already signed up for that section, fine. Duplicates welcome. Indeed, encounters with these instant comrades turned out to be a highlight—surprisingly.
I signed up to hike an 8-mile stretch between Etna and Lyme, New Hampshire, over the long hump of 2,303-foot Moose Mountain. My plan was to run out and back in my usual solitary fashion. But then my wife suggested a couple's hike. We invited a pair of friends, newcomers to the area who lived near the trail but had never set foot on it. Their enthusiasm was a good omen, as one of the purposes of the day was to welcome hikers into the larger community of, um, solitude seekers.
We met at the trailhead at 6 a.m. I was lugging a pack with coffee, mimosas, eggs, shortcake, strawberries, and a poorly thought-out can of whipped cream—along with enough snacks to sustain life for a week. I figured the wine and coma-worthy food might help our novice friends tolerate the bugs. This part of New Hampshire is God's country—the Old Testament God, the one who's fond of smiting. In early summer, the blackflies, mosquitoes, and deerflies reach a howling crescendo.
And yet on June 20, miraculous insect amnesty, blue sky, temps in the 60s. We feasted atop Moose and ambled down the other side, smacking our bellies. Then, about two-thirds of the way through, we ran into another pair of AT in a Day hikers heading in the opposite direction. We greeted each other like we were a part of a secret society. Shortly after, we met four more people who said they were doing the same thing. This was no ordinary "hey-nice-day, man." This was a movement.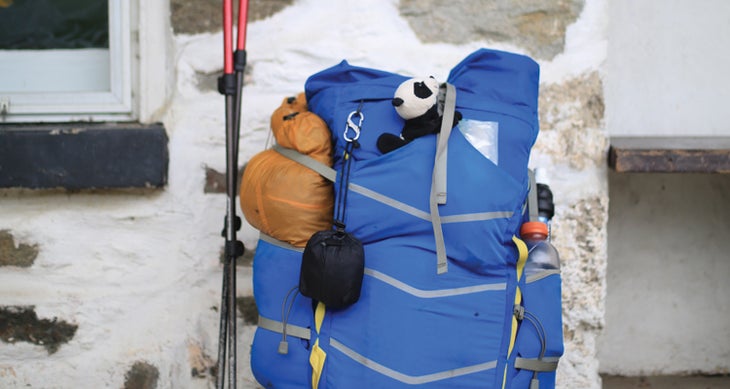 But mostly it was a conversation; which, when you think of it, is the perfect way to celebrate the AT. This trail is about people as much as solitude. It's about the eccentric thru-hikers who sleep on tables in AMC huts up in the Whites. It's about the shelter trail logs that read like one running letter home. It's about the peakbaggers who collect summits like souvenirs.
Though we hadn't known John and Susan very long, there wasn't a single awkward gap in our discourse. The walking kept things moving. In fact, only one thing went wrong the whole glorious day: the whipped cream. Somewhere in my brain, I probably knew not to strap an aerosol can of cream to my back. Sure enough, after breakfast, the can foamed the pack's interior like a magic trick, transmogrifying snacks and unnecessary warm clothing into the kind of vast creamy dessert the English call a "fool." Which just added to the conversation. The four of us returned to our cars with a deeper friendship, which I would have missed out on had I taken my customary loner hike.
You know how, when you walk in the wild, you feel a part of something larger? With the AT in a Day, remarkably for us solitary types, that something included other people.