Hiking Switzerland: Around the Alps in 80 Days
Well, maybe 105. But who's counting? Contributing editor John Harlin defies conventional wisdom with a 1,400-mile circumnavigation of this mountainous kingdom.
Heading out the door? Read this article on the new Outside+ app available now on iOS devices for members! Download the app.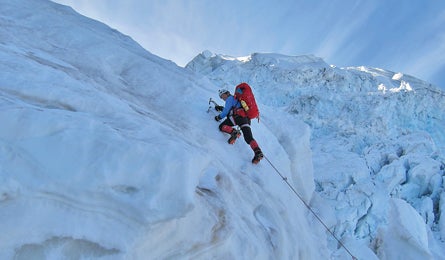 The author climbing Monte Rosa Glacier (John Bird)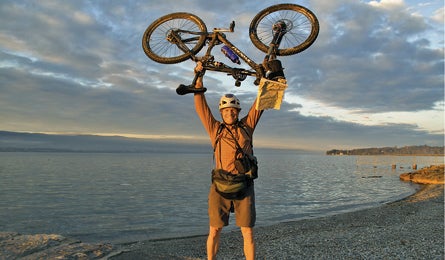 The author at Hermance, Lake Geneva (Jay Sherrerd)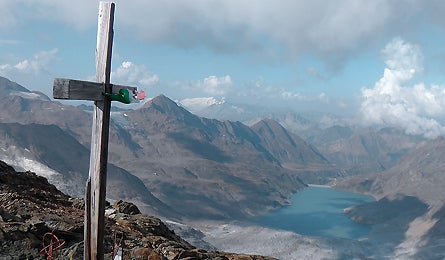 Ofenhorn (John Harlin)
The age of real adventure is over. All of the exploring has been done, all of the discoveries made. What a load of baloney. Sure, these days it's harder—though not impossible—to get yourself eaten by cannibals or kidnapped by pirates. But that's not my thing. I'm drawn to traveling wild places under my own power, which I've done from Tibet to Peru. So where have I had the biggest epic of my life? Easy: Switzerland. Never mind that a century and a half ago, intrepid Brits used Swiss peaks to launch the golden age of mountaineering. Trekking? The Alps are ground zero. You'd be forgiven for thinking Switzerland is the last place to go looking for new adventure. But you'd be wrong. 
I found the real thing—and then some—on a hike-climb-paddle-bike journey around the Swiss border. The idea of circumnavigating Switzerland has been with me so long that the goal seems simultaneously vague and vividly clear, like my memories of living in a Swiss mountain village almost five decades ago, when I was 10 years old. The journey stared at me every time I opened a map of Europe: the perfect loop trip. Mountain travel? Tracing the exact border on a topo map revealed a staggering 600,000 feet of vertical ascent. Discovery? The complete border covers 1,400 miles along the edges of five countries, most of it far from anything described in a guidebook.
So what does it mean to have a real adventure? I take my cue from a well-known Supreme Court case: I'll know it when I do it.
YOU KNOW YOU'RE ON A REAL ADVENTURE WHEN:
YOU ABANDON "PLAN A" ON DAY 1
When I launched onto the Swiss-French border at St. Gingolph, my plan was to stay within a stone's throw of the border from beginning to end—100 days, or whatever it took. To cheat a bit, I thought about bringing a slingshot so the stone would fly farther. I would recruit climbing partners periodically, but today I was alone on a steep ridge, well above timberline (left foot in Switzerland, right foot in France). A cloud obscured the peak in front of me. The route wasn't clear—there was no trail—but it was my very first day and I had no doubts about my strategy: follow the exact border and the rest would sort itself out. Then the clouds parted and my heart sank: My ridge dead-ended at a 400-foot cliff. I scoured the wall, hoping to find a climbable weakness. Instead, I was forced into a multi-mile detour. At first, I tried to skirt the bottom of the cliff, but soon even this became steep and dangerous, forcing me ever lower and farther from the border. This wasn't my plan. At the time, I felt devastated. In hindsight, I laugh at my naïveté.
Before that day, the "exactness" of the border seemed to have real meaning. But I soon learned that my left foot in Switzerland felt just like my right foot in France; Swiss rocks look like Italian rocks; Swiss trees are the same as German trees. What changes across the border are the people, their history, their culture, the roofs on their chalets, the number and type of languages they speak, their views on whose money should be used to bail out Greece and how angry to be about it. I realized that Switzerland's geographical boundaries—lines determined long ago by politicians or warriors—gave me an outline for a route, but not the route itself. 
YOU TRY TO FOLLOW IBEX TO SAFETY
It was late morning on day four and I was seriously stressed. I had just climbed unroped down a 200-foot cliff, which had scared me badly—on or off the exact border, I was finding some dangerously steep terrain. I felt both stupid and stuck, as there was nothing but cliff between me and the glacier below. Suddenly, a half-dozen ibex appeared on the rocks at my elevation, a couple hundred feet away. Oh, the relief! All I had to do was find where they'd come up and follow their route down. After all, an ibex is a 200-plus-pound, four-legged beast with unwieldy horns, whereas I'm an experienced climber with sticky shoes. 
Then, one after the other, the ibex casually wandered across a steep slab of smooth limestone. Their hooves were sticking to rock I wouldn't touch without a climbing partner and plenty of gear. I didn't dare follow. Later, I learned that an ibex's cloven hooves are split into two "toes" that can operate independently, with a hard outer edge for gripping the tiniest features and a soft inner pad for suctionlike traction. 
Eventually, I found an alternate way down—and learned never to trust anything that walks on two toes. I also vowed to be more careful with where I wandered. But adventure happens somewhere in the blurred middle ground between caution and confidence, and despite being humbled by the ibex, I would soon discover that I still hadn't found a reasonable balance.
YOU ALMOST DIE
As I fell, my body bounced off ledges. My partner thought I was a goner. But I thought: I will not let this kill me. I knew my pack would shield my back. My helmet would protect my head. Eventually, the rope would catch me. 
After 50 feet the rope snagged on a rock edge and I jerked to a stop, upside down. (Due to a long traverse and sparse protection, there had been too much slack in the rope for my belayer to catch me.) I twisted myself around to place a butt cheek on a ledge and take the weight off of my climbing harness. My hands were bloody and there was a stabbing pain in my chest that I assumed was a broken rib, but otherwise I felt nothing but a great surge of life-affirming energy. I tried standing, but my feet hurt whenever I weighted them. So I went back to my seat, half hanging from my harness and half sitting on granite. My climbing partner, Cam Burns, was now 100 feet to the side and above me. He was surprised and gratified to see I was not actually dead.
A couple of hours earlier we'd been on the French side of the Aiguilles Rouge du Mont Dolent, where we'd climbed delicately up teetering granite plates perched on each other like a deck of cards dropped on a steep roof. Then we crossed to the Swiss side of the ridge, which was considerably worse. The very skin of the mountain felt like it could peel off. Then it did: The six-foot block of rock I was standing on broke away from the wall, taking me with it. 
Cam called for a helicopter rescue, and two hours later, I was in a hospital in Sion, where I learned that I had five broken bones in my feet. I returned to my Oregon home with casts on both of them. It was good to be back in the arms of my wife Adele and daughter Siena. For a time I was in bliss. It's true what survivors say: You return from a near-death experience with a renewed commitment to life and love. I was a really good person for a while. From my rented wheelchair I was a tolerable husband, a decent father, and not a bad friend. The sensible thing to do? Acknowledge that my border route was dangerously arbitrary—and go to Plan C, perhaps a nice trek on one of the Alps' famed trails. But here's another truth this survivor learned: That life-affirming feeling doesn't stand a chance in the face of unfinished business.
YOU CLIMB AND DESCEND 19,000 FEET IN A SINGLE DAY
After recovering from my fall, I was able to complete the more level northern border sections—mostly by kayak and mountain bike—in the fall of 2010. I came back to finish the steep stuff in the summer of 2011. I was planning on easing in. But I wasn't planning on Andrea Vogel.
In 1991, Vogel became the first, and as far as I can determine, the only, other person to hike, bike, and paddle the entire Swiss border. Vogel was 35 at the time, and he did it in 82 days, with a support van and a fleet of top local athletes. I had arranged for Vogel to join me on my first day back on the border, and I trusted him to choose the route and the distance. Big mistake. Turns out that Vogel hasn't slowed down in two decades. After 14 hours on the go, I felt like a lumbering granddad as Vogel waited for me in the pouring rain, just below the top of 9,724-foot Schessaplana. To hell with the summit, I wanted to go down, and I told him so. 
"No, no," said Vogel, "This peak is important!" Schessaplana is the highest of his home mountains. If I wanted to climb the most significant peaks along the border—and I did—then I'd have to climb this one. And if I wanted to do it with Vogel, I'd have to do it today.
So we headed up in the deluge, which cleared into a rainbow just before we reached the cross that's bolted to the summit of nearly every mountain in the Catholic parts of Europe. By the time we stumbled into his father's hunting cabin 16 hours after leaving the Rhine, we'd hiked 22 miles, ascended nearly 12,000 vertical feet, and descended 7,000. 
I later calculated the distances and elevation change for my entire border route. The grand total: 688,000 vertical feet of combined up and down, or an average of nearly one round-trip on Everest, from the sea, every week. Stats like that used to intimidate me. But on this adventure, I learned to break the numbers down. The old adage is true: How do you eat an elephant? One bite at a time. 
YOU FIND A NEW HERO
"Here, you must go like a butterfly," said Beno as he stepped delicately across what seemed like vertical rubble. This was Enrico "Beno" Benedetti's fourth trip up his favorite climb, an unnamed ridge on an obscure border peak called Vazzeda. It's a great route, except where the loose rock makes it awful. "We call people who knock rocks down killers," said Beno, just in case I'd underestimated his imperative.
Beno's partnership had been arranged by a friend because I needed a ropemate for Bernina, the easternmost 4,000-meter peak in the Alps. We'd never met. It was raining on the appointed afternoon, and I shivered inside an unheated hut. Suddenly, a bearded face appeared at the small window. I opened the door and there stood a man wearing shorts and nothing else other than his pack and his boots. There wasn't a gram of body fat on him. "Aren't you freezing?" I asked. 
"No, no, it's really quite warm." He'd just run up the trail with a pack full of climbing gear on his back.
It didn't take long to learn three things about Beno: 1) He's fantastically fit, one of the world's fastest at running up mountains; 2) he loves being outside so much that he's happy to go slow; 3) he's one of the nicest people I've ever met. Beno makes his living writing the mathematical equations that focus the beams that carve silicon chips for computer processors. But his passion is the mountains, specifically protecting the ones on the Swiss-Italian border near his home in Sondrio. To that end, he founded the gorgeous magazine Le Montagne Divertenti. As Beno sees it, the greatest threat to Italian mountains is the upward creep of development. The best way to save this alpine refuge, he believes, is to inspire readers to protect it. It's a philosophy I admire—a goal I aspired to when I joined the staff of this magazine more than two decades ago, and hope to fulfill in part with my current border project. 
But now it was my turn to be inspired. Beno's enthusiasm is infectious, and his knowledge of the terrain invaluable. When I paused beneath giant icicles to take a photo, Beno cautioned me: "Here you must breathe deep and then move fast. No helmet will save you from those." He then doubled his already considerable speed to the top of the 45-degree snow couloir.
Friendships forged in wild places are the deepest sort, and I knew I'd just met a kindred spirit. 
YOU EXPERIENCE ONE OF THE BEST DAYS OF YOUR LIFE
Perhaps no part of Switzerland is more heavily hiked than the Zermatt region at the foot of the Matterhorn. So imagine my surprise at finding a route here that feels remote beyond measure. I'd bet the walk gets done maybe once a year. Or maybe once a decade.
With partner John Bird, I was heading for the Hörnli Hut—the standard basecamp for the classic route up the iconic mountain—and had decided, naturally, to make a nonstandard approach, following the Italian border from Theodul Pass. (It took me months of hiking to get here, but you could start in Zermatt and take a ski lift to the Klein Matterhorn.) From there, you cross a patch of glacier and scramble up an ugly heap of junky rock. Then it gets good. Wildly good.
Walking north along the crest of a ridge called the Furggen, you look down to Zermatt on the right and Cervino, Italy, on the left. The Matterhorn towers above, growing closer with every step until you are literally walking on it. But it's not just the view that made this day great, it's also the actual walking. The rock here is mostly decomposed shale that's been weathered into a smooth surface that seems crafted for hiking. On the Matterhorn itself, you traverse its east face on a perfect platform of glacier, like a sidewalk carved into the mountain to take you from one edge to the other.
Why no trekker crowds in such otherworldly terrain? A few steep sections require a rope and a little rock-climbing gear for safety. You'll also need a good ice axe and sharp crampons. And that exquisite traverse across the Matterhorn passes under a patch of crumbling ice—meaning you'll want to move quickly so nothing falls on you. In short, you'll need a few mountaineering skills and a touch of boldness. This is a ridge I can't wait to share with friends. But the weather needs to be good, and the friends strong.
YOU DON'T WANT IT TO END
I had two worries about this expedition: my body and my brain. The body survived a 50-foot fall; it would get me through. But could I maintain the mental edge for more than two months at a stretch? Would I get lonely, worn down by the constant routefinding and risk assessment? 
I never had the chance to find out. On September 12, 2011, as I was hiking down from the summit of Mont Dolent, where I symbolically completed the Swiss loop, my mind replayed the 105 days I'd spent on the border. Somewhere along the line I was supposed to have wished it to be over, to be put out of my misery. Perhaps it should have been that time I woke up with freezing water pooling inside my tent. Or maybe those blistered days before I changed boots. Or the day I descended 9,000 vertical feet as fast as I could—through snow, boulders, rain, and a cliff-steep forest that left me dangling from trees—to reach the valley before dark. Nope.
Sure, my Swiss adventure was hard sometimes, even dangerous when I wasn't wise. But at its best it was simply a long backpacking trip in glorious, wild terrain. And what could be better than brewing a morning cup of joe in a tiny tent, navigating ridges and valleys all day, and crawling into a sleeping bag at night? At the very end, as I hiked down from Mont Dolent, I wasn't celebrating inside. Instead, I wondered: Shouldn't a circle keep going? 
Contributing editor John Harlin is planning a book—and guided trips—based on his adventure (johnharlin.net).