Hiking in Tiltill Valley, California
This hiking and camping trip is filled with water falls that gush over into a valley 200 feet below and a 2,000 foot sentinal panoramic view.
Heading out the door? Read this article on the new Outside+ app available now on iOS devices for members! Download the app.
W
apama Falls gushes 200 feet over a tiered escarpment and into the azure, water-filled valley below. Across the way, Kolana Rock, a 2,000-foot granite sentinel, anchors the panorama. And this Yosemite highlight reel doesn't stop here: Today, I'll pass more cascades, more domes, and even peer into the Grand Canyon of the Tuolumne—before bedding down in an alpine meadow. There is solitude to be found in this popular national park, and I've secured it on a 19.2-mile out-and-back in the less-visited section north of the Tuolumne River. Maybe people avoid Hetch Hetchy because of its controversial dam, but the reservoir still reflects the beauty of the wild Sierra and, frankly, I'm OK with people overlooking it.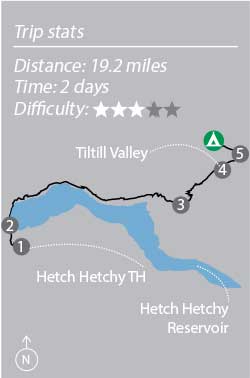 Turn-By-Turn
From the Hetch Hetchy Trailhead:
Walk .5 mile down the paved road and cross O'Shaughnessy Dam.
Walk through the 500-foot-long tunnel to the edge of 360,400-acre Hetch Hetchy Reservoir and head east on the Hetch Hetchy Trail. Follow the sign for Wapama Falls at mile 1, and pass three cascades (880-foot Tueeulala at mile 1.9; three-tiered, 1,100-foot Wapama at mile 2.6; and 150-foot Rancheria at mile 6.3) to a junction at Rancheria Falls.
Stay left (north) and ascend 1,200 feet in 1.5 miles to a forested notch before dropping to the southern edge of Tiltill Valley.
Cross the valley to a fork on the north side at mile 9.1.
Turn west (hiker's left) and walk .5 mile to Tiltill Creek.
Retrace your steps to return to the trailhead.
Campsite
Tiltill Creek (mile 9.6)
Near mile 9.6, make an easy rock-hop across the stream and proceed about 60 yards to an established site just uphill of the trail. Backed up against a steep, forested wall, this primo site opens to wide views of the granite-rimmed valley (first-come, first-serve). Find more established sites along the creek.
Stay Longer
Have more than a weekend to play? Turn this trip into a 39-mile loop that hits Tiltill Valley on the final night of a four-day high-country tour. At mile 1, instead of following signs for Wapama Falls, climb 6.3 miles north to Laurel Lake (camp here). Next day, ascend Morraine Ridge (wide Sierra panoramas) and drop into Jack Main Canyon (spend the night by Falls Creek near mile 15). Day three, continue past Wilma Lake on the Pacific Crest Trail and descend to Tiltill Valley at 29.4 miles. Return via the Hetch Hetchy Trail.
Season
The Hetch Hetchy area, at 3,800 feet, is typically open year-round, while the Tiltill Valley, at 5,500 feet, is accessible earlier and open later than much of the national park's higher-elevation backcountry. Visit Hetch Hetchy in May for roaring falls (but super-high runoff can impede bridged crossings; call ahead to check) or June through October to access Tiltill Valley. Fall means mosquito-free camping.
Do It
Trailhead 37.942472, -119.786601*; 40 miles east of Groveland off Evergreen Rd. Gear up Sierra Nevada Adventure Co. in Sonora; snacattack.comPermits Required; reserve ahead of time ($5 plus $5/person) or nab a free walk-in at the Hetch Hetchy entrance station (call to check availability). Note: Bear canisters are required. Custom-centered map bit.ly/BPmapTiltill ($15) Contact(209) 372-0826; nps.gov/yoseTrip datawww.trimbleoutdoors.com/ViewTrip/2676153