The Best Hikes for Every Month in 2023
New year, new adventures: Add these long trails and dayhikes to your 2023 bucket list.
Heading out the door? Read this article on the new Outside+ app available now on iOS devices for members! Download the app.
We hate to break it to you, but if you're not hiking year-round, you're doing it wrong. 
From mid-spring dayhikes through fields of wildflower blooms to thru-hikes under canopies of peak fall color, we're firm believers that hiking is an all-year activity. But that doesn't mean you need to—or should—hike the same way year-round. 
Want to explore lesser-known trails during the spring and summer? Curious about what local trails have the best fall foliage? Looking for warm-weather hiking spots to flock to in the thick of winter? We've paired some of our favorite wilderness areas across the U.S. and abroad with the best months to hike at each spot. Follow our calendar, and you can avoid crowds, steer clear of bad weather, and hit local trails at the ideal time of year with the help of Backpacker's 2023 hiker calendar. 
January: El Yunque National Forest, Puerto Rico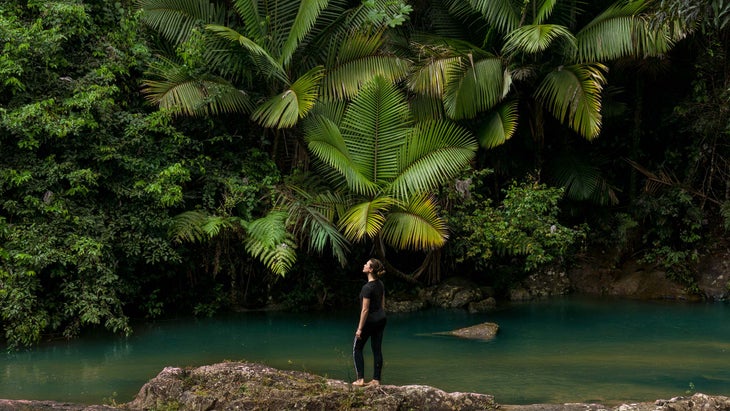 Trade snow drifts for tropical rainforest at the El Yunque National Forest in eastern Puerto Rico.  Located less than 40 miles west of San Juan, this dayhiker's wonderland is full of hidden waterfalls, remote swimming holes, and lush foliage, not to mention wildlife like the Antillean fruit bat, Puerto Rican parrot, and common coquí. Popular hikes include the El Yunque Trail (2.6 miles) which climbs through misty cloud forest to the top of El Yunque Peak or the giant fern and moss-lined Tradewinds Trail (4.6 miles). This time of year, you won't have to worry about hurricanes, which tend to peak in August and September. Bonus: January also kicks off the whale-watching season in top spots like Rincon or Isabela on the west side of the island.
February: Catalina Island, California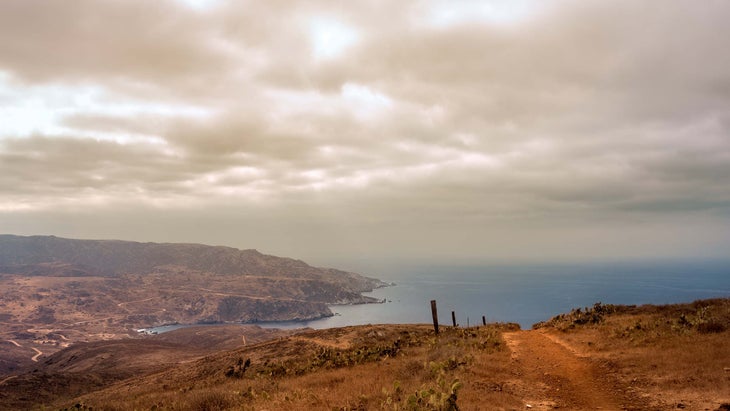 Long winters call for long trails in warm weather. Hit the Trans-Catalina Trail, a 38.5-mile point-to-point trail that stretches the entire length of Santa Catalina Island off the coast of southern California. Plan a trip here in February to avoid brutal temperatures and crowded trails. Just come prepared to share the trail with free-roaming island bison that inhabit the island, and get ready for never-ending views of rocky cliffs above cobalt blue ocean waters. Tropical it's not—temperatures hover in the 60s during the day and low 50s at night, with sporadic winter rain showers this time of year—but it's a comfy and accessible way to take a break from the snow.
March: Coconino National Forest, Arizona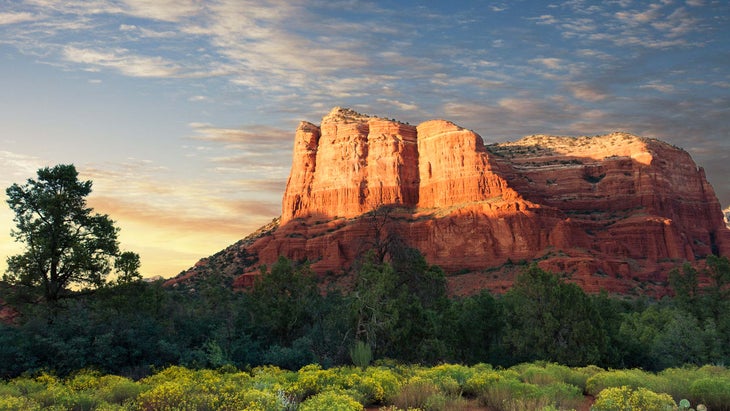 Beat Arizona's summer heat with an early spring trip to the heart of the southwest. Make Sedona your base camp with dayhikes in and around the Coconino National Forest area. Popular trails like the Cathedral Rock Loop (3.1 miles), Courthouse Butte Loop Trail (3.9 miles), and Cow Pies Loop Trail (9.1 miles) show off the best of the Sonoran Desert: prickly pear, barrel cactus, century plant, pinyon pines, and yucca included. You'll cover more ground with less heat thanks to temperatures in the mid-60s in March.
April: North Cascades National Park, Washington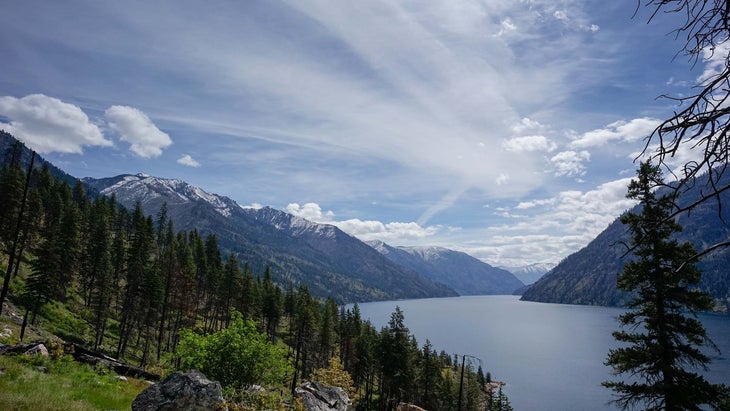 Want to avoid crowded trails in the Cascades? Book a backpacking trip in the North Cascades in early spring. We recommend hiking the Chelan Lakeshore Trail to Stehekin, a remote lakeside town and Pacific Crest Trail waypoint only accessible by foot, ferry (from the Lake Chelan Boat Co. and Stehekin Ferry), or seaplane. The route covers 17 miles of Lake Chelan shoreline with unreal views of snow-capped peaks above glacial-blue waters the entire way. By mid-April, wildflowers surround the trail with brilliant blooms of white trillium, purple spring beauties, and yellow glacier lilies (just to name a few).
May: Mark Twain National Forest, Missouri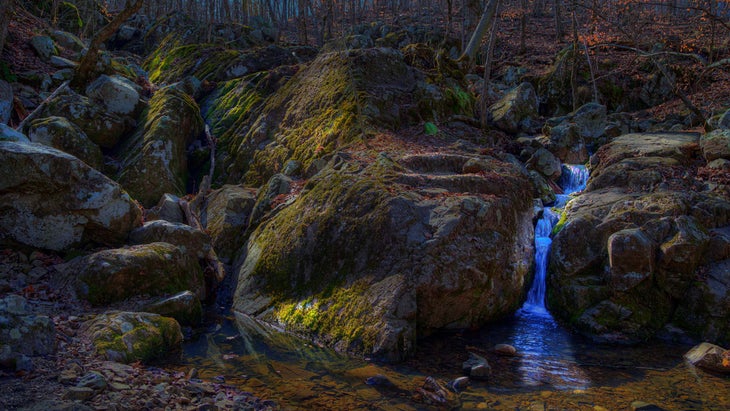 Adventures in the south-central U.S. usually come with heat, humidity, and rain. But you can avoid most of these trail tribulations in May with a trip to the Mark Twain National Forest within the Missouri Ozarks. Rainfall is relatively low and temperatures aren't too hot or cold here this time of year. Long-distance trail lovers can hike the Ozark Trail, a 230-mile trail that stretches from Onondaga Cave State Park southeast of St. Louis to the western edge of the Mark Twain State Forest. This lesser-known gem gives you a true taste of the Ozarks: Hidden caves, rocky crags, boulder-strewn creeks, and all. Looking for a shorter hike? Try the Taum Sauk Trail, a 35-mile route in Taum Sauk Mountain State Park. Just make sure to bring your bug spray; ticks thrive here between March and November.
June: Appalachian Trail, Virginia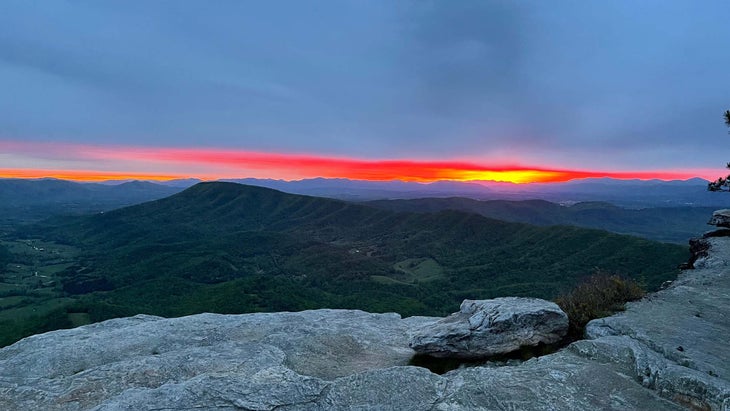 Looking for a bite-sized version of the Appalachian Trail? Try hiking the Triple Crown Loop in Virginia's Blue Ridge Mountains. This 35-mile route passes through some of the popular and picturesque spots along the trail, including Dragon's Tooth, McAfee Knob, and Tinker Cliffs. In June, you'll avoid a swell of crowds who pass through the area to see wildflowers that peak here between late April to mid-May. You'll also avoid the peak summer heat and humidity come July. Pro tip: If you want to hike the entire AT, aim to hit the trail by mid-March or early April. 
July: Glacier National Park, Montana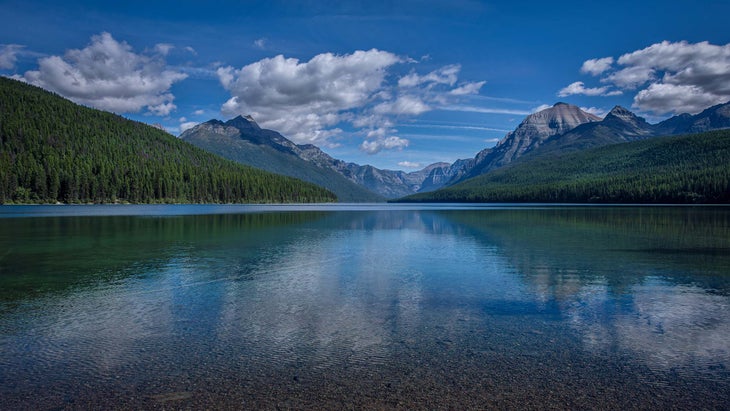 American flags, live music, and locals parading through the street? Sounds like fun to us. Visit Polebridge on the west side of Glacier National Park for the town's 4th of July. This lesser-visited side of the park beams with American pride during its annual parade and celebration. Before or after the festivities, backpack the nearby 39-mile route from Bowman Lake to Kintla Lake, a climbing-heavy route which crosses two mountain passes and includes a night in a spectacular, boulder-dotted glacial cirque. Need something shorter? Dayhike and sightsee along the Going-to-the-Sun Road, which will be cleared of snow by then.
August: Mount Hood National Forest, Oregon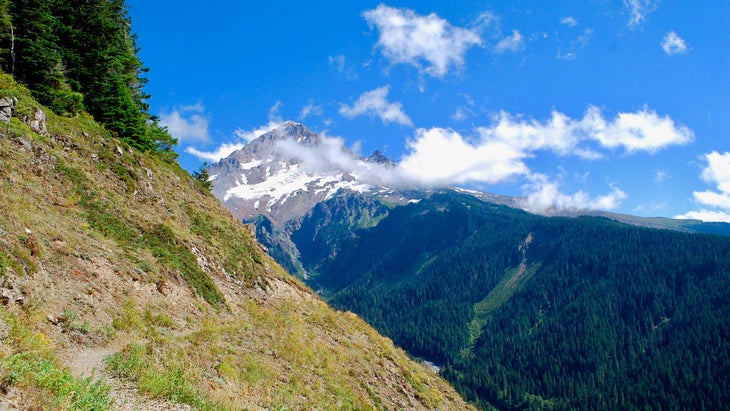 Make a complete circle around Mount Hood as you hike through fields of wildflowers in full bloom on the 41.5-mile Timberline Trail. Oregon wildflowers peak here between mid-July and mid-August, with popular spots like Paradise Park overflowing with meadows of red Indian Paintbrush, purple Lupine, and white and yellow avalanche lilies. By August, waterways along this route start to thin out from the heavy snowmelt in late spring, which makes for easier stream and creek crossings along the route. No permit lotteries here; all you need is a self-issued permit, which you can get at the trailhead.
September: Isle Royale National Park, Michigan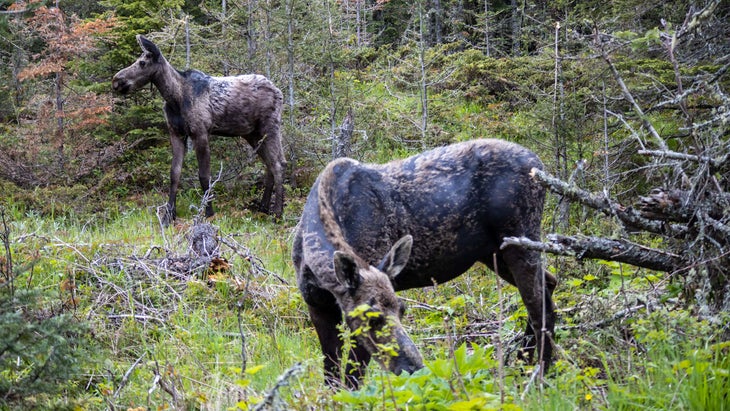 Catch early fall foliage at Isle Royale National Park, a remote island in the middle of Lake Superior, the largest and deepest of the Great Lakes. The dense wilderness area lights up in color by the third week of September; you'll also avoid crowds that flock here in July and August. Hike along the 40-mile Greenstone Ridge Trail, which follows the mountainous backbone of Isle Royale. On this 132,300-acre slice of wilderness, you'll also have the chance to spot gray wolves, red foxes, and moose.
October: Acadia National Park, Maine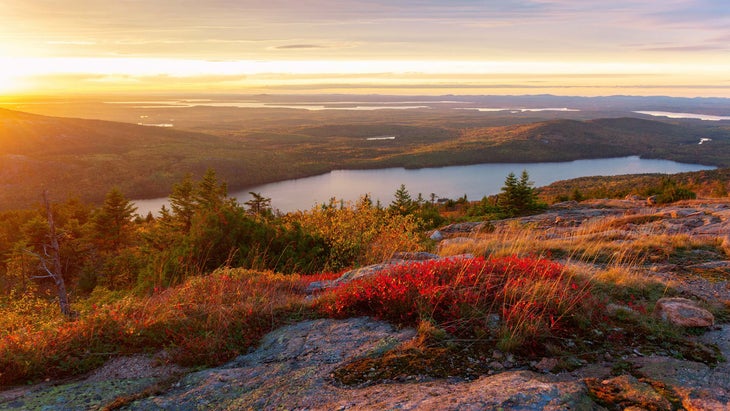 Cling to iron rungs while catching views of the crimson and amber crowns that light up Acadia National Park during peak fall foliage. Come mid-October, you can scale some of Acadia's most epic mountainside trails to the top of primo lookouts on Cadillac Mountain, Champlain Mountain, and Beech Cliffs. Many popular trails, like the Precipice Trail (2.5 miles), Beehive Loop Trail (1.5 miles), and the Jordan Cliffs Loop (5 miles), close from late spring through summer during Peregrine Falcon nesting period but open up again in fall after migration.
November: Torres Del Paine National Park, Chile
Head south—way south—for the winter to check-off Patagonia's most epic backpacking route through Torres Del Paine National Park: the W Trek. This four-to-five-day journey covers 46 miles across rugged glaciated valleys and gives hikers an iconic view of the 9,400-foot granite spires of the Cordillera Paine. November marks the end of spring and start of summer in Patagonia; this is the perfect time to hike since the snowmelt starts flowing and the wildflowers start blooming. You can also pack in longer days thanks to an average of 10.5 hours of daylight this time of year. Bonus: Expect fewer crowds too, since it's the end of shoulder season. 
December: Abel Tasman National Park, New Zealand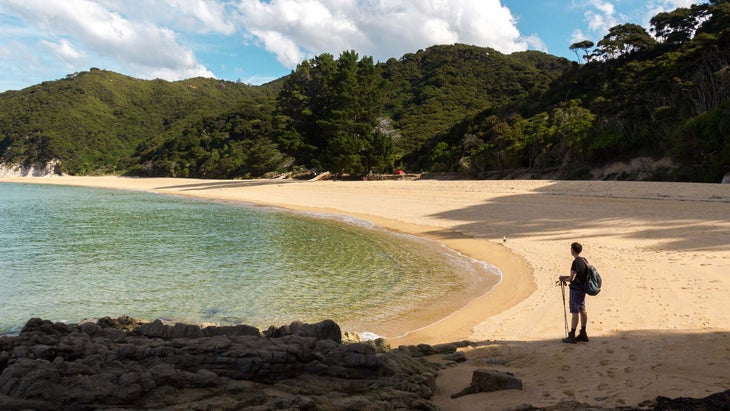 Is it a beach vacation or a hiking trip? Both, actually: Pack your backpack and ditch the cold for summer in the southern hemisphere for a hike on the 37-mile Abel Tasman Coast Track. You can soak in peak summer season between December to February and revel in average temps in the high-60s during the day and mid-50s at night. This backpacking route follows trails through coastal forest with several beaches and cove stops throughout the park along the way. Extend your winter-season hike abroad by connecting the Abel Tasman Coast Track to the 26.4-mile Inland Track to make a complete loop.