Hike Nepal's Perfect Circuit
Someday the Manaslu Loop will be just as famous as the Annapurna Circuit. Hike it now.
Heading out the door? Read this article on the new Outside+ app available now on iOS devices for members! Download the app.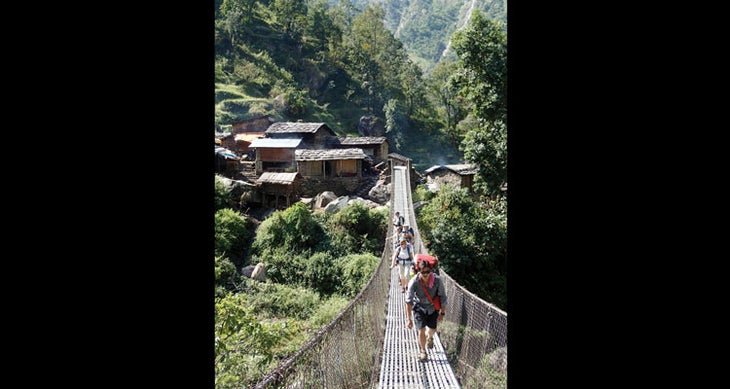 Head guide Kalyan Gurung leads the way across the Budhi Gandaki on a modern suspension bridge on day four. (Dougald MacDonald)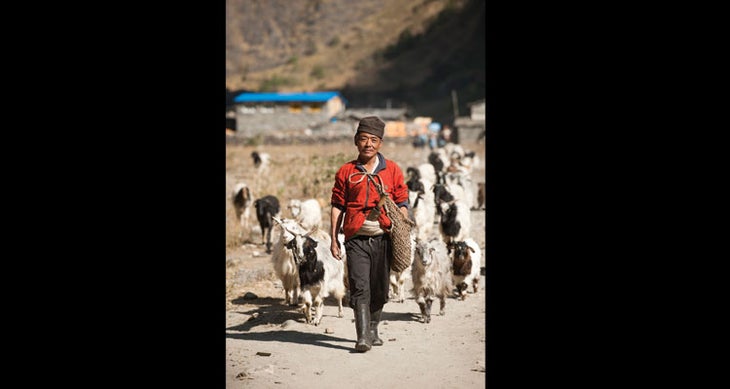 A goatherder guides his flock near Jagat. (Alex Treadway)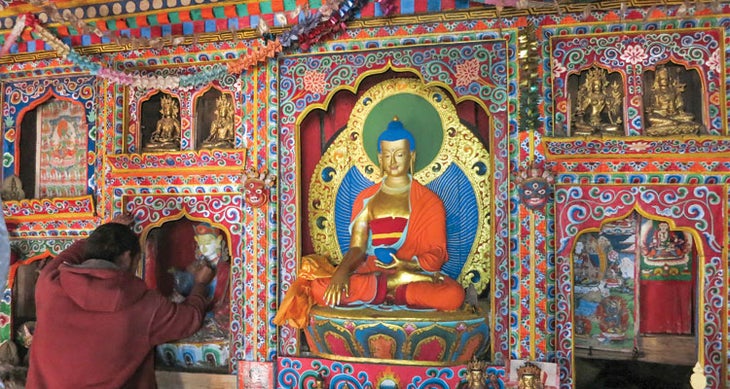 A colorful gompa (monastery) in the village of Shyo. (Rob Raker)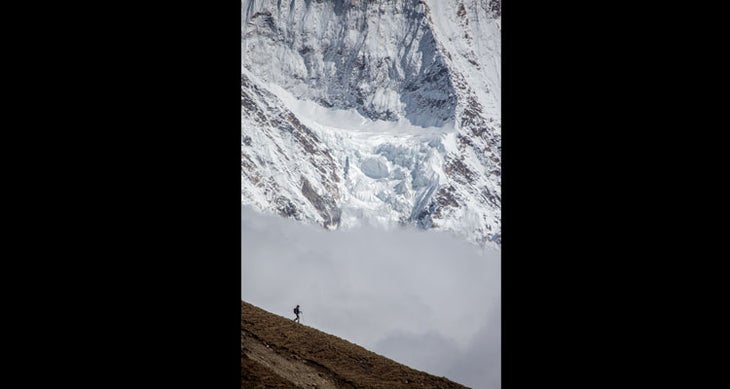 Massive peaks and glaciers surround the trek's highest campsite, Dharamsala, at 14,600 feet. (Rob Raker)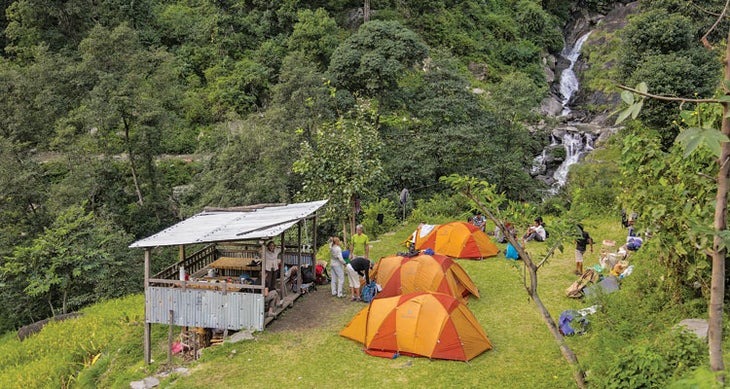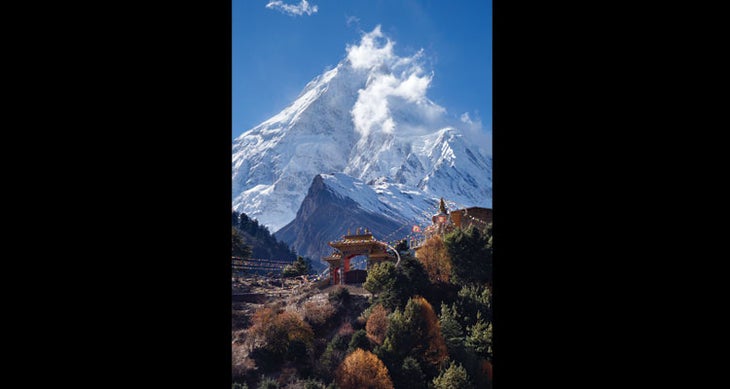 Manaslu is the world's eighth-highest peak. (Photo by Leon Werdinger)
TREKKING AROUND MANASLU, the world's eighth-highest summit, I expected to gaze at unbroken, icy peaks the entire way. But during the first several days of this two-week horseshoe loop, flowing water is the show-stopper. From hidden snowy mountains, waterfalls pour into the thundering Budhi Gandaki River, casting rainbows over 1,000-foot cliffs. Streams power hand-built mills that grind barley and millet grown in fields where farmers sleep outside to guard the crops against marauding monkeys and bears. The lowland air is thick with humidity, and rivulets of sweat soak our clothes.
Like the well-known Annapurna Circuit just to the west, the trek around Manaslu starts at 2,000 feet, among rice paddies and flower-filled pastures, and then climbs to an icy pass at 17,000 feet. But unlike the busy Annapurna region, the Manaslu Conservation Area has no roads crawling with overburdened jeeps and buses, and far fewer trekkers. After the first day on the trail we meet mostly pack animals, kids walking to school, and porters laden with heavy baskets of animal feed and stove fuel slung from tump lines across their foreheads.
Our group of seven friends planned 13 days to trek around 26,759-foot Manaslu, averaging four to eight hours (about 8 miles) a day. We opted for a fully supported hike, with a kitchen crew preparing our meals and a platoon of about 20 porters to lug our tents, sleeping bags, and other gear. This gives us more overnight options on a route that is still developing for tourists—you won't find many comfy teahouses here.
Instead, we camp most nights in farmyards, watching women thresh grain and boil lentils for dinner, and tapping our feet to our porters' drums.
As we climb, the Budhi Gandaki gorge narrows and deepens. The stone steps cling to the cliffside, prompting strict obedience to one of our head guide Kalyan Gurung's rules: Stay on the uphill side of pack animals. This is no idle warning: A trekker dies in a fall from the trail just hours ahead of us. Soon, white-topped pyramids of towering peaks fill the skyline and monuments of Tibetan Buddhism line the path: tiered chortens painted with Buddha's all-seeing eyes, and arched kani gates that announce our entry into each village. As the trees thin, bharal (blue sheep) roam the hillsides and great-winged griffins soar overhead.
After eight days of trekking and a rest day for acclimatization, we camp at 12,715 feet in the windswept hamlet of Samdo, where shaggy yaks lumber past the tents and disks of dung are laid out in neat rows to dry for the coming winter's fires. Several feet of snow have fallen on Larkye La, the pass we plan to cross in two days, and we've met dozens of trekkers who have had to turn back. Kalyan explains that someone in nearby Samagaon has slaughtered a yak, angering a local god and bringing in all this bad weather.
Luckily, the god's mood seems to improve. Though my thermometer bottoms out at 10°F on the morning we leave high camp, the clouds stay away and the rising sun chases away the worst of the chill. We follow a beaten path through fresh snow, climbing high above the jumbled Larkye Glacier. Finally, we crest the 17,000-foot pass we've been striving toward for more than a week. It feels like the top of the world, even though the neighboring peaks tower more than a vertical mile overhead. We gather quickly for a group photo beneath snapping prayer flags—it's too cold to stop for more than a few minutes—and then pick up our gear to start down the other side. I descend slowly along the snowy path. We have only three days left, and I intend to savor every step.

Do It
Plan 14 to 18 days for the standard trek, including a day of driving on each end. Season October and November are prime; avoid summer rains. It's even less crowded (and warmer) in spring. Permits Restricted area permit and Manaslu Conservation Area permit total at least $150 per person (more for longer treks). Cost Budget $60/person/day (minimum) for self-supported treks including food, lodging or tent site, and guide (required for all trekkers). Porters cost about $15-$20/day each, plus tips. Supported treks start at about $1,500/person, but cost varies greatly because many include hotels and tours in Kathmandu. Guide Kaylan Gurung; himalayanadventureguide.comGuidebookA Trekking Guide to Manaslu and Tsum Valley by Siân Pritchard-Jones and Bob Gibbons ($22; amazon.com) Infomanaslucircuittrek.com