Hidden Montana: Anaconda-Pintler Wilderness
Fewer than 300 miles of trail crisscross the 158,615-acre Anaconda-Pintler, but only 45 miles along the CDT qualify as busy. At this northern latitude, treeline sits around 9,000 feet, and timberline regions are like bonsai gardens writ large; an aesthetic blend of spruce, fir, and the whimsical larch. The best way to experience it? A multiday immersion trek trip.
Heading out the door? Read this article on the new Outside+ app available now on iOS devices for members! Download the app.
East Pintler Peak reflects into Johnson Lake (Steve Howe)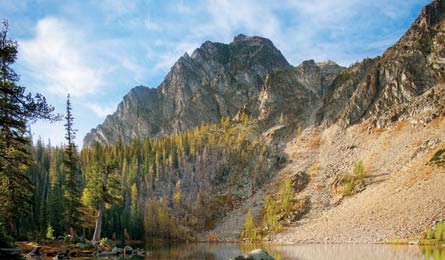 Upper Carpp Lake (Steve Howe)
Six Lakes Walkabout
The secret To find the best of the Anaconda, head off-trail past isolated tarns, over high ridgelines, and around an iconic peak.

Take four to six days for this 33-mile tour of all the attractions of the Anaconda-Pintler—gorgeous forests, translucent-blue alpine lakes, craggy ridgelines, and quiet trail—on a circumnavigation of 10,463-foot Warren Peak. Track 3.7 miles along Carpp Creek (the second ford can be hazardous pre-August) and follow the trail south, climbing to the broad ponds of Lower Carpp and Carpp Lakes. Turn west onto Trail 111 and traverse to Johnson Lake (mile 12.6), a .3-mile-wide pool surrounded by spiky pines, elk meadows, ridgelines, and fine camping. An out-and-back to Johnson Lake offers a worthy taste of the region's bear- and moose-crossed scenery, but to take in entire panoramas (at the price of tricky navigation), head back 1 mile past Edith Lake and start the first of 2.7 off-trail miles along the southern edge of the large boulder field. Cross Porter Ridge just north of mapped point 9,005 and head toward Tamarack Lake. Round the north shore and pick a line southeast up class 2 talus, 1,100 vertical feet to the ridge north of Warren Peak. Astride the crest, ogle Warren's turreted arêtes rising over your right shoulder, then tiptoe down the eastern slope and past a tiny, rockbound tarn. Continue .3 mile to Warren Pass and pick up Trail 111 heading north .3 mile to Upper Carpp Lake, ringed by Dr. Seussian larch that turn gold in autumn. Finish by hiking 9.5 miles past the Carpp Lakes to the trailhead. Trailhead 46 miles southwest of Anaconda; 46.032351, -113.519164Map USFS Anaconda-Pintler Wilderness ($12; store.usgs.gov) Contact Beaverhead-Deerlodge NF, (406) 859-3211; fs.fed.us/r1/bdnfPermit Self-register at trailhead.