Heroes: Rue Mapp, 40
This culture activist is bringing diversity to the outdoors.
Heading out the door? Read this article on the new Outside+ app available now on iOS devices for members! Download the app.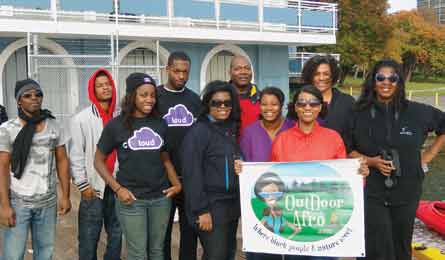 Outdoor Afro Group (Photo Courtesy of Outdoor Afro)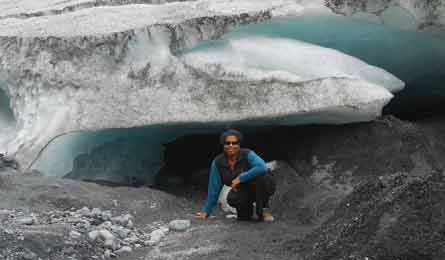 Rue Mapp (Photo Courtesy of Outdoor Afro)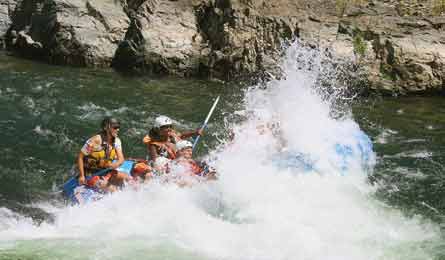 Minorities Rafting Trip (Photo Courtesy of Outdoor Afro)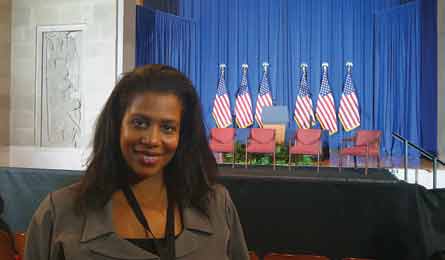 Rue Mapp atthe White House (Photo Courtesy of Outdoor Afro)
In October 2011, the Los Angeles Times reported on a "possibly unprecedented" moment in Yosemite National Park's 121-year history: Two separate groups of African Americans toured the park on the same day, meaning there were more than 65 black Americans in the valley at once. They represented about one half of one percent of that day's visitors. Rue Mapp wants to change that number. She envisions a future in which hikers of color won't be newsworthy at all. They'll just be hikers.
No one disputes that increasing diversity in the outdoors is an admirable goal, but few proponents have dedicated their lives to it like Mapp. Indeed, she's sacrificed job security to become a full-time advocate. Her tools include Facebook, Meetup.com, and her website, OutdoorAfro.com, where she posts photos and reports from her and others' trips. "Minorities need to see that these places belong to us, too," says Mapp, of Oakland, California. "Sharing experiences creates a sense of ownership and permission." And like a modern John Muir, Mapp hopes her efforts will inspire a population to first enjoy, then protect, our nation's backcountry. She points to a U.S. Census Bureau estimate that by 2042, minorities will collectively become the majority. "If we want our parks and wilderness to survive, we need enthusiasts in this population."
Mapp's love of the outdoors was born on her family's Northern California ranch and grew on an Outward Bound course she took in her 20s. In 2009, she decided to devote herself full-time to helping African Americans cultivate a relationship with the outdoors. She launched Outdoor Afro, began organizing group expeditions, and undertook jobs helping outdoor-oriented nonprofits. For each of the past three years, she traveled to the White House to attend President Obama's America's Great Outdoors conference and sit in on a think tank for the Michelle Obama's Let's Move campaign. In 2012, she recruited a baker's dozen of "believers" around the country to lead minorities on rafting, hiking, climbing, and camping trips in their areas. In 2013, this single mother of three will join an all-black National Outdoor Leadership School Denali expedition. "If I'm going to ask people to step out of their comfort zone, I need to do the same," she says.
Mapp knows that her quest won't be over any time soon. For many African Americans, the woods once seemed like a threatening place and still can feel foreign and unwelcoming. "I'm in the business of culture shift," she says. "I'll know I've been successful when I'm on a backcountry trail, and I see another African American, and it's no big deal."
Take it from me…
>> Hike close to home. You don't have to drive three hours to find nature. Explore your city and state parks. You'll learn how near we are to the outdoors in our everyday lives.
>> Make nature part of life. You got the kids in an outdoor program. Great. But what happens once they're home? Real transformation comes from doing things as a family, again and again.
>> Share your skills. People get into new activities when their friends are into them. Invite your pals and coworkers on outings and offer to loan your equipment.
>> Harness the power of the group. Solitude is great, but it's not all that matters. In trying to change culture, fellowship is vital for participants to get validation about what they're doing. When people really connect with each other on my trips, that's when I know everything's going right.
>> Just be normal. Don't make assumptions that certain people don't do certain things. If you see a brown person hiking, don't panic. And don't over-welcome.
>> The biggest mistake I see first-time hikers make is letting themselves bonk. Pack at least a liter of water, a couple of energy bars, and stop regularly.
>> Just because the gates are open doesn't mean hikers will come. Land managers need to work the community to make sure first-time visitors return.
Know a hiker with an inspirational tale of recovery, achievement, or service?Nominate one at heroes@backpacker.com