Hays, KS: Castle Rock
Explore a rocky labyrinth and towering sandstone spires on this easy 2.3-miler around an eroded ancient sea bed in central Kansas.
Heading out the door? Read this article on the new Outside+ app available now on iOS devices for members! Download the app.
Millions of years of erosion carved the dramatic bluffs, spires and pinnacles of this stepped, 100-foot contour that is one of Kansas' most interesting geological features.
Begin this trip with a drive to the overlook above the cliffs for a birds-eye view before setting out on foot. The parking area about half-way up this mile-long bluff system is a great place to start; the central section of the bluff is packed with arches, tunnels and eroded gullies to explore. This route loops south first, climbing user-created trails to the bluff top and following its edge. .4 mile in, the trail dips to the road—be sure to explore the two large crags on its south side—before tuning north under the cliffs.
This route follows the road for .2 miles and tucks back into the maze of cliffs to bypass the parking area and continue north past a large fin formation and through an open field toward the grayish mounds just west of Castle Rock.
Castle Rock itself towers over 60 feet high and marks the northern end of this loop. After cruising it's base, follow the dirt road, or the small singletrack trail alongside it, .6 miles back to the parking area.
-Mapped by Kristy Holland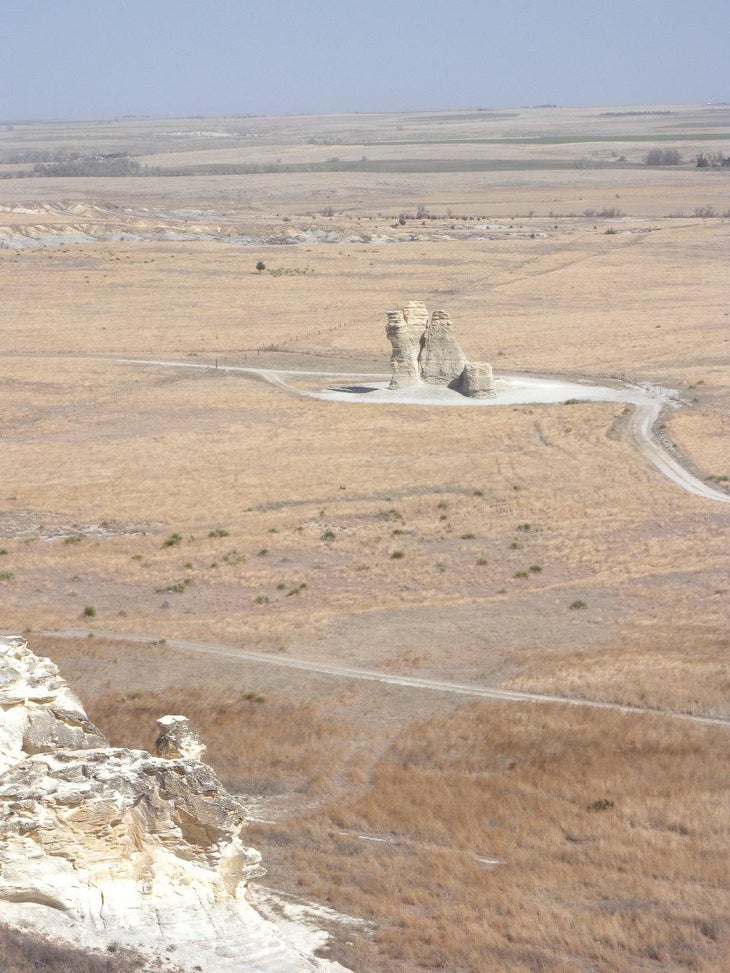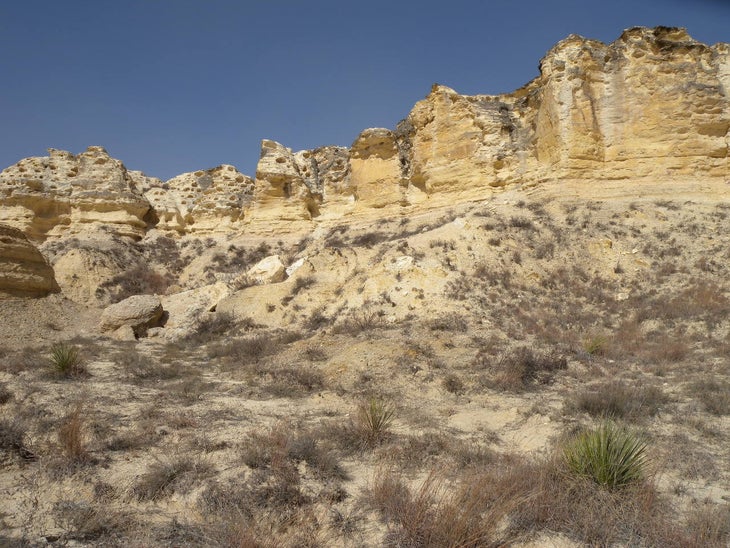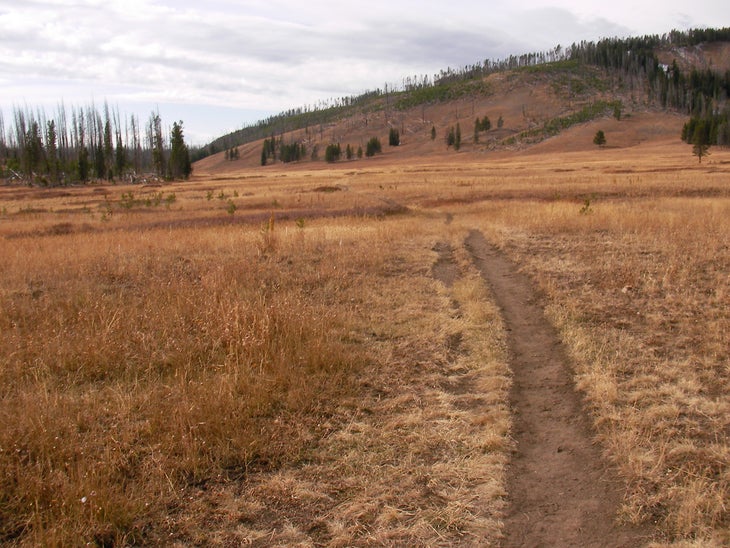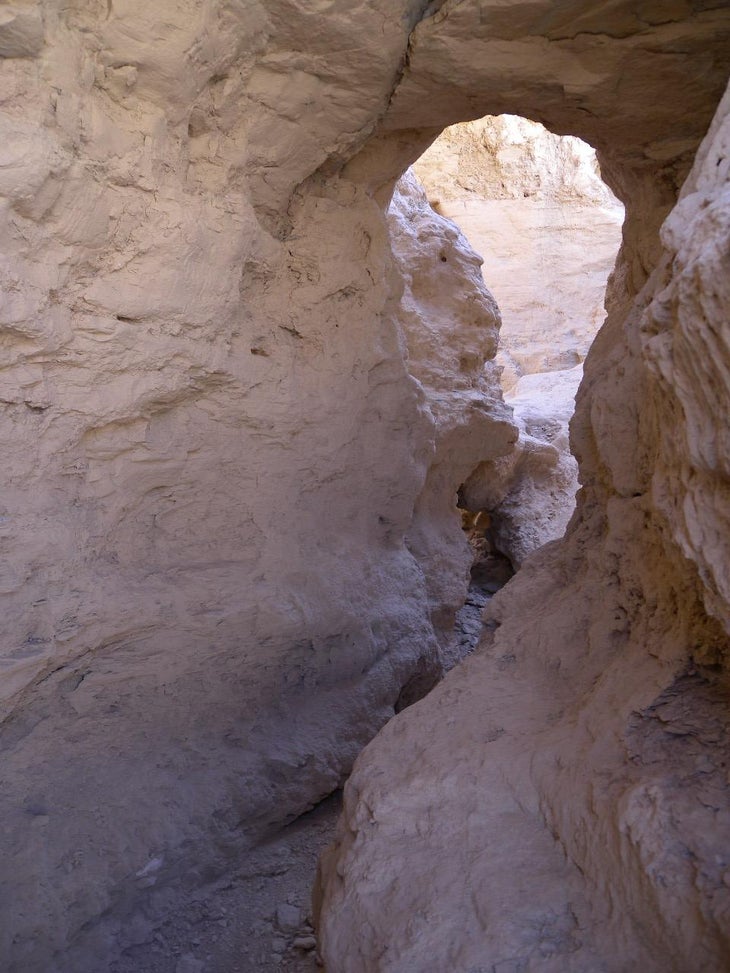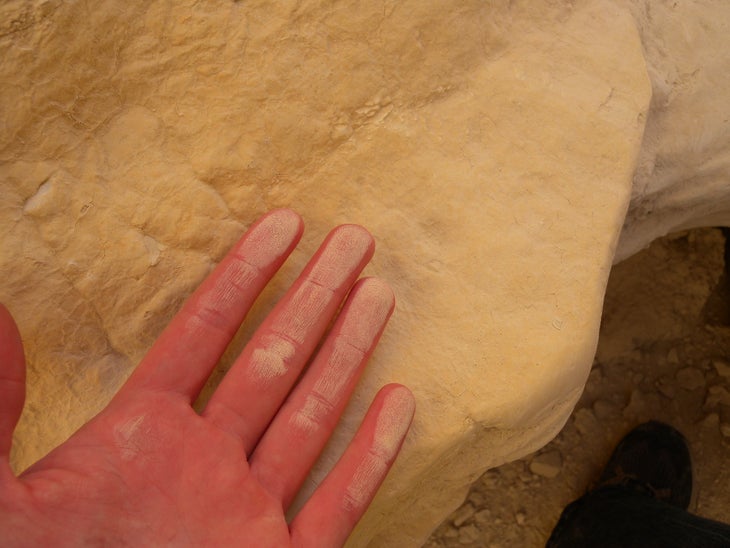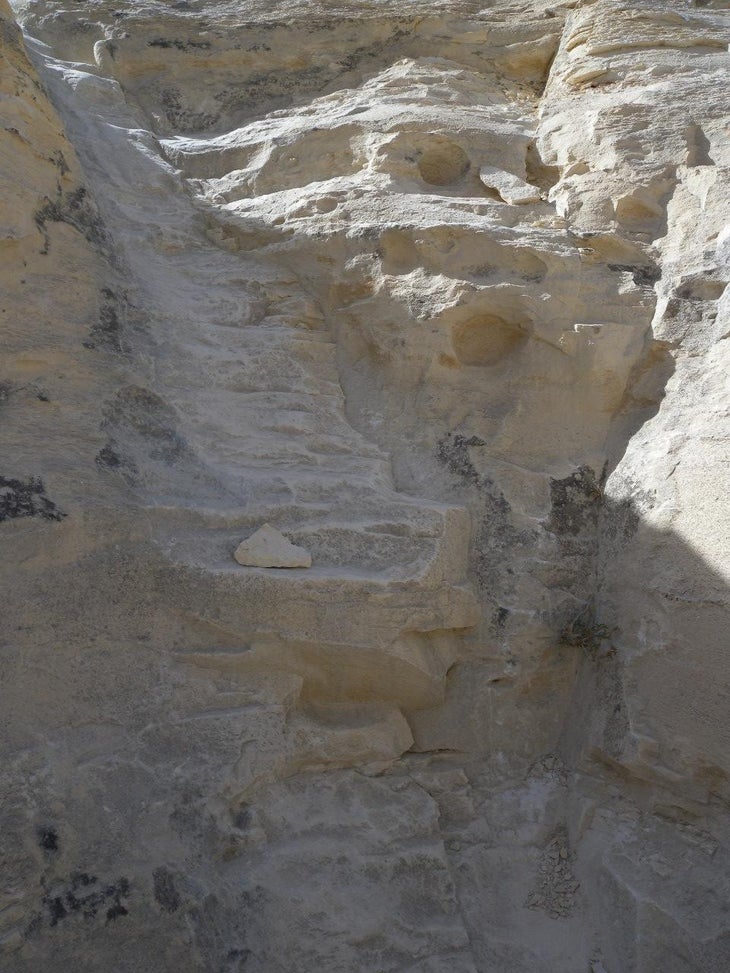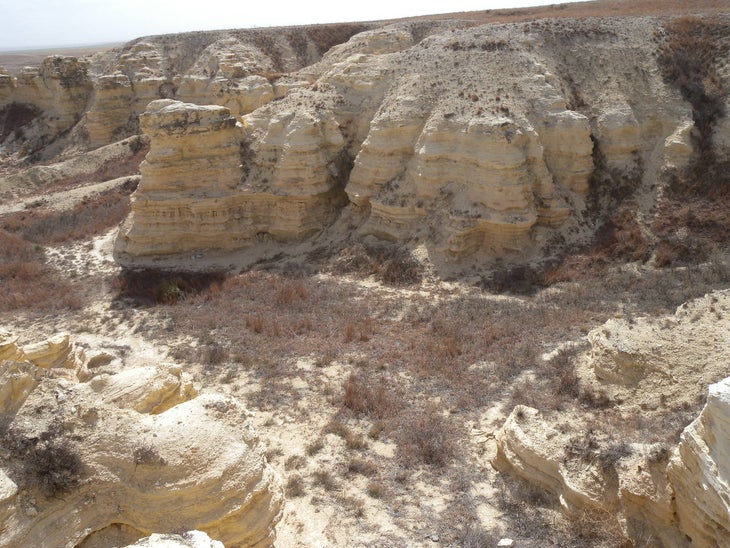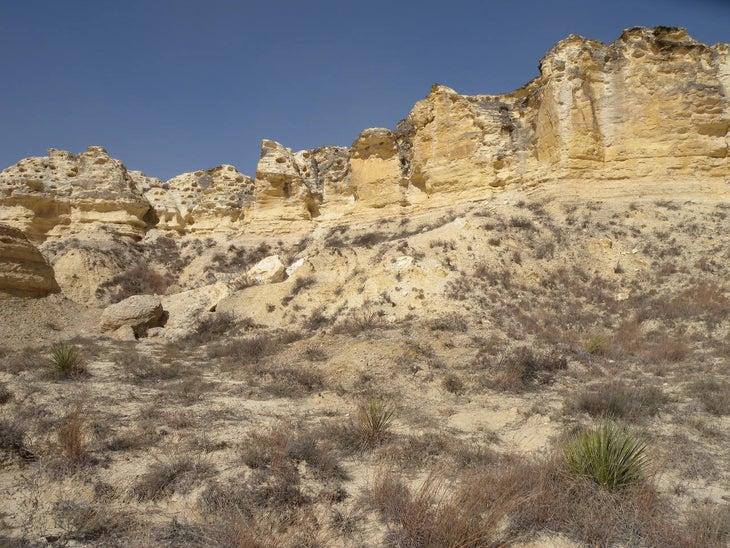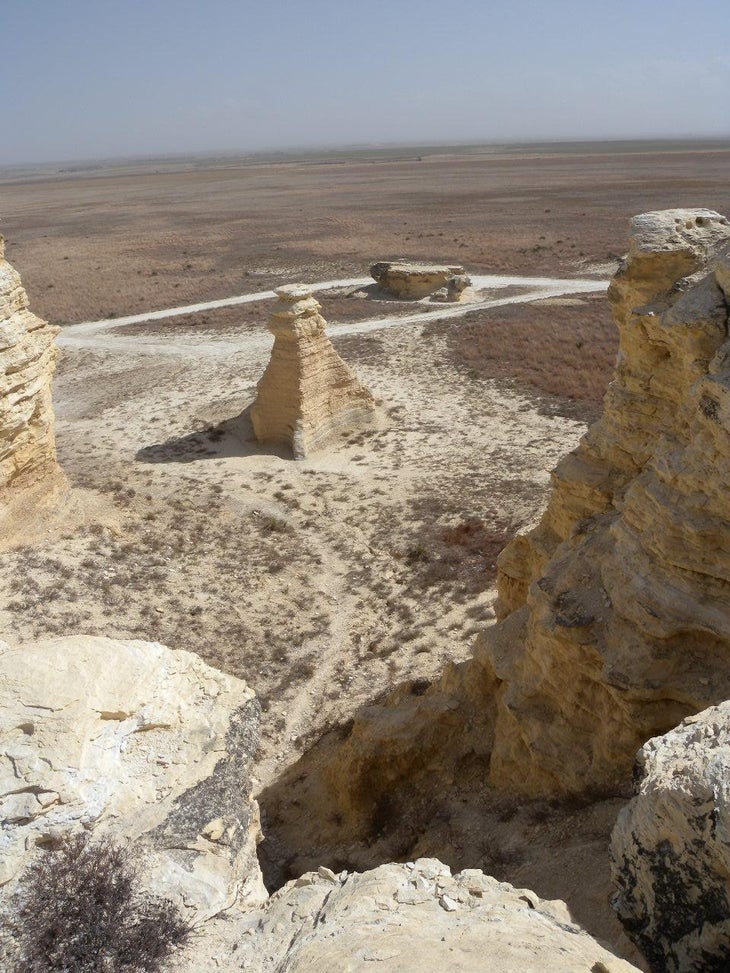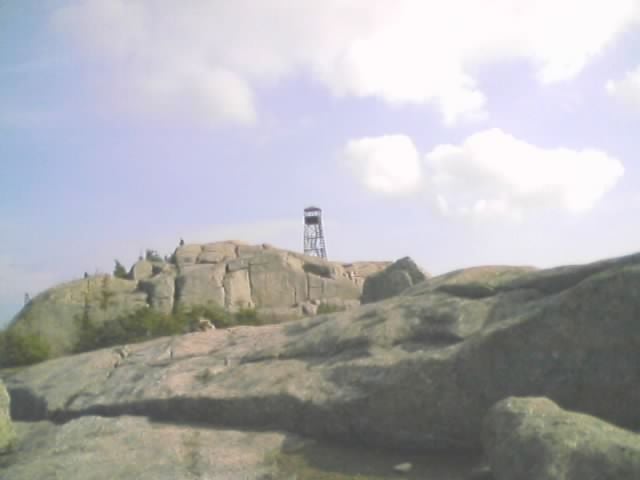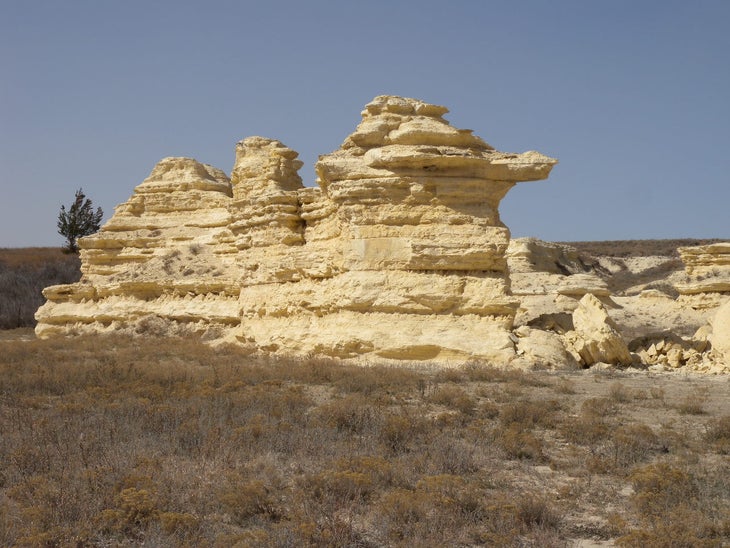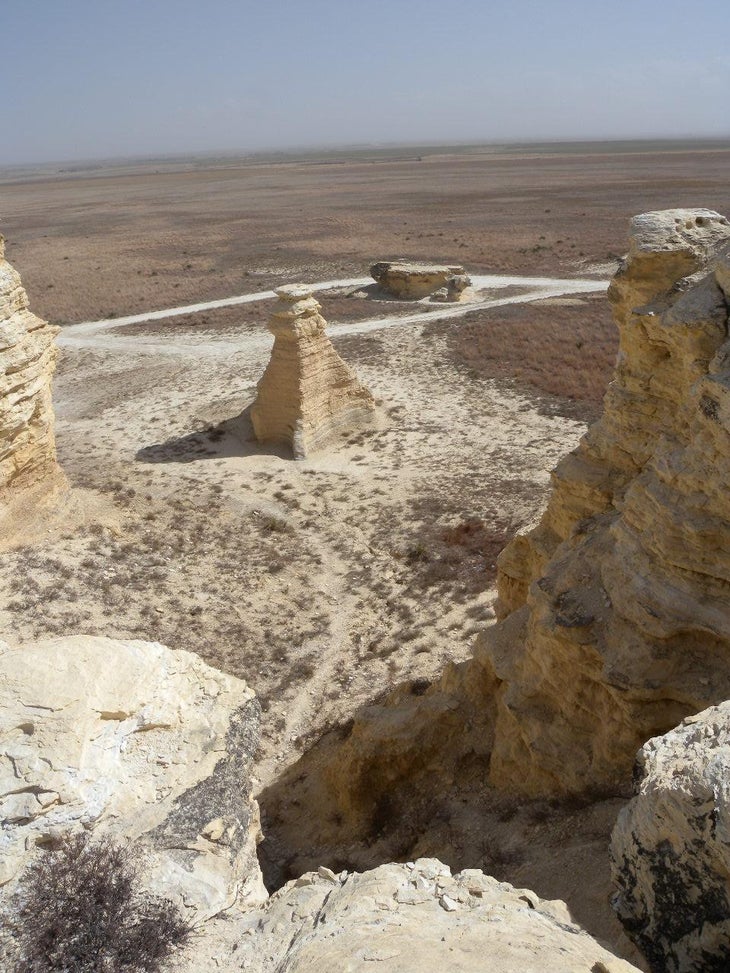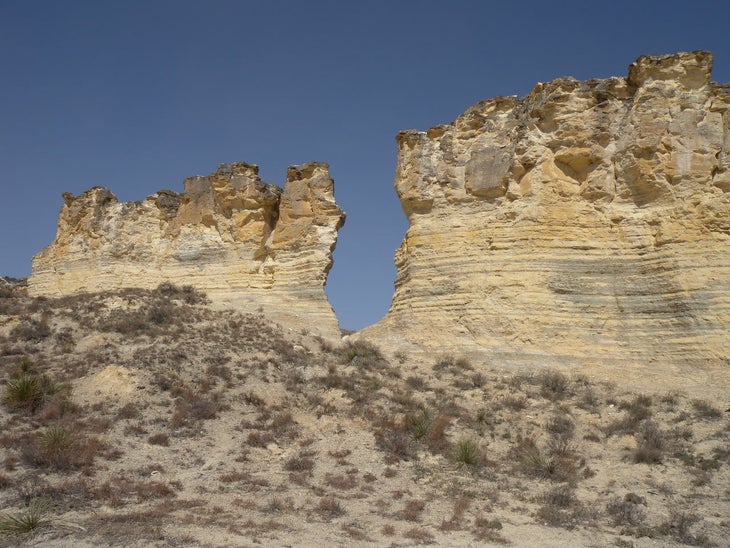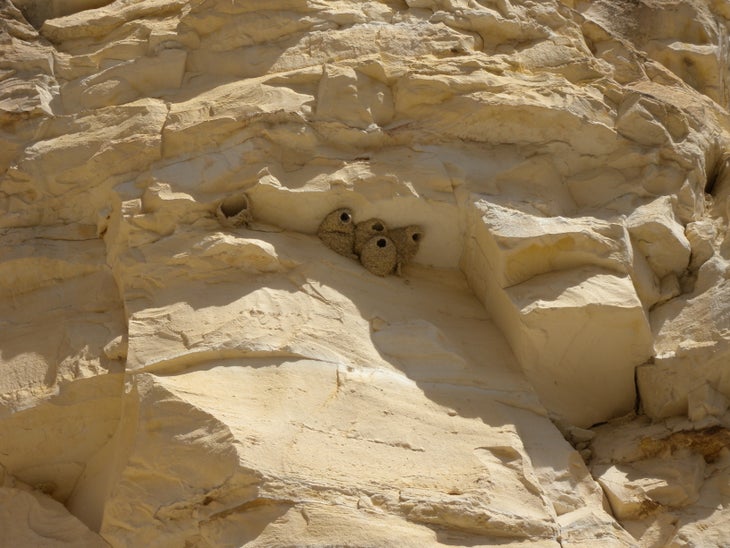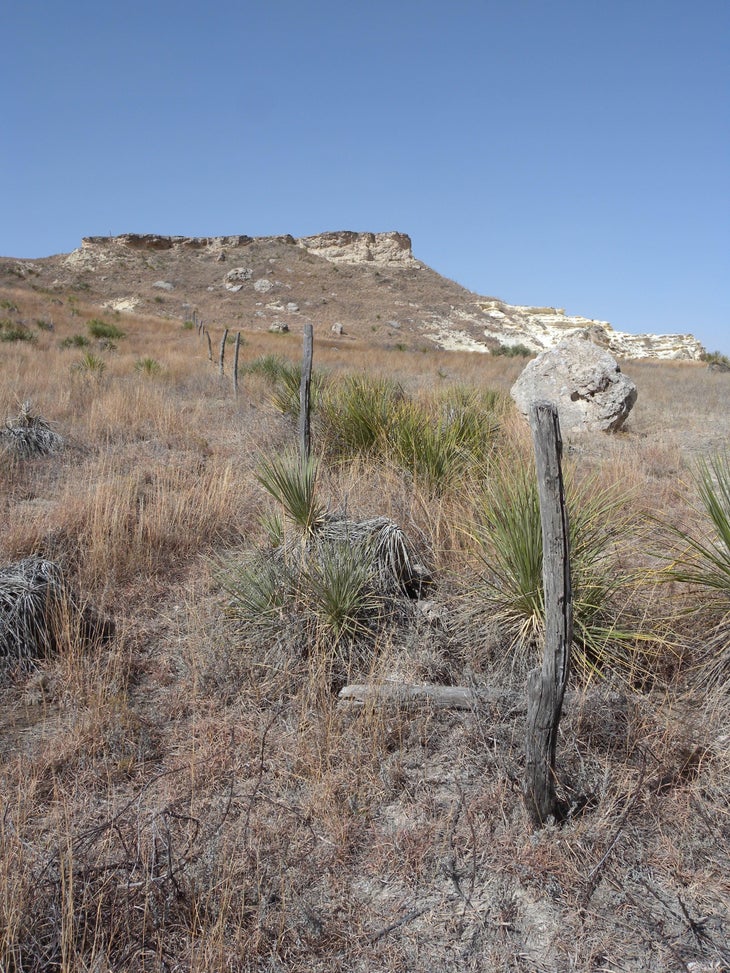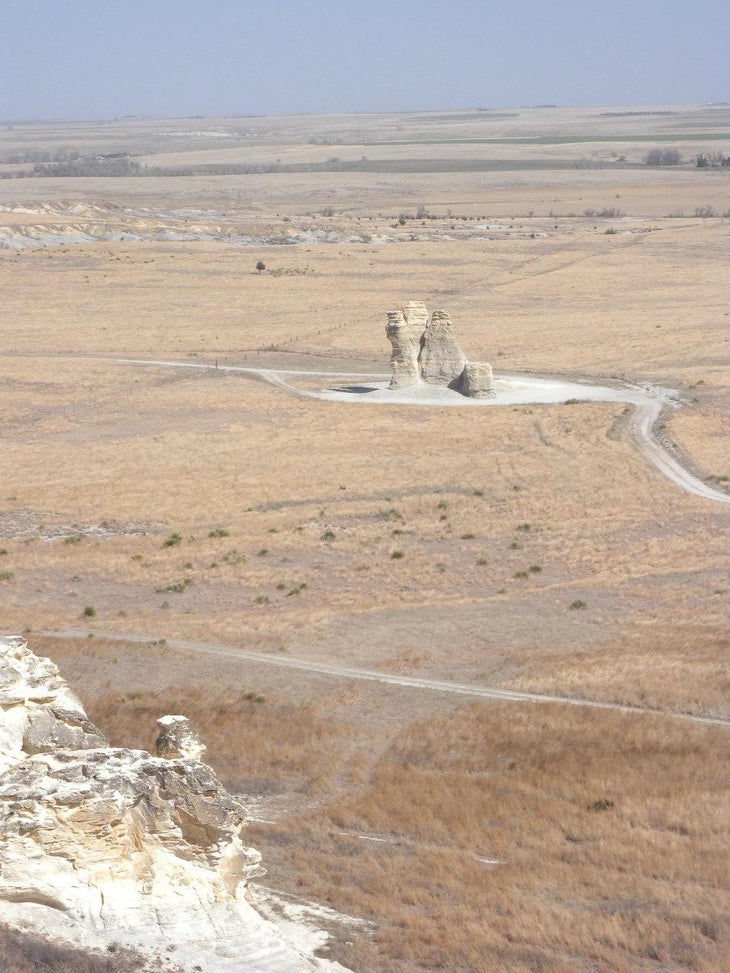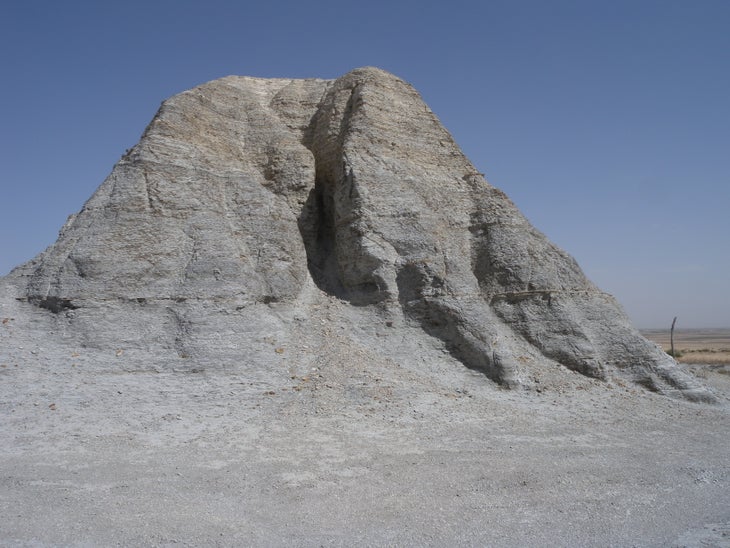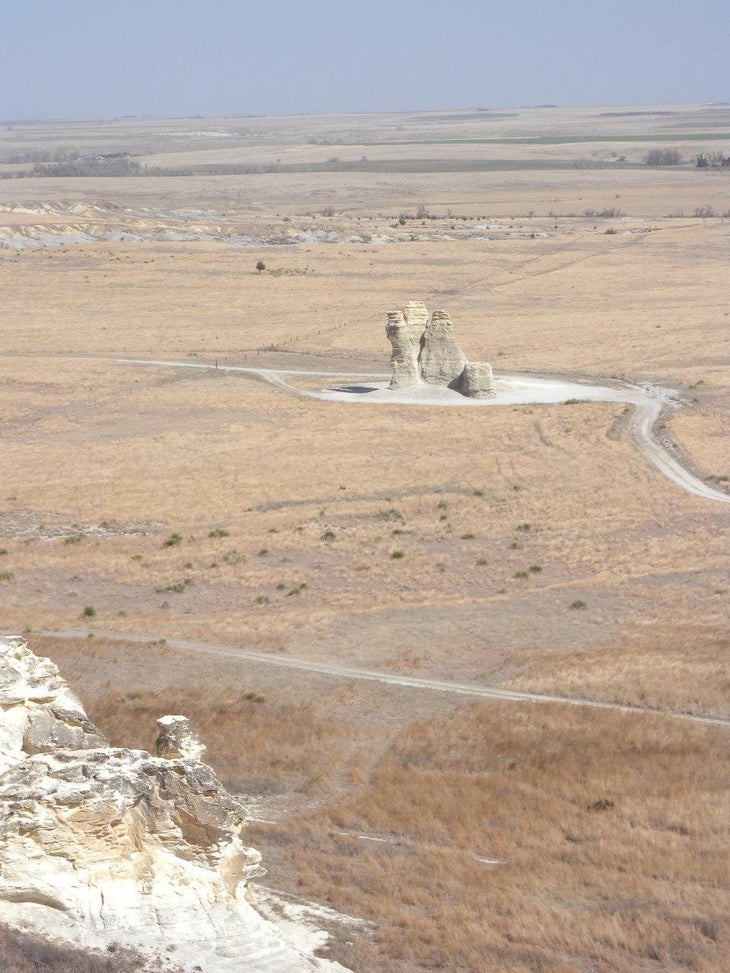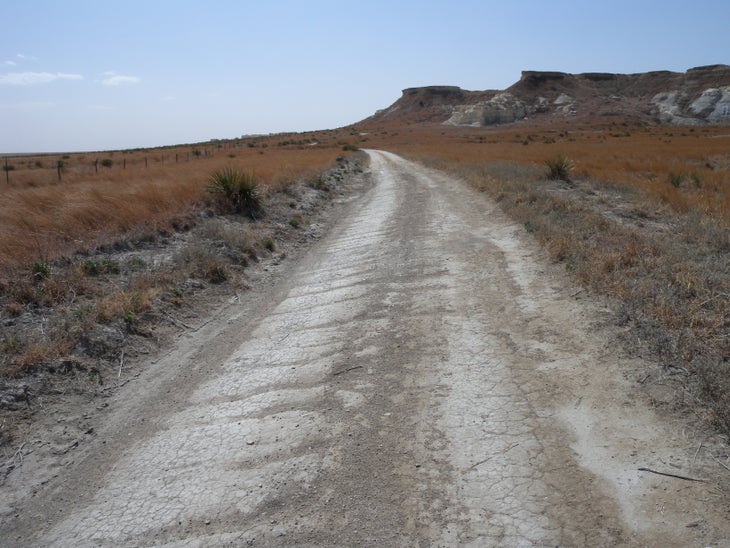 Trail Facts
Waypoints
CAS001
Location: 38.8496724, -100.1702229
At this cattle guard, continue driving straight to reach the Castle Rock overlook. Turning right here bypasses the viewpoint and leads downhill to the base of the formations.
CAS002
Location: 38.8536954, -100.1653361
This mapped route begins at the second turn-around. This spot is about half-way to Castle Rock's main formation, but provides easy access to the area's most interesting rocky sections.
CAS003
Location: 38.8530782, -100.1659193
Heading southwest, pick your way under arches, through rocky tunnels and on well-worn trails leading to the top of the ridge.
CAS004
Location: 38.852509, -100.1655936
Peek over the rocky edges at the towering sand and limestone cliffs below. It is more difficult to work your way back down to the bottom of the cliffs from here, so trace the singletrack along the ridge heading south.
CAS005
Location: 38.8500692, -100.1648855
The cliffs shorten at Castle Rock's southern end and this route dips toward the road. Follow this route to explore lone pillars on the road's south side, or turn north to trace the bottom of the cliffs.
CAS006
Location: 38.8527766, -100.1648625
Follow the road back toward the parking lot, but tuck back into the rocky wonderland at this towering 40-pillar near the first car turn-around.
CAS007
Location: 38.8538625, -100.1672673
Headed north toward Castle Rock, there's an impressive fin. Climb the crumbling little hills on your right and begin traversing an open field heading north.
CAS008
Location: 38.8570206, -100.1680612
Cross over this old fence en-route to Castle Rock's namesake (and most dramatic) formation, but bear left to check out the rounded grey mounds west of the spire.
CAS009
Location: 38.8611477, -100.1697564
Towering over 60 feet, Castle Rock is an impressive formation of soft sandstone, shale and chalk, and it marks this route's northernmost point. After taking an up-close look, follow the road or the singletrack on its east side back toward the parking area.
Castle Rock
Location: 38.8565194, -100.1689625
Looking northeast to this area's namesake feature.
Cliffs
Location: 38.8536954, -100.1653576
A view of the chalky stone cliffs from this route's starting point.
Trail
Location: 38.8530938, -100.1658726
Trails wind over and around rocky formations along the bottom edge of the cliffs. Pick your path by following already-worn trails.
Tunnel
Location: 38.8530688, -100.1657975
Plenty of arches and tunnels provide exciting detours as you pick your way up to the ridgeline.
Arches
Location: 38.8530604, -100.1658404
Chalky Stone
Location: 38.8525591, -100.1656902
The chalky stone–once an ocean floor–is soft and leaves white residue where it touches hands and clothing.
Staircase
Location: 38.8524004, -100.1655722
It might be impossible to follow this mapped route exactly, look for steps carved in the cliffs and follow your own line to the ridge.
Trails
Location: 38.8519408, -100.1657009
Looking down on trails that criss-cross the base of the cliffs.
Cliffs
Location: 38.8514228, -100.1657653
Spire
Location: 38.8509716, -100.1647997
Looking down from the cliff-tops onto a spire and car-park turn around area.
Tower
Location: 38.849735, -100.1648426
A hiker explores this formation on the loop's southern edge.
Formations
Location: 38.849735, -100.1633406
Spire
Location: 38.8527513, -100.1648426
Looking up at the 60-foot spire below the cliffs.
Fin
Location: 38.8538792, -100.1667416
A fin, or narrow ridge, of rock alongside the trail.
Nests
Location: 38.8540714, -100.1667523
Look carefully under rock overhangs for these nests built onto the cliffs.
Fence
Location: 38.8570708, -100.168072
Castle Rock is on private property and old fences criss-cross the area.
Castle Rock
Location: 38.8423817, -100.1699066
This sign points the way to the otherworldly landscape of Castle Rock, 1 mile north on County Road 80.
Grey
Location: 38.8589683, -100.170415
The yellowish hue of the main cliff area gives way to grey tinted formations on the area's north side.
Castle Rock
Location: 38.8612981, -100.169735
These towering pinnacles are still being shaped by erosion. Major sections of the tower crumble occasionally with two notable sections collapsing in 1998 and 2001.
Road
Location: 38.86102, -100.1695567
A singletrack trail runs alongside this road back to the parking area.