The Hardest Trek in the Himalayas
The Great Himalaya Trail combines hiking and mountaineering to reach some of the country's most remote regions. The beauty is real—but so is the danger.
Heading out the door? Read this article on the new Outside+ app available now on iOS devices for members! Download the app.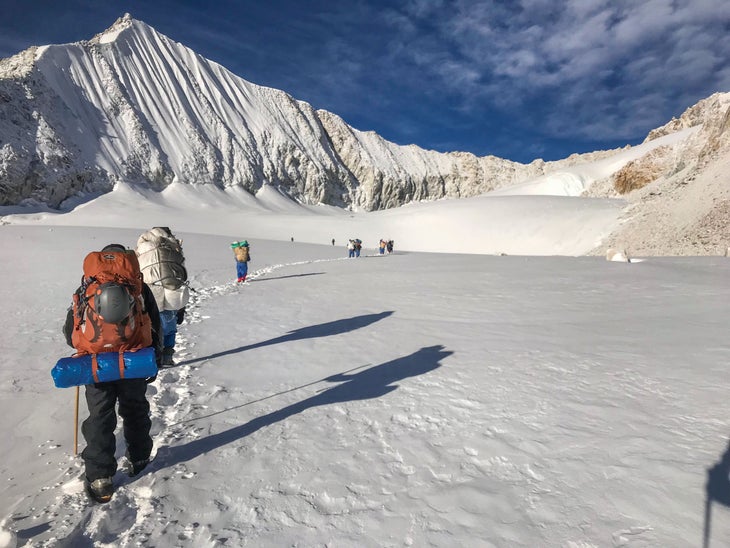 Day 45, West Col, eastern Nepal: I was hanging on a rope, the front spikes of both crampons rammed into a wall of blue ice. I had already descended more than 100 feet from the pass, but the conditions were forcing us to retreat. I had to climb back up.
Nothing is easy at 20,000 feet, but this seemed impossible. My calves trembled like a sewing machine, while snow swirled around my goggles. I had no ice axe, just a jumar to grip the rope as I hauled myself up, kicking one foot after another into the ice.
I had been moving for 11 hours straight at this point, and I had never been more exhausted or more focused. But lower down on the mountain, a member of our expedition had just been killed by rockfall, and safety was above, not below.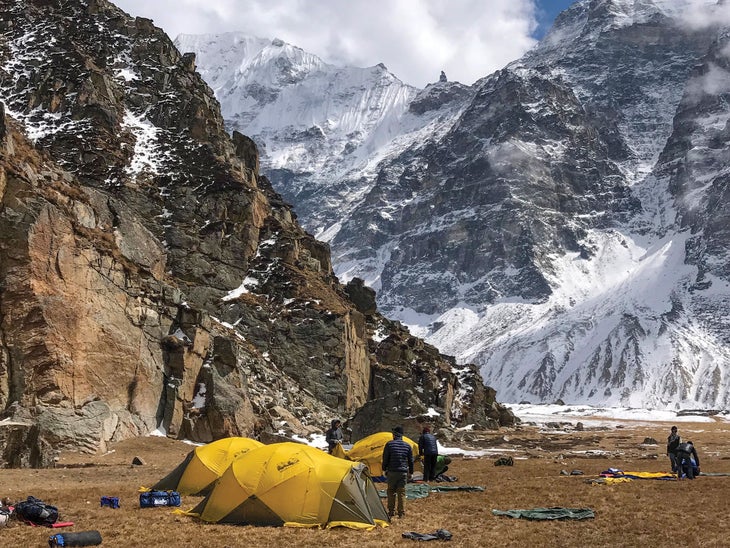 Lhonak Camp in the Kanchenjunga Valley, section 1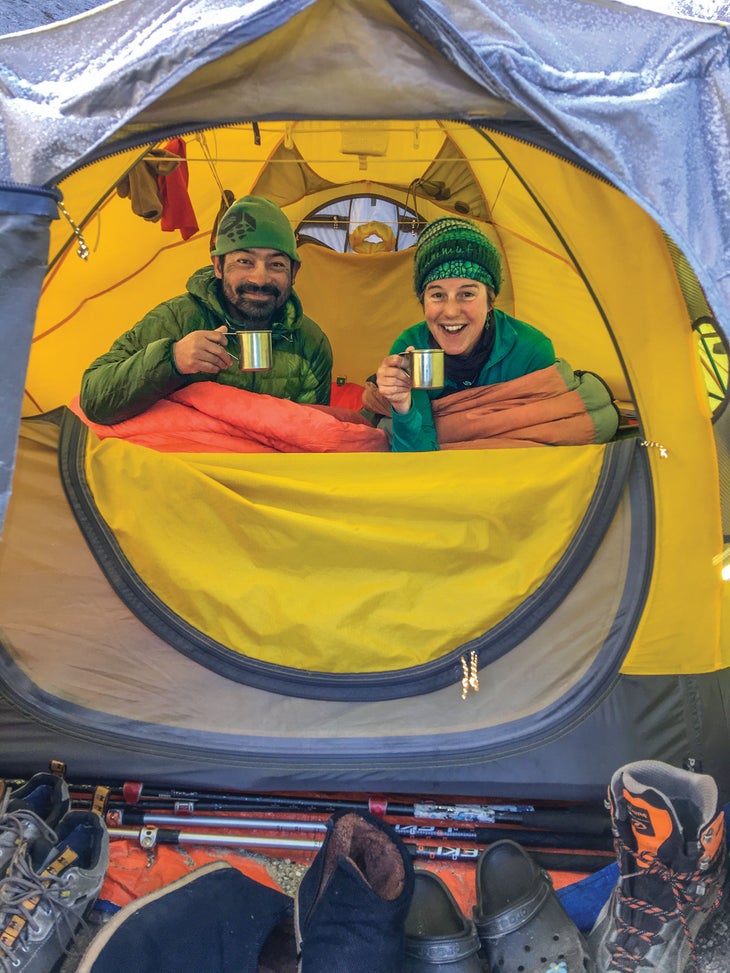 The author (right) and head guide Satish Man Pati enjoy coffee service.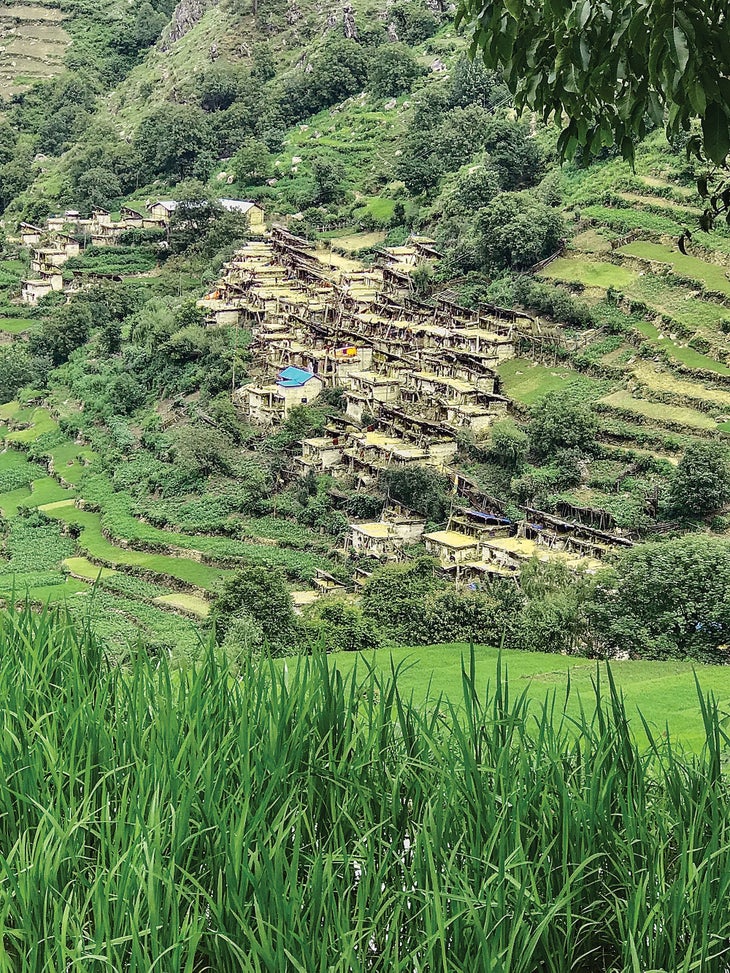 Terraced fields around a village in the GHT's final section in western Nepal
When I started this 1,056-mile trek across Nepal on the Great Himalaya Trail, in early 2018, it was my dream come true. Since the GHT was established in 2011, only about 30 people have completed the east-west traverse of the high route (there's an easier low route). I was about one third of the way to joining them, crossing from the Makalu area into the Everest region, when I found myself inching back up that wall of ice.
I had known there'd be risks. Climbing in the Himalaya, crossing glaciers and high passes, and depending on the weather for a little bit of luck invites danger that no expertise, no team of accomplished guides, no high-tech gear, and no level of fitness can ever totally eliminate. As my Nepali friends say: "The gods reside in the highest mountains and only they know when your time has come."
But it's one thing to be told, and another to experience. While I was heading downward just minutes before, eight of our group had already reached the bottom of the pass ahead of the main party. There, the weather changed fast, causing avalanches of rock and snow. A boulder tumbled down the slope, gathering speed, and no one had time to react. The rock struck Khem, the expedition's head cook, killing him instantly.
The others in his party were OK, but conditions below the pass were deteriorating. And since most of our team and equipment were still up on West Col, our guide decided it was safest for everyone to spend the night together on top, at an elevation above 20,100 feet.
On the pass, we took shelter from the wind in the kitchen tent, and I cried when I saw the shock and watery eyes of our assistant cook Ramesh, who had worked alongside Khem for 15 years. I helped clean the wound of a porter with a minor injury and poured hot tea for others who were shivering. In the aftermath of the accident, Satish Man Pati, the lead guide, quickly made a plan for recovering Khem's body and getting the team off the mountain the next day.
The accident affected all of us—and even now, six months later, I can't start a story about the Great Himalaya Trail without first thinking of Khem. He was doing what he loved—working and living in the mountains—but that's small consolation to those left behind.
I first heard of the Great Himalaya Trail in 2014, during a seven-week sojourn through the Himalaya. It's the longest and highest alpine trekking route in the world, stretching more than 3,000 miles from Bhutan to Pakistan. I was immediately drawn to the Nepali section because I'd already fallen in love with country. The idea of being in the mountains for five months—trekking every day, crossing the highest ridges in Nepal, and sleeping in a tent every night—ignited something in me.
That year, I also met Satish, an accomplished mountaineer and the owner of Nireka Adventures, an outfitter based in Kathmandu. We stayed in touch, talking about the Great Himalaya Trail, and after Satish summited Everest in 2016, he agreed that guiding the GHT would be his next big challenge. Organizing an expedition across Nepal's most remote regions would be a bigger logistical job than Everest, but he was confident he could do it. All he needed was clients. I signed up without hesitation.
We launched our journey in March 2018, traveling east to west. The route is divided into seven sections; some require technical mountaineering and some are so remote that only local guides know the way across the glaciers and through the forests. Though I would end up being the only trekker to do the whole five-month journey, 20 people from five countries joined us on different sections at various times.
The whole endeavor involved crossing 22 passes, including 15 above 16,000 feet and two above 20,000 feet. Every time we traversed a high pass, we prayed to the gods and left prayer flags behind. We visited monasteries and received blessings from the lamas for the climbs ahead. Among the guides and staff, there was a constant awareness of the dangers and the fact that we are not entirely in control—which is why, after the initial shock and grieving, the team quickly came to peace with Khem's death. (Satish later created a fund for Khem's wife and two sons to provide for them in the future.)
But there was no suggestion of ending the journey. I had spent enough time with Nepalis to know that they take the biggest hardships in stride. No river is too wide to cross, no mountain pass too high to climb, no school too far to walk to. In the Himalaya, people live with risk in a way that outsiders don't always understand.
Day 133, Rara Lake, western Nepal: Our mules ran away. Just two weeks from the finish and the expedition came to a halt because of the wayward animals. Kale, the strongest of the mules and a bit of a rebel, disappeared first. Then two others followed. And while Sudip, the mule driver, was out looking for them, climbing all the way back up a 13,000-foot pass we'd already crossed, the remaining four mules escaped as well. Since we couldn't go on without them, our journey came to a halt. All thanks to Kale.
Rara Lake is surrounded by dense pine forests, with pocket meadows spread throughout. Sudip was hoping he'd find the missing mules grazing in one of these fields, but no such luck. Still, he didn't give up. The mules were his livelihood, his pride, and his future. It took two days and at least 50 miles of walking, but he finally found the rogue animals.
The journey continued, and the great mule mutiny became part of our story. Throughout those five months, we faced small and big challenges, heart-warming and heart-wrenching ones. We felt lucky when we happened upon a traditional Tibetan wedding in a village at the foot of the Kanchenjunga glacial valley in eastern Nepal. When leeches attacked us in the jungle, we suffered itchy, bloody legs for days afterward. We enjoyed views of glaciers in the morning light, of alpenglow on the peaks, of langur monkeys watching our every move.
I learned a lot about technical alpine travel and Himalayan geography, but more than anything else, I learned about the Nepali people. Over a thousand miles, I walked through countless villages clinging to the steepest slopes, with terraced grain fields carved into the mountainsides. I saw the effort that goes into cultivating these vertical crops: the plowing, sowing, weeding, and harvesting. I saw that no object is too heavy to carry up to a village in need, even if it's a hospital bed for a village that does not have a doctor or a nurse. Nepalis are people who can envision the impossible and then tackle it.
I learned that we limit ourselves; it's not our circumstances that limit us. And I learned that when you live among the world's highest mountains, you understand that avalanches can occur at any time, and you accept it.
Someday I will return to the Great Himalaya Trail and cross the West Col again, in Khem's memory. It will remind me that life is an adventure, and adventure is never perfectly safe. And it shouldn't be.
Wiebke Nedel lives in South Africa, but has spent much of the last four years in Nepal. She is a guide herself, and uses the wilderness as both tool and teacher. Since 2017, she's been running social immersion programs in Nepal with Nireka Adventures.  
Do It
Getting there Fly to Kathmandu. Logistics will vary depending on your route. Season February to end of July for the whole traverse Permit Required; if you don't use an outfitter like Nireka, you'll need to research permits for each section. Route The 1,056-mile journey connects Kanchenjunga in the east with Hilsa in the west. It's a network of trails, not a precise path. There's a low route (nontechnical) and a high route (mountaineering required). Guide Nireka Adventures is one of the only outfitters to successfully guide the whole GHT across Nepal ($28,450 for the entire GHT; sections range from $2,830 to $5,450).